The plant-based movement is full of inspiring thought-leaders, who motivate us to change our lives and advocate for the movement.
One such man is top plant-based physician Dr. Michael Greger, who celebrates his birthday today.
Not only is he a New York Times bestselling author – he's an extremely prolific content creator, as well as a prominent commentator.
Here at PBN we absolutely love Dr. Greger, but we've never really explained why… until now.
1. That time he poisoned himself
"It was a very bad scene," Dr. Greger says insightfully, as he recounts dribbling on his keyboard before projectile vomiting, after consuming an elderberry smoothie.
His partner has a passion for growing native plants for the birds and bees to enjoy. Dr. Greger just wants to eat everything. After she grew an elderberry bush, things took a sinister turn.
"Turns out raw elderberries are poisonous," he says.
"I did not know that."
2. He made mangoes X-rated
"Alright, you ready for this?" Dr. Greger asks as he swaggers into the frame. But I don't know if anyone could be ready for what follows.
It's a one-man masterclass on how to drink your mango, and it's more than a little tongue in cheek.
Still eating your mango? You are desperately behind the times. Follow Dr. Greger's lead and drink it like a pro.
No one's ever squeezed a mango so lovingly – or made a ripe, juicy mango sound quite so tempting…
3. He rocks a Hawaiian shirt and lei like a pro
Speaking at a Vegetarian Society of Hawaii conference, not only does Dr. Greger give a trademark blistering talk – as usual, based on and referencing evidence-based facts – but he does the whole thing decked out in a spectacular Hawaiian shirt and complementary lei.
Plus – he looks as comfortable in this outfit as he does in a white coat and stethoscope combo.
Dr. Greger FTW!
4. He dabbed with the kids
Something about this picture just fills us with joy. We love Dr. G for his outgoing nature – and it's great to see that the kids do too.
5. He believes contraception shouldn't always be the woman's responsibility
When asked what vegan birth control method he'd recommend [1.43 in this video], Dr. Greger picks… vasectomy.
"Well get on board, c'mon!" He says. "Why should the women have to take pills and do surgery?
"For cost, for environmental – what's the downside?"
6. He scared PBN's founder Klaus…
Klaus and Dr. Greger have met on a few occasions, (including this interview – which more than 500,000 people have watched).
This time the drama level was ratched up. Feel things getting a little heated?
Just smile and nod, Klaus. Smile and nod.
7. He got SO excited about his first Tedx talk
You can be a New York Times bestselling author.
You can be at the top of your game and well-known and respected within your profession.
But when you have genuine passion – it never wears off, as this behind-the-scenes video of Dr. Greger before his first Tedx talk shows.
"I am live behind the scenes at Sedona Tedx. You can see they're putting the stage together…
"It'll be my first Tedx talk," he says, with a smile so beaming it's positively infectious.
8. He got even MORE excited meeting his youngest fan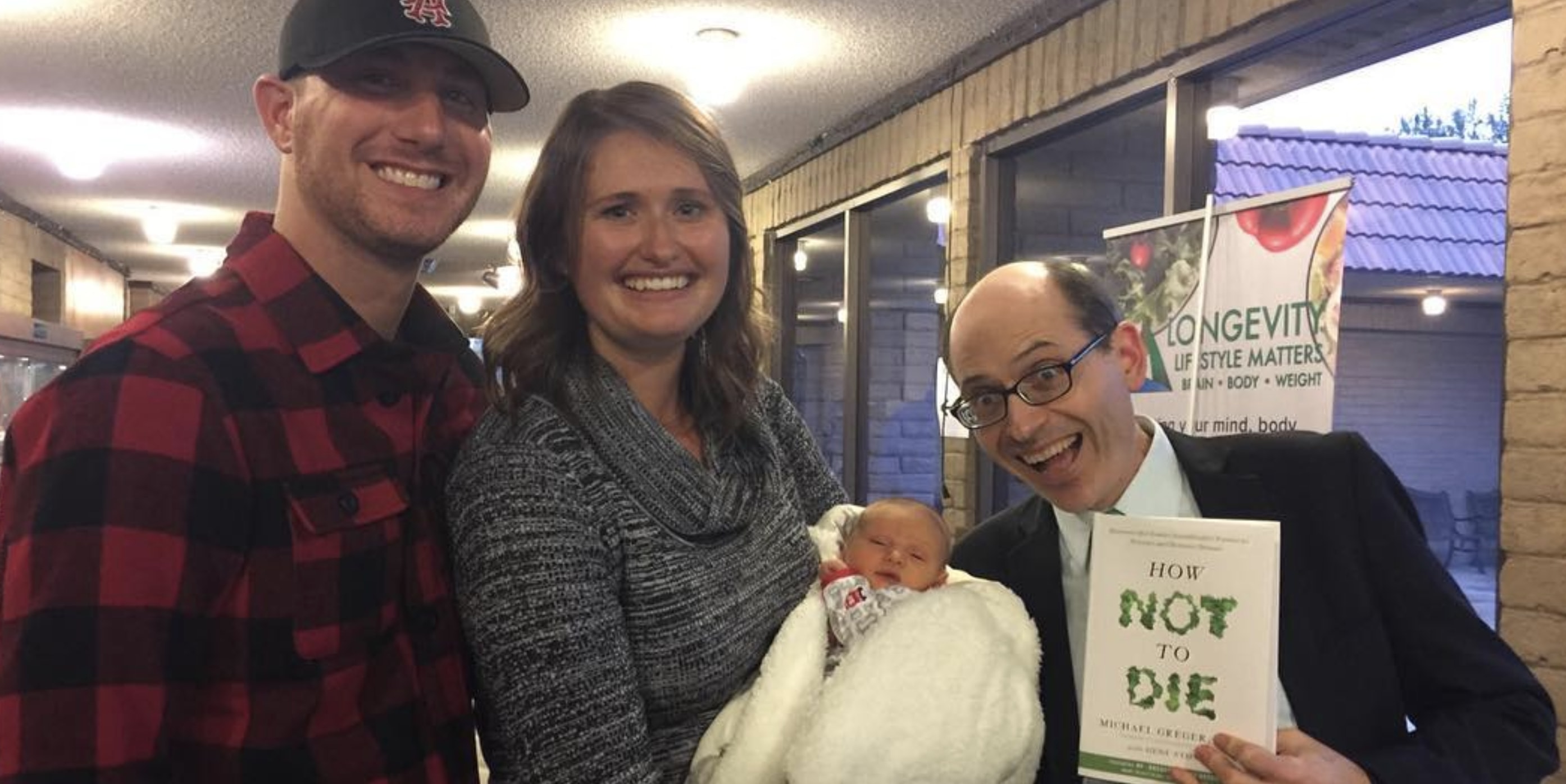 Just imagine if ALL your idols were as excited to meet you as Dr. Greger.
His enthusiasm on meeting his youngest fan (a mere six days old!) is heartwarming, and reminds us of how much fun – and how personable – Dr. G is.
9. We suspect he's an animal rights activist with a medical degree…
Dr. Greger is primarily a plant-based physician – but we love that he cares about animals too.
"I've developed a real passion for animal protection," he says.
He works as the Humane Society's US Director of Public Health and Animal Agriculture – and he says it's great that a plant-based diet helps the environment and animals, as well as human health.
10. His whole food plant-based birthday cake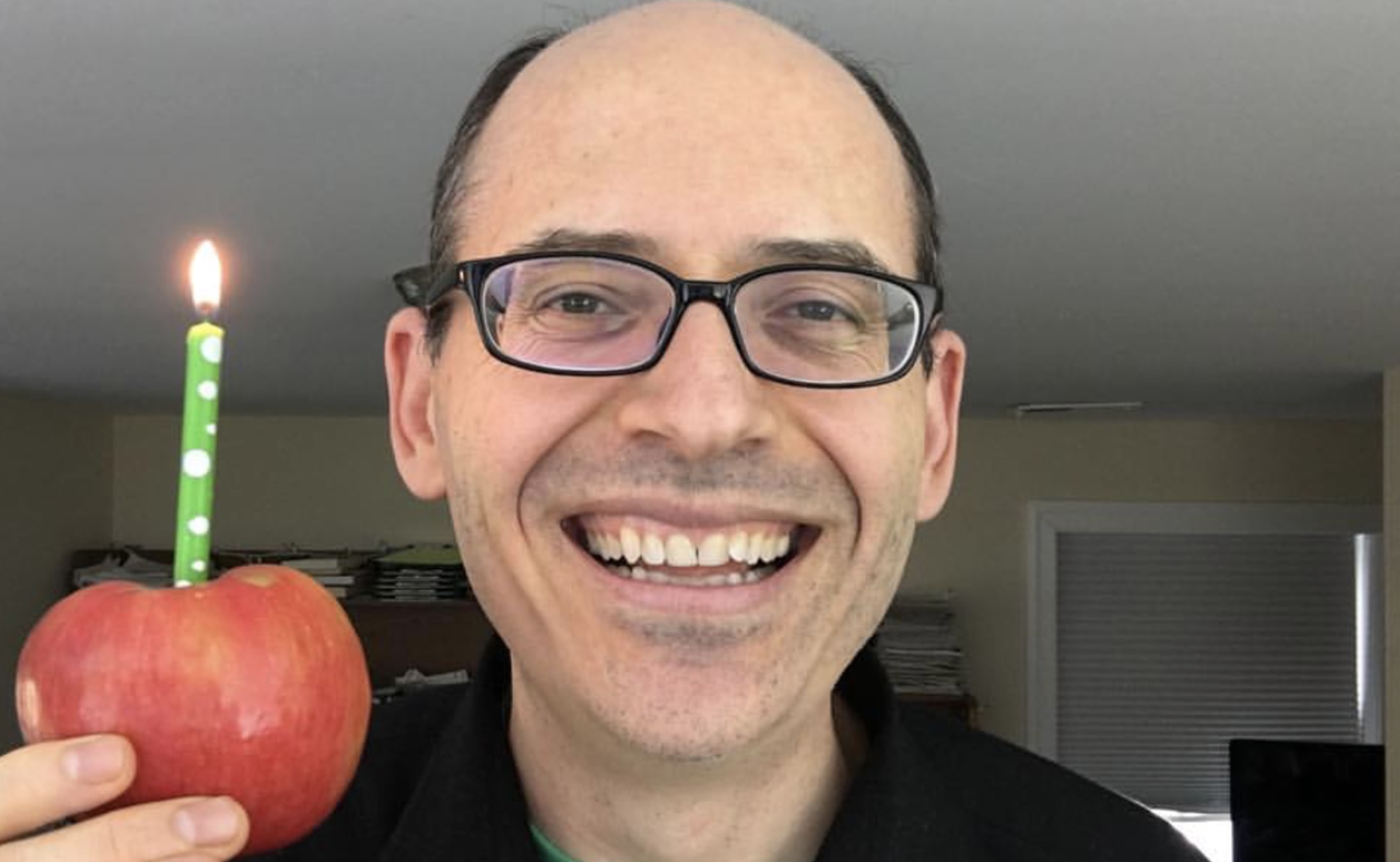 Dr. Greger isn't just preaching the whole foods plant-based life – he's living it – and we love him for it!
So from everyone at PBN, many happy returns Dr. Greger – may your birthday be a wonderful one – and may your birthday cake be low in saturated fat.
READ MORE:
Top Plant Based Dr. Greger Announces Upcoming 'How Not To Diet' Weight Loss Book
How To Eat Like Top Plant Based Physician Dr. Michael Greger
WATCH: Brand New PBN Interview With Dr. Michael Greger Who Takes On 'Big Pharma'