When Canada Goose announced on the 50th anniversary of Earth Day that it would no longer be buying 'new coyote fur' to line its infamous parkas, many applauded its efforts, while others expressed suspicion.
It would still be using real fur with a planned buy-back program from existing customers as part of a larger sustainability strategy to achieve carbon neutrality by 2025.
But questions about how to prove that the fur is actually reclaimed and about customers' willingness to cooperate make an announcement like this risky. Will there be enough of a supply to make this viable, and does the typical Canada Goose customer even care?
Recycled materials
Companies like Patagonia, Arc'teryx, Madewell and Eileen Fischer have implemented and incentivized buy-back strategies to address concerns about textile waste and to extend the life of garments and materials in circulation. Other companies like The RealReal, Stella McCartney, Reformation and thredUP all have implemented larger ideas about reuse, consignment and circularity.
For animal advocates, recycled fur may be a small step in the right direction, but real fur still symbolizes a harmful idea about animals; that their bodies are an acceptable source of materials in the first place.
Reclaimed and recycled fur does not erase the story of what happened to those animals who were killed for their pelts.
'A walking advertisement for animal cruelty'
For a company which had previously prided itself on supporting indigenous trappers, and even went to the lengths of featuring indigenous designers through project Atigi, this is a strange move.
I asked Margaret Robinson, a Canadian Mi'kmawq feminist scholar and assistant professor of Indigenous studies at Dalhousie in Halifax, what to make of Canada Goose's latest move. "A Canada Goose jacket is a walking advertisement for animal cruelty," she said. "The fur and down they use both require an animal's death."
When it comes to the company's larger role in the region and marketing decisions that promote Indigenous designers, Robinson added that, 'the Canada Goose website plays up a love for the north, but it's the same colonial model we've seen from settler companies again and again – entitlement, charity and exploitation. The Canada Goose brand is about supporting settler entitlement to travel. Cutting a cheque to Inuit Tapiriit Kanatami doesn't change the colonial dynamic'.
There is a silver lining, though, she says. "Predators are an essential part of our ecosystems and killing them for fashion is not a value I endorse. So anything that reduces the harm the company is doing to ecosystems is a good move."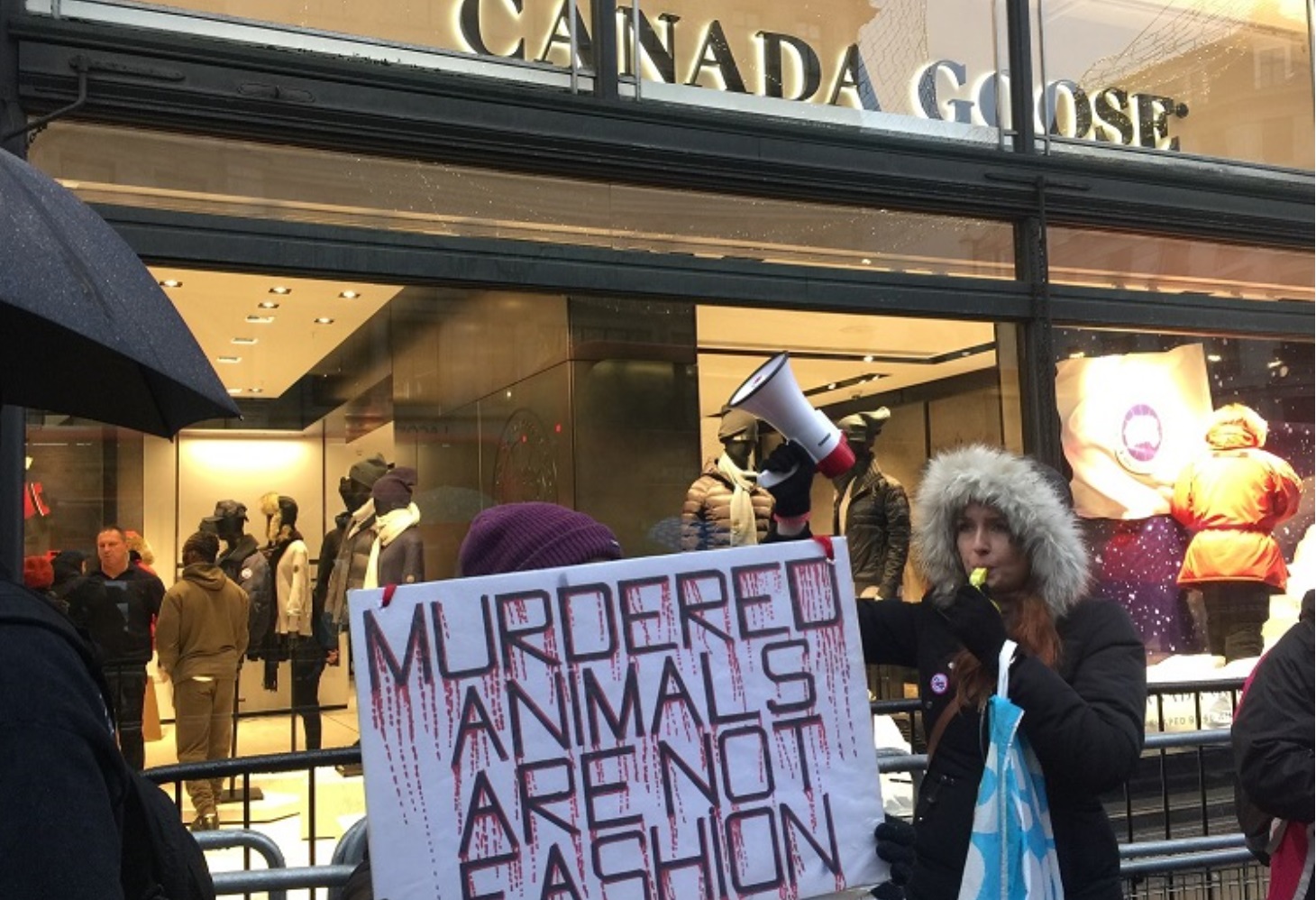 Coyote suffering
Investigations into coyote trapping have revealed that coyotes can suffer for days before trappers return to kill them by shooting, bludgeoning or suffocating them. Coyotes may sometimes attempt to chew off their own feet to escape traps, especially mothers desperate to get back to their cubs.
Traps are indiscriminate – many non-target animals are unintentionally caught and killed, including dogs and cats or even endangered wildlife. This is still part of the fiber story for recycled or reclaimed coyote fur.
"I'm afraid that Canada Goose knows next to nothing about coyotes," Dan Flores, author of Coyote America, said in an interview on The Discerning Brute.
A long and dramatic history
Coyotes have a long and dramatic history spanning 5.3 million years in the Americas. Quite the opposite of the reverence expressed for coyotes in Indigenous religion and lore, there's an ongoing saga of hatred, fear and violence perpetuated by a very different mythology. There have been federally funded extermination campaigns and mass poisoning crusades as well as political smear campaigns against coyotes.
Flores, who is Professor Emeritus of Western History at the University of Montana, and widely considered one of the foremost experts on coyotes, tells a much different story about fur and our troubled relationship with these intelligent animals.
Since the time of North American colonization by westerners, coyotes have been cast as despicable pests worthy of eradication whose pelts, like beaver, were once used as actual currency at trading posts in places like Kansas. Today they are still seen as dangerous pests, but now their fur, attached to a Canada Goose parka, has paradoxically become a luxury status symbol steeped in frontier heroism and nostalgia for the age of arctic exploration.
"Money is the bottom line," said Flores, "not ecology or science or an understanding of how the world works."
Canada Goose
From its humble beginnings in 1957 supplying coats to scientists in arctic climates, to its deliberate brush with Hollywood and the soon-to-follow public offering that raised over $255 million in 2017, Canada Goose at scale performs a well-established role in the fashion industry: turning an animal for whom we have manufactured contempt into something that flatters the ego and represents power, status and proximity to, protection from and power over nature.
"We're just taking a resource that's already sustainable and making it even more sustainable," said Dani Reiss, the Canada Goose CEO, in an interview.
Animal advocates question this premise on multiple levels.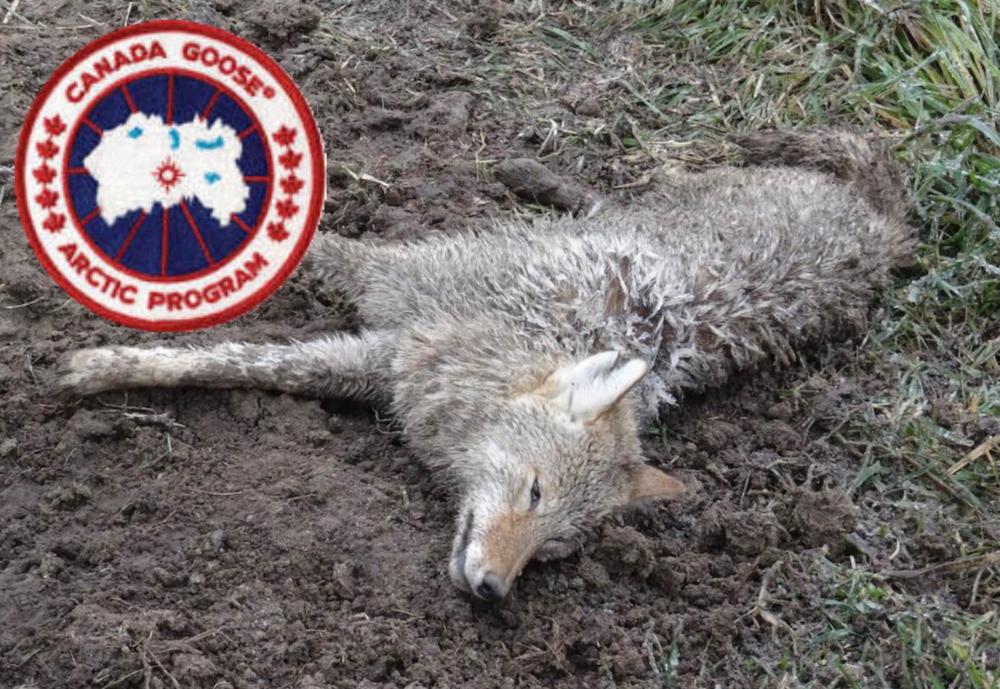 Sustainable fur?
If fur is already sustainable, as he claims, then why the need to address it? Why not focus on replacing the conventional cotton or nylon in their coats with hemp, organic or recycled cotton or recycled nylon?
This also does not address the use of feather down in its coats. There are more sustainable, scalable and more ethical materials that actually outperform down. Primaloft, for example, makes a biodegradable* and 100 percent recycled synthetic insulation, and there are companies like FLWRDWN making insulation from wild flowers.
There is also the mythology that fur is natural and sustainable, when in fact, fur is treated and preserved with many toxic and carcinogenic chemicals, making it hazardous and not biodegradable. Trapping has also been shown to disrupt coyote populations, resulting in population booms.
Giving into pressure
The answer seems that they are giving in to pressure from animal activists, but they'd never admit it. In the New York Times on Earth Day, Reiss claimed the decision was not related to public pressure from activists.
It's easy to see why Canada Goose, a company that has been the target of activists and organizations for many years due to its use of feather down and coyote fur, and due to its misleading claims about so-called 'humanely sourced' and 'ethical' fur in its supply chain, is attempting to greenwash and humane-wash itself.
Two complaints in 2019 were filed against Canada Goose with the Federal Trade Commission in the US by organizations Voters for Animals Rights, The Fur-Bearers, Social Compassion in Legislation and People for the Ethical Treatment of Animals. The company later changed its language, but again, claimed it was not because of pressure.
Canada Goose no longer buying new fur is good for coyotes and ecosystems, but the circumstances and context remain troubling. We must see through greenwashing and humane-washing, and continue to demand that this brand, and all brands that use animal materials, switch to truly ethical and sustainable materials.
*93.8 percent biodegradation in 646 days under ASTM D5511 conditions (accelerated landfill environment); 74.3 percent biodegradation in 889 days under ASTM D6691 conditions (accelerated marine/ocean environment). The stated rate and extent of degradation do not mean that the product will continue to degrade. Source: https://www.primaloft.com/bio/
**This article was updated on April 30. It previously said down in Canada Goose coats comes from farms where animals are live-plucked. According to a spokesperson for Canada Goose: "Canada Goose suppliers are already required to certify that down comes as a byproduct of the poultry industry and has not come from live plucked or force-fed birds. Canada Goose has enforced this commitment through a third-party audit program conducted by IDFL Laboratory and Institute who conduct sample audits at all levels of its supply chain, from farm to factory. All down used in Canada Goose products has adhered to the Five Freedoms policy set out by the World Organization for Animal Health (OIE)."