2017 has been a major year for veganism – seeing the movement become more and more firmly established in the mainstream.
Major news outlets have featured stories about it, high street restaurant chains have rushed to add plant-based options to their menus, and more people than ever took part in a major animal rights march.
Here are nine moments from 2017 that showed how mainstream veganism is becoming.
1. Pizza Hut added vegan cheese to its menu
Near the end of November, a Pizza Hut spokesperson contacted PBN to confirm that vegan cheese was going to roll out to all of its UK stores.
Gareth Hopley, Head of Communications at Pizza Hut Restaurants, said: "Yes, the reports are true.
"After an amazing customer response to our vegan cheese trial earlier this year, we're pleased to announce that the dairy-free alternative will now be served in all of our restaurants nationwide and feature as a permanent fixture on our menus.
"We're excited that all of our cheese-loving vegan customers will be able to grab a slice of the action and no longer have to miss out – we can't wait to hear their thoughts!"
2. 'Gary' sales went through the roof
Vegan consumers started 2017 as they meant to go on – buying lots of plant-based cheese (aka 'Gary').
Retail giant Sainsbury's revealed that sales of its new cheese range had surpassed sales expectations by a staggering 300 percent.
Speaking about the vegan boom in sales at the time, VegfestUK organiser Tim Barford said: "The growth in the vegan trade [in the UK] has been astronomical."
3. Okja made people research veganism
Netflix movie Okja hit the big time this year – with many watching it then considering going vegan.
According to animal rights group PETA, there was a huge spike in the number of people searching the term 'vegan' on Google because of Okja.
PETA's Vice President Colleen O'Brien said: "In July alone, PETA received more than 21,000 requests for our vegan starter kits – double the number of an average month.
"These powerful films are creating a new generation of vegans, one screening at a time."
4. The first ever UK vegan advert started playing in cinemas
The UK's first vegan cinema advert, created by vegan charity Viva! (and edited by PBN Creative) launched this month.
The charity wanted to 'bring the truth about factory farming to new audiences' by comparing the difference between the life of Hope, a sow who was rescued by Viva! with her six piglets, and the lives of factory farmed pigs.
Viva! Founder Juliet Gellatley told PBN: "We're delighted with the response. Nine out of 10 people surveyed thought the cinema ad is effective and 'agreed with its sentiment'.
"Most comments were that they were moved by Hope's dance of joy and they were against factory farming.
"Six out of 10 say they will consider trying veganism."
5. UK retail giant Tesco's appointed its first ever Director of Plant Based Innovation
Chef Derek Sarno was appointed as Executive Chef-Director of Plant Based Innovation for Tesco – which is the first role of its kind
This year has seen supermarkets really start to tap into the growing vegan market – with retail giant Tesco taking the exciting step of appointing a Director of Plant Based Innovation – Derek Sarno.
Sarno has indicated that choice for vegans in-store is set to grow in the coming months, saying at a recent event: "It's unavoidable, it's just going to happen.
"This next year – 2018 – is our year. It's the year veganism goes mainstream."
6. Lots of top athletes went plant-based
Many athletes ditched animal products from their diets this year – including F1 champ Lewis Hamilton, Tennessee Titan linebacker Derrick Morgan, and Boston Celtic's Kyrie Irving.
Many made the change after watching successful documentary What the Health.
Speaking about his new plant-based diet, Irving said: "This season I've been on more of a plant-based diet diet, getting away from all the animals and all that. I had to get away from that.
"My energy is up and my body feels amazing.
"Just understanding what the diet is like for me…means I've been able to sustain my energy at the highest level."
7. Tel Aviv hosted the biggest ever animal rights march – with 20,000 activists taking part
In September, thousands took to the streets of Tel Aviv, in what was described as the 'biggest march ever' for animal rights.
The event was organized by a number of animal organizations including Vegan Friendly, Anonymous for Animal Rights and Let the Animals Live.
Activists like PETA Founder Ingrid Newkirk and James Aspey made speeches.
Speaking before the annual event, Shira Hertzanu Head of Media Relations at Anonymous for Animal Rights, said: "Tonight is the biggest animal rights march in history.
"All the people coming here tonight are caring people who don't want to see animals being harmed."
8. BBC Radio 4 Program Focuses On Growth Of Veganism In The UK
Many mainstream outlets covered the growth of veganism this year – with BBC Radio 4 producing a special feature about how it is becoming popular with young people in the UK.
The broadcaster set out to answer a question: "Is this just a trend that's fine for the hipster herbivores of Camden, or can it gain traction across the country and start a food revolution?"
In search of the answer, presenter Grace Dent visited Vegan Hackney Downs Market along with spoken word artist Jay Brave.
Standing at the street market, she says: "As me and Jay stand in this buzzing, all-vegan street food market down a back alley in east London…things in the vegan world, especially in 2017, seem to be changing."
9. Advertising Standards said cow's milk can be called 'inhumane'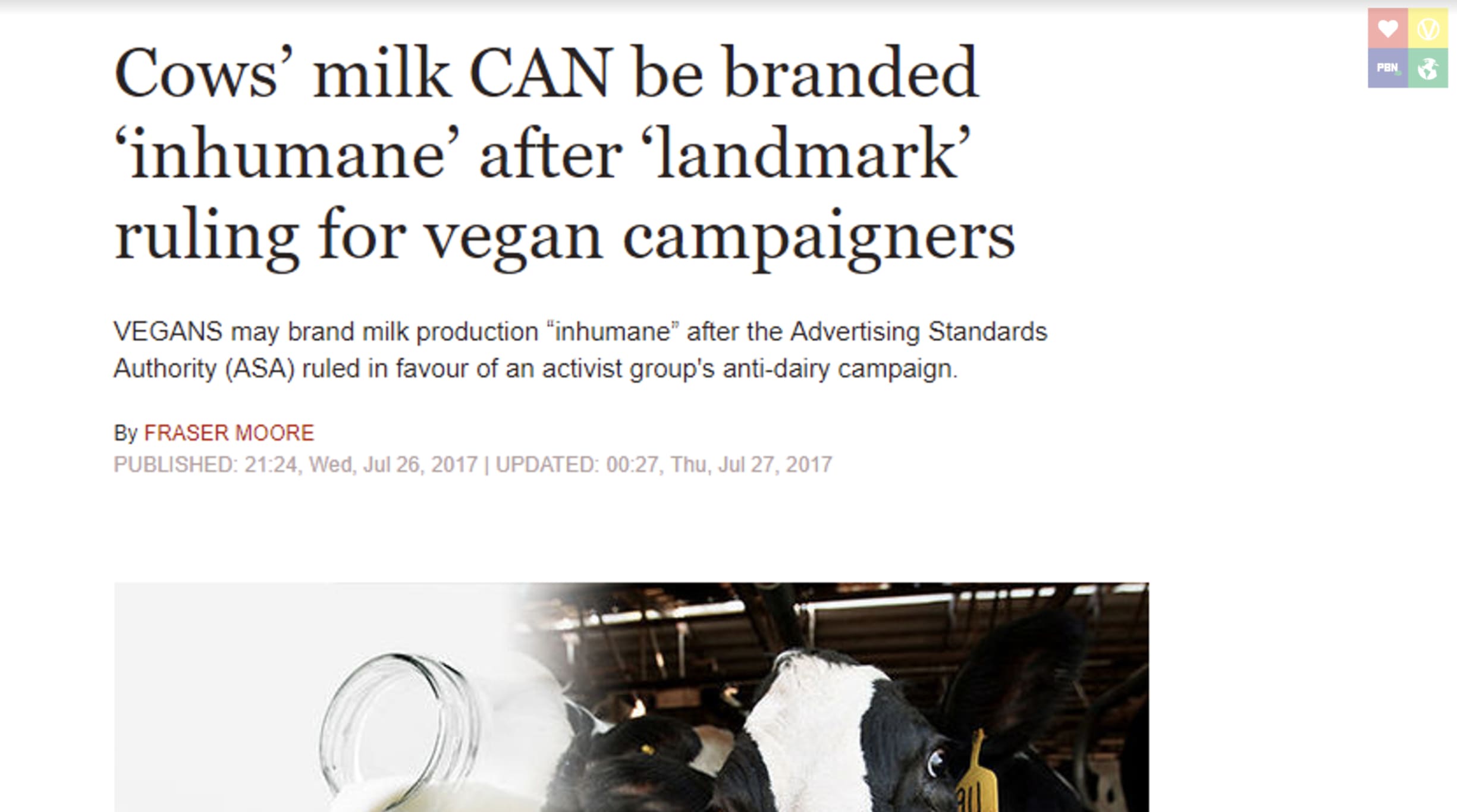 Campaigners were delighted when the Advertising Standards Authority [ASA] cleared an advertisement by Go Vegan World that states: "Humane milk is a myth. Don't buy it."
Many saw the victory as a huge win for veganism – and a hugely significant moment for the vegan movement.
The advert cleared by the ASA – which was featured in The Sunday Telegraph – pictures a cow standing behind barbed wire. Words on the ad say: "I went vegan the day I visited a dairy. The mothers, still bloody from birth, searched and called frantically for their babies.
"Their daughters, fresh from their mothers' wombs but separated from them, trembled and cried piteously, drinking milk from rubber teats on the wall instead of their mothers' nurturing bodies. All because humans take their milk."
The ASA received challenges from seven complainants about the ad – some of whom work or have worked in the dairy industry, but it cleared the ad of any wrongdoing
Higgins welcomed her win saying: "Dairy is inherently inhumane."
READ MORE:
Food Scare: Aldi Hotdogs Recalled Due To Possible Bone Fragments And Bacteria
Demand Leads Supermarket Tesco To Double Vegan And Veggie Christmas Food
Vegan Documentary 'What The Health' Nominated For Major Award