So you have found a decent movie or series to binge-watch on Netflix, but now you need sweet snacks that are worthy of accompanying the next few hours of your life as you sit, eat, slouch and watch.
Listed are our favourite sweet treats to eat whilst watching Netflix, that are mostly gluten-free, accidentally vegan and less than £2.
1. Schar Mini Dippers
Anyone else have childhood memories of dipping bread sticks into gooey melted chocolate and making a huge mess? Thankfully, there is a vegan version of this dream and you can buy it at Asda for £1.50.
These Schar Mini Dippers mini dippers are in the free-from section and are wheat-free, gluten-free and freaking delicious. If you are a bloke eating these with the light only from your TV, I guarantee you have chocolate in your beard/stubble by the end of the movie.
2. Bournville Chocolate Buttons
This next sweet snack needs no introduction. Bournville Chocolate Buttons came onto the vegan scene over a year ago now and has been a favorite ever since.
Once again, this is accidentally vegan which means Cadbury didn't mean to make this for us. It just goes to show how you can accidentally make really delicious vegan chocolate.
These are regularly on offer at Asda for £1 in the normal confectionery section as well as being available in a range of other outlets.
It pains me to say it, but due to the rich cocoa content, these are shareable as you get a few in a bag and you can have too many.
Suggestion to Cadbury: I know you are busy making the Vegan Dairy Milk, but how about making chocolate orange buttons? Similar to the Bournville Chocolate Orange bar.
I know a few hundred thousand vegans who might agree with me on this.
3. Jealous Sweets Grizzly Bears
Our list wouldn't be a list without some jelly sweets. If I am watching a film, I feel cheated if it's just chocolate or just popcorn, so here is the vegan Gummy Bears 'bouncing here and there and everywhere' – anyone remember the 80s cartoon?
I am honored to be including a vegan company on this list. Jealous Sweets, the brand behind Jealous Sweets Grizzly Bears, is 100 percent plant-based and gluten-free, and some of its products are even sugar-free.
You can find these sweets amongst all the other sweets in Asda's confectionery section RRP £2.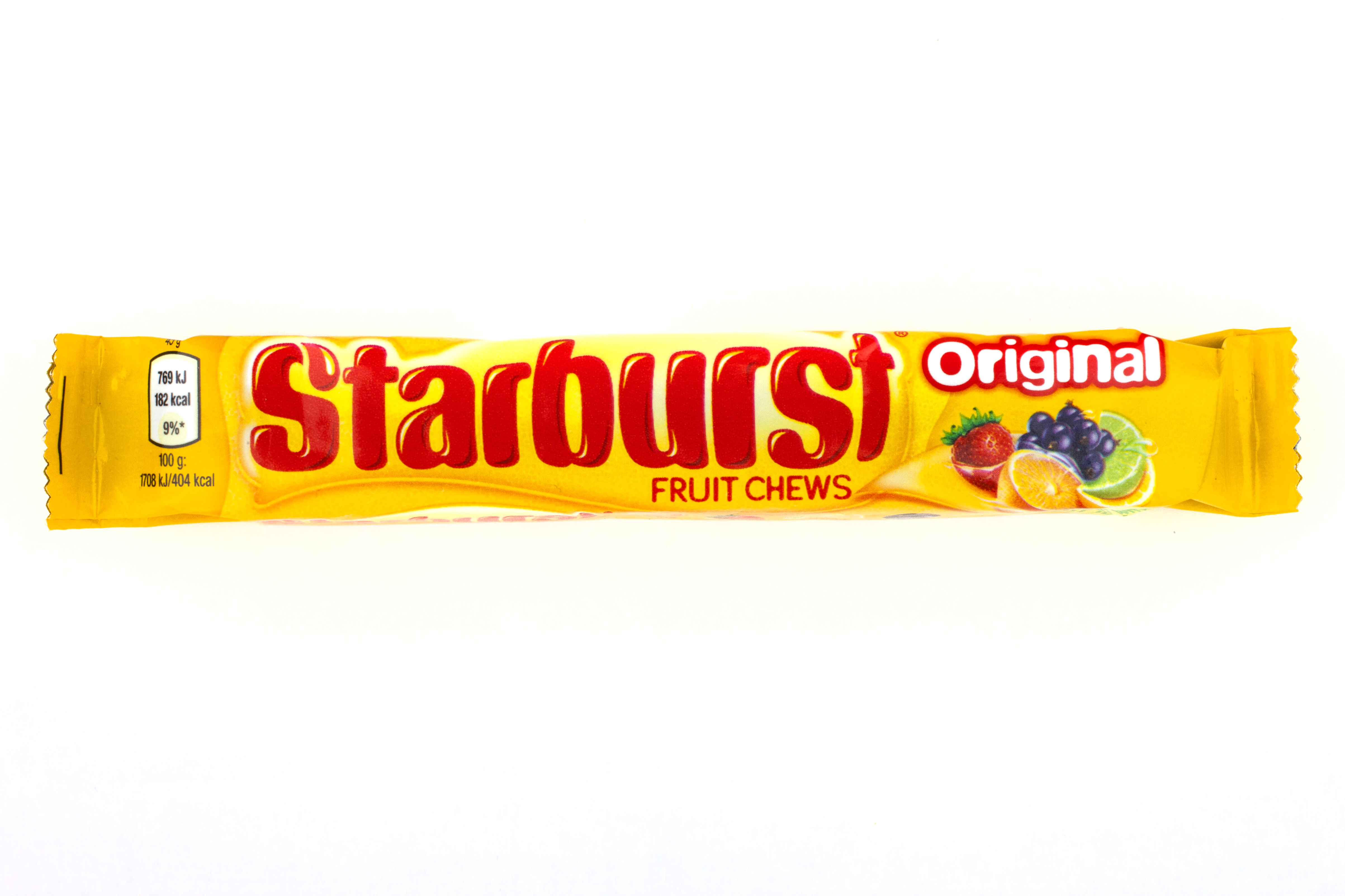 4. Starburst
And the Best Accidentally Vegan Sweet Award goes to…Starburst! These really are so good and brilliant for annoying your spouse with chewing noises during a suspense thriller – actually I am that spouse who gets annoyed with those sloshy salivating sounds.
It's acceptable to share these with said spouse or kids as well as there are many in a packet, or you can just eat the bag and leave the green ones at the end for them. Usually priced at just £1, they can be found in the confectionery aisle of many supermarkets and newsagents.
Fun Fact: Starburst has recently gone back to its formal name of Opal Fruits for a limited time only.
5. My Sweet Chickpea
This is a confectionery product that 'only if you know, you know'. Let's face it, compared to all the other sweet treats on this list, eating chickpeas whilst watching a flick doesn't seem too appealing, BUT you have to try these My Sweet Chickpea.
When chickpeas are roasted in this way they almost turn into a biscuit, a malty biscuit. These are way too dense and heavy to be compared to Maltesers, but they have the same satisfaction value.
They come in three flavours: Dark; Cappuccino; and Coconut. They are gluten-free and use dark chocolate, which actually works really well for this product, trust me.
Made by the Sweet Chickpea Company these can be found in the free-from section at Asda for £1.25.
6. ProperCorn Sweet & Salty
I wouldn't dream of making a list of our favorite vegan snacks to have whilst watching Netflix without including some form of popcorn.
Is it just me who can only eat sweet & salty popcorn now? I would actually turn away just sweet or just salty popcorn these days.
Growing up I remember popcorn to be so sweet it was laden with crunchy caramel. Then around the time when British people started having a taste for Sauvignon Blanc and olives, in stepped the salted popcorn.
Seriously, in other countries they either have one or the other, in the UK we can't decide so we have the ProperCorn Sweet & Salty option and it just works! I love it, it's cheap (£1.59), almost always vegan and gluten-free. Most supermarkets do their own brand versions too that can be cheaper.
6. Sarelle Bar
In true conventional list making style, I saved the best for last. The Sarelle Bar is up there still as one of the best accidentally vegan products ever!
If you haven't tried one before, we are talking light whispy, truffly, hazelnut chocolate, encased in wafer and more chocolate. It's exquisite.
You can find the Sarelle Bar in the world food section of Asda for just 65p, but always check the label! This little bar has changed its recipe twice of late and the time before last it wasn't vegan-friendly. But it appears at the moment, it's very vegan again – so go nuts.