It's better for the animals, the planet, and human beings – so it's no wonder that more and more people are ditching animal products and becoming vegan.
This is obviously having a critical impact on the products we choose to buy and consume.
Animal agriculture has always been a hugely powerful industry – catering to the dietary needs of the masses.
But people have started turning their backs on products like milk and animal flesh – and Big Ag is taking notice.
Here are 5 shocking moments when it became clear that carnist bosses are scared of the vegan influence.
1. Global dairy bosses admitted that 'vegan activists are a threat to our existence'
World dairy leaders admitted the dairy sector is 'facing an existential threat' from vegan campaigning at a recent industry summit.
Coming together at the event in Belfast, dairy bosses from the UK, China, Japan, and Australia voiced concerns over the 'myths and scare stories' that are being presented about dairy by vegans.
Calling it a 'superfood', chairman of Dairy UK Paul Vernon stressed that the industry needs to ensure that the message about the 'nutritious' product is 'heard loud and clear by consumers who are under a constant barrage of misleading and ill-informed messages about dairy'.
2. An Irish dairy brand advertised cow's milk as 'plant-based'
Not content with trying to stop plant-based producers to use names like 'soya milk' or 'almond milk', now the dairy industry is trying to piggyback onto vegan terminology.
This poster – from Irish Dairy – shows the increasing desperation of the milk industry, with its disingenuous attempt to both fight AND appropriate the plant-based message.
The poster, which features a young woman looking wistfully into the middle distance while quaffing cow juice, describes milk as 'completely natural'.
A bizarre claim to make about a pasteurized product that is the result of artificially inseminating genetically modified animals.
3. Desperate Dairy Claims 'Cows And Calves Are Separated For Their Own Health'
In another strange move, our chums at Irish Dairy tried to claim the agonizing enforced separation of babies and their mothers is for their own good *eyes roll out of head*.
The claim, made in a Facebook post, was described as 'fundamentally ignorant' by animal behavior expert Dr. Toni Shephard.
According to the post on Irish Dairy's Facebook page: "Separation is actually an animal health measure and it is within a farmer's interest to care for his animals appropriately and within best practice guidelines…
"Separation at a later time would increase infection risk and would be more difficult for the animals given that they would have had more time to bond – that's a fact!"
But Dr. Shephard says separating cows from their offspring can actually cause a number of health issues.
She told PBN: "Claiming that calves are removed from their mother immediately after birth to protect them from infection shows a fundamental ignorance of mammalian biology.
"Like all nursing mothers, cows produce antibodies to the pathogens in their environment and pass these on to their calves through their breast milk.
"Removing a newborn calf from his or her mother not only deprives them of this natural immune-boosting food, but also causes them extreme stress which further weakens their immune system."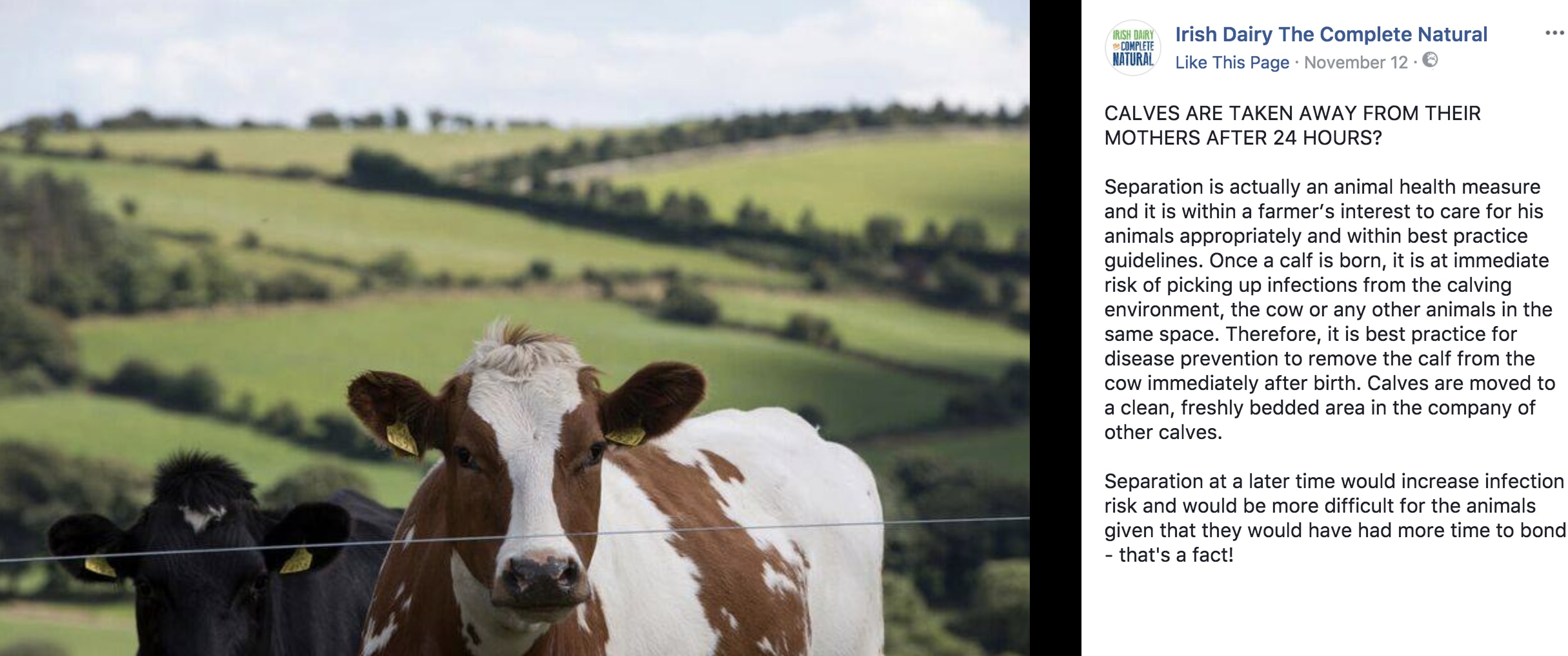 4. The National Farmers Union tries to fight PBN's World Plant Milk Day
In what was a laughable attempt at a social media coup, the National Farmer's Union [NFU] tried to hijack PBN's World Plant Milk Day with a 'proud of dairy' campaign.
In a direct response to PBN's initiative, Michael Oakes, chair of the NFU's dairy board, said: "We have got a whole week of dairy action from the vegans coming up, not just World Plant Milk Day.
"The NFU has been trying to encourage our membership to send us 30 second video clips of why they are proud to be involved with dairy to counter the noise from the vegans.
"We need to be pointing out the carbon footprint of almond juice.
"There are some factual negatives we can put out there to counter some of their arguments that people should be drinking milk alternatives."
Unfortunately Mr. Oakes' poor grasp of science (almond milk footprint WORSE than milk… are you sure?) and laughable attempts at being sassy ('almond juice') didn't do much to stir up his cow abusing followers – and only a handful of farmers posted about how 'proud' they were of dairy.
Conversely, #WorldPlantMilkDay trended all day.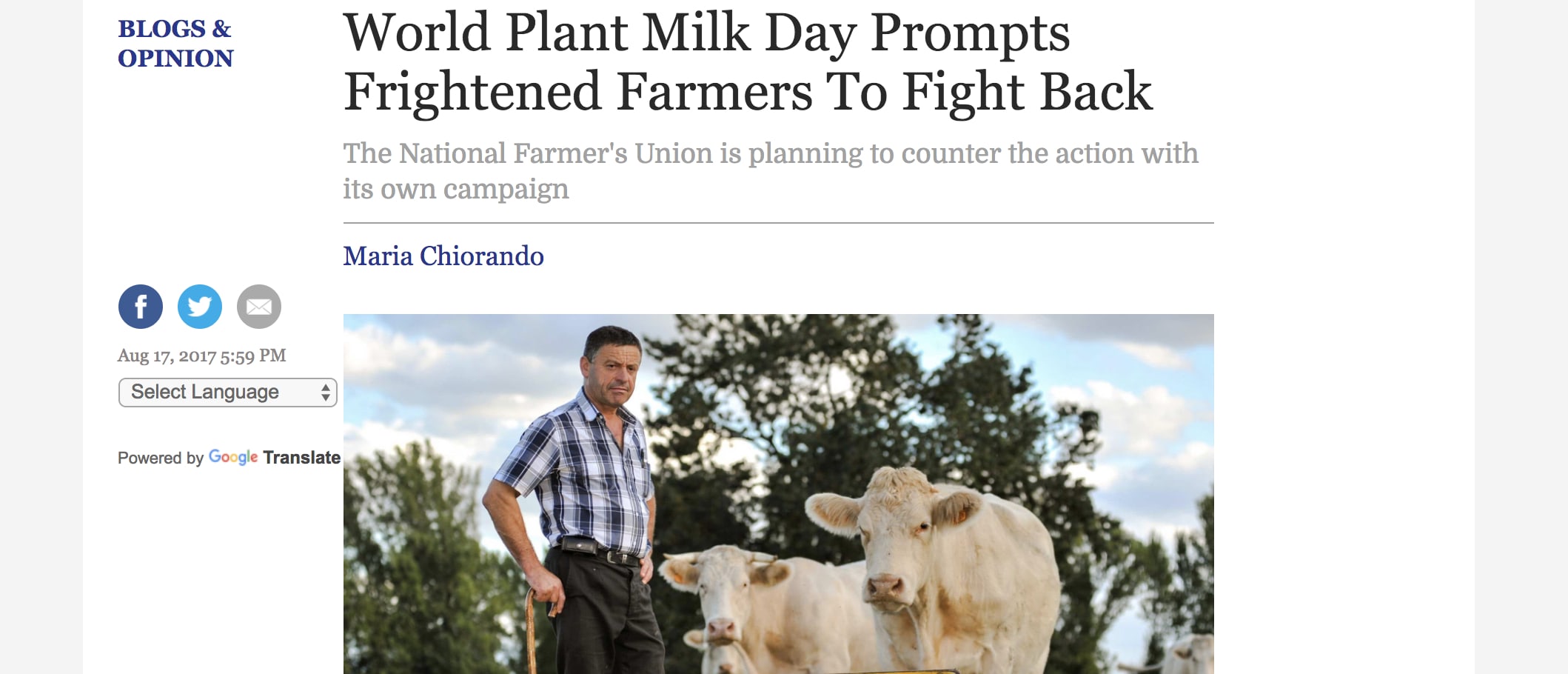 5. Dairy giant Danone pledged to invest $60 Million in its plant-based milk production facility
In a clear cut case of 'if you can't beat 'em, join 'em', Danone – famous for its dairy products like yoghurt, pledged to ramp up its plant-based milk production.
The company is going to pump a huge amount of cash – $60 million – into its plant-based milk production operation in Virginia.
Dan Poland, chief supply chain officer for DanoneWave, said: "Our success as a business is integrally linked to the ecosystem in which we operate.
"With the support of our employees, business partners and the community at large, including the Commonwealth, we are able to provide better-for-you food and beverage choices."
READ MORE:
Can Major Drive To Increase 'Accessible' Vegan Options Boost Movement?
Celeb Lea Michele: 'I Keep My Home Completely Vegan'