It's time to get excited – Halloween is right around the corner!
And the results are in: this festive time is ALL about the treats. Halloween is a great excuse to indulge in sweets and various decadent eats.
So go ahead, treat yourself and your loved ones to some creepy – but delicious – Halloween fare.
1. Bloody Cups
These three-ingredient cups offer a spooktacular twist on the classic Peanut Butter Cup. They are vegan – and filled with a simple raspberry sauce.
You will require frozen raspberries, maple syrup or your sweetener of choice, and vegan baking chocolate (or chocolate chips).
Heat the frozen raspberries, mash them, and add the liquid sweetener.
While the sauce cools down, melt 1 cup of the chocolate, and place it in the muffin liners; when you finished spreading the chocolate evenly to the sides, place the liners into the fridge for a few minutes – until the chocolate hardens.
Once ready to go, place the raspberry filling into the chocolate-coated muffin liners.
Melt a further 2/4 cup of chocolate, and pour it over the raspberry sauce. Let it harden in the fridge for about 5 minutes – and your bloody cups are done!
See full recipehere
2. Garlicky 'Witch Fingers'
For these creepy witch fingers, all you need is pizza dough, almonds, vegan butter or magarine, garlic powder, and marinara sauce.
Roll some pizza dough stripes into a rounded finger-like shape, and press an almond onto each piece of dough – the almonds will act as the 'fingernails'.
Lightly coat the fingers in vegan butter, sprinkle with garlic powder, and bake!
Before serving, dip the 'witch fingers' into the 'bloody' marinara sauce – and enjoy!
See full recipehere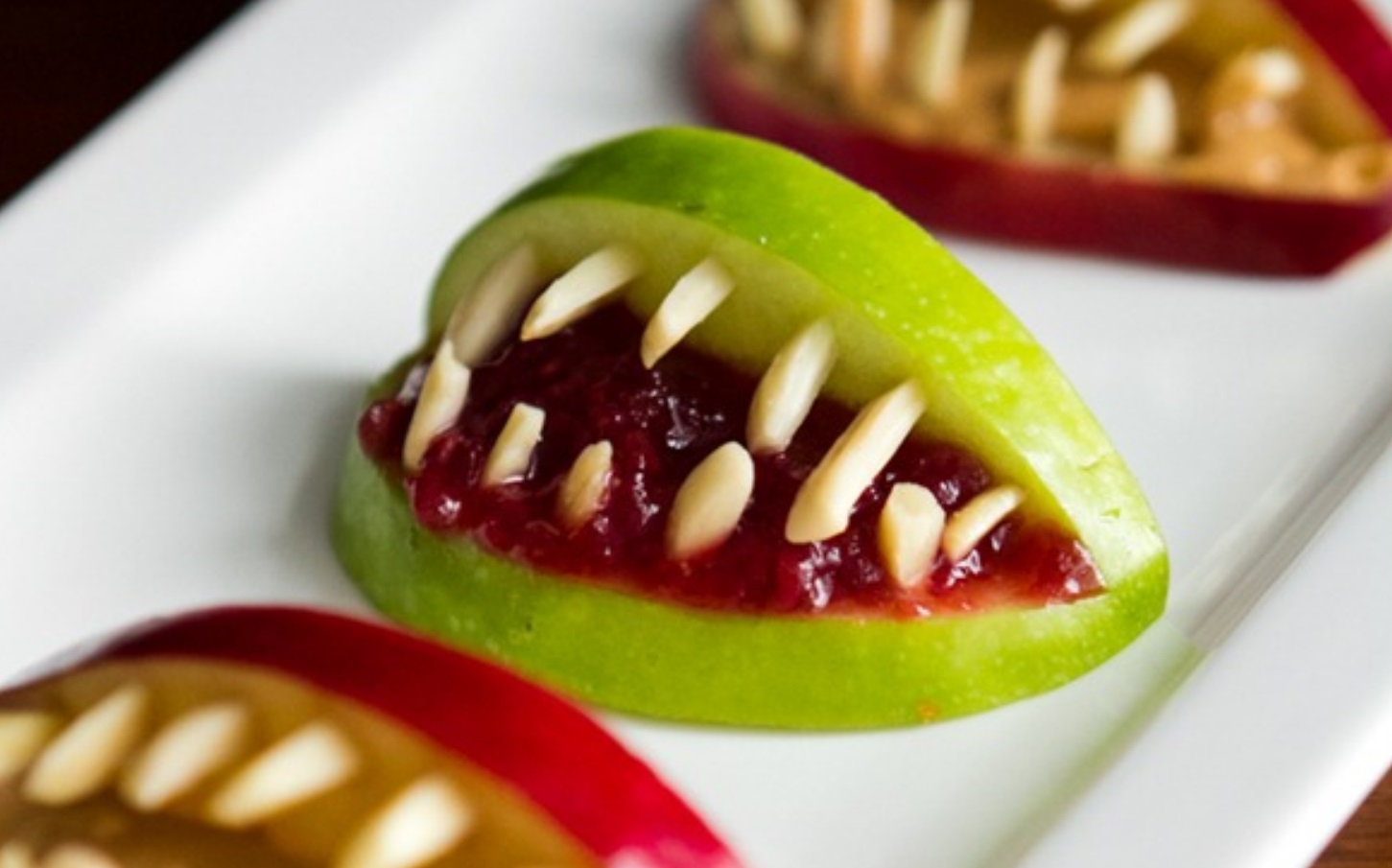 3. Apple Bites
A last-minute Halloween recipe that will grab everyone's eyes – and teeth – these Apple Bites will take around 5 minutes to put together.
You'll need apples, slivered almonds, a nut butter, and jam.
Slice up the apples, and if they're going to be sitting out you can rub lemon juice on them. Spread some jam or nut butter on the apples for the tongue, then push some slivered almonds in for the teeth.
See full recipehere; you can also trythis variation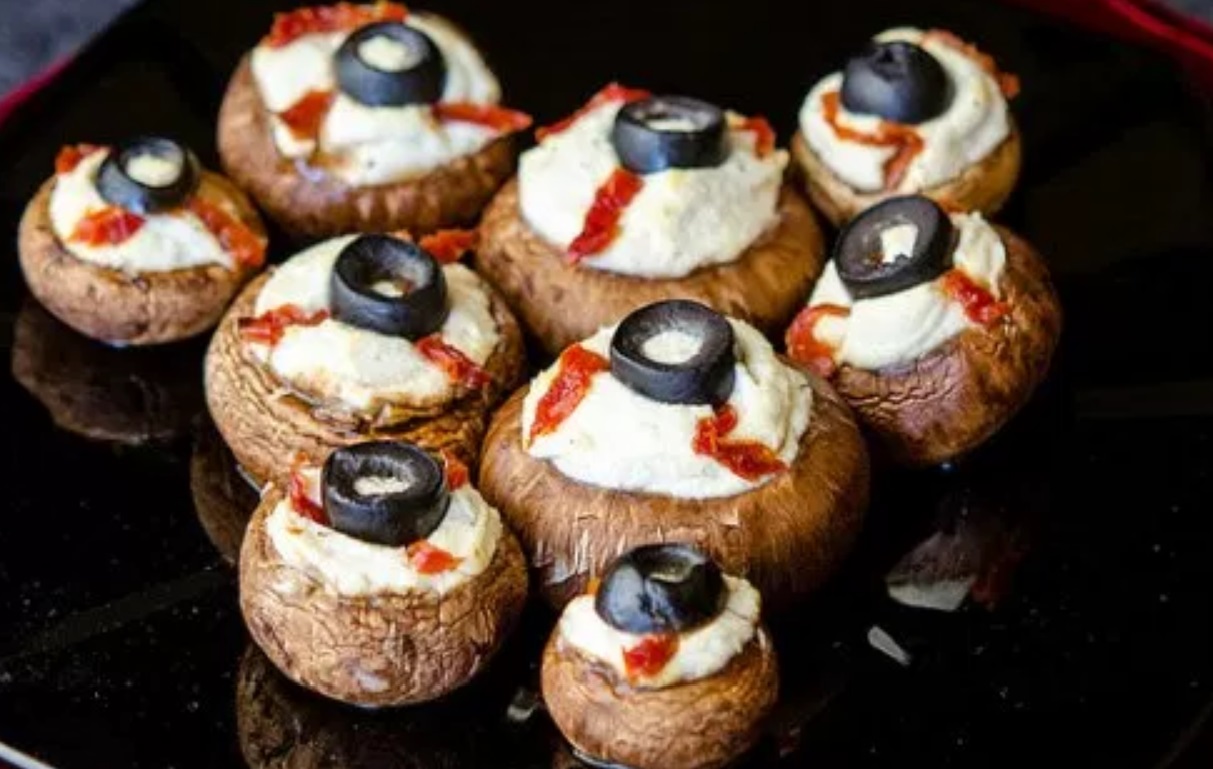 4. Stuffed Mushrooms Eyeballs
Another easy Halloween recipe that is perfect to bring to any parties, these plant-based eyeballs are sure to creep people out.
So get those mushrooms out, prepare the garlic, lemon juice, loads of spices, tofu, black olives, sun-dried tomatoes, and balsamic vinegar.
Puree the tofu, garlic, lemon juice salt, Italian seasoning, onion powder, and black pepper in a food processor until smooth.
Add the tofu ricotta mixture into each mushroom cap, and place the finely-cut sun-dried tomato pieces onto the stuffed mushrooms.
Top with slices of olives, and bake for 10-15 minutes.
See full recipehere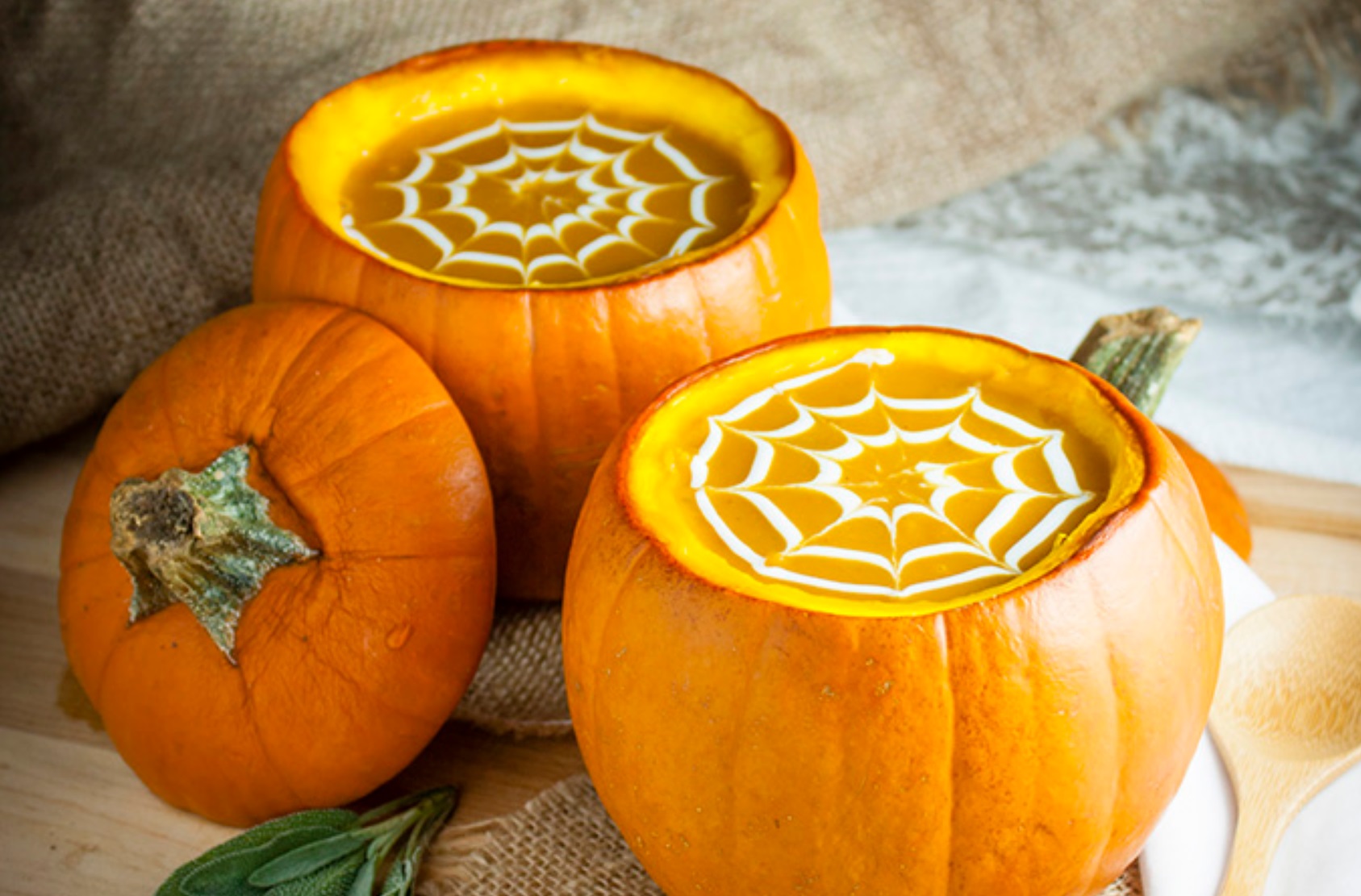 5. Pumpkin Squash Soup
Is it really Halloween if you're not eating a pumpkin dish?
You'll require an onion, veggie broth, garlic, butternut squash, sugar pumpkin pie pumpkin, sage, thyme, and salt and pepper.
Saute the onion, and add the broth, squash, and fresh pumpkin. Bring to a boil, then reduce heat and simmer for about 20 minutes, or until the squash has softened.
Add sage, thyme – and puree with a blender. Simmer 5 more minutes and season to taste. You can also decorate with vegan sour cream.
See full recipehere
READ MORE:
WATCH: Vegan Message Shared With Millions By Internet Giant UNILAD
SCARED: Farmers Are 'Concerned' Over Veganism Surge
WEIGHT LOSS: Study Claims This Favorite Vegan Food Is Key To Shedding Pounds