Joaquin Phoenix is no stranger to veganism.
The Joker star stopped eating animal products when he was just three-years-old, after witnessing the barbaric slaughter of fish.
Since then, he has worked tirelessly with different organizations to promote a message of compassion and animal rights. Here are just five examples.
1. He branded animal agriculture 'absurd and barbaric' in a mainstream interview
During his recent publicity tour for smash hit film Joker, Phoenix spoke out about animal agriculture in an interview with digital news video outlet Brut.
Speaking about why he was vegan, he said: "To me, it just seems obvious – I don't want to cause pain to another living empathetic creature. I don't want to take its babies away from it, I don't want to force it to be indoors and fattened up just to be slaughtered."
Phoenix added that these behaviors are 'absurd and barbaric', saying he 'doesn't how you could witness that and not be affected by it'.
"Certainly, also, the effect that it has on our environment is devastating," he added. "So, for me, it's my life and has always been my life, and it's really one of the most important things to me."
2. He starred on a huge billboard promoting an anti-speciesist message
Earlier this year, Phoenix partnered animal rights charity PETA to star in a major billboard campaign in New York and Los Angeles.
The poster, which promotes an anti-speciesist message, shows an image of Phoenix with a chicken alongside the slogan: "We Are All Animals."
"When we look at the world through another animal's eyes, we see that inside we're all the same – and that we all deserve to live free from suffering," Phoenix said.
3. He is supporting Veganuary this year – asking people to give a plant-based diet a go
It was recently revealed that the actor is working with Veganuary – a global organization encouraging people to try vegan in January and beyond – persuading people to ditch all animal products for the month.
"If you look at the climate crisis or the violence of our food system and feel helpless, thinking 'I wish there was something I could do'- you can. Right now. Sign up to try vegan this January," he said.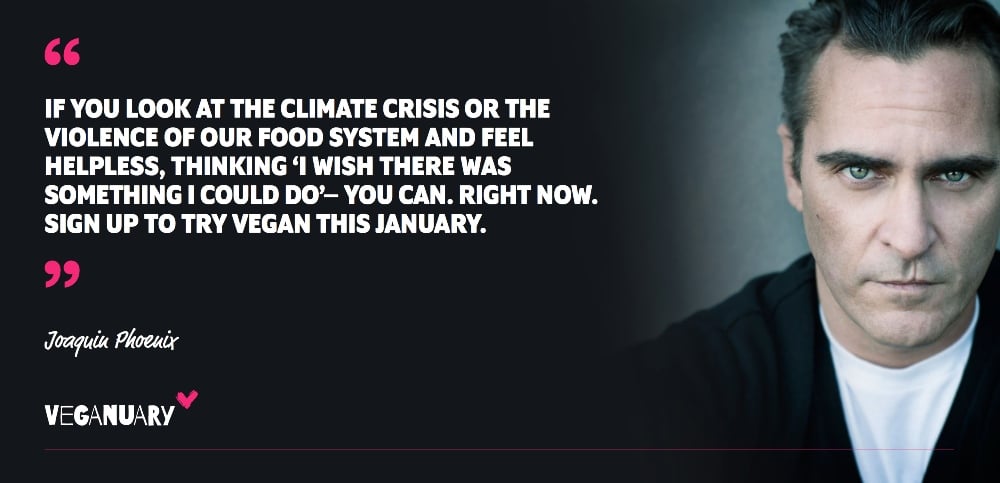 4. He led a funeral procession for animals on National Animal Rights Day
Along with partner Rooney Mara, Phoenix led a funeral procession for animals on National Animal Rights Day on June 2 this year.
Video footage from the event showed the pair looking somber as they held the bodies of animals who'd been killed by humans on factory farms.
They both dressed in black, wearing matching T-shirts that said: "Our Planet. Theirs Too."
5. He promoted 'an uncompromising vegan message' at the launch of a major campaign
Phoenix promoted what was described as 'uncompromising vegan message' earlier this year when he attended the launch of a major new campaign by animal justice organization BeFairBeVegan.
The campaign, which was broadcast for eight weeks throughout Toronto, included a broad range of media, including a Flexity streetcar wrap, 20 bus murals and 10 transit shelter posters.
Phoenix appeared at St George Transit Station, a key transit hub that sees high foot traffic, as the campaign launched.
"In addressing our speciesist attitudes toward other animals, BeFairBeVegan encourages us to consider that our core similarities are far deeper than our surface differences. Now, more than ever, the world needs to hear this message," Phoenix said in a statement sent to Plant Based News.