Fancy getting into activism, but not sure where to start?
There is a whole spectrum of activities you can do to advocate for animals. While some people like to go on marches and demos, there are other, more subtle ways people use to get their point across.
Here are five methods activists have tried. Please note, Plant Based News does not advise or endorse any kind of illegal activity.
1. Writing on money
Although writing on banknotes is illegal in the UK, people sometimes use it as a form of activism, scrawling simple phrases like 'Go vegan' on cash.
One vegan came under fire on social media recently when posting their own attempt at writing on notes.
The Facebook user posted an image of £5 notes, on which was written 'Blood money' (a reference of animal fat in the notes themselves) and 'Go vegan'.
The action was a very controversial one, with one respondent saying: "They'll be replaced immediately, thus causing more tallow to be needed." Another added that it's illegal, and she does not condone it.
The original poster said: "It should be illegal to force this upon us. Vegans are, after all, against animal exploitation."
2. Literally wearing it on your sleeve (or skin)
Something as simple as wearing a T-shirt with a vegan message is bound to spark curiosity and raise eyebrows.
Get as creative as you want: wear a pin on your backpack, a hat with a message, put a sticker on your laptop, or you might choose to go as far as tattooing a vegan message on your body.
Check out this list of vegan tattoos to see activists who have inked their message onto their skin.
3. Trying chalktivism
Chalking is a fun way to grab people's attention and plant the vegan seed.
Easy and approachable, anyone can grab a piece of chalk and write vegan messages on the ground.
In a mass chalking protest that took place in Norwich recently, a huge number of vegans wrote down messages such as 'Compassion for all beings', '3,000 farmed animals are killed every second', and 'Have a happier meal, go vegan', just in front of a McDonald's.
The fast food chain's management chose to erase the chalked messages.
4. Placing stickers in supermarkets
Another controversial practice is sticking pro-vegan labels on meat in supermarkets. While some claim meat is thrown away after it has been labeled, and it is therefore driving demand, others argue it is a powerful tool in the activist's toolkit.
Marc Gurney, a vegan activist from Brighton, says: "It's important that people understand that it's not right for an animal to be killed when there are so many alternatives to animal products."
Discussing a shopper who said she felt 'emotionally blackmailed' after finding an anti-meat sticker in a supermarket, Gurney responded that if she was horrified by the sticker, then 'she needs to think twice about what she puts on her plate'.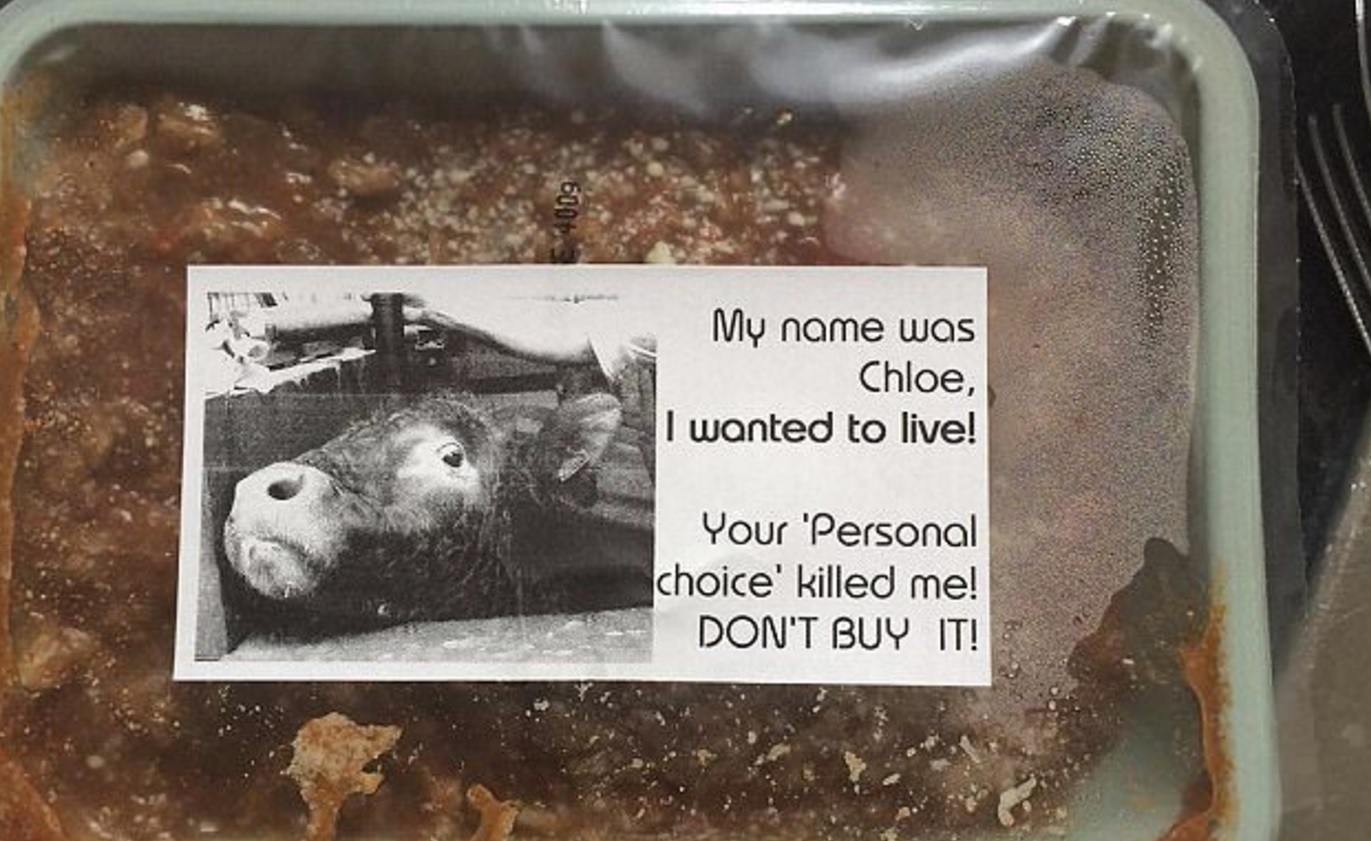 5. The Earthlings Experience
Lots of activists have engaged with a project called the Earthlings Experience – a vegan outreach technique that consists of masked activists standing in a public space, with a laptop playing the Earthlings documentary.
The mask is to attract attention and protect your anonymity at the same time.
This outreach can help many people make the connection between the animal in the slaughterhouse and the food on their plate.
READ MORE:
LONDON UK: Activism and Campaigning: Emerging Issues And Tactics For Effective Campaigning
Sharing Animals' Unimaginable Pain: Vegan Activist Does 24-Hour Tattoo Challenge
Interview With Vegan Activist James Aspey | PBN Spotlight #1