This year has seen incredible strides forward in the vegan movement – with more people choosing the lifestyle.
Large brands have started to sit up and take notice of the increasing demand for plant-based products.
The word 'vegan' is used more and more in the mainstream media, and animal agriculture is starting to look at how the movement will damage its bottom line.
Here are some of the biggest vegan moments from the year – all taken from PBN's much-anticipated new film, Vegan 2017.
1. PBN launched World Plant Milk Day – and it trended all day on Twitter
No-one could have predicted the success this initiative would have in its very first year. World Plant Milk Day was featured in the mainstream media and even provoked a response campaign from the National Farmer's Union [NFU].
The NFU's 'Proud of Dairy' hashtag got a few mentions on social media, by contrast, World Plant Milk Day trended for hours – a metaphor for the state of the two industries?
2. KFC's marketing campaign prompted angry backlash from meat eaters
Back in July, an advert for fried chicken chain KFC fiercely divided viewers – leaving many outraged at its depiction of a dancing chicken.
The ad shows a healthy, clean white chicken dancing around an airy spacious space to DMX's X Gon' Give It To Ya. The aim is to show viewers that when they eat KFC, they are eating '100 per cent' chicken.
But critics claimed the ad backfired in this plan badly, by highlighting chickens as sentient animals, and putting people off eating them.
Some meat eaters reacted to the advert by saying 'they don't want to be reminded they are eating an animal'.
Megan Winton said: "Is it just me who thinks the new KFC ad is wrong?
"They're pretty much showing off the happy chickens they're essentially going to slaughter."
3. 'Victory for compassion' as Anita Kranjc charges were dismissed
Anita Krajnc, an activist with Toronto Pig Save, was charged with 'mischief' after giving water to thirsty pigs on their way to slaughter in 2015.
In May, the charges were dropped, in a move campaigners labeled a 'victory for compassion'.
Krajnc, who previously said it was 'shocking' that she was charged for giving water to thirsty pigs, paraphrased ex-Beatle and vegetarian Paul McCartney in court.
She said: "If slaughterhouses had glass walls, everyone would be vegan and animal activists."
4. The BBC put veganism center stage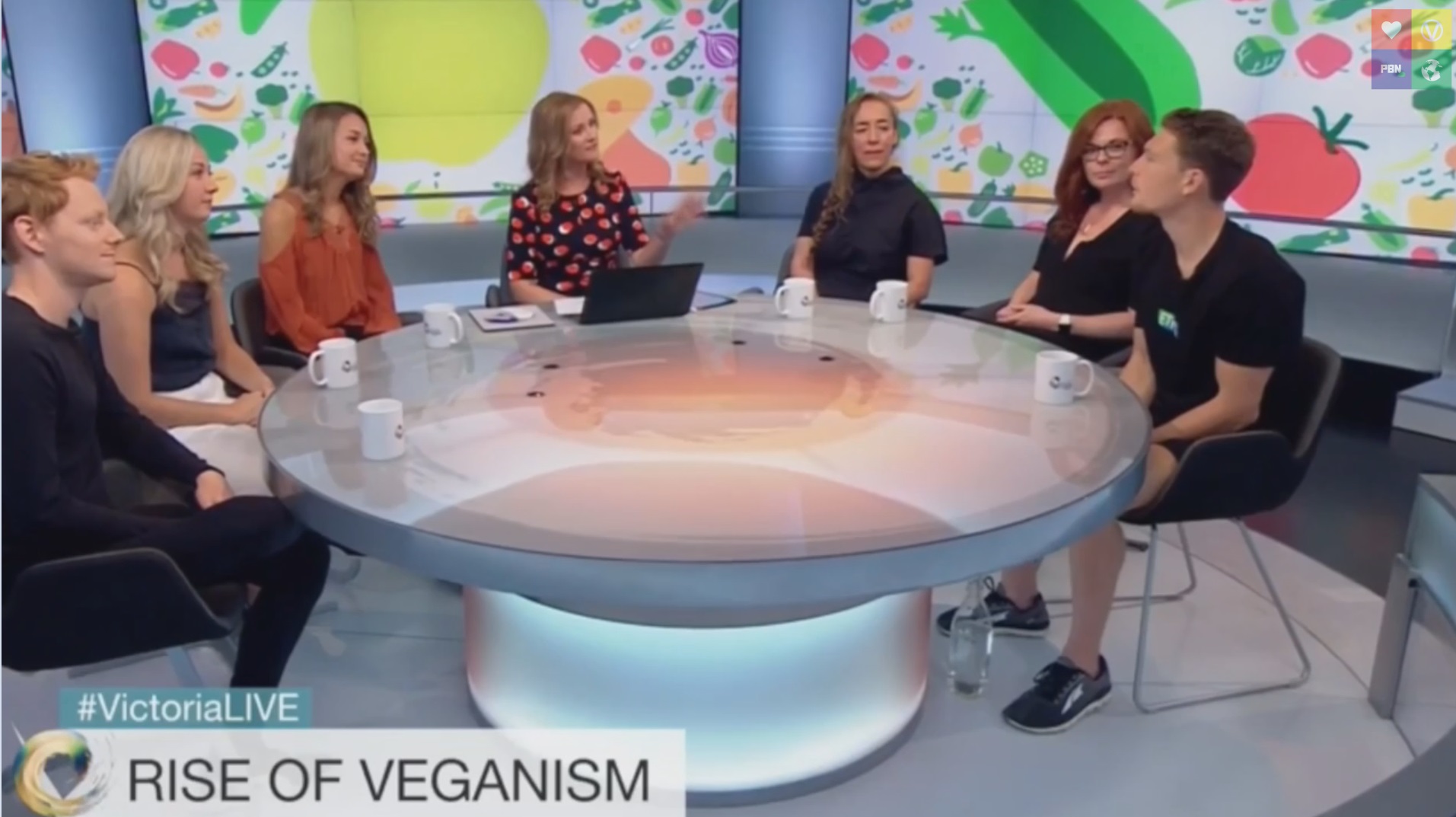 ?
Former world champion free runner Tim Shieff was just one of the panelists on a BBC News show which focused on the rise of veganism.
The program was just one of many produced by the mainstream media this year.
According to the presenter Chloe Tilley, one in five Brits would now consider a vegan diet – and there are more than half a million vegans in Great Britain.
"So," she asked, "should we all be going vegan?"
5. Major meat processors started to look at alternative proteins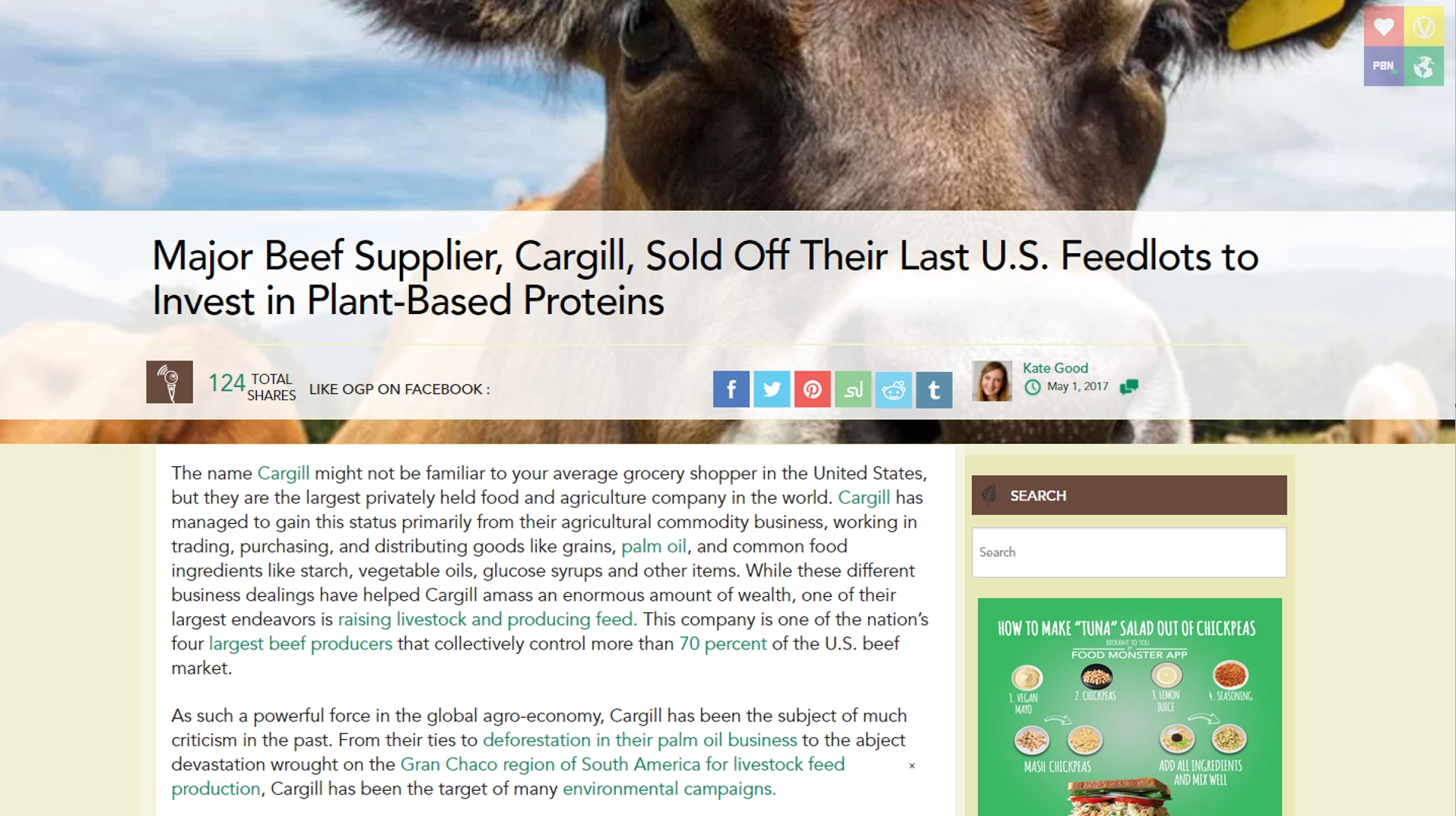 This year saw the meat industry face up to the growth of the alternative protein market – and what that could mean for business.
A report said the meat industry has to 'wake-up' if it is to stop plant-based alternatives from 'stealing' its market share, claiming: "Alternative proteins are capturing plenty of consumer interest, food column inches, and space in food retail cabinets and on foodservice menus.
"And if the talk is any indicator, they appear set to enter the mainstream in the coming years."
Some meat processors have already put out feelers into the alternatives sector.
Cargill, one of the largest food brands in the world, sold off its feedlots to invest the money in plant-based protein.
Additionally, Tom Hayes CEO, Tyson Foods – one of the largest meat processors in the world – said: "Plant-based protein is growing almost, at this point, a little faster than animal-based, so I think the migration may continue in that direction."
6. The BBC produced vegan mockumentary Carnage: Swallowing the Past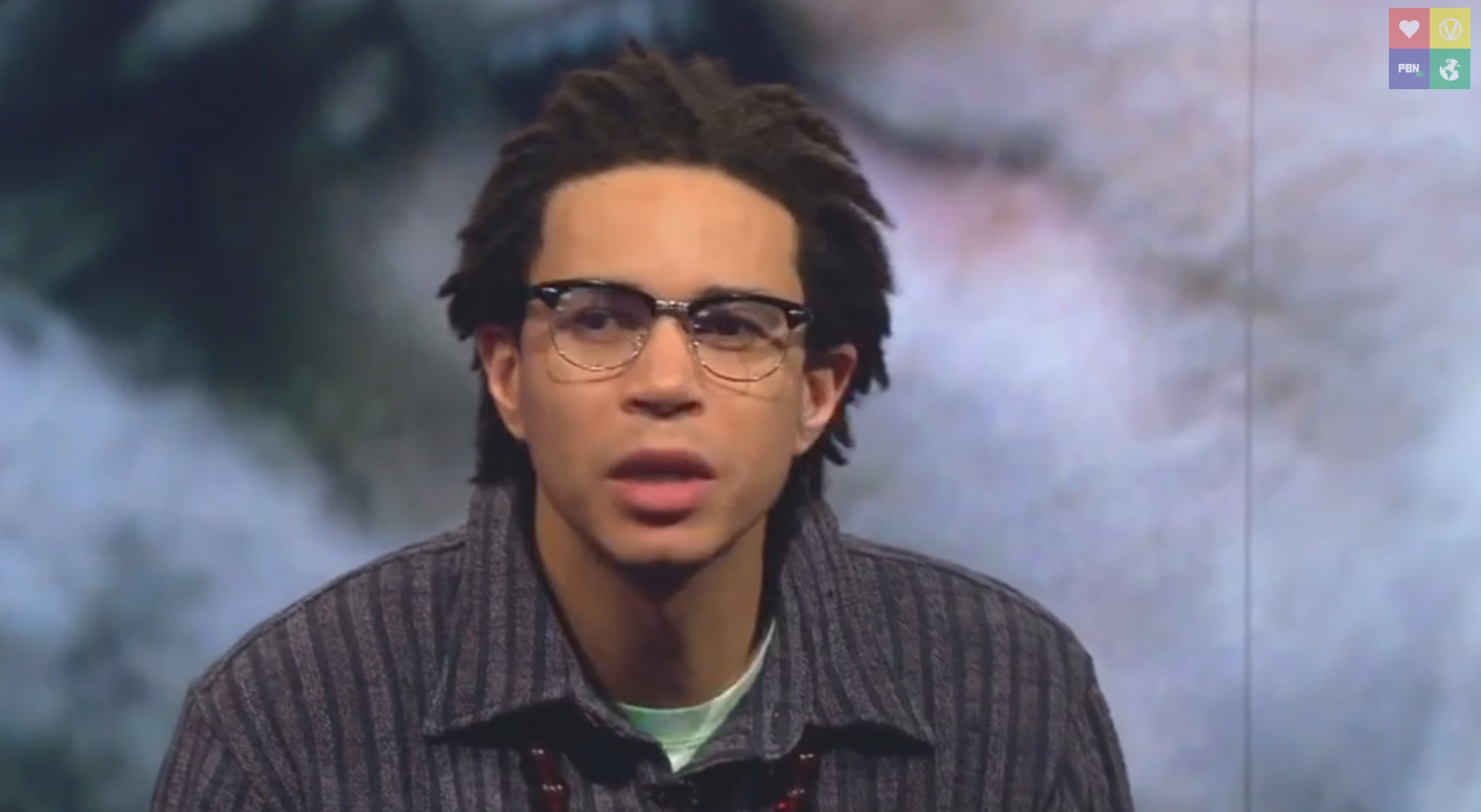 Comedian and vegan Simon Amstell created this full length film, which was released on BBC 3 in March.
Amstell announced the news somewhat sheepishly, saying: "I have written and directed a film about veganism. I'm sorry"
But the film garnered wide praise – with one critic calling it 'the vegan comedy that's actually funny'.
7. 35,000 people signed a petition to shut down one of Tesco's suppliers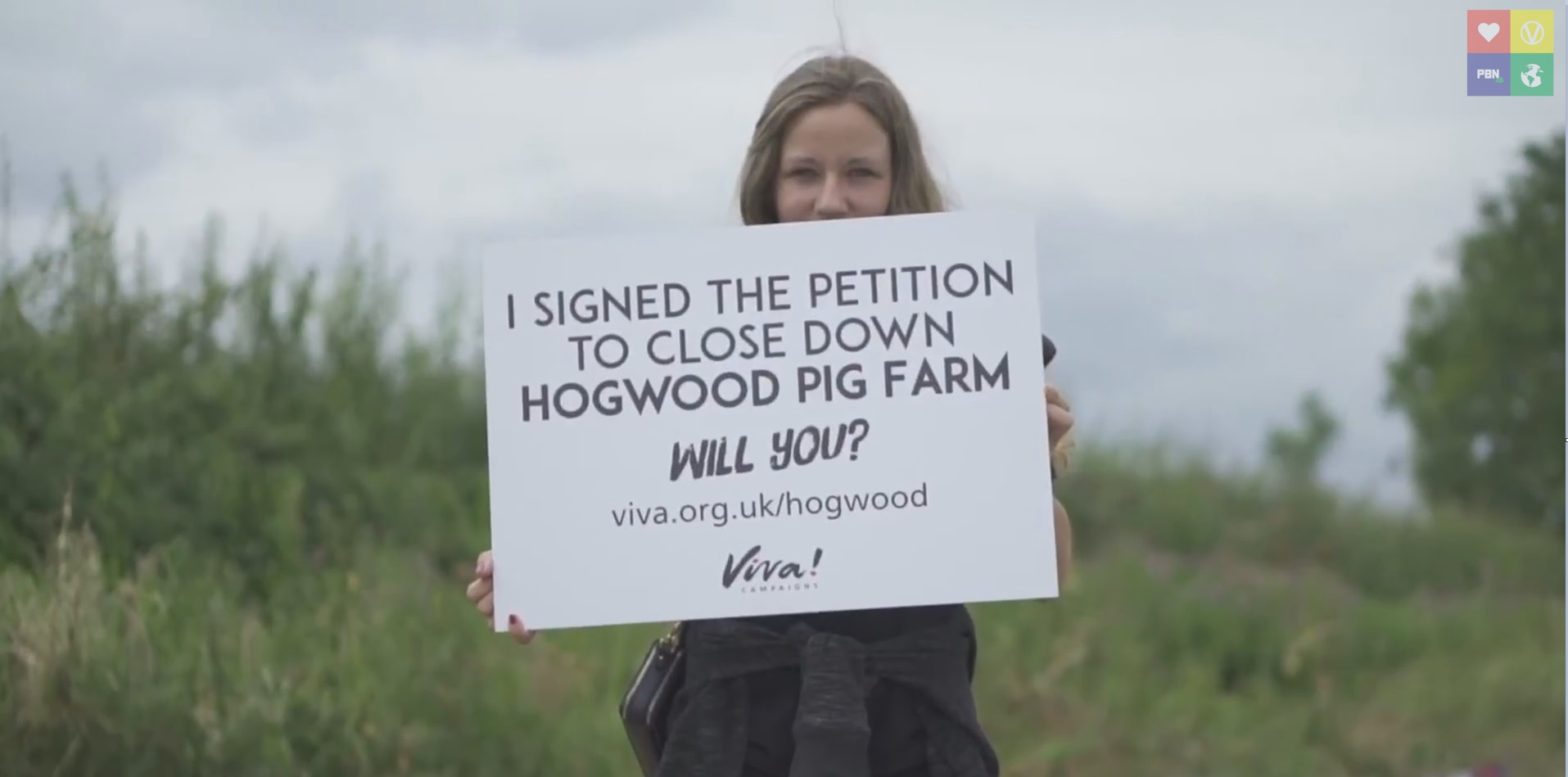 After animal rights charity Viva! obtained grim undercover footage of Hogwood Farm in Warwickshire – including pigs eating the rotting corpses of dead pigs who had not been removed – thousands of people signed a petition asking Tesco to drop the farm as a supplier.
While the conditions themselves highlighted huge problems within British farming, the mainstream media coverage as well as public reaction, showed people are starting to care about animal suffering on a wide scale.
8. Comedian Craig Robinson dropped 50lbs after going plant-based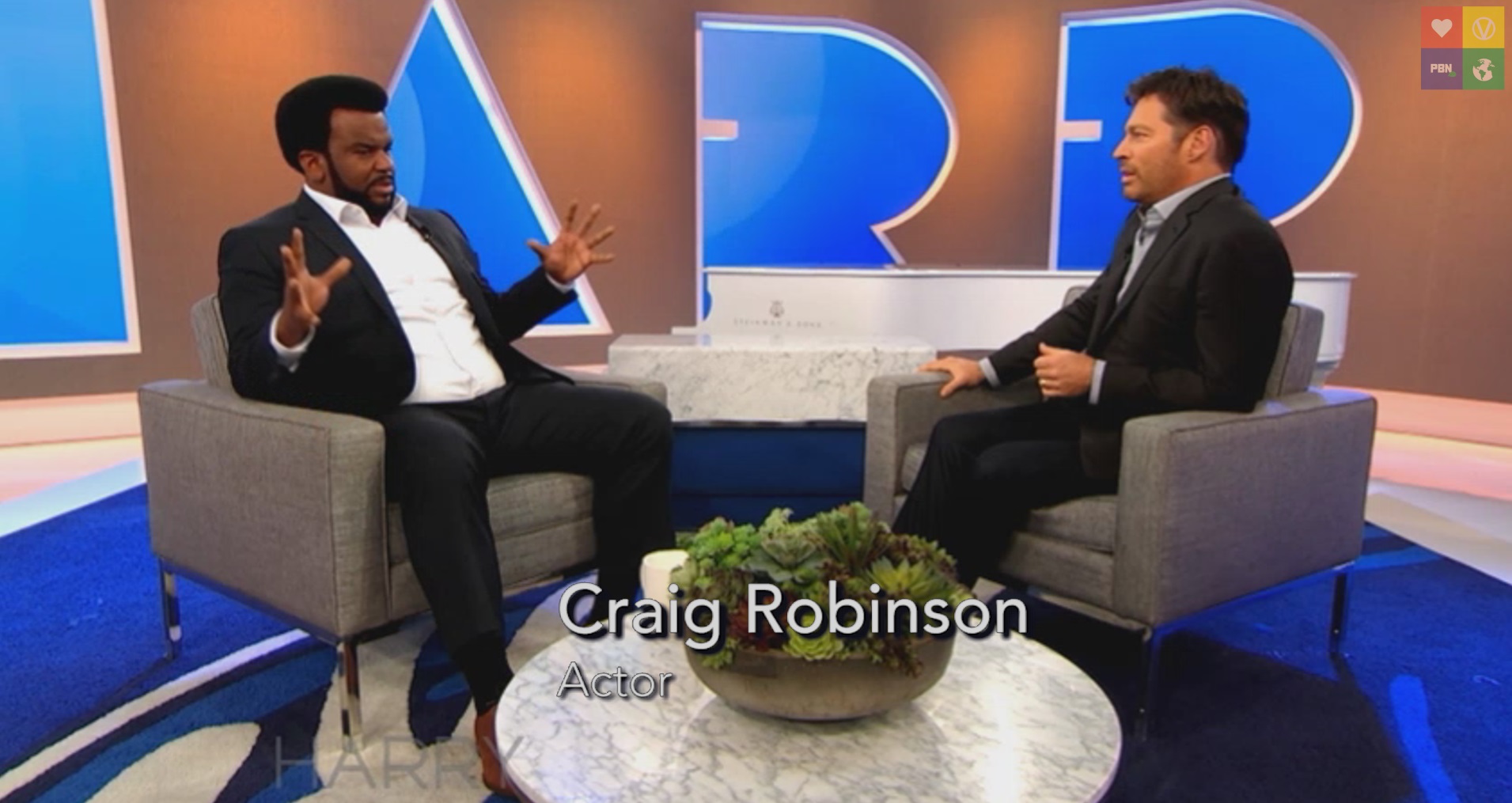 Actor and comedian Craig Robinson was just one of many high profile celebs ditching animal products this year.
Talking on Harry Connick Jr.'s talk show Harry, the celeb said that eating plant-based was 'so much easier than [he] thought it would be'.
He said: "I haven't been drinking, since January I just put down the alcohol I was going to detox…I had heard, I don't know how true it is, but I heard you can regenerate your liver in six months.
"I was like let me see if I can go six months and I just haven't gone back and then working out, and I've been trying this vegan lifestyle too.
"I lost a bunch of weight. I lost 50 pounds."
9. Dairy industry launched ad campaign calling cow's milk 'plant-based'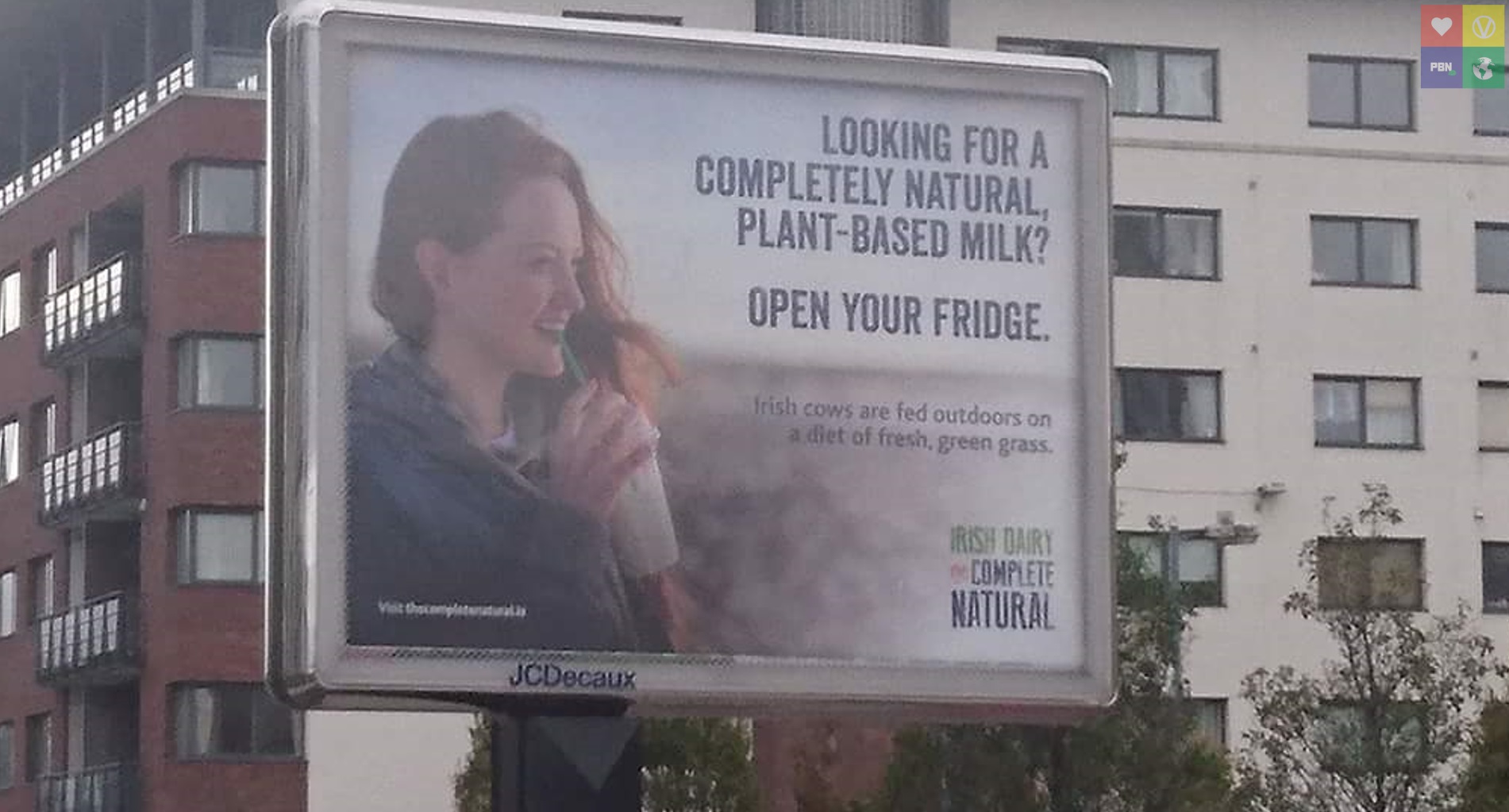 Earlier this year dairy bosses admitted that the industry is 'facing an existential crisis' due to vegan campaigning.
This ad campaign by Irish Dairy – in which cow's milk was described as 'plant-based' – appeared to be a conscious attempt to fight the plant-based message.
On Irish Dairy – The Complete Natural's Facebook page, the poster image was met with negativity.
User Daniel Gould posted an image of various plant milks, saying: "They taste a hell of a lot better too. Must be the lack of pus in the glass and blood on my hands."
Tawnie Ocampo added: "False advertisement! How dare you call cow's milk natural and plant based.
"I hope you get sued."
10. A dairy worker became a vegan campaigner after witnessing 'routine cruelty'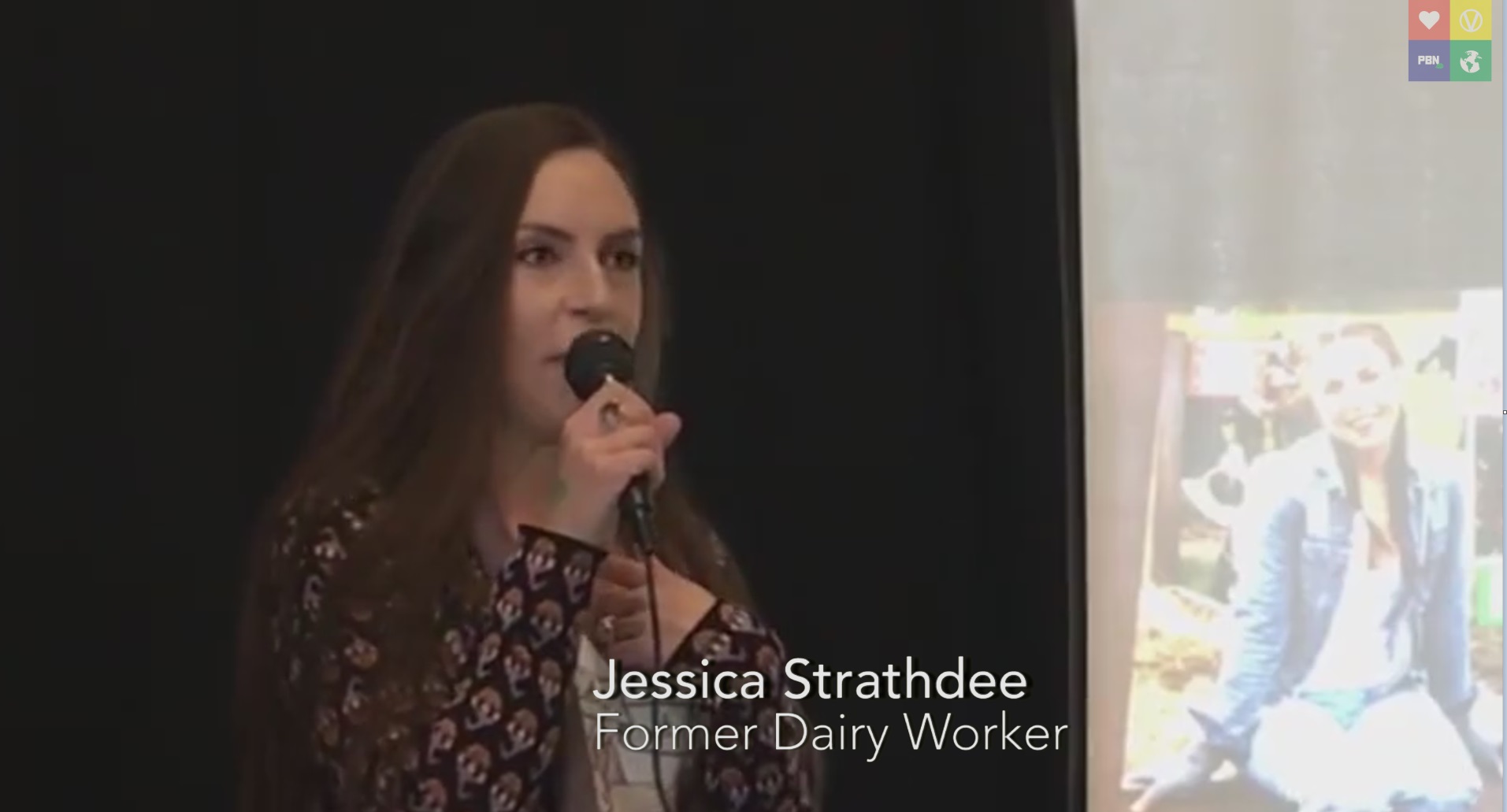 Breastfeeding mother Jessica Strathdee ended up ditching her job as a dairy worker after witnessing 'routine cruelty to baby animals'.
Strathdee says she could no longer stand by and watch mothers separated from their children, or baby calves screaming to their slaughterhouse deaths.
Now she has done a full 180 – and become a proud animal rescuer and activist.
Strathdee (and her partner) now regularly speak out about the cruelty of New Zealand dairy.
11. Dairy giant Danone announced $60 million investment into plant-based milk production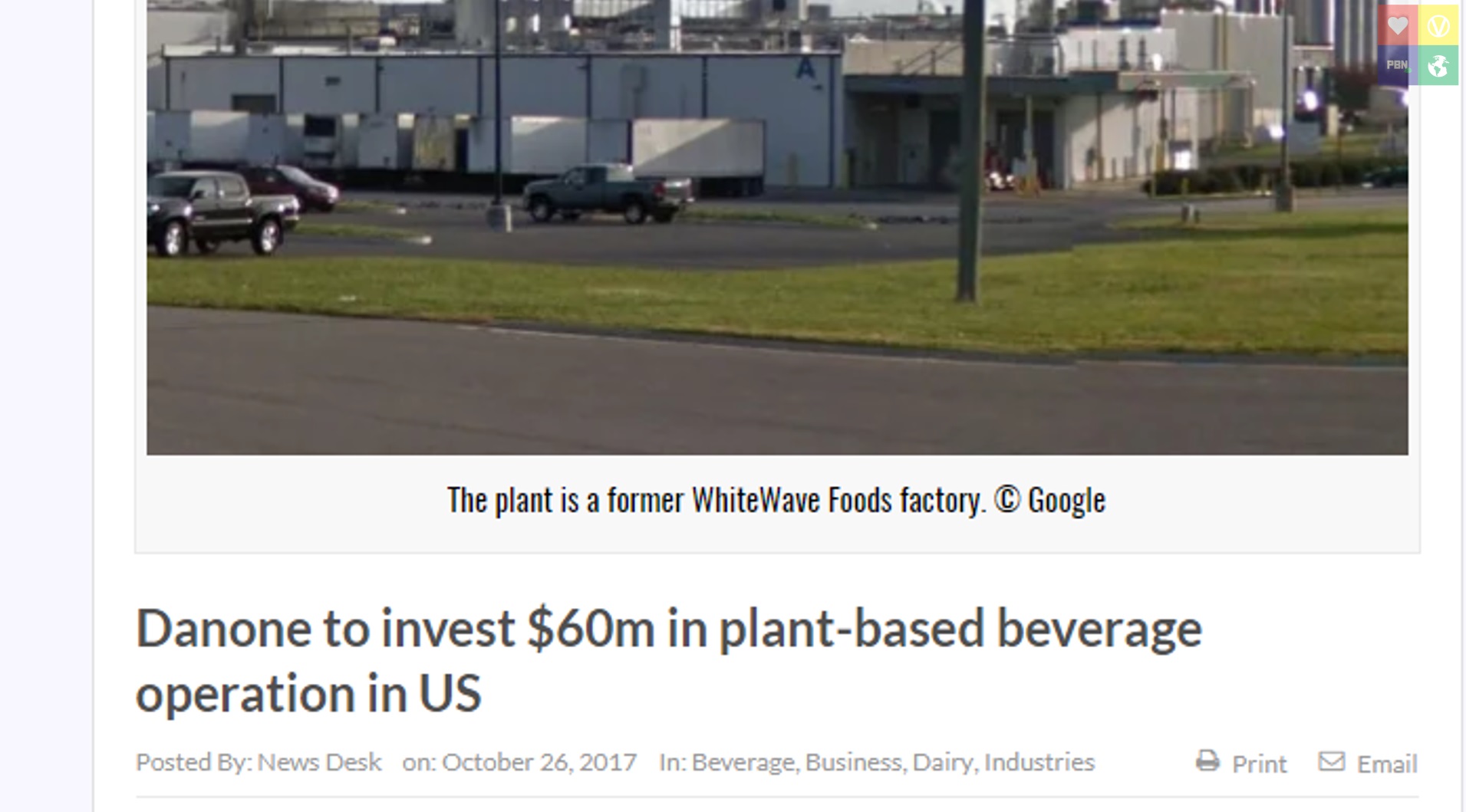 In October, Dairy giant DanoneWave announced plans to invest a staggering $60 million into its plant-based milk production operation in Virginia.
Dan Poland, chief supply chain officer for DanoneWave, said: "Our success as a business is integrally linked to the ecosystem in which we operate, and we are grateful to Virginia, the governor, his extended team, and everyone in Rockingham county for being so encouraging and for providing such a productive environment.
"With the support of our employees, business partners and the community at large, including the Commonwealth, we are able to provide better-for-you food and beverage choices."
12. UK retail giant Tesco's appointed its first ever Director of Plant Based Innovation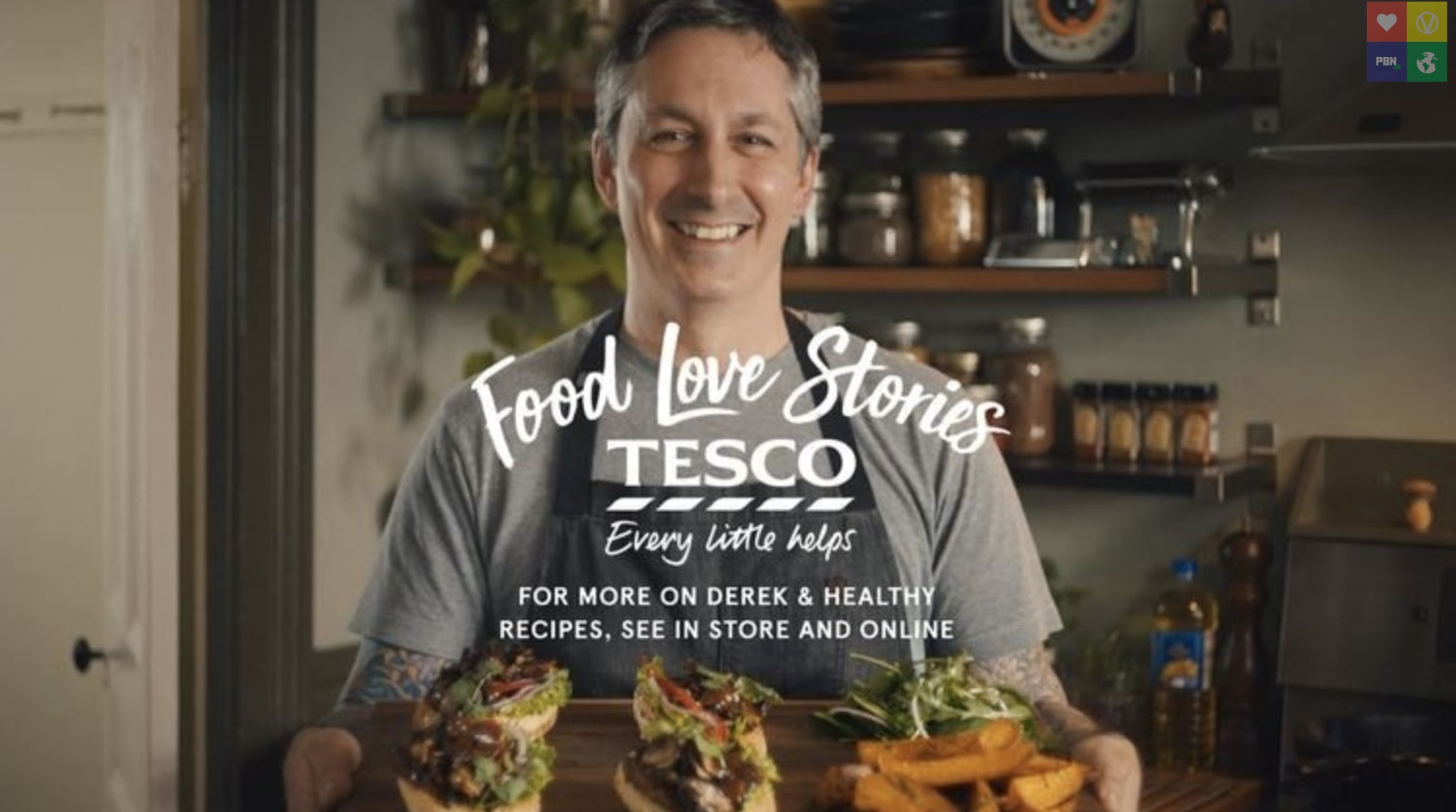 This year has seen supermarkets really start to tap into the growing vegan market – with retail giant Tesco taking the exciting step of appointing a Director of Plant Based Innovation – Derek Sarno.
Sarno has indicated that choice for vegans in-store is set to grow in the coming months, saying at a recent event: "It's unavoidable, it's just going to happen – whether you're in the way and get run over, or are part of the ride.
"This next year – 2018 – is our year. It's the year veganism goes mainstream."
13. Food tech disrupters started making waves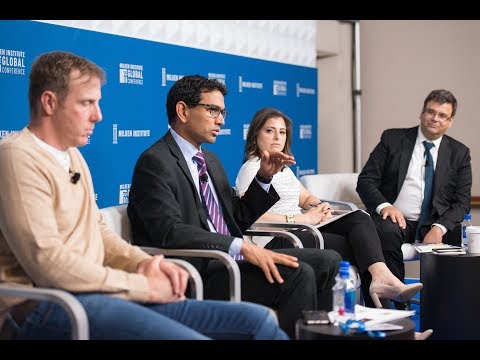 As far back as 2016, tech leaders were calling plant food a leader in tech – but this year has seen the industry skyrocket.
Plant-based alternative like the Beyond Burger and Impossible Burgers have become more widely available (with the Beyond Burger set to hit the UK in 2018).
'Clean meat' – meat grown in a lab (which is not vegan, but would see less animals killed and less dangerous emissions) – has also seen progress, with companies saying it could become available as soon as 2018.
14. Wendy Williams and Dr. Oz promote a plant-based diet on TV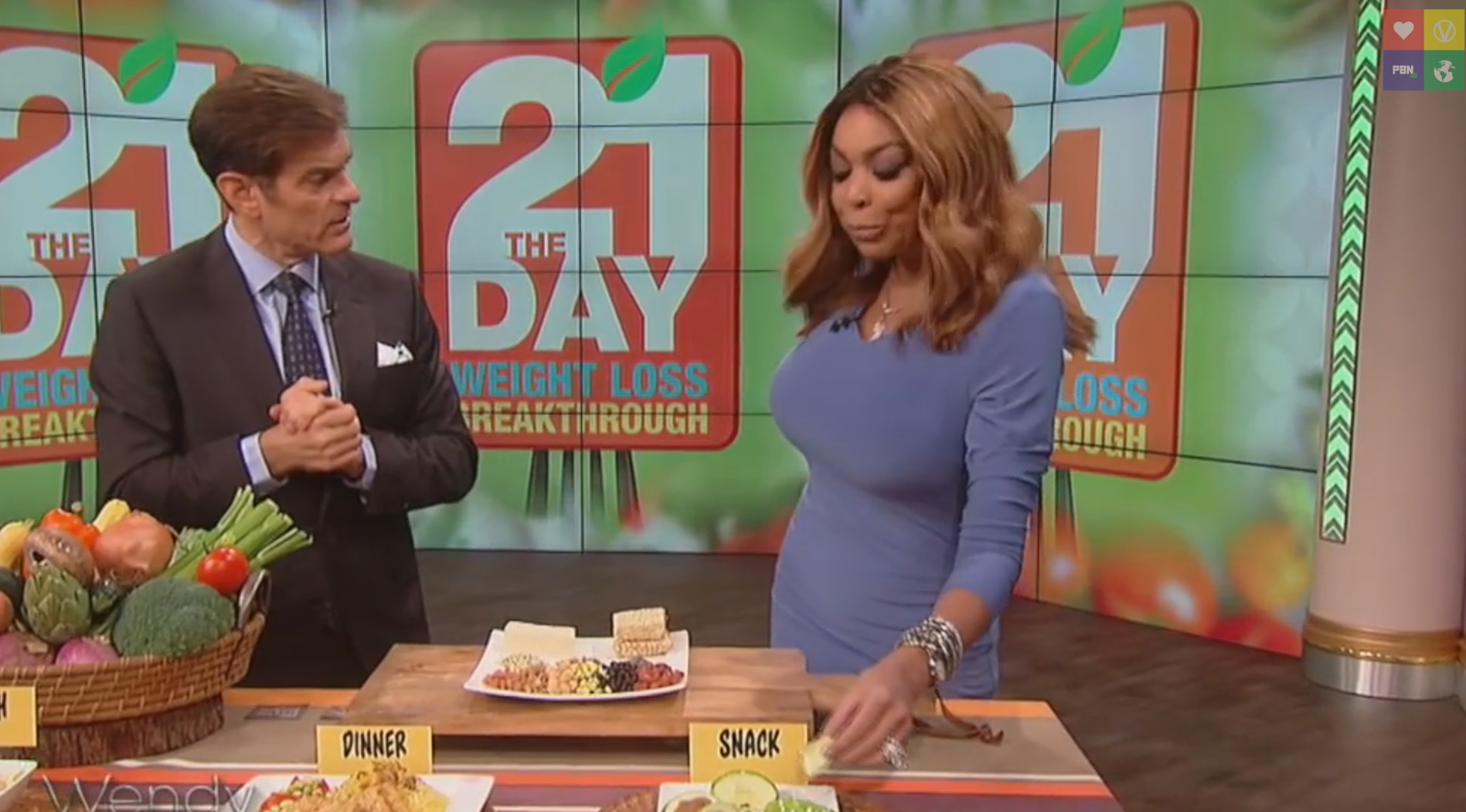 While in the UK, the BBC was hosting all-vegan panels, across the pond in the US, popular television host Wendy Williams spoke to plant-based Dr. Oz about plant-based diets.
"I recently turned 51, I have never felt better, fitter, or stronger in my life.
"I lost 50lb. I concentrated and did it slowly but surely. Recently me and my husband and son went vegan with an alkaline twist.
"I don't eat meat anymore – it's been life changing."
15. The mainstream media asked whether the FBI was 'trying to intimidate' animal rights activists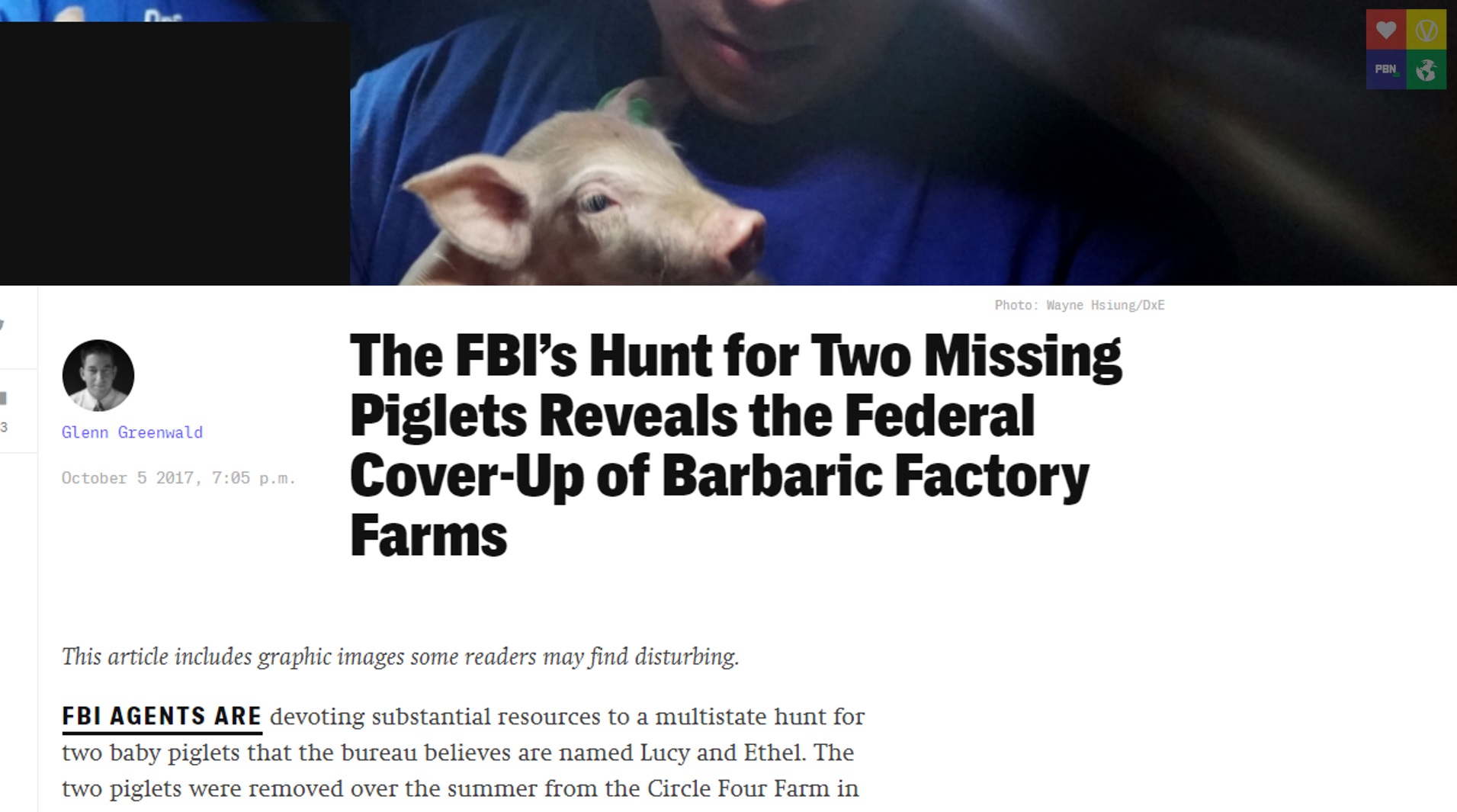 Back in September, animal rights group Direct Action Everywhere [DXE] accused the FBI of 'intimidating vegan activists' – in a story that was picked up by a number of mainstream outlets.
According to [DxE], FBI agents in bulletproof vests descended on two shelters for abandoned farm animals – Ching Farm Rescue in Herriman, Utah and Luvin Arms in Erie, Colorado.
The group claims the agents had search warrants, and demanded DNA samples for two dying piglets activists had recently taken from a Smithfield farm in Utah.
DXE says the FBI's raids are 'intended to intimidate activists who are engaged in rescue and whistleblowing efforts'.
An email from an FBI spokeswoman to The Washington Post didn't shine much light on the case.
It said: "I can say that we were at the two locations conducting court-authorized activity related to an ongoing investigation.
"Because it's ongoing, I'm not able to provide any more details at this time."
16. 5,000 vegans marched on London's streets for animal rights
The UK saw one of its biggest ever animal rights marches in September, when thousands of activists from around the world marched together in solidarity as part of the second annual Official Animal Rights March.
As part of the global action, more than 5,000 people in London marched on Parliament in a bid to end animal exploitation. Activists also took to the streets in New York, Los Angeles, Miami, and Romania.
Ed Winters, co-founder of campaign group Surge, which coordinated the event, said: "To see this many vegans take to the streets is a humbling sign of the changing attitudes society is having towards the treatment of non-human animals.
"As vegans, we stand against all forms of oppression, with no exceptions defined by species. It is time for society to understand that the life of an animal is worth far more than our taste buds."
17. Famous chefs started taking vegans seriously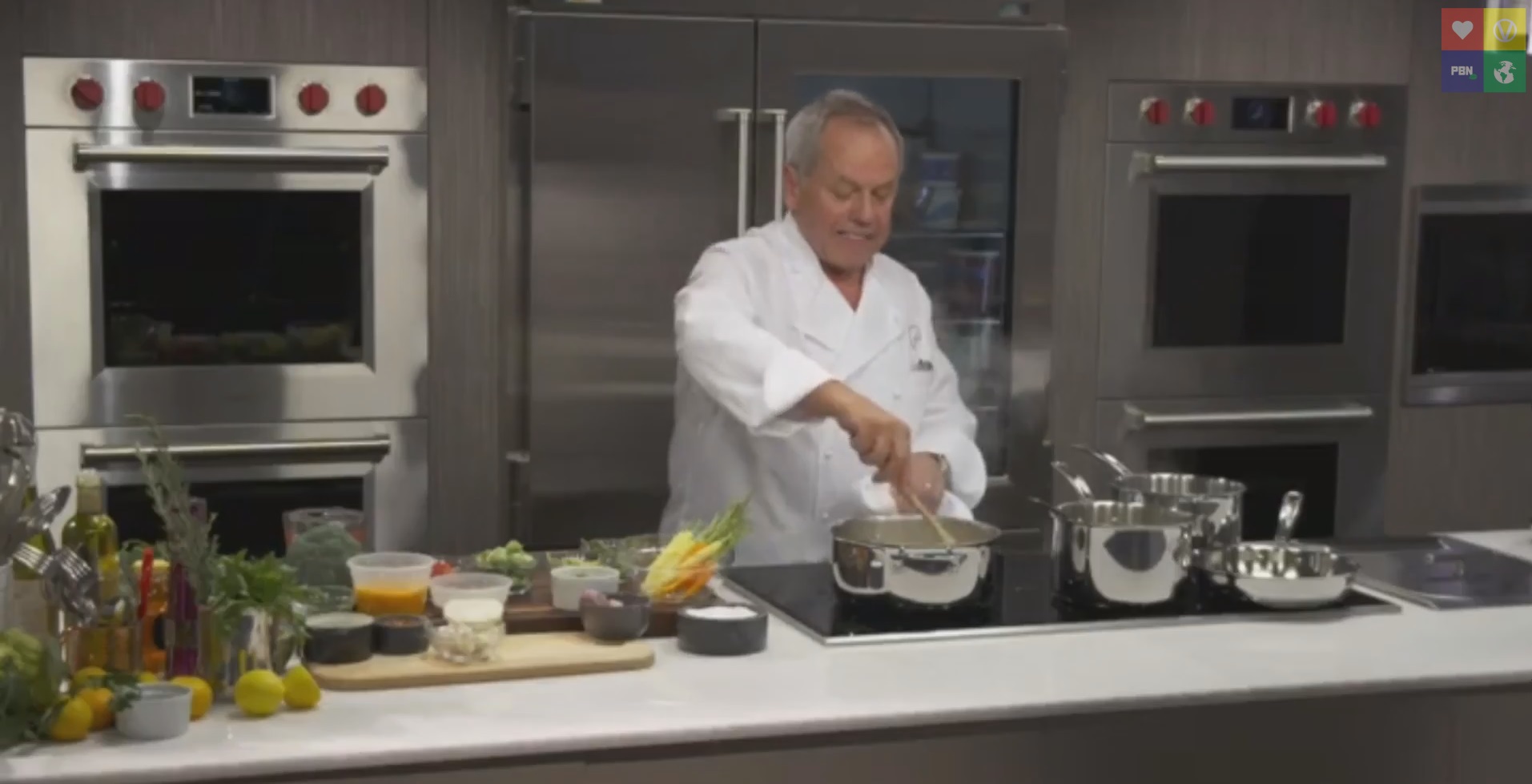 This summer, celebrity chef Wolfgang Puck wrote about the rising popularity of veganism – and how he is enjoying creating delicious dishes free from animal products.
Writing in Twin Cities he said: "With veganism gaining an ever-higher profile, it's only natural that my chefs and I get more and more frequent requests for vegan dishes.
"Now, you might think that we'd find it challenging to prepare delicious, even luxurious-tasting food following such restrictions.
"But, in fact, more and more products are widely available that make vegan cooking not only possible but actually a pleasure."
18. Sales of vegan cheese smashed all expectations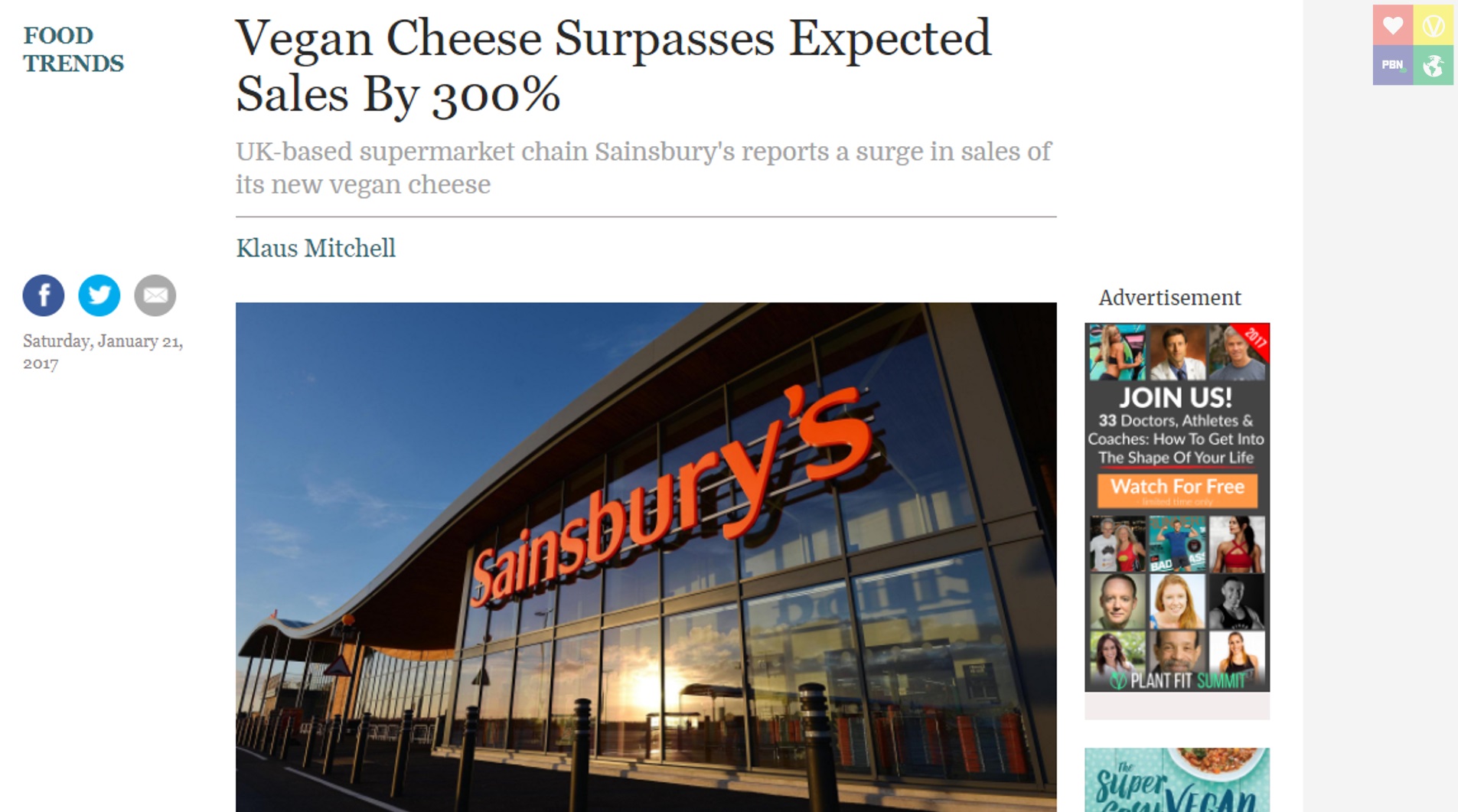 This year certainly started with a bang for veganism – when retail giant Sainsbury's revealed that sales of its new cheese range (known affectionately as 'Gary') had surpassed sales expectations by a staggering 300 percent.
Speaking about the vegan boom in sales at the time, VegfestUK organiser Tim Barford said: "The growth in the vegan trade [in the UK] has been astronomical.
"We now need a dedicated trade event where only trade buyers and media can attend, ensuring maximum sales and exposure for vegan businesses in the UK, resulting in added accessibility for vegan consumers nationwide."
19. 10-year-old vegan activist Genesis Butler speeches were a hit with audiences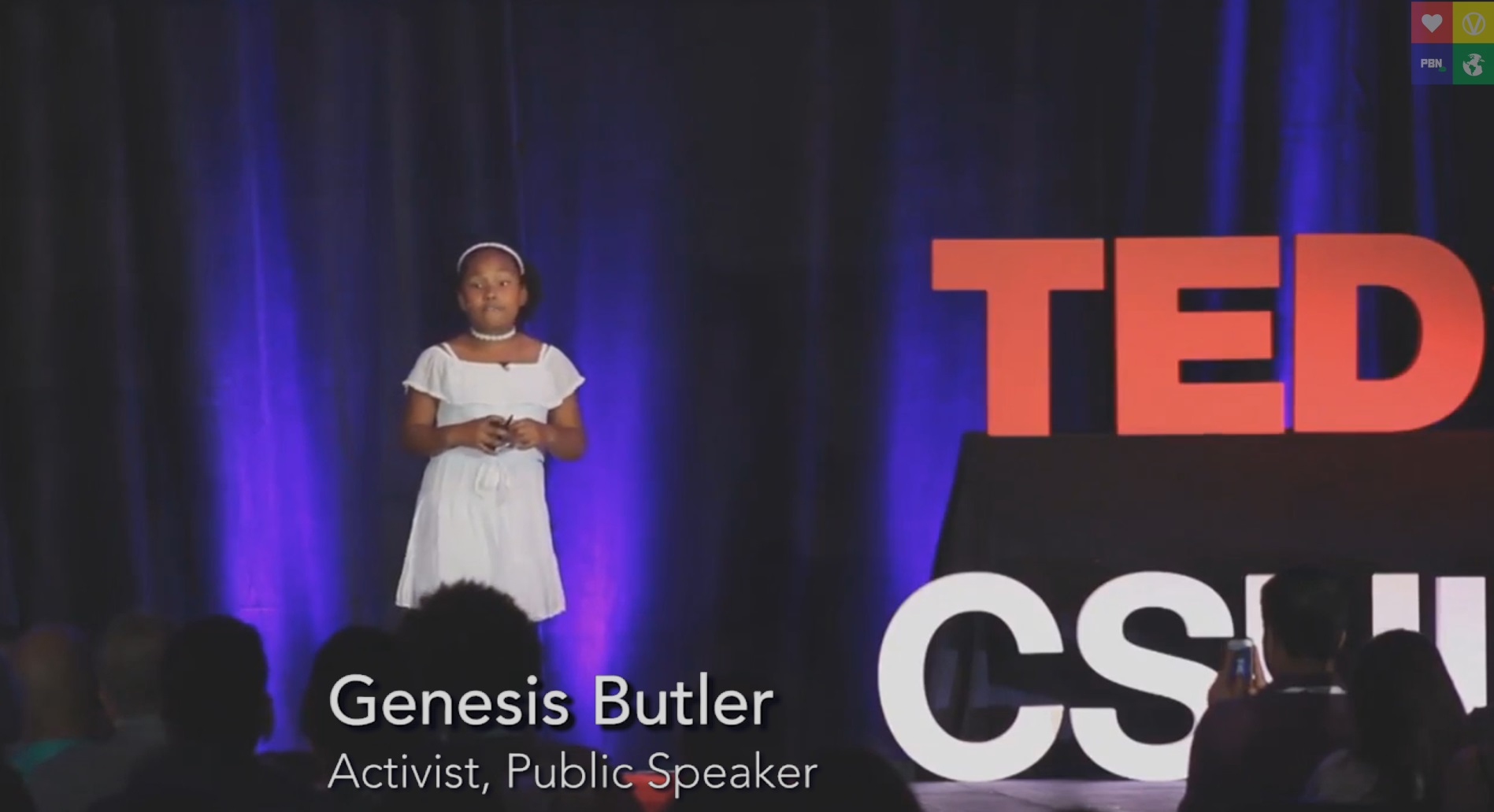 At only 10 years old vegan advocate Genesis Butler continued to open hearts and minds with her inspiring speeches – including a TED talk.
According to Butler, being young gives her an edge as an activist. She says: "They like that I am a kid who is doing what I believe in.
"They are really interested in what I have to say, and I think they take me more seriously because they know I am speaking from my heart.
"They listen to me more than adults. When my Mom tells people she doesn't believe in killing animals for food, they give her lots of excuses.
"When I tell them the same thing, they listen and want to know more."
20. Mainstream newspaper The Daily Telegraph encouraged its readers to 'Go vegan!'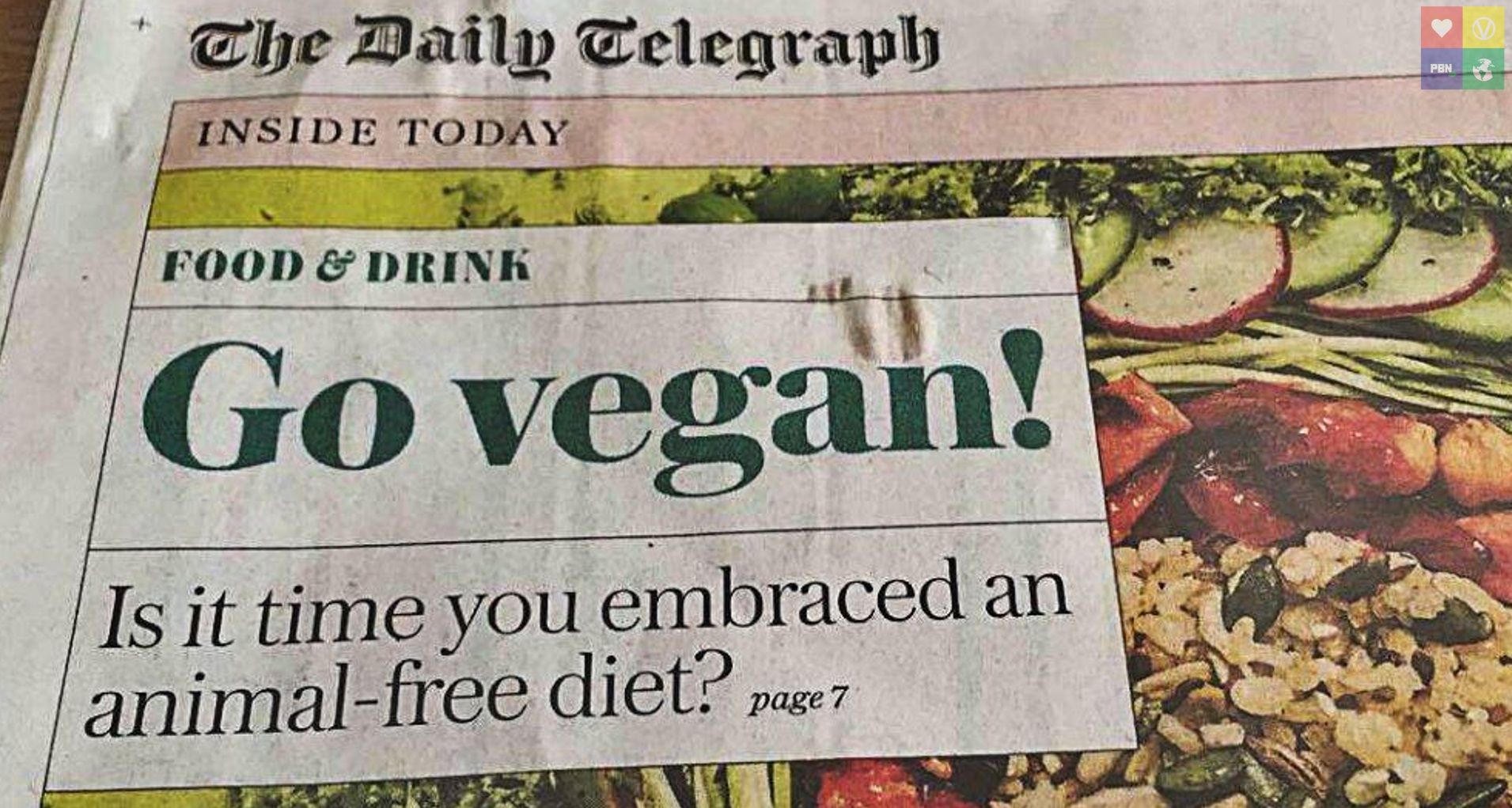 The Telegraph was just one of the major newspapers to feature veganism heavily this year, when it published a story in August asking whether we should all go vegan.
The piece looked at various reasons for ditching animal products, and said: "Veganism's rise in popularity is not necessarily to do with a concern for animals.
"The industrial farming of livestock is a major contributor to greenhouse gases; it also uses land, water and energy and requires food that could be eaten by humans."
21. Netflix produced major movie Okja – with its animal rights message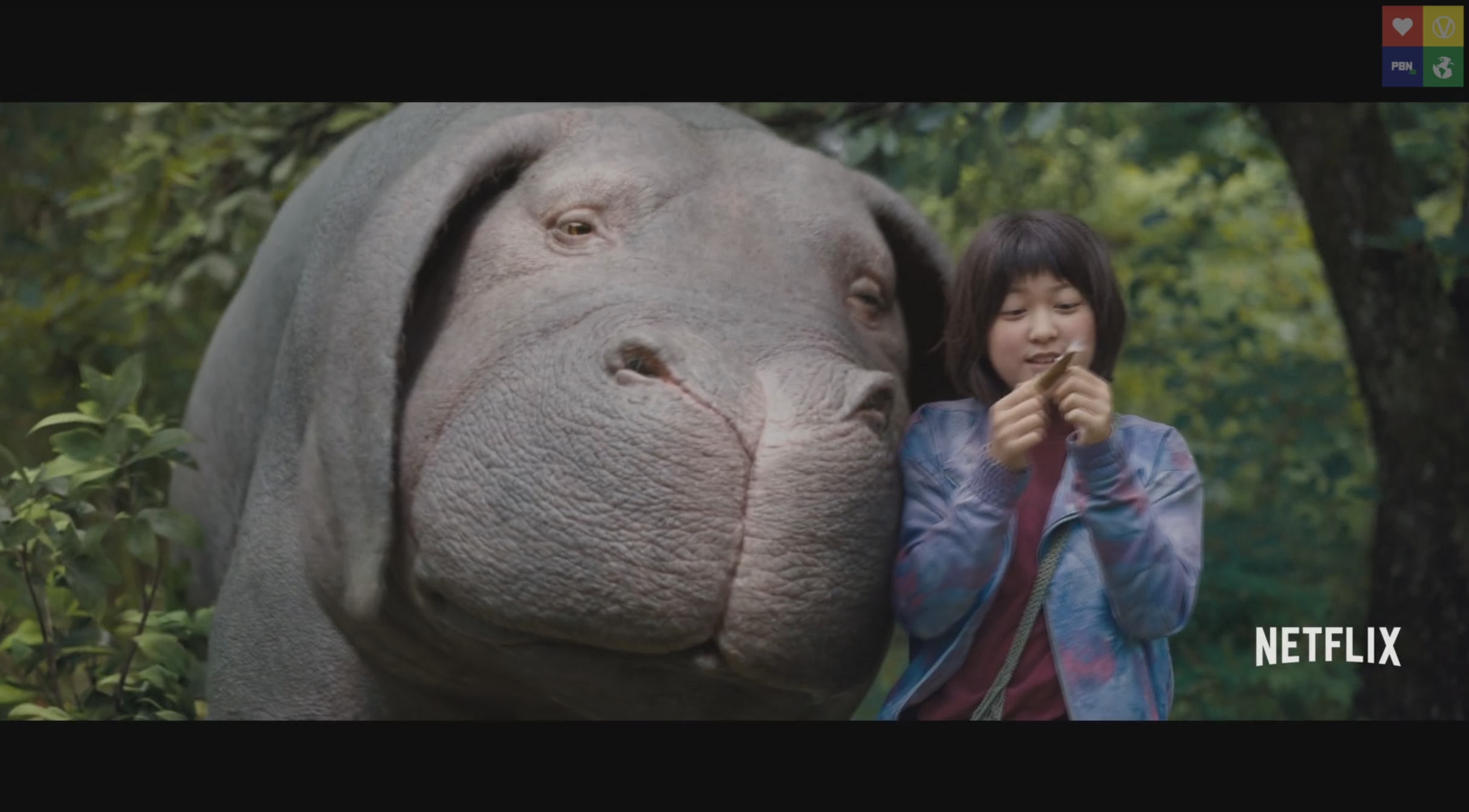 According to animal rights group PETA, there was a huge spike in the number of people searching the term 'vegan' on Google – and it's all down to the film Okja.
The film, which has an animal rights perspective, tells the story of 'superpig' Okja, who has been genetically modified to feed as many people as possible.
PETA's Vice President Colleen O'Brien said: "In July alone, PETA received more than 21,000 requests for our vegan starter kits—double the number of an average month.
"These powerful films are creating a new generation of vegans, one screening at a time."
22. Plant-based meat reaches beef aisles in supermarkets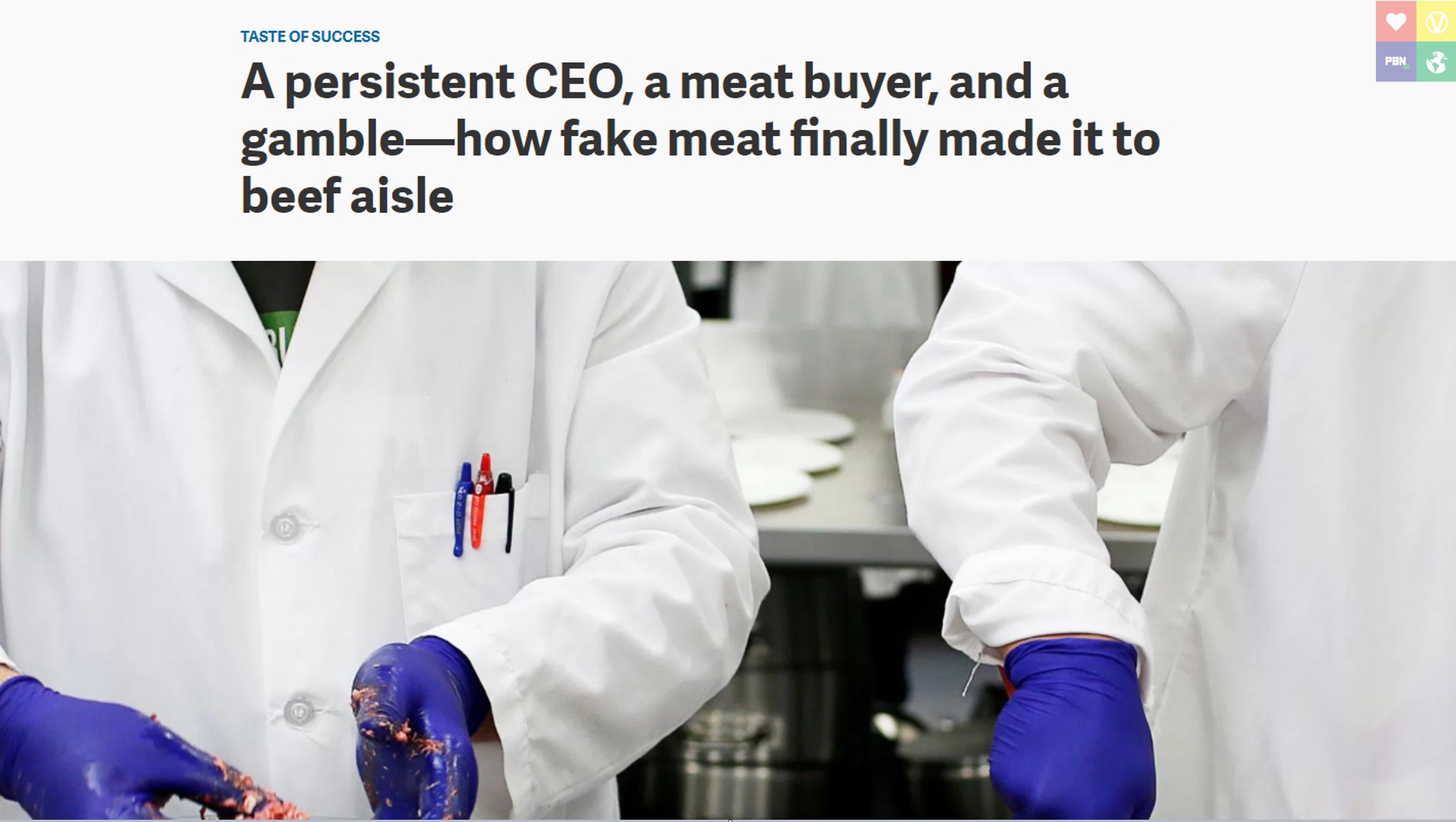 Beyond Meat CEO Ethan Brown took a gamble this year when he insisted his plant-based Beyond Burger was sold in the meat aisle at a major supermarket – as opposed to sold separately with veggie products.
The significance of this shouldn't be underestimated.
According to Quartz: "Not long ago, the prospect of infiltrating the meat section was a wild dream for companies working on plant- and lab-based meats.
"In breaking that barrier, Beyond Meat has opened the window for massive disruption of the traditional meat industry."
22. 20,000 vegan activists marched for animal rights in Tel Aviv, Israel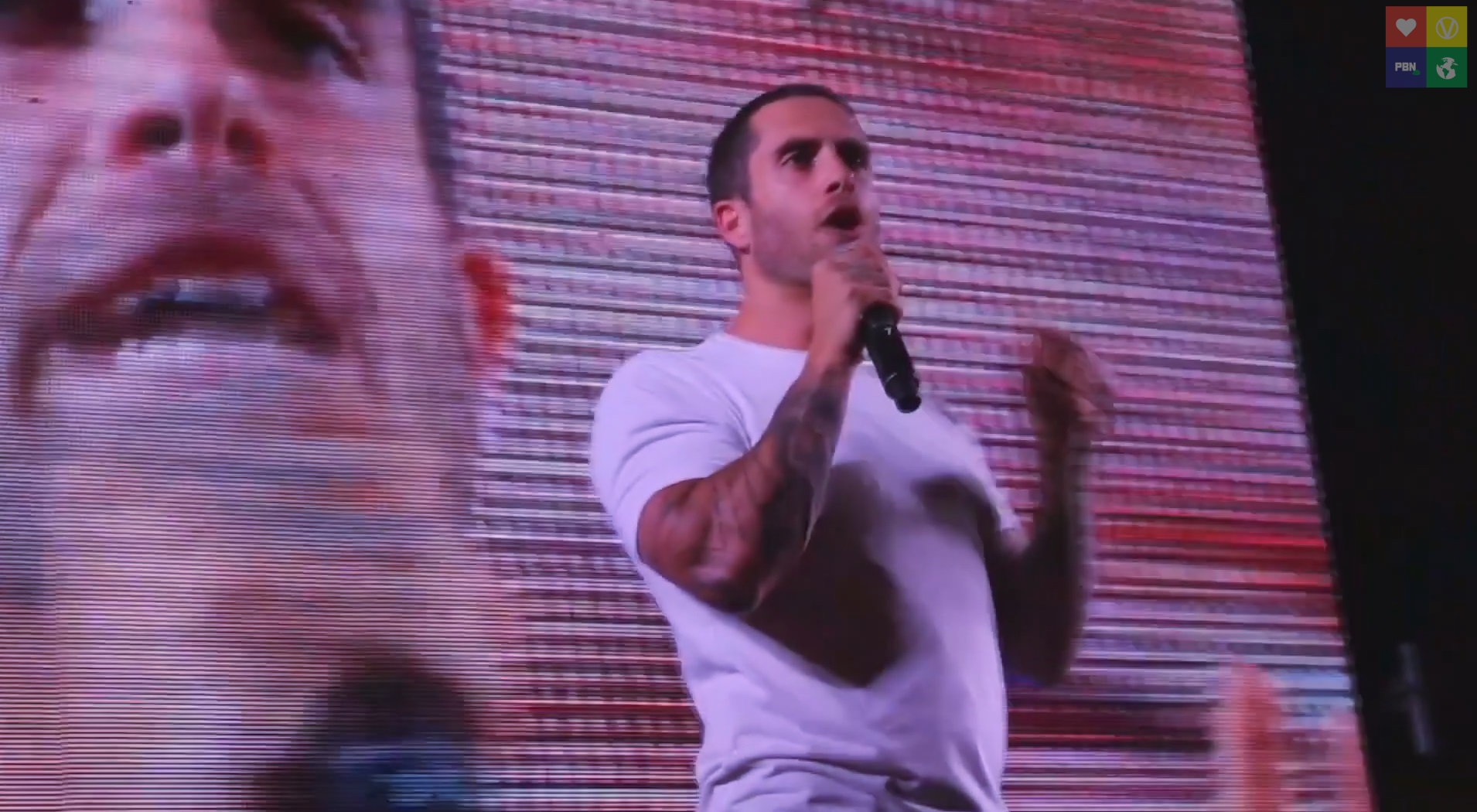 Thousands took to the streets of Tel Aviv in September, in what was described as the 'biggest march ever' for animal rights.
The event, which was organized by a number of animal organizations including Vegan Friendly, Anonymous for Animal Rights and Let the Animals Live, hosted speeches from high profile activists like PETA Founder Ingrid Newkirk and James Aspey.
Speaking before the annual event, Shira Hertzanu Head of Media Relations at Anonymous for Animal Rights, said: "Tonight is the biggest animal rights march in history.
"We are expecting 30,000 marchers to arrive here to demand justice and compassion for all animals.
"We're talking about all kinds of animals – animals in the food industry, animals in the wild, and cats and dogs.
"All the people who are coming here tonight are caring people who don't want to see animals being harmed."
23. Celebrity Kat Von D announced she would be releasing a vegan shoe line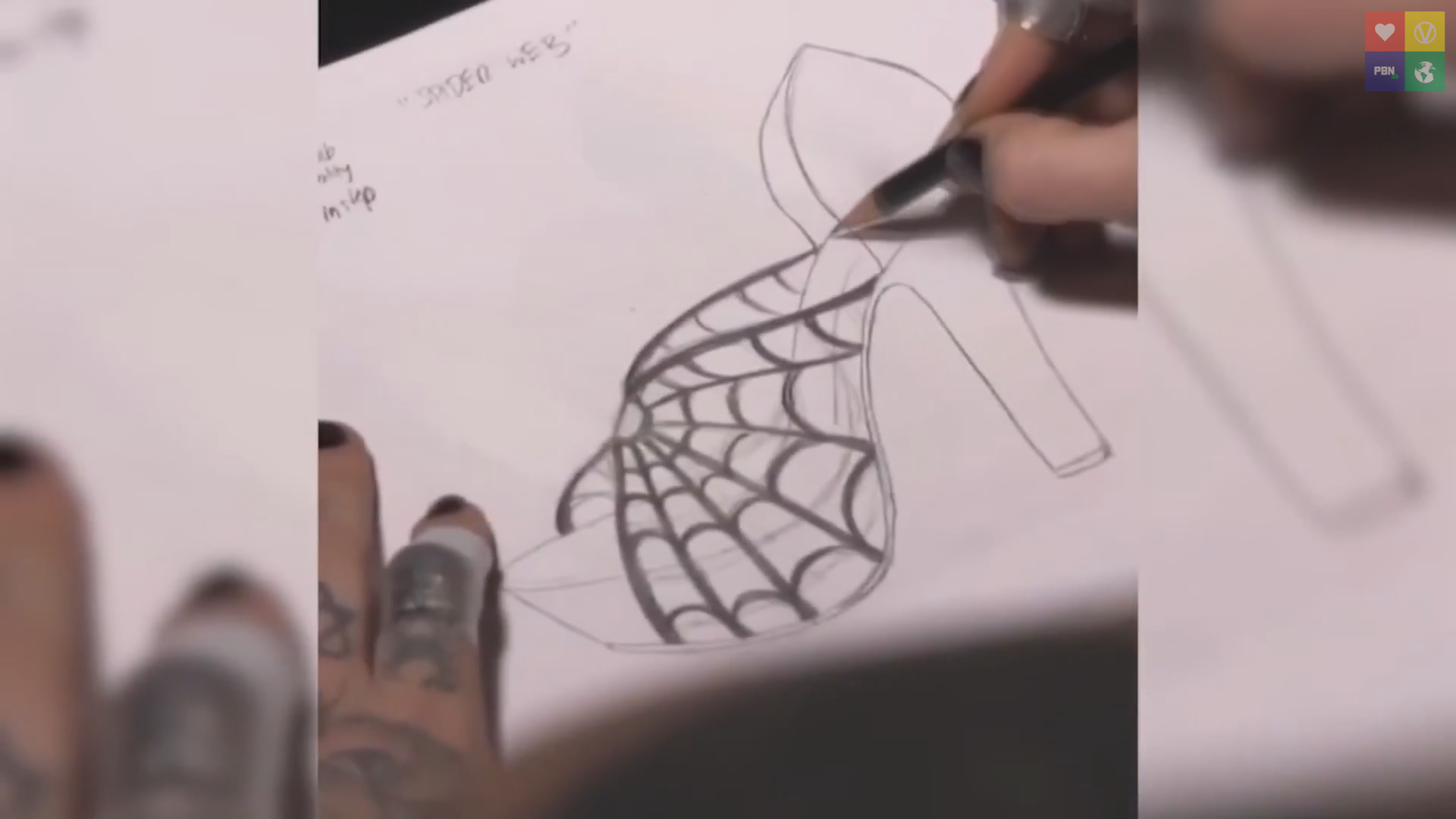 Celebrity make-up entrepreneur and tattoo artist Kat Von D revealed this year that she would be expanding her empire to include a plant-based shoe line.
Taking to Instagram to share her news, she captioned one picture: "Day 1 of working on my upcoming #vegan shoe collection.
"Sizing up heels for this pair of post-apocalyptic asymmetrical vegan-leather heels I designed. #KatVonDshoes #Comingsoon."
Von D also showed off some heel choices for the range, including a black diamond-shaped design.
She added: "Crystallized. Geometric. Sculpted custom heels. Seriously can't wait to finally launch this shoe line."
24. Leonardo DiCaprio invested in plant-based food tech company Beyond Meat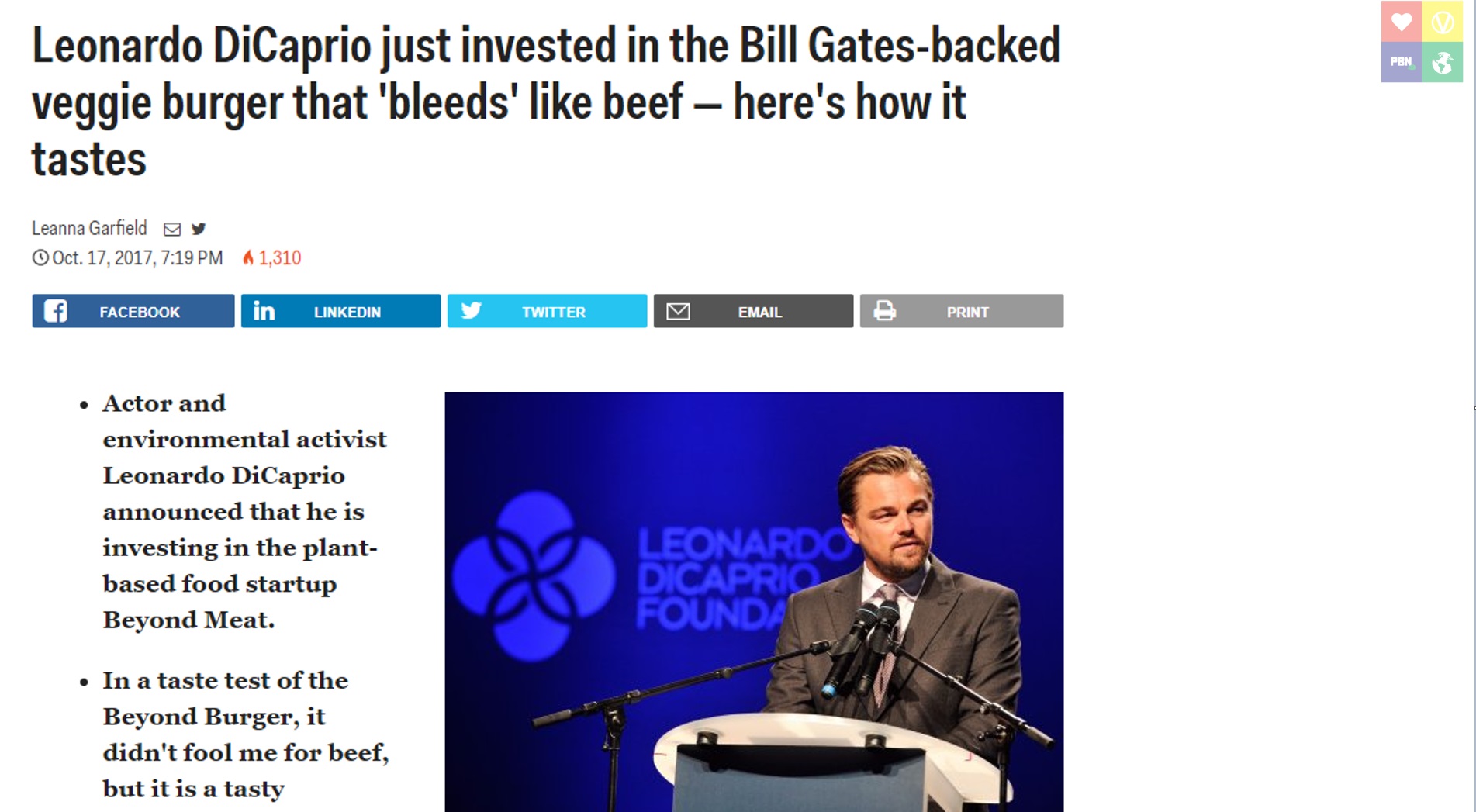 In one of October's biggest stories, Hollywood heavyweight Leonardo DiCaprio announced he had invested in plant-meat tech startup Beyond Meat.
The vegan, sustainable brand has gained acclaim for its flagship Beyond Burger, which tastes and looks like meat – but is made entirely from plants.
According to DiCaprio, plant-based meat is the future. He said: "Livestock production is a major contributor to carbon emissions.
"Shifting from animal meat to the plant-based meats developed by Beyond Meat is one of the most powerful measures someone can take to reduce their impact on our climate.
"The company's ability to create healthy meat directly from plants will go a long way in helping everyday consumers take action on climate change."
25. An increasing number of elite athletes switched to a plant-based diet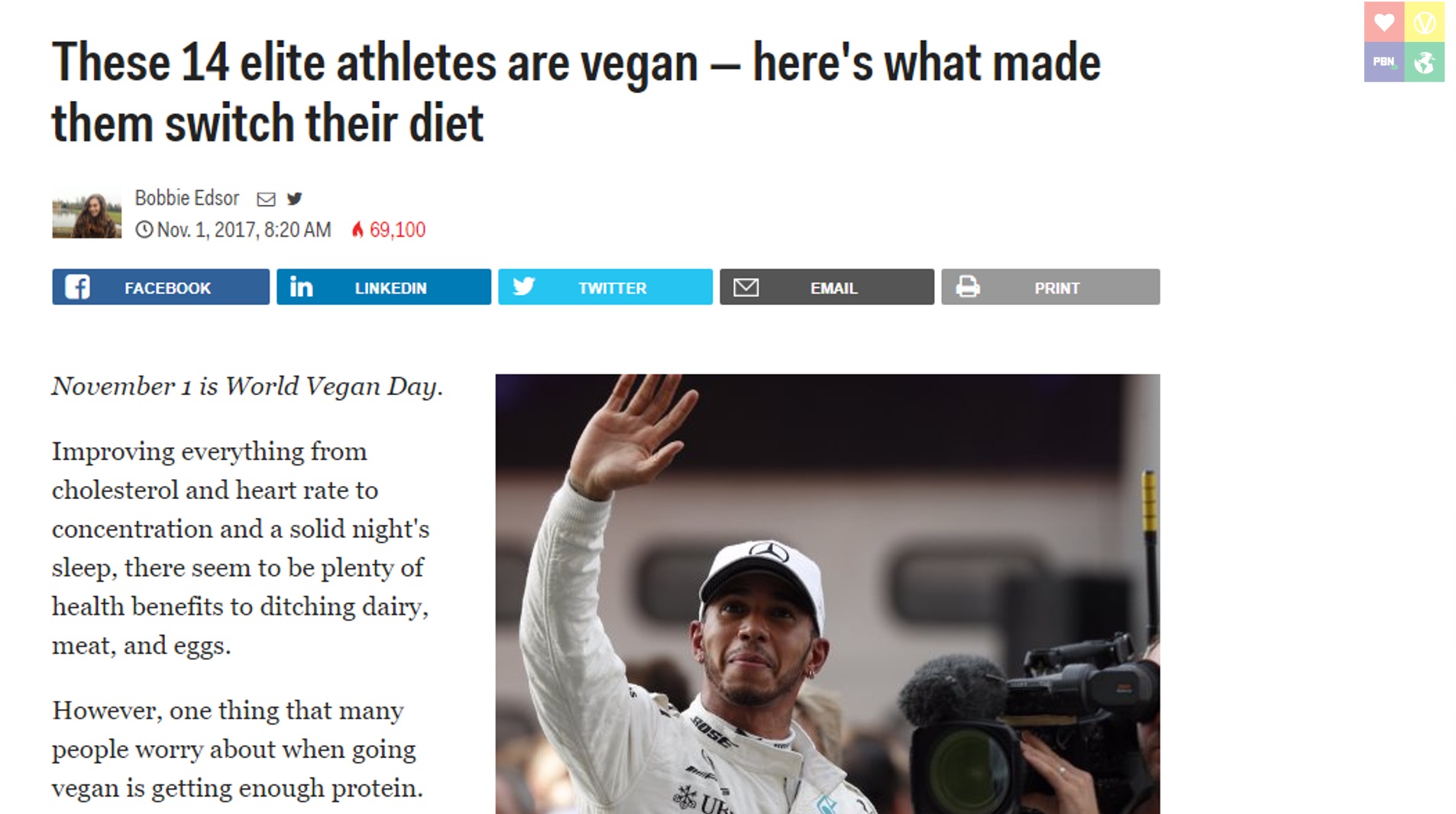 Athletes – including numerous NBA and NFL stars – went vegan in their droves this year, many after watching smash hit documentary What the Health.
Among them was Lewis Hamilton – who went on to win his fourth F1 Championship after making the switch.
Speaking about his new lifestyle he said: "When I speak to my friends and family they say, 'I could never be on a plant-based diet, I could never be vegan'.
"It's weird, because once you cross that line and go over the hill I can't imagine going back.
"There's things I see my friends eating – and I used to eat it – but now I feel sick because I have read about it and have read some of the science."
26. Investors are pouring money into plant-based alternatives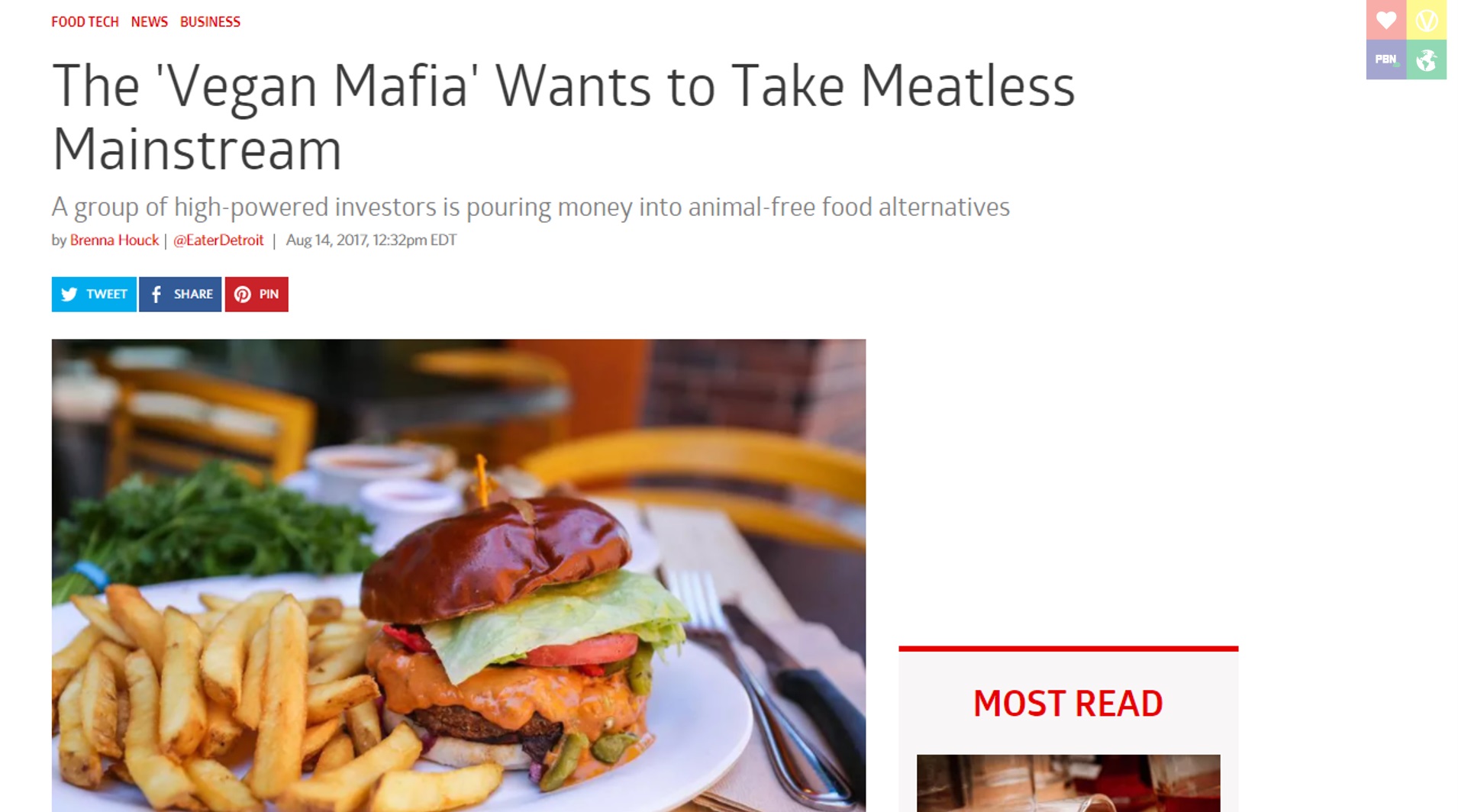 In August of this year, CNCB reported shared a story about a group of plant-based investors known as the 'vegan mafia', plunging cash into innovative animal-free products.
The article described the 'mafia' as a 'group of powerful vegans across the country who fund start-ups, and try to wean people from their dependence on animal products'.
According to mafia member Ryan Bethencourt, who runs bio-tech accelerator IndieBio: "There's a whole community of us that are building and funding vegan companies."
Impossible Foods and Beyond Meat are listed as some of the most significant plant-based tech start-ups for investors.
There is a common thread among the members of the group – they are not investing in products aimed at vegans.
The article said: "Instead, they are investing in products that appeal to the masses because they are healthier and cheaper."
28. What the Health turned people vegan 'in their droves'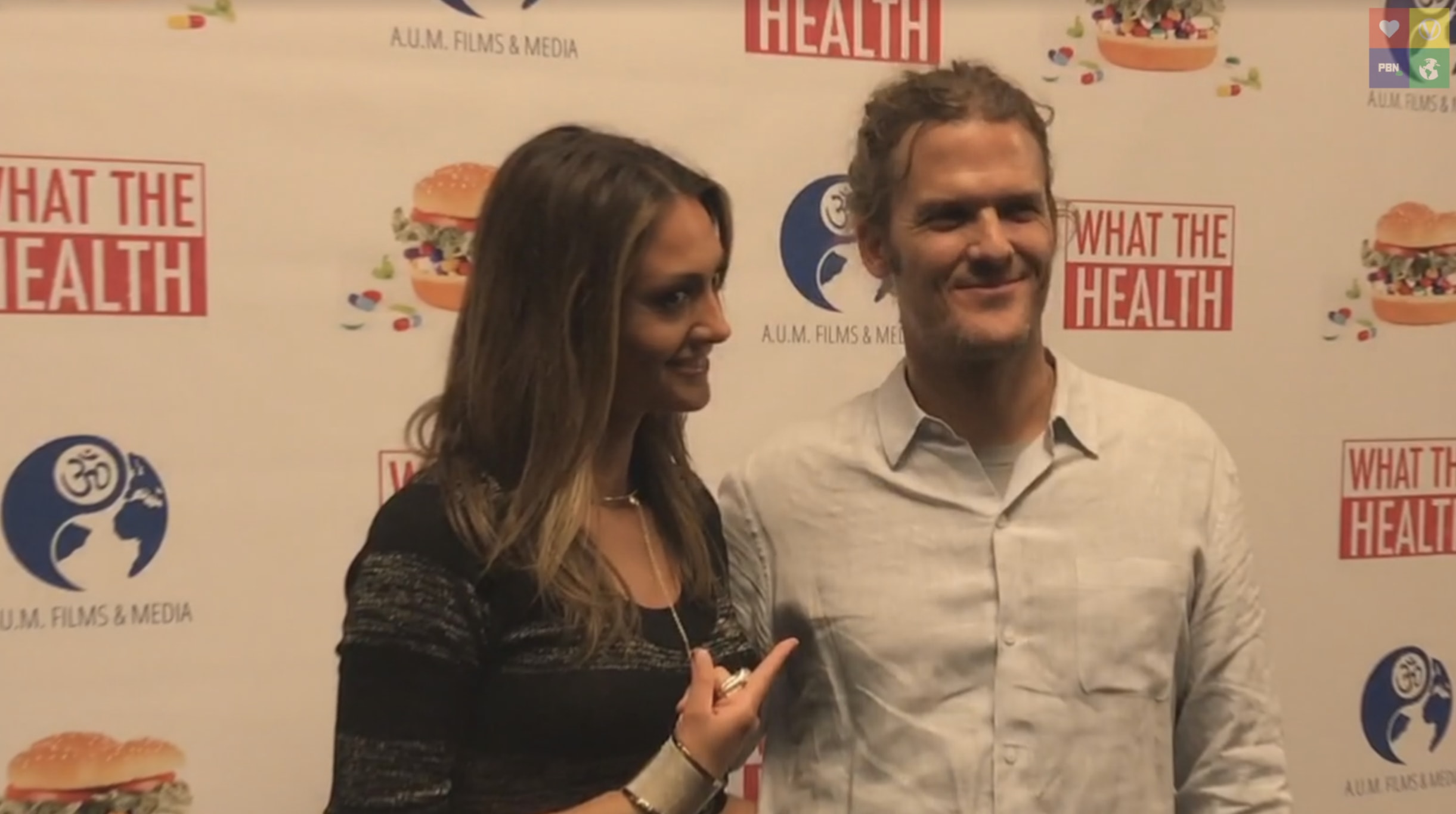 Lots of people – including top athletes – credited documentary What the Health with inspiring them to go plant-based.
They were not alone. According to reports earlier this summer, a screening of the movie in Dallas, Texas led to a spike in the number of local vegans.
According to Dallas restauranteurs, people were coming in to eat, saying they were inspired by What the Health.
V-Eats Modern Vegan owner Troy Gardner said: "It's crazy that I've heard so much about [What the Health] in such a short period of time.
"And just 10 minutes ago, the gentleman who services our dish machine at the restaurant was telling me how he and his wife have just gone vegan.
"Yesterday was their first day, and he cited What the Health as the thing that pushed them over the edge."
29. Popular culture embraced veganism as South Park's Cartman gave it a go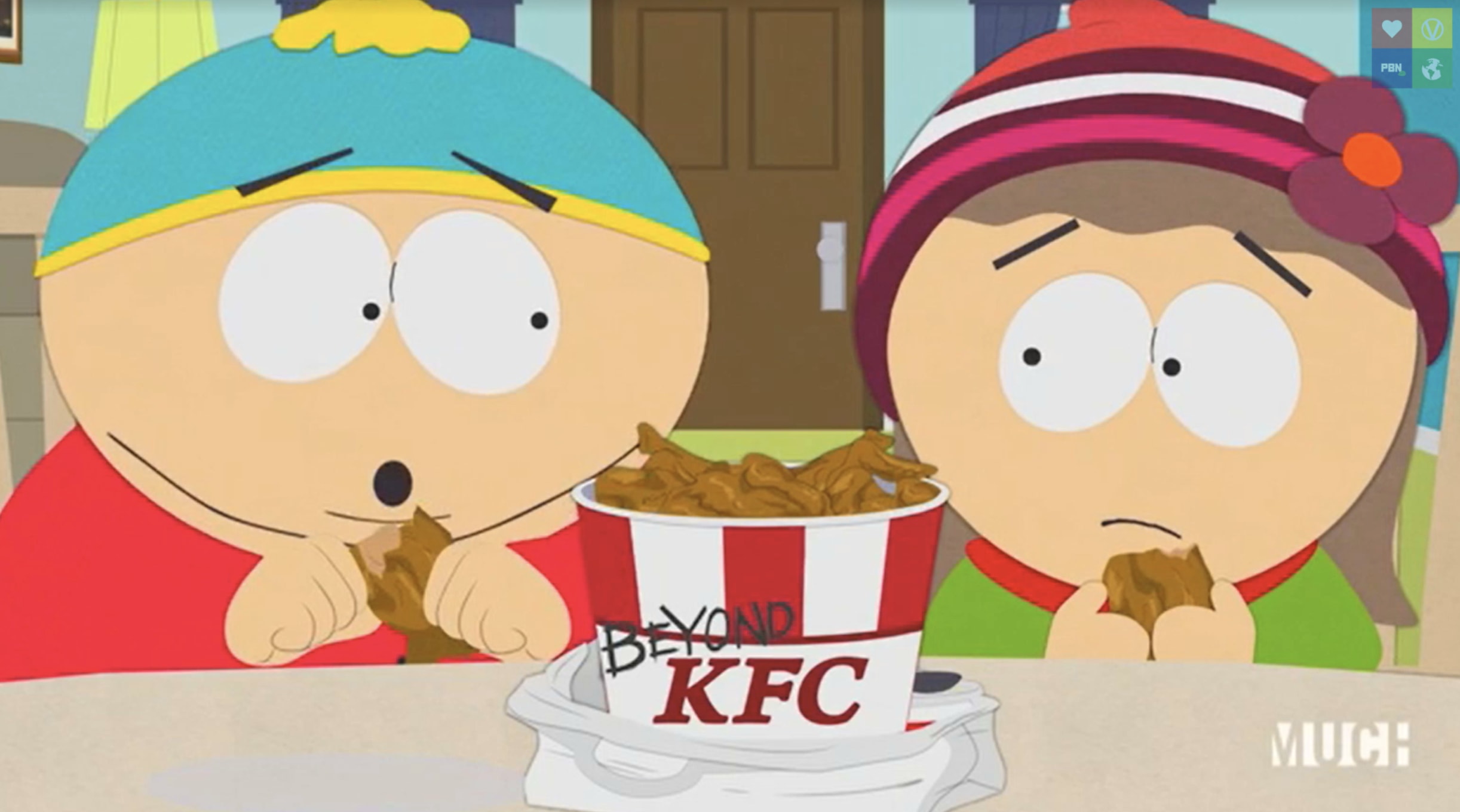 Always on the cutting edge of culture, iconic cartoon South Park centered one of its episodes around a vegan storyline.
In an episode called Doubling Down, famously cantankerous character Eric Cartman is persuaded to give the lifestyle a go by ex-girlfriend Heidi after he blames his bad behavior on his bad diet.
One of the plant-based world's most high-tech products even makes an appearance in the episode, when Cartman visits Heidi at home, saying: "You were so right when you said there were vegan options for everything.
"Remember how you told me about Beyond Meat? I tried it and you were right – you can't even tell the difference between that and real meat."
But there is a twist in the story when Cartman tells Heidi that various omni foods are vegan.
"You gotta try this," he says. "It's called Beyond KFC. It's plant-based, soy protein – you just gotta try it."
Heidi's new diet of 'Beyond Arbys' and other non-vegan foods leads to some side effects, including feeling ill and weight gain.
30. ASA ruling said you can call cow's milk inhumane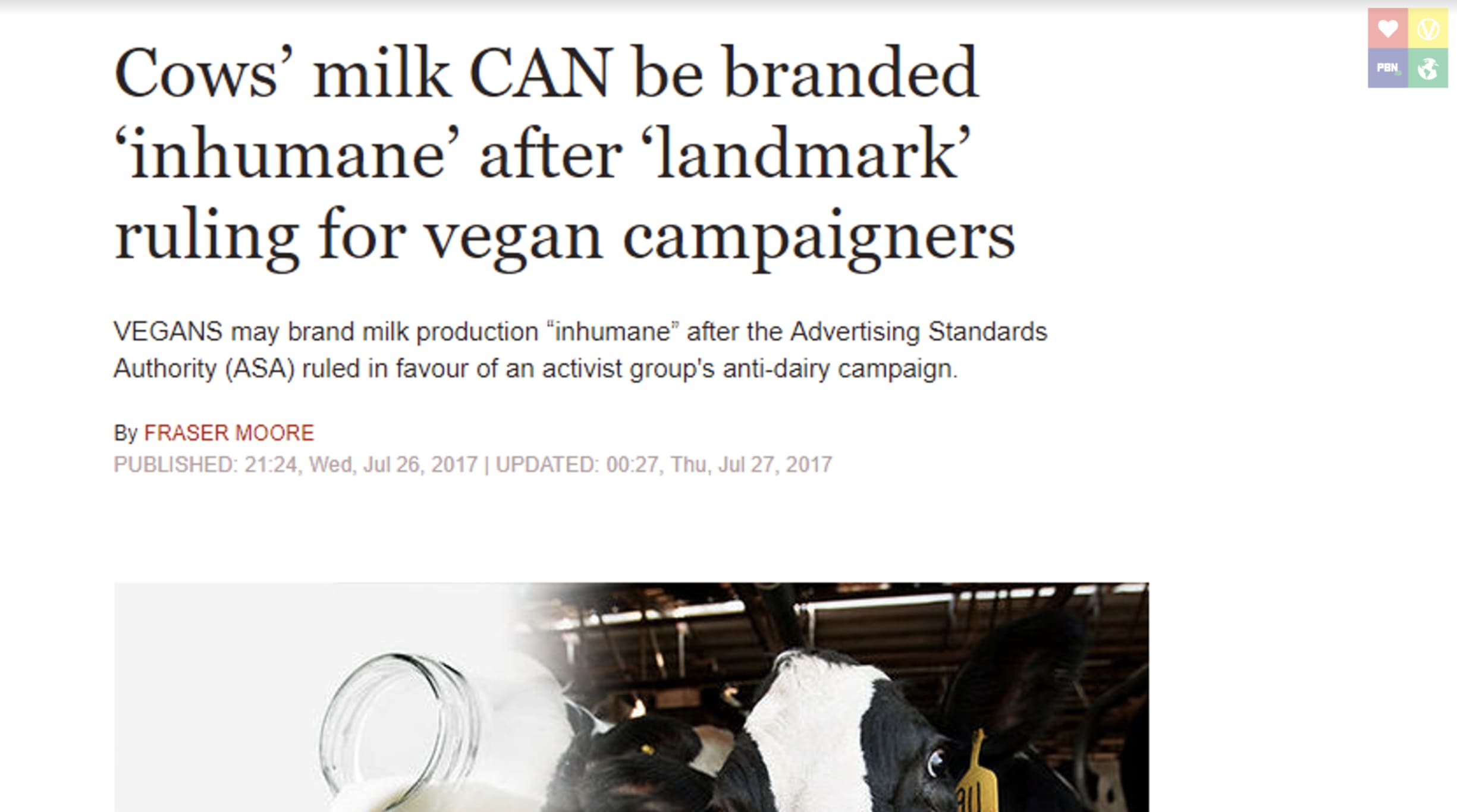 In one of the biggest victories for the vegan movement this year the Advertising Standards Authority [ASA] cleared an advertisement by Go Vegan World that states: "Humane milk is a myth. Don't buy it."
The advert – which was featured in The Sunday Telegraph – pictures a cow standing behind barbed wire. Words on the ad say: "I went vegan the day I visited a dairy. The mothers, still bloody from birth, searched and called frantically for their babies.
"Their daughters, fresh from their mothers' wombs but separated from them, trembled and cried piteously, drinking milk from rubber teats on the wall instead of their mothers' nurturing bodies. All because humans take their milk."
The ASA received challenges from seven complainants about the ad – some of whom work or have worked in the dairy industry, but it cleared the ad of any wrongdoing
Higgins welcomed her win saying: "Dairy is inherently inhumane."
31. McDonald's launched the 'McVegan' Burger in Finland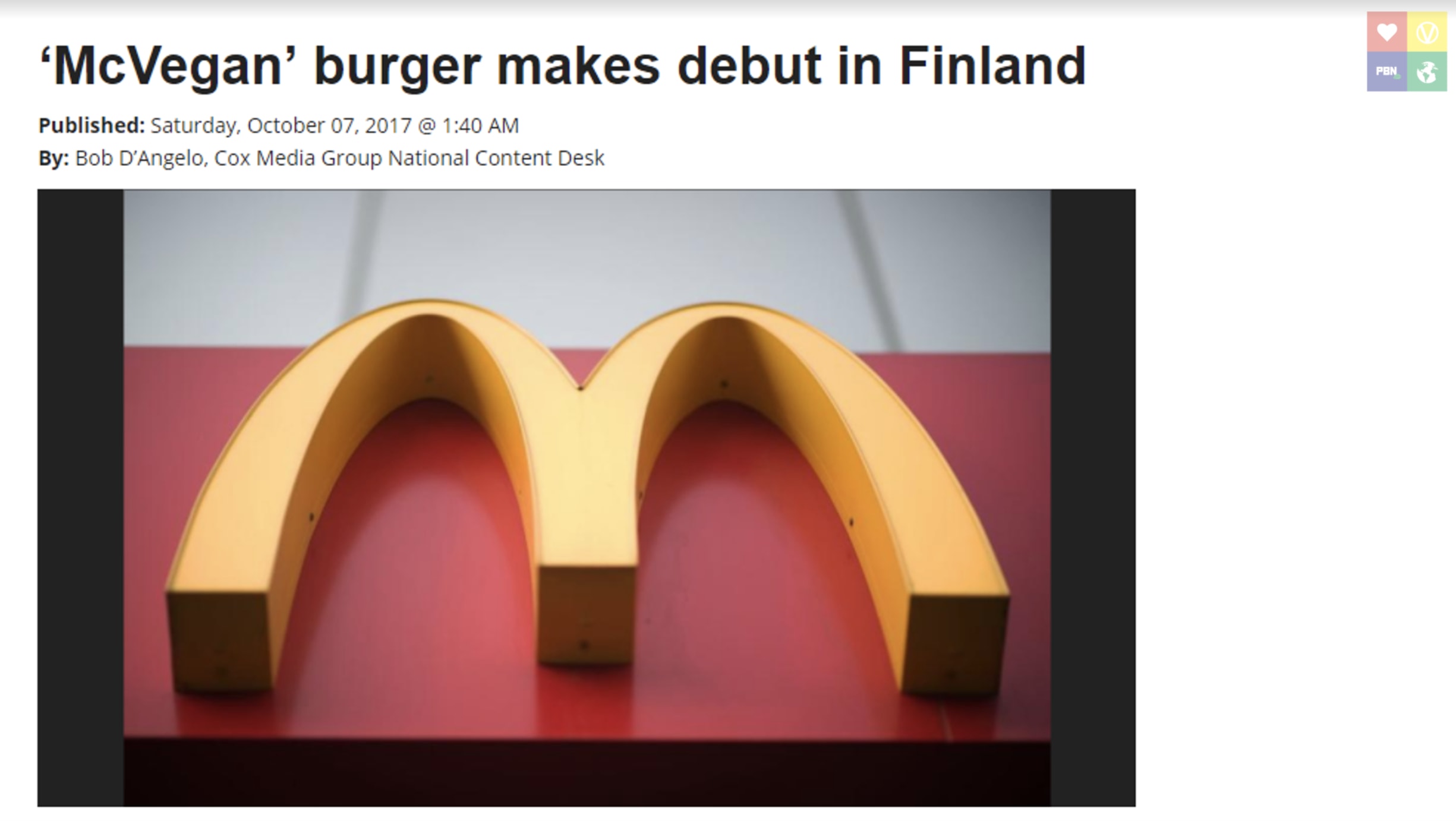 In one of the year's most popular stories, fast food giant McDonald's started testing a vegan burger – known (unsurprisingly as the 'McVegan') in Finland during October.
Christoffer Rönnblad, Marketing Director of McDonald's in Finland, said the response had been positive, adding: "We are following the reaction with interest and we are happy to receive feedback.
"That's the purpose of the trial."
Whatever the outcome, he confirmed that the brand will continue to expand its meat-free offerings in the future.
He added: "The vegan hamburger required extensive in-house product development. The [vegan] hamburger steak is soy based.
"We were really passionate about finding a steak that tastes really good."
32. People started finding out more about animal agriculture's impact on the planet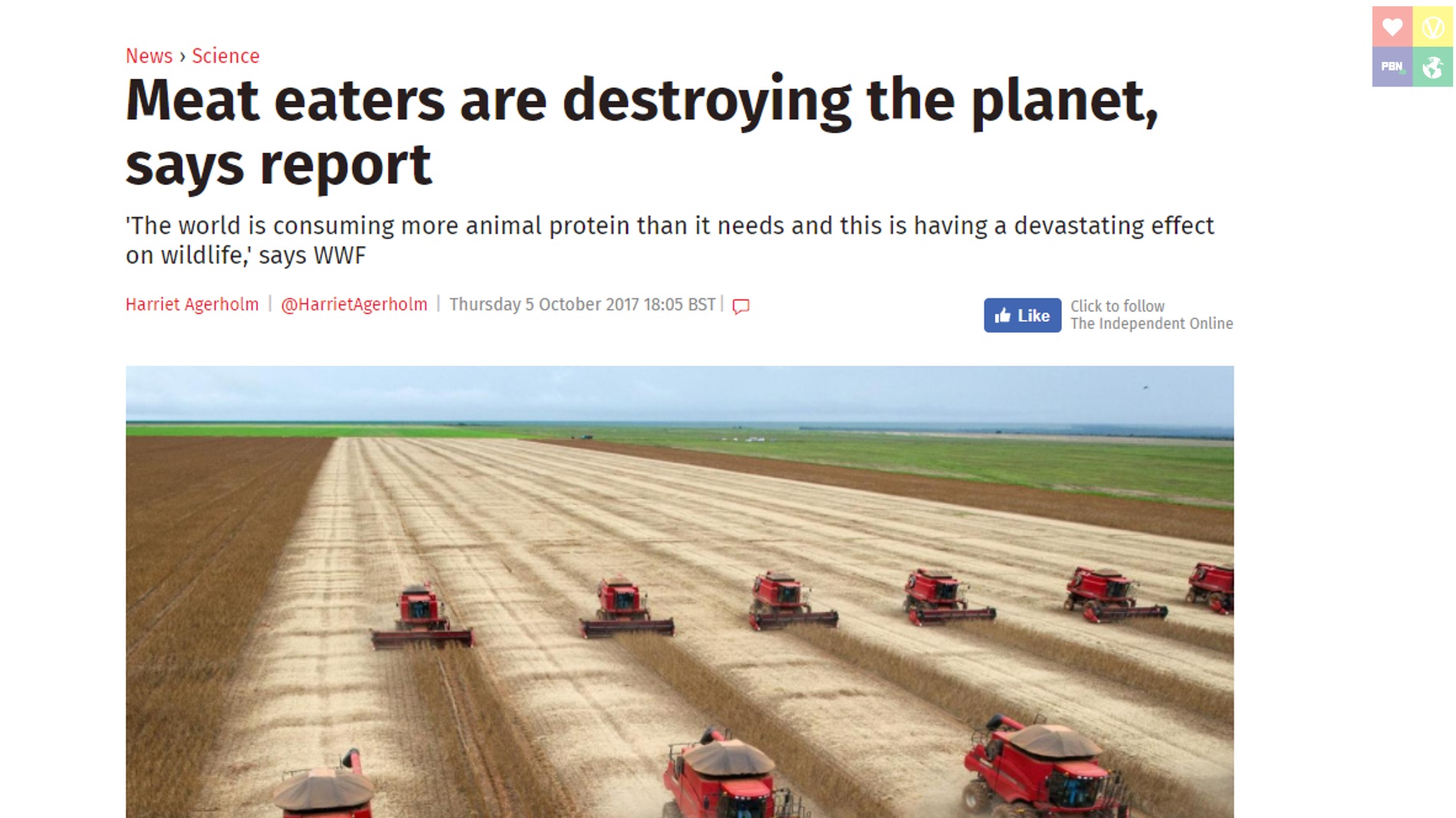 Conservation charity the WWF published a report this year which warned that eating meat is devastating parts of the world because of the amount of land needed to produce animal feed.
The report, called Appetite for Destruction, launched at the Extinction and Livestock Conference.
According to WWF Food Policy Manager Duncan Williamson: "The world is consuming more animal protein than it needs and this is having a devastating effect on wildlife.
"A staggering 60 per cent of global biodiversity loss is down to the food we eat.
"We know a lot of people are aware that a meat-based diet has an impact on water and land, as well as causing greenhouse gas emissions, but few know the biggest issue of all comes from the crop-based feed the animals eat."
You canwatch PBN's entire film Vegan 2017 here
READ MORE:
?Studio Giant 20th Century Fox Teams Up With Vegan Sanctuary To Promote New Animal Movie
'The Rumors Are True': Pizza Hut Rolls Out Vegan Cheese Due To 'Phenomenal Demand'
Report Calls On Meat Industry To 'Wake Up' As Plant Based Alternatives Skyrocket