Many vegans like to show off their credentials through their clothing.
A well-designed message on a T-shirt or other piece of apparel can always start a conversation (or connect you with other like-minded people).
The problem can arise when choosing clothing – you want to make sure the manufacturing process of the clothes you're wearing reflect the message you want to represent.
Here are 10 companies who offer ethical options.
1. The Vegan Police Shop
The Vegan Police shop is run out of British Columbia by a small town artist, mother and passionate vegan, Heather Doherty.
Offerings include men's, women's, and children's clothes – as well as tote and lunch bags.
Her clothing is sweat shop-free and hand-printed.
2. Viva la Vegan
Jay Carlton's Viva la Vegan brand is based in the UK.
The brand offers a selection of jewelry, accessories, and clothing for men and women – certified by the Ethical Trading Initiative.
There are also options which are upcycled, and some made from organic cotton.
3. Herbivore
U.S. manufactured Herbivore Clothing offers a variety of ethical cotton message wear – included are a variety of gender neutral designs printed on hoodies, tanks and t-shirts.
The brand's website also offers of accessories, as well as products from other ethical manufacturers.
4. In The Soulshine
In The Soulshine, popular with vegan Instagram and YouTube personalities, emphasizes Bali manufacturing, claiming its workers make three to five times the average local salary.
The brand has collaborated with PETA – and offers a variety of clothing and accessories for men, women and children.
5. Vegan Supply Co
Also very popular on social media is Vegan Supply Co.
Its website offers a variety of simple designs-printed on sweatshop-free, American-made shirts for men, women and children.
Also offered are totes, iPhone cases, and mugs sporting vegan messages.
6. Alba Paris
Artist and creator Alba Paris is perhaps best known for her 'We Can Do It' design which promotes veganism but harkens back to the WWII era Rosie the Riveter print.
The clothes are ethically made and printed in the USA – with 10 percent of proceeds donated to Rancho Relaxo animal sanctuary.
7. Plant Faced
Plant Faced offers edgy designs printed of garments for men and women, as well as accessories.
The company prioritizes the environment and sustainable fashion – with an eco-friendly approach to hand printing – and only sells clothing that is Fairtrade, Fair Wear or WRAP certified.
8. Vegan Kingdom
Vegan Kingdom is owned by Brian Turner, a former body builder and popular YouTuber with over 200,000 subscribers.
Offerings are Fairtrade certified – and include clothing, tote bags and hats for men and women.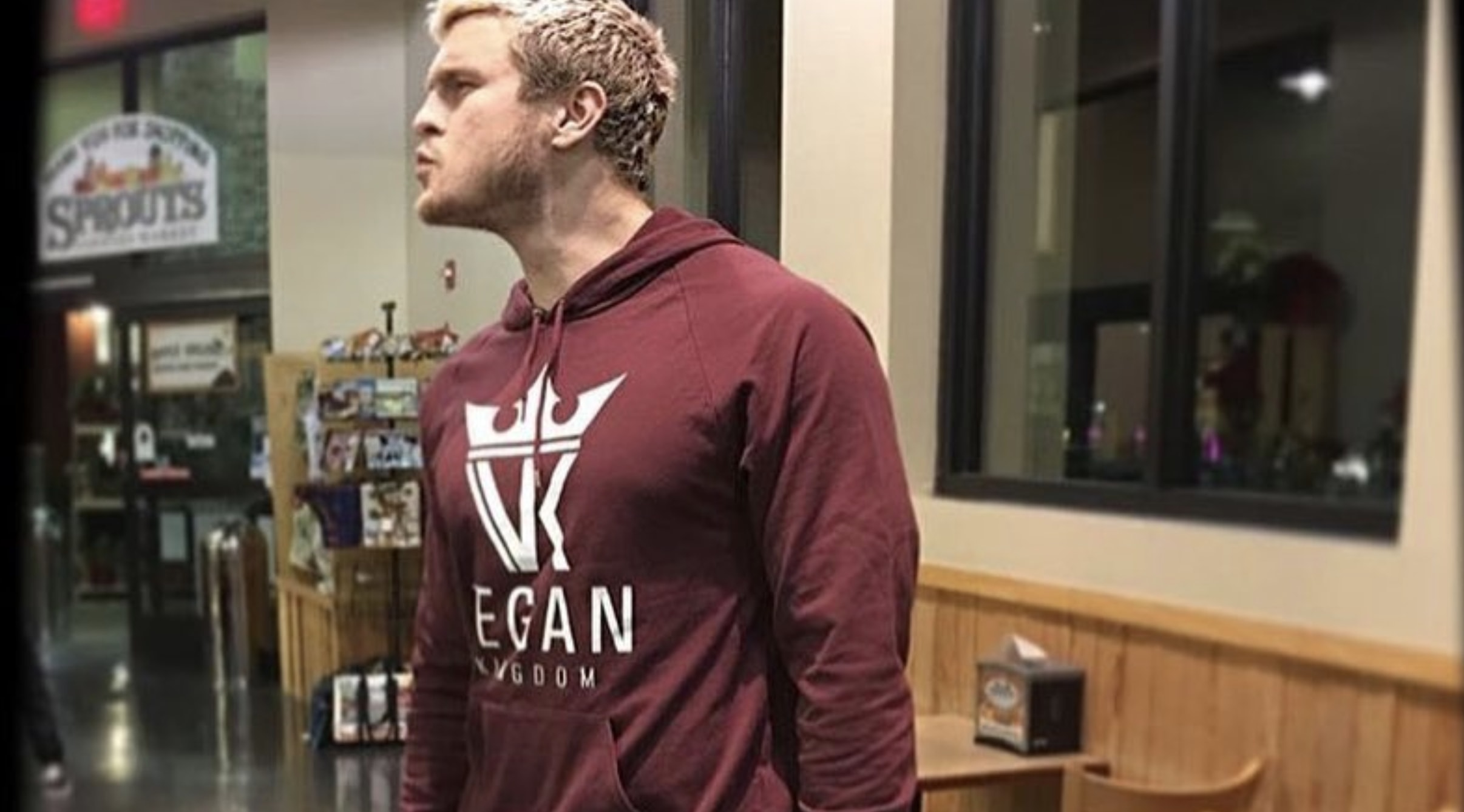 9. Mercy for Animals
Animal-welfare organization Mercy for Animals specializes in undercover investigation, legal advocacy, corporate outreach, and education – and offers a variety of merchandise, clothing for men and women inclusive.
Proceeds support the charity's work in animal welfare.
10. Compassion Co
U.S. manufactured Compassion Co. offers a variety of vibrant designs for men and women – all printed on organic cotton.
Five percent of all proceeds are donated to featured not-for-profit organizations.
Organizations supported in the past include Vegan Outreach, Woodstock Farm Animal Sanctuary, and Food Empowerment Project.