World scientists have issued a second 'warning to humanity', 25 years after their first notice, urging the population to shift toward plant-based foods in a bid to avoid environmental destruction.
In a manifesto published in online international journal BioScience yesterday, more than 15,000 scientists from 184 countries warned that humans are 'jeopardizing our future', with environmental consequences likely to inflict 'substantial and irreversible harm' on Earth.
The scientists highlighted that there needs to be change in order to save the planet – which includes a dietary shift toward vegan foods.
The open letter comes 25 years after the first notice in 1992, when a mere 1,700 scientists issued a similar warning.
Failure
Looking back at the first manifesto on the 25th anniversary of their call and evaluating the human response, the journal article reads: "Since 1992, with the exception of stabilizing the stratospheric ozone layer, humanity has failed to make sufficient progress in generally solving these foreseen environmental challenges, and alarmingly, most of them are getting far worse."
The letter goes on to mention that the current trajectory of potentially catastrophic climate change is 'especially troubling' – which, it explains, is due to rising greenhouse gas emissions from burning fossil fuels, deforestation, and agricultural production, 'particularly from farming ruminants for meat consumption'.
Mass extinction
The scientists also stress: "We have unleashed a mass extinction event, the sixth in roughly 540 million years, wherein many current life forms could be annihilated or at least committed to extinction by the end of this century.
"By failing to adequately limit population growth, reassess the role of an economy rooted in growth, reduce greenhouse gases, incentivize renewable energy, protect habitat, restore ecosystems, curb pollution, halt defaunation, and constrain invasive alien species, humanity is not taking the urgent steps needed to safeguard our imperilled biosphere."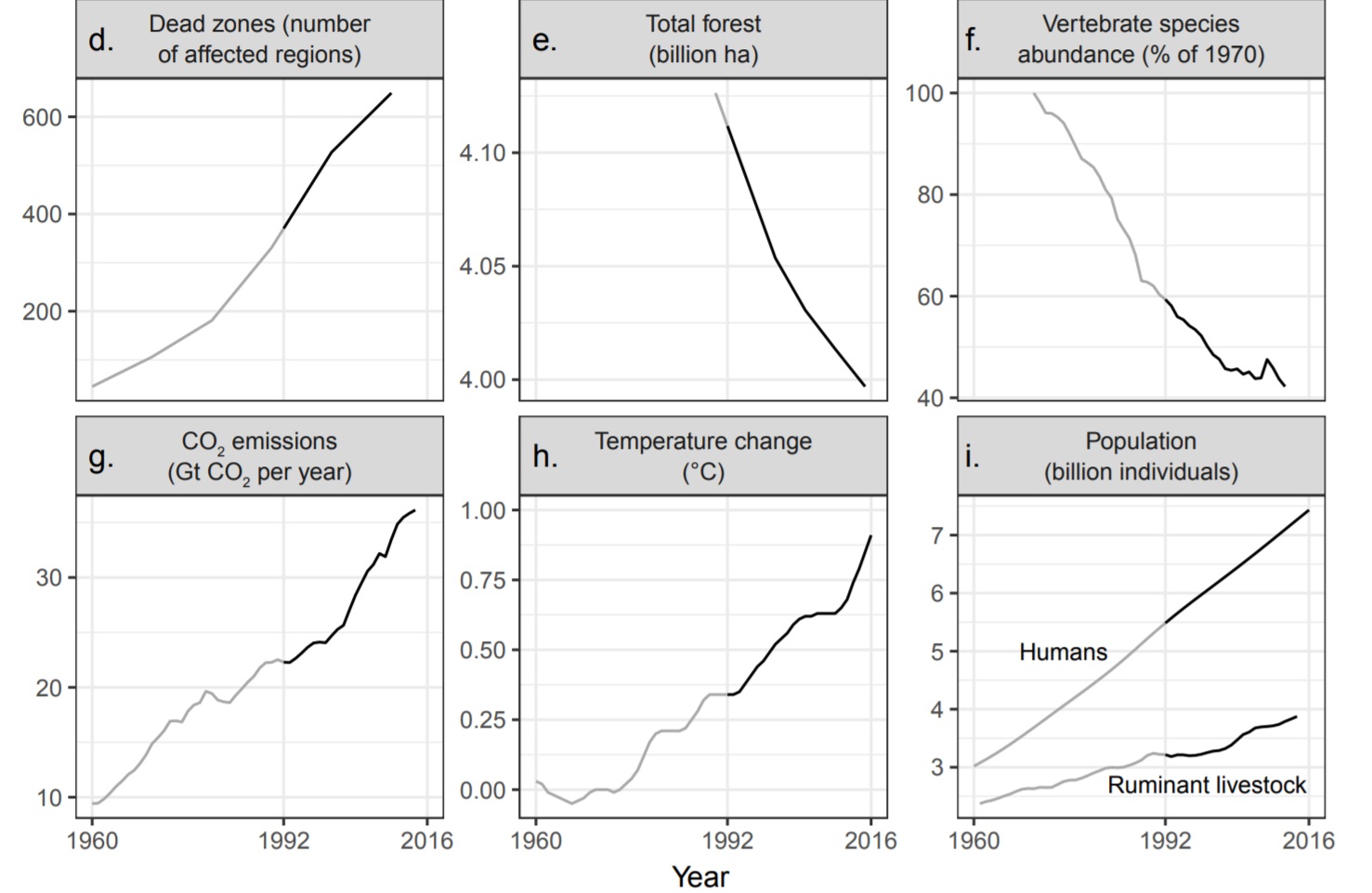 Stats
Over the past 25 years, the scientists pointed out that:
– The amount of fresh water available per head of population worldwide has reduced by 26 percent;
– The number of ocean 'dead zones' – places where little can live because of pollution and oxygen starvation – has increased by 75 percent;
– Nearly 300 million acres of forest have been lost, mostly to make way for agricultural land;
– Global carbon emissions and average temperatures have shown continued significant increases;
– Human population has risen by 35 percent;
– The number of mammals, reptiles, amphibians, birds and fish in the world has collectively fallen by 29 percent.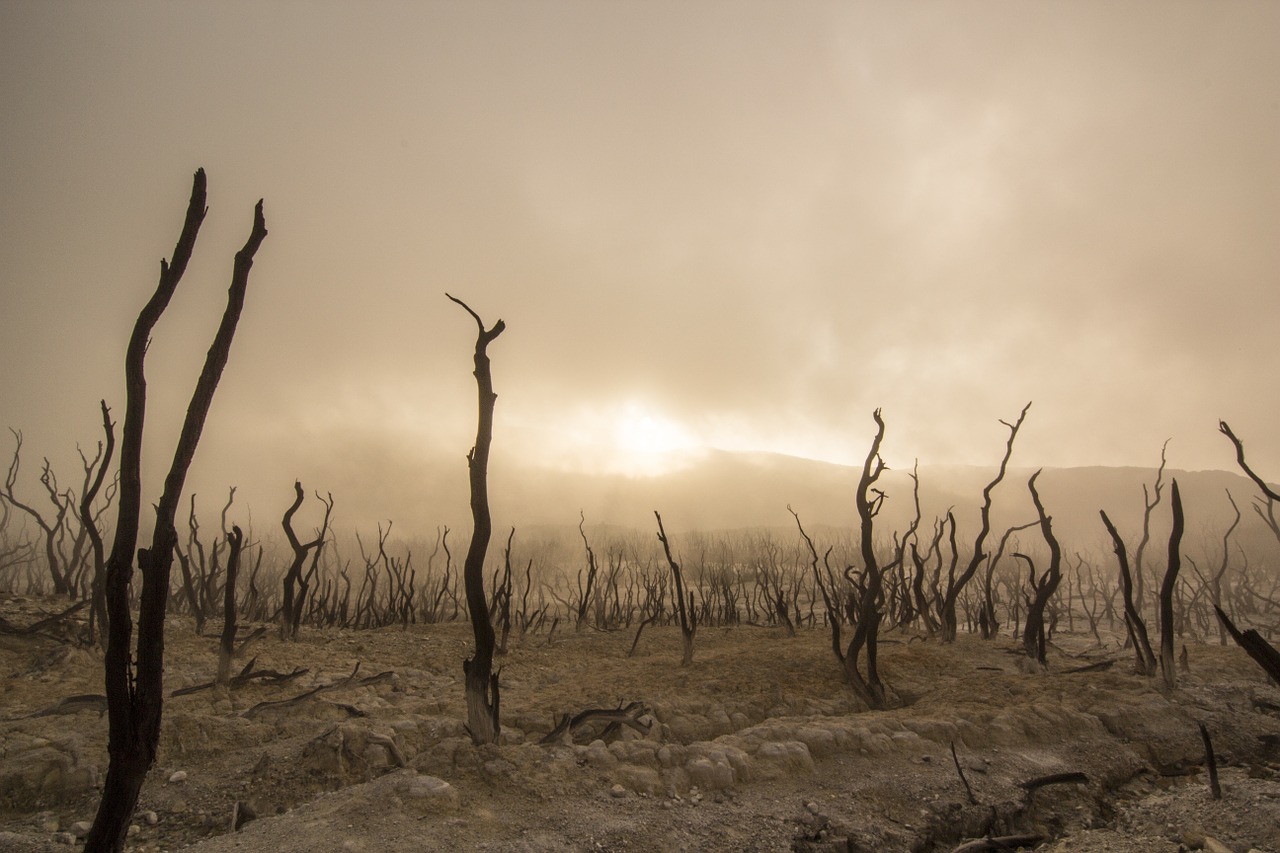 Solutions
The open letter, which was led by top US ecologist Professor William Ripple, from Oregon State University, mentions a series of sustainabilty transitions that humanity can take to 'prevent widespread misery and catastrophic biodiversity loss'.
Among these steps, the manifesto highlights: "Reducing food waste through education and better infrastructure; promoting dietary shifts towards mostly plant-based foods; further reducing fertility rates by ensuring that women and men have access to education and voluntary family-planning services, especially where such resources are still lacking."
Others read: "Maintaining nature's ecosystem services by halting the conversion of forests, grasslands, and other native habitats; divesting of monetary investments and purchases to encourage positive environmental change."
Time is running out
The article concludes: "Soon it will be too late to shift course away from our failing trajectory, and time is running out.
"We must recognize, in our day-to-day lives and in our governing institutions, that Earth with all its life is our only home."
You can read the full open letterhere
READ MORE:
BAN: Italy Ends All Animal Circus Acts
LIES: Desperate Dairy Claims 'Cows And Calves Are Separated For Their Own Health'