YouTuber Kalel Cullen – born Kristin Smith – has prompted
outcry from followers after admitting to wilfully eating dairy-laden foods via social media.
'Not really vegan'
Kalel originally revealed her choice to eat nonvegan candy bars and movie
theater popcorn in a YouTube video titled 'I'm Not Really Vegan?'
In the video, she explained that she was 'just not ready' to
replace certain items in her lifestyle – most notably movie theatre popcorn and
candy bars.
The content of the video quickly became a hot topic among
Twitter users.
'Can't sympathise'
Many users had an adverse reaction to Kalel's
confession.
One user wrote: "I wish I could sympathise with Kalel's 'I'm
not really vegan' video but I really can't. I completely understand accidental
fuck ups, and things we just need to deal with that are outwith our control.
What I can't understand is consciously buying and consuming non vegan foods [sic]."
Others pointed out that she is a resident of Los Angeles –
a city which HappyCow listed as one of its top ten cities for vegans worldwide.
'Be grateful'
On the other hand, some users leaned in the direction of
praising her for what she has done – rather than criticising her choice to eat animal products.
One commenter wrote: "Vegans are out here wasting their
breath on people like Kalel who are 98% vegan when most people are still 0%
…shouldn't we be grateful for people like her?"
Kalel has partnered with animal rights organization PETA for multiple campaigns (Image: PETA)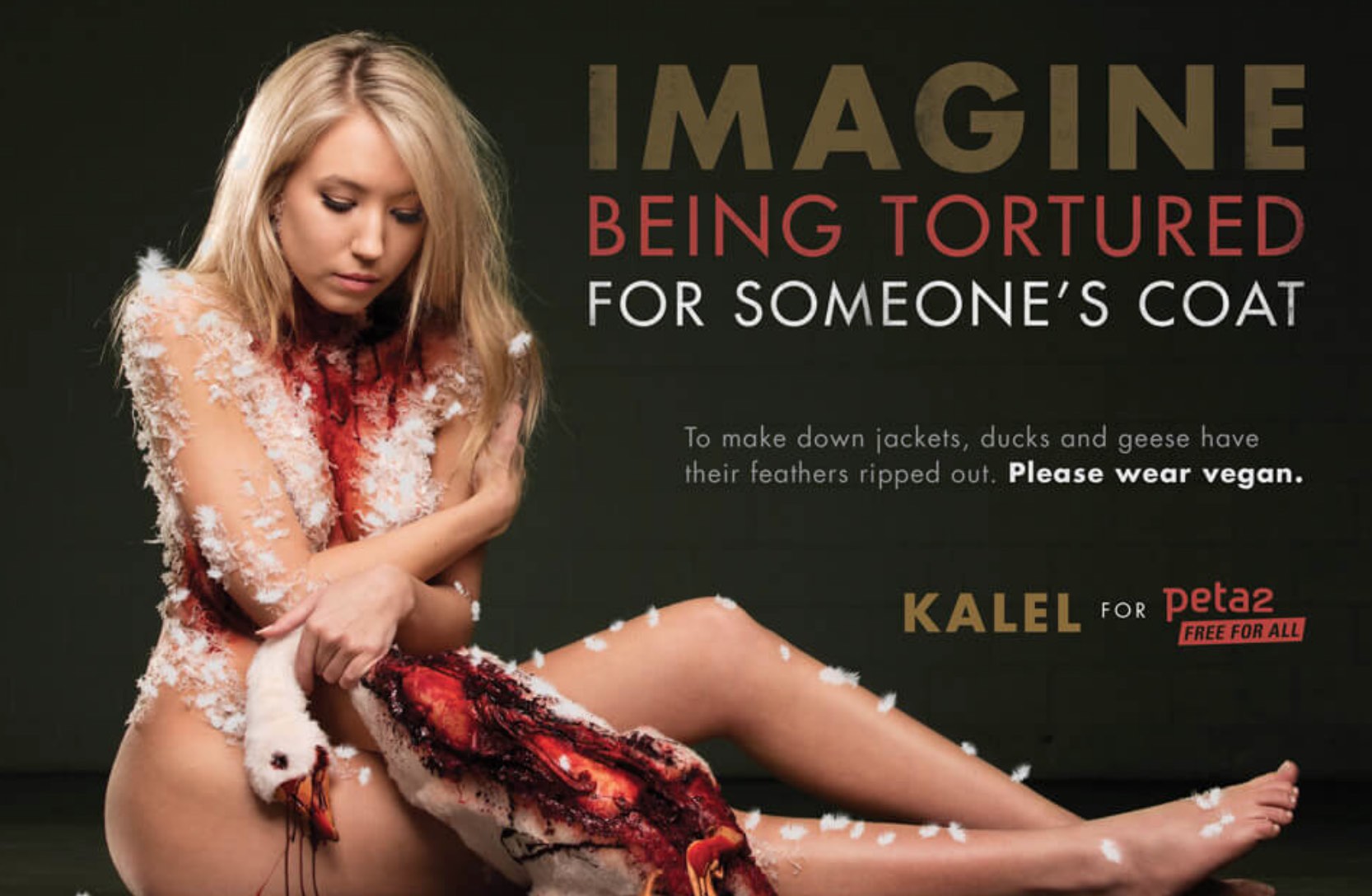 'Attacking me'
The social media star did not take kindly to the criticism
she received as a result of her dairy consumption.
She wrote: "Vegans attacking me over my choice to be so bold
to admit that I eat a few non-vegan candy bars a year is the reason why SO MANY
people are afraid of publicly identifying with the vegan label."
Mixed messages
A number of users argued that Kalel is sending mixed
messages by consuming dairy.
The YouTube phenomenon – who's garnered over 1.9 million
followers – is a collaborator with animal-rights organization PETA, and is
known for her animal rights advocacy.
In fact, on July 25, she took to Twitter to besmirch a
popular clothing brand for a fur-trimmed item in its collection.
She wrote: "How can you justify killing foxes and rabbits
for this horrid sweater? You should be ashamed, @aliceandolivia!"