Television presenter Sarah-Jane Crawford has joined Veganuary as a celebrity Ambassador to help promote the charity's Try Vegan in the January campaign.
She joins a raft of well-known supporters from the worlds of theatre, television, comedy, cookery, and sport who want to make Veganuary 2018 the biggest year yet.
Around 60,000 people registered their month-long participation in January 2017's plant-based initiative, but the charity expects that figure to exceed 150,000 this January.
Vegan journey
At a Kent sanctuary for rescued farmed animals, Sarah-Jane told the charity how she became vegan.
It all began in May 2015 when Beyoncé announced her own 21-day plant-based trial, and Sarah-Jane invited JME to appear on her radio show to talk about all things vegan.
He won her over with his passion, his knowledge and his Oreo biscuits, and after recommending to her a film that had influenced him, she has been vegan ever since.
"It felt like everything came together at the right time and it just really resonated with me," she says.
"I just couldn't look back. It was almost like destiny for me because it just felt so good to do it. I had this new sense of empathy, compassion for animals that I'd never had before. Everything has changed."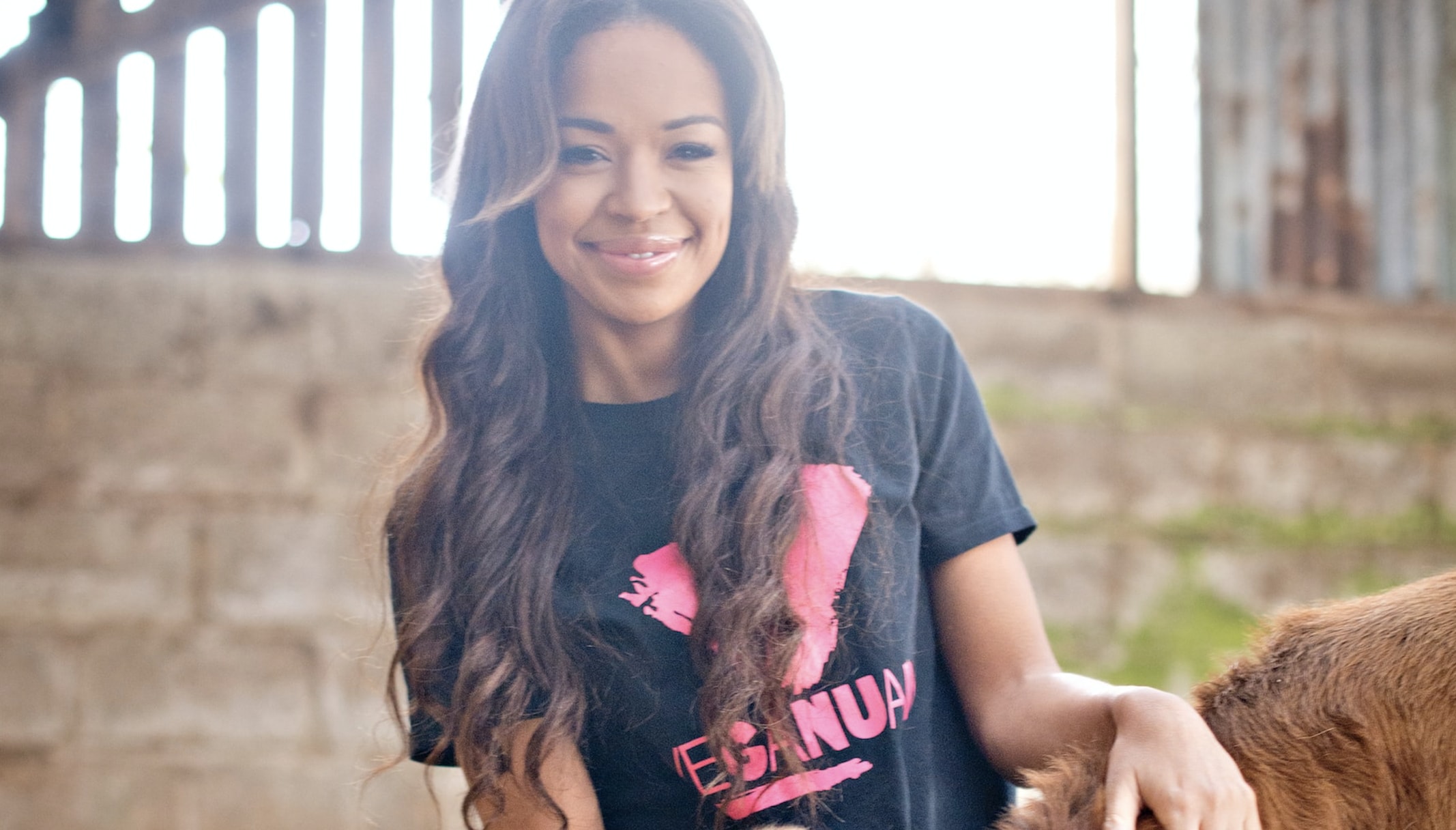 'Delighted'
Jane Land, co-founder of Veganuary, says: "We are delighted to welcome Sarah-Jane to the Veganuary family, and are proud to have her as an Ambassador.
"Like tens of thousands of others, she has embraced a plant-based diet, and is both happier and healthier as a result.
"For some, trying vegan is an ethical decision; for others, it is about health but it doesn't matter what brings people to try veganism, Veganuary is here to mentor, support and advise anyone who wishes to try vegan for 31 days."
Crawford adds: "My advice for those people thinking about taking part in Veganuary is: do it! Why not?
"January is a time for new beginnings. They're doing dry January, maybe they're not drinking, they're kick starting their new years' resolutions, so why not do something for yourself that could change your whole life?"
You canwatch the interview here
Sarah-Jane Crawford will launch her vegan app Viappi, a restaurant finder and recipe database, during the first week of January. Findout more here
READ MORE:
Iconic Musician Moby Celebrates 30 Years Of Veganism
Artificial Intelligence Chef Wants To Disrupt Factory Farming With Innovative Vegan Products
GOING GLOBAL: Massive Demand Inspires Vegan 'Chicken' Brand Sunfed To Launch 'Bacon' And 'Beef'