Vegan make-up boss and celebrity tattoo artist Kat Von D has slammed make-up brand Nars for its recent decision to enter the Chinese market.
This means the company will now have to test its products on animals – as per local laws which mandate that imported cosmetics must be tested before they are sold.
Nars has always been cruelty-free (though its parent company Shiseido tests on animals). The recent announcement has sparked outrage among former customers and fans of the brand, who have pledged to boycott Nars from now on.
'Required by law'
After backtracking on its cruelty-free status, Nars posted an Instagram message.
It said: "We want you to know that we hear you. The global elimination of animal testing needs to happen. We firmly believe that product and ingredient safety can be proven by non-animal methods, but we must comply with the local laws of the markets in which we operate, including in China.
"We have decided to make NARS available in China because we feel it is important to bring our vision of beauty and artistry to fans in the region. NARS does not test on animals or ask others to do so on our behalf, except where required by law.
"NARS is committed and actively working to advance alternative testing methods. We are proud to support the Institute for In Vitro Sciences (IIVS), a globally recognized organization at the forefront of advancing non-animal methods in China and around the world. NARS is hopeful that together, we can work toward a cruelty-free world."
'Terrible news'
Many people, including Kat Von D, voiced their displeasure.
Posting on Instagram, alongside images of animal testing, she said: "I don't normally post graphic images on my Instagram, but due to the terrible news we all got this week when @narsissist announced they've decided to start testing their cosmetics on animals, it wouldn't feel right not to say SOMETHING.
"Using the excuse that you want to elevate artistry, is complete bulls*** when it comes at this price. You are NOT at the 'forefront' of making change when you consciously choose to test on animal.
"There are already non-animal tests that give far more accurate results than testing on animals and supporting that horrible billion dollar industry is criminal.
"Shame on you for hiding behind such a false marketing statement in order to line your pockets, while countless animals suffer. Please reconsider selling in China until the animal testing laws change. Until then, I along with many true animal lovers will gladly boycott your products."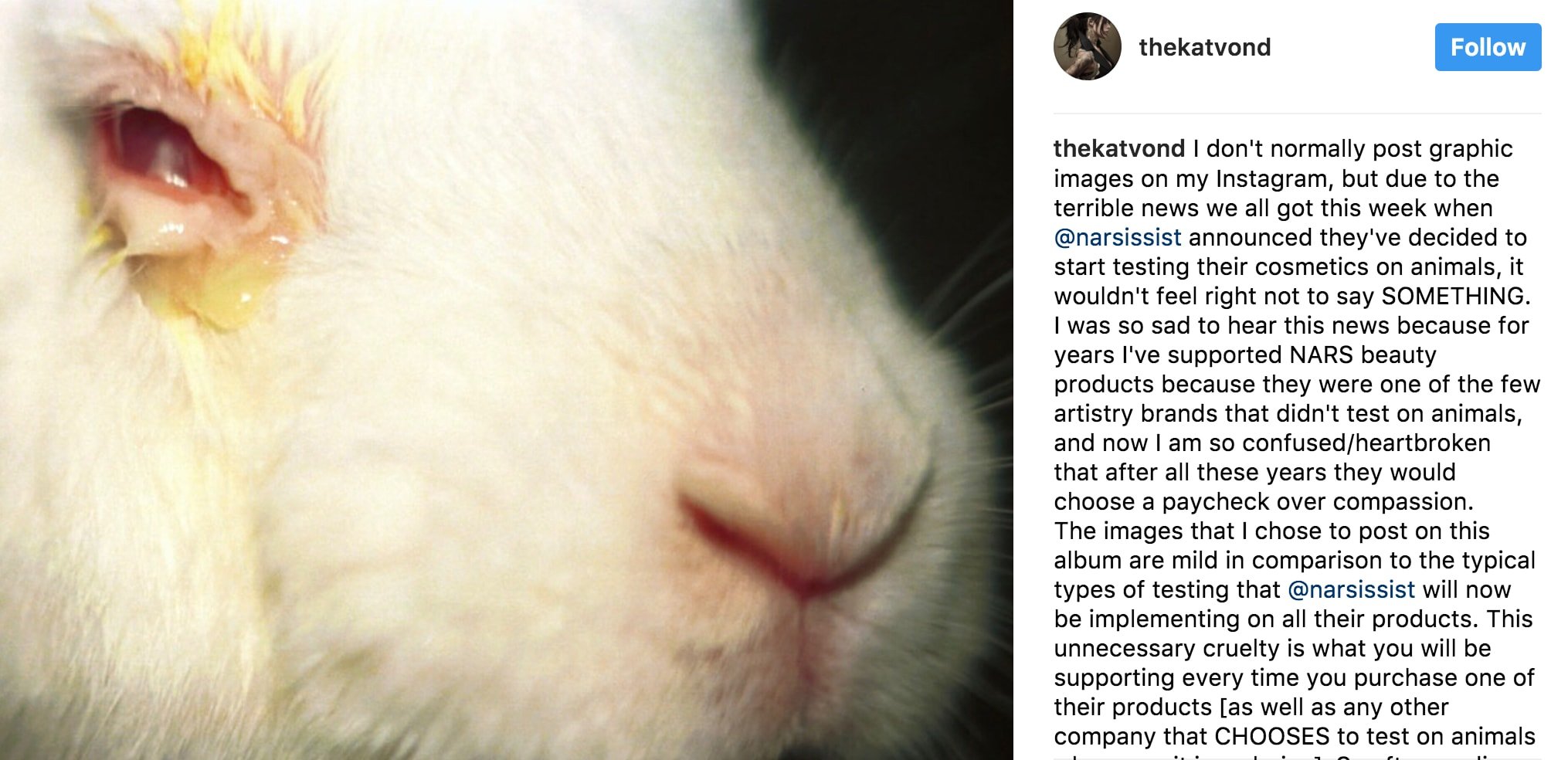 Boycott
A number of consumers replied to Nars' post, also pledging to boycott the brand in favour of cruelty-free alternatives.
User Savannah Lumen said: "If you TRULY believe in something you DO NOT COMPLY in part or wholly just because the companies bottom line needs to swell. This is a disgusting and huge step in the wrong direction…
"We co-create this world and the environment we share by the choices we make. More so for a global brand such as Nars. At least be translucent and not try to confuse people with your 'we believe. attitude and language. This action speaks louder than anything that can be said.
"But nice try by your PR people."
VOTE IN OUR LIVE FACEBOOK POLL
READ MORE:
New Vegan And Cruelty-Free Make-Up Hits British High Street In Superdrug
Animal Tested Cosmetics BANNED In Switzerland