Vegan actor James Cromwell entered the Utah State Capitol building yesterday holding a dead piglet in a bid to raise awareness around animal cruelty.
Cromwell was accompanied by animal rights network Direct Action Everywhere (DxE) Founder Wayne Hsiung along with 200 activists.
The activists are demanding action from the governor and attorney general in response to alleged animal cruelty at pork giant Smithfield's Circle Four Farms in Milford, Utah.
Vegan activist
Cromwell held the dead piglet, which was recovered from a Utah farm by anonymous whistleblowers, while giving a speech about compassion for animals outside and inside the building.
"It's a question of heart," said Cromwell, whose speech was sent to Plant Based News by DxE. "Do you have the heart and compassion to see this creature as something viable in this world? Like any other sentient being?
"Because if we don't deal with this appropriately, we're not going to deal with each other appropriately."
Following his speech, he approached the office of the attorney general, and then Governor Gary Herbert's office.
Ignored requests
"Despite the demonstration occurring during business hours, activists could hear the door to the attorney general's office being locked from the inside as they approached it," a DxE spokesperson told PBN.
"As Cromwell and many Utah residents stood by, Hsiung knocked on the door and requested that someone come out for discussion, but his requests were ignored, and the door remained locked."
Gov. Herbert's deputy chief of staff, Michael Mower, came out and spoke to the activists. "We appreciate all of you coming up and in a respectful manner sharing this important message," he said.
"I promise as the governor's deputy chief of staff, I'll share this with the governor and with the lieutenant governor, and with others on his staff as appropriate.They can review some of the issues that you've raised here today."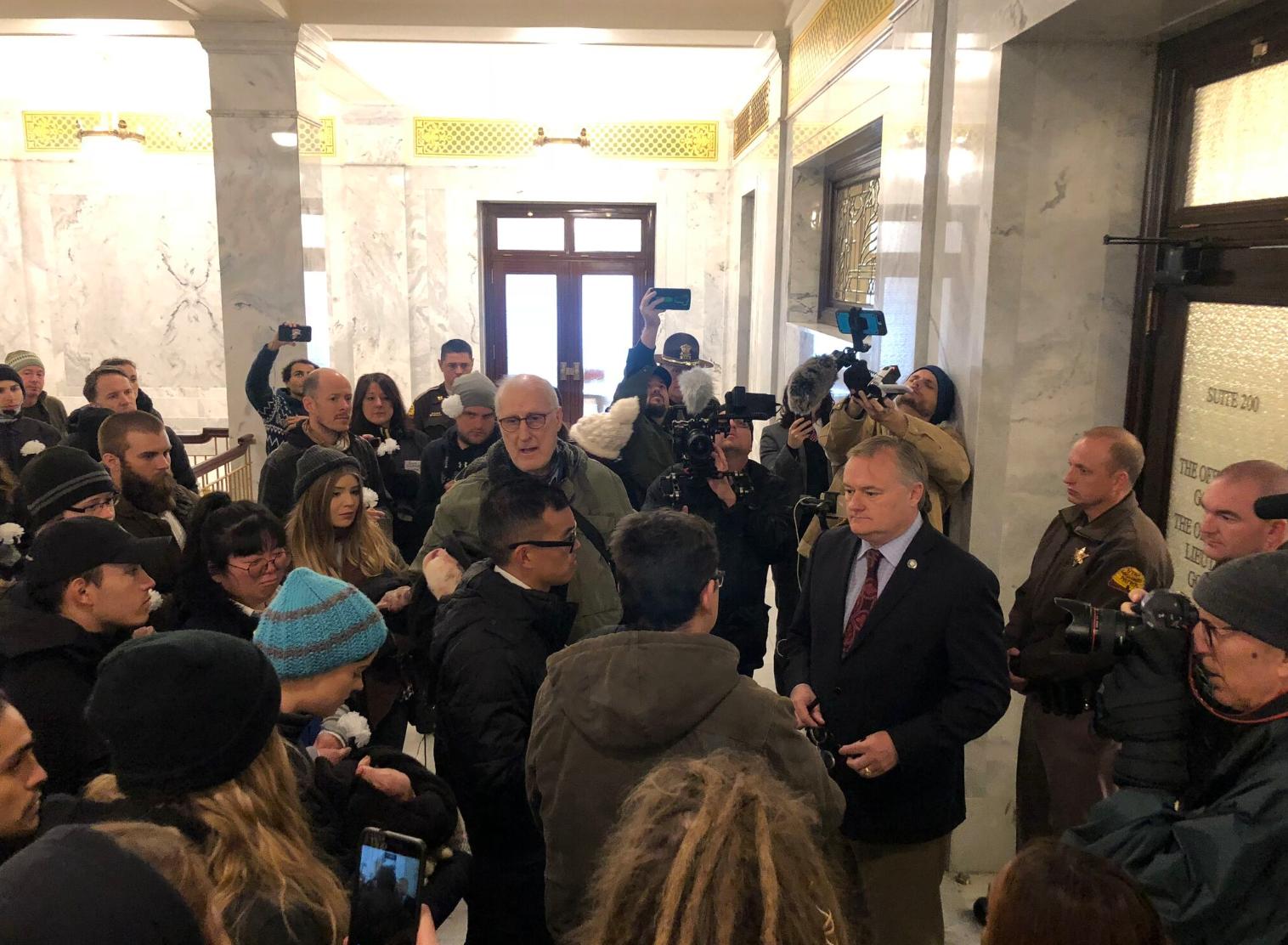 Smithfield
Following the demonstration, Cromwell and the activists drove to Circle Four Farms, which is owned by Smithfield.
"They demanded that management open the doors to allow activists to inspect conditions and provide care to animals in need," said DxE. "At least 10 police officers were waiting for the activists at Circle Four Farms. There was a large police presence waiting for them, but no comment from Smithfield staff did not meet or communicate with the activists.
"Members of DxE then proceeded to hold a training on handling rescued animals near the farm property. Police interrupted them and threatened with a mass arrest if they did not cease the training. Activists then stopped the training and instead sang songs, symbolically laid down flowers, and said words in support of animals and each other."
Smithfield and DxE
The action follows an exposé by Pulitzer-winning journalist Glenn Greenwald published in The Intercept revealing financial ties between Smithfield and DxE prosecutions – including Smithfield's support of both the Republican Attorneys General Association, or RAGA, as well as the Republican Governors Association, during Reyes' and Herbert's 2016 campaigns.
"We're simply asking for a conversation around Smithfield's stated values of transparency and being a so-called "leader in animal care'," said Hsiung.
"The silence of Smithfield, and of Attorney General Reyes and Governor Herbert, is deafening."
Hsiung is awaiting trial on felony charges brought by Utah Attorney General Sean Reyes, including racketeering, punishable by up to 60 years in prison for rescuing two sick piglets during a 2017 investigation of Circle Four Farms.
Plant Based News has contacted Smithfield for comment.