Vegan celeb Jaden Smith has teamed up with plant-based startup Impossible Foods and restaurant chain Umami Burger to release a special slider trio.
The collection of sliders – called Jaden's Impossible Trio – will be exclusively available from the chain, which has 20 outlets across the States.
The collaboration, which is one in a series between Umami Burger and various celebrities, will see $1 from every Trio benefiting American Red Cross hurricane relief efforts.
Flavors
The trio costs $15, and includes the Impossible Slider, the Korean BBQ Slider, and the U-BBQ Slider.
A spokesperson said: "The Impossible slider is an Impossible patty with caramelized onion, American cheese, miso-mustard, house spread, dill pickles, lettuce, and tomato.
"The Korean BBQ slider contains an Impossible patty, gochujang glaze, caramelized kimchi, sesame aioli, Korean ketchup, and scallion-cilantro salad.
"The U-BBQ slider features an Impossible patty, American cheese, Umami BBQ sauce, tempura serranos, and smoked salt onion strings."
'Positive change'
Jaden Smith, who is the son of famous Hollywood couple Jada Pinkett Smith and Will Smith – said: "From the first time I tasted the Impossible Burger, I knew I wanted to be part of the positive change that Umami and Impossible Foods were creating.
"They are at the forefront of food and technology and continue to move into the future of plant based diets. I'm excited to celebrate this social impact and bring the youth with me."
Like-minded
Sam Nazarian, Founder & CEO of sbe, Umami Burger's majority shareholder, added: "sbe is known for bringing together like-minded partners across industries.
"Now that we've taken Umami's Impossible Burger nationwide, we wanted to celebrate the launch with another incredible Artist Series.
"With Jaden Smith's undeniable passion for healthy living and strong social influence, we're pleased that by creating this limited-time trio, one important cause can help fuel another."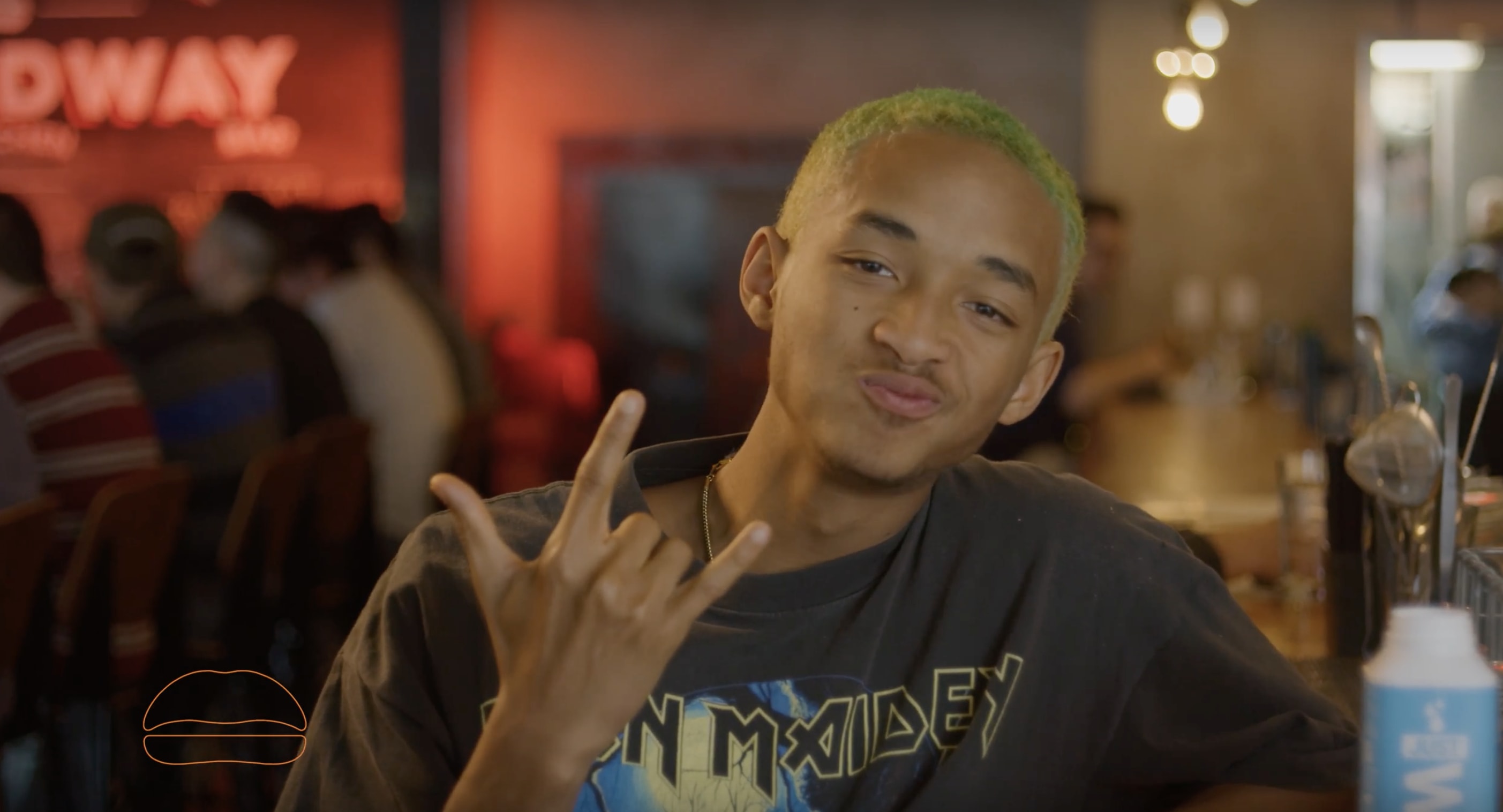 Sustainable
Umami Burger's previous collaboration partners, who have spanned the worlds of arts and design, food and beverage, and pop culture and celebrity, include Alton Brown, Cameron Dallas, and most recently Cindy Crawford and Rande Gerber.
According to a spokesperson, the brand has teamed up with Jaden Smith 'to create a brand new, environmentally conscious dining experience'.
They added: "Jaden's Impossible Trio uses roughly 75 percent less water, generates about 87 percent fewer greenhouse gases and requires around 95 percent less land than conventional ground beef.
"[In addition to selling the trio] participating Umami Burgers will also be offering JUST water, the famous paper based water bottle made from 82 percent renewable sources, both available through December 31, 2017."
Unbelievable
Smith concludes: "You should come to Umami and have the Jaden slider trio because you're not going to believe it.
"It's got no meat in it – it's just impossible – and you're not going to believe it.
"We're trying to satisfy different flavors for people but at the same time give them a plant-based burger that they can enjoy."
READ MORE:
TAKEOVER: Plant Based Impossible Foods To End Animal Agriculture 'By 2035'
The Impossible Burger: Tech Industry's Answer To Climate Change
Plant-Based Impossible Foods Raises Another $75 Million: Bill Gates Invests Again