Vegan activists stormed a Nando's restaurant in Brighton last night holding laptops and wearing chicken masks.
The 10 campaigners played footage from a recent undercover investigation, by activist collective Surge, into a chicken farm which supplies the chain. The action is part of a national week of action called Occupy Nando's where groups of activists all over the country are going into the chain's restaurants and exposing the footage from this investigation.
According to the activists, they occupied the restaurant for almost 20 minutes, during which staff ignored them and continued to serve food. They added that 'some of the customers laughed while some watched the footage'.
'Appalling conditions'
One of the activists made a speech during the action, describing the footage, saying: "Workers standing on chickens, breaking their necks and leaving them convulsing into a painful death. Throwing sick birds into piles and leaving them writhing in agony. Birds so heavy they collapse under the weight of their own bodies.
"Workers intentionally kicking and stamping on chickens. The investigators who filmed these appalling conditions noted that the entire barn floor was covered in feces. Their shoes sank into it."
A spokeswoman from the protest told Plant Based News: "The aim of the action was to disrupt the customer's meals and to draw attention to the violence and suffering that went into it. We know that people don't like to be exposed to the truth of their food, especially while they are eating it, but what these animals go through is unacceptable and we cannot ignore that so many innocent beings are suffering this very second."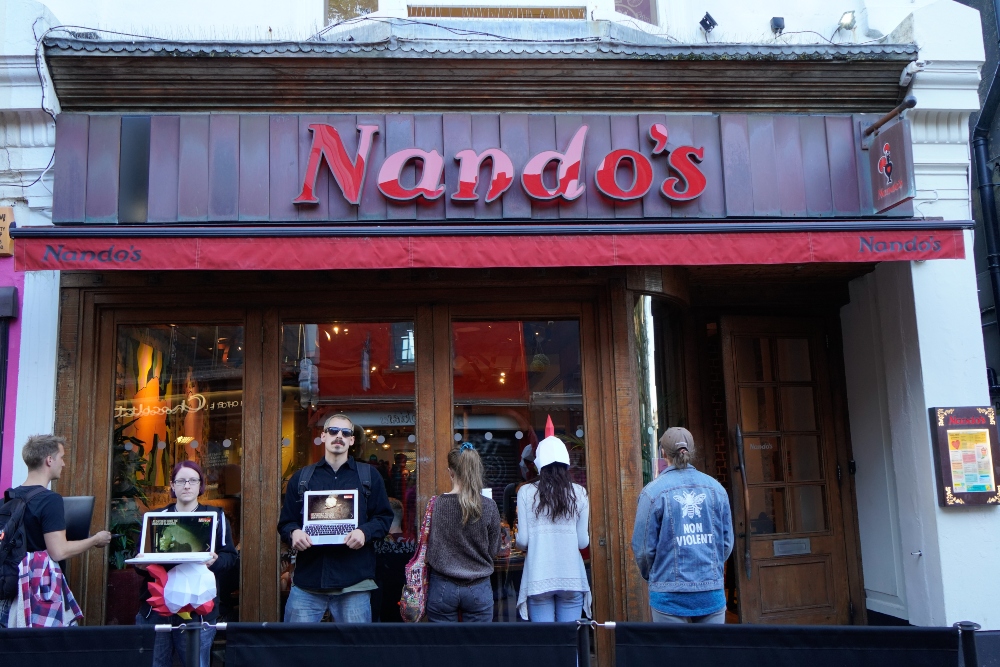 'Disruption'
A Nando's spokesperson told PBN: "We can confirm that there was a small organized disturbance in one of our Brighton restaurants on Wednesday night and we are sorry for those customers who had their meals interrupted.
"We worked with the police to minimize any disruption in a peaceful way and allow our customers to enjoy their meal and have a great night."
Police were called to the scene but did not arrive according to the activists.