Air pollution has plunged across the UK as the coronavirus lockdown has resulted in reduced human activity, according to data.
The information, collated by Global Workspace Specialists Instant Offices using data sourced from The World Air Quality Index, shows which cities had seen the most significant drop in air pollution (and which have seen an increase) after just two weeks of the lockdown.
PM2.5
Global Workspace says levels of the most dangerous air quality indicator – called PM2.5 – have plunged in cities including London, which showed the biggest drop by 34.29 percent, followed by Leicester (20.88 percent) and Edinburgh (16.89 percent).
It came to this conclusion by comparing average PM2.5 levels from when lockdown started in each city to the same dates in 2019, ranking the areas with the biggest increase and decrease in PM2.5 levels two weeks after lockdown started (March 23 – April 6).
The organization says major contributors to air pollution across UK cities are 'transport and burning fuels, with half of PM2.5 toxins coming from coal fires and wood-burning stoves'.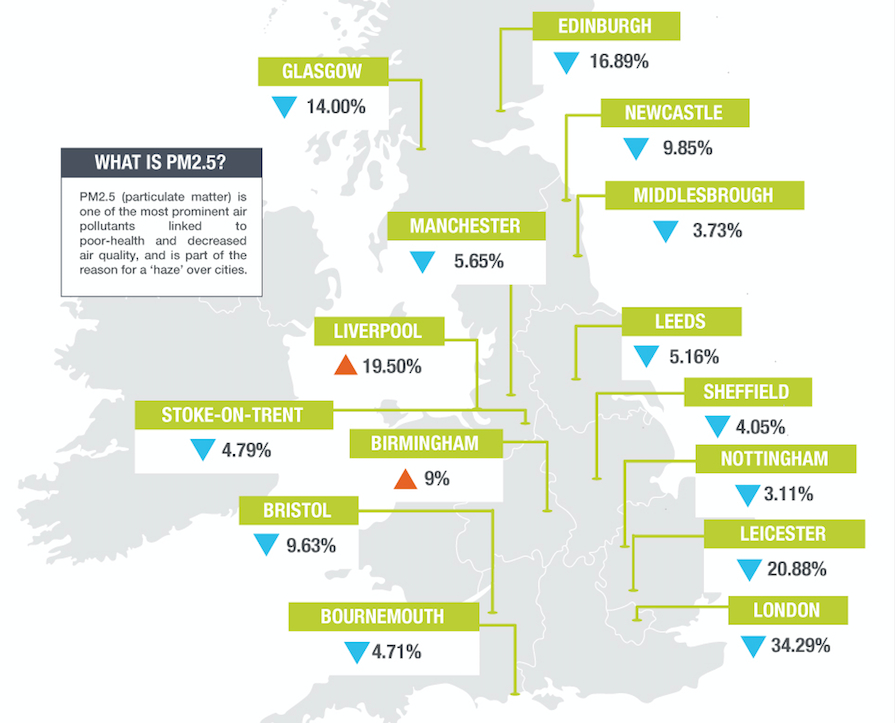 'Staggering impact'
"The significant reduction of PM2.5 across major cities in only two weeks of lockdown, is evidence of the staggering impact we have on the world around us," Edward Harbison, corporate marketing manager at Instant Offices, said in a statement sent to Plant Based News.
"With reduced human activity across the board, our analysis showed a significant improvement in some of the world's most polluted cities.
"Considering the impact that PM2.5 has on air quality and our overall health, this is especially noteworthy."