More than 170 dogs have been saved from a dog meat farm in South Korea, according to Humane Society International [HSI].
The charity's rescue team says it was joined by Pete Wicks from reality TV show The Only Way Is Essex.
Wicks described the rescue as 'one of the most emotional experiences of [his] life'.
HSI says 13 of the dogs will fly to a shelter in the UK in the New Year after completing their quarantine. The rest will fly to the United States and Canada.
Eating dogs
A spokesperson for HSI said: "The dog meat farm in Namyangju is one of an estimated 17,000 dog farms in South Korea breeding more than 2.5 million dogs a year for human consumption.
"It is situated a mere two hour drive from where the country will host the 2018 Winter Olympics in 10 weeks' time.
"It is a grim, shocking and largely hidden side of South Korea that is in stark contrast to the colourful pomp and ceremony of the Olympic festivities, and one that a growing number of South Koreans believe has no place in their modern, progressive society."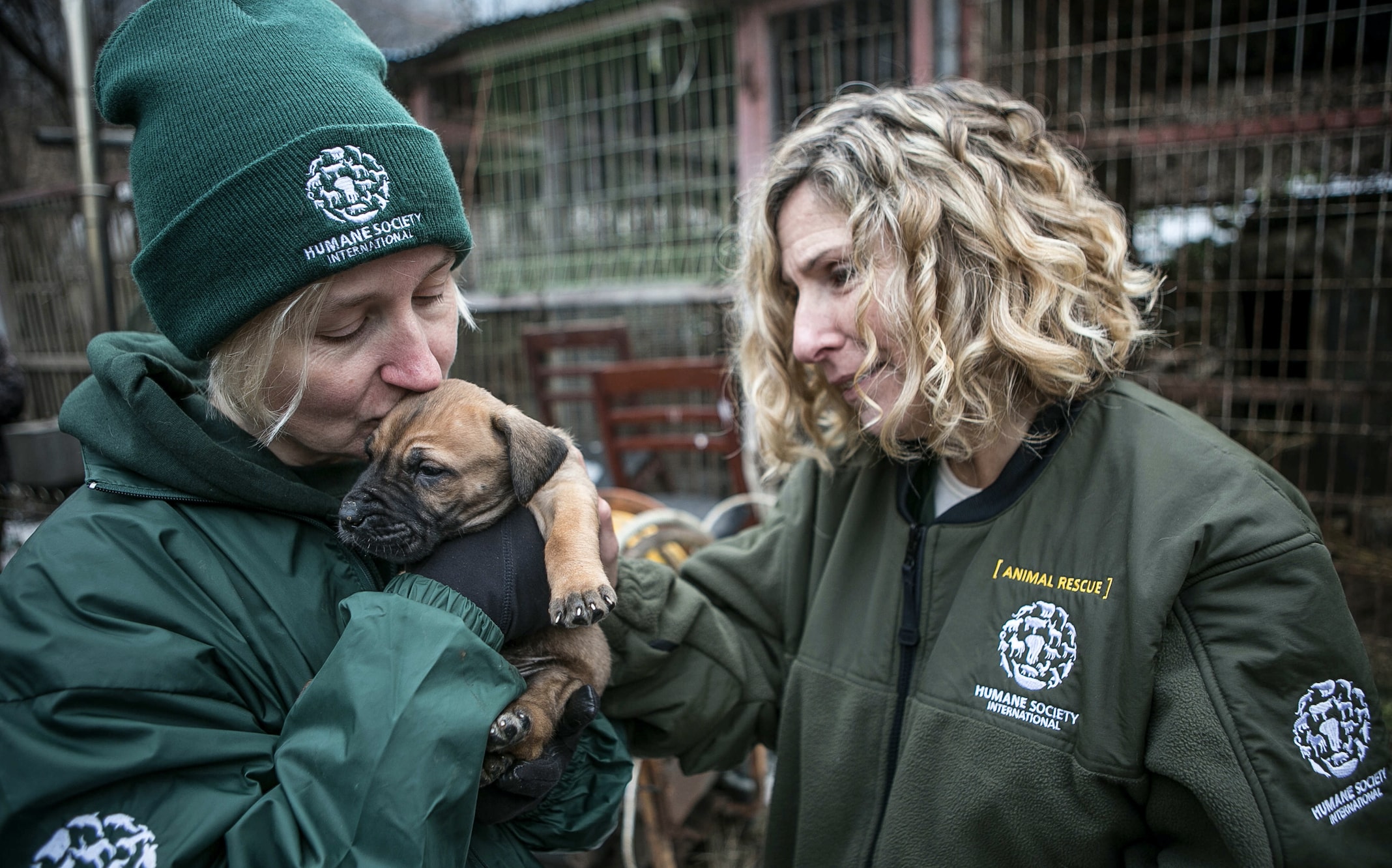 Grim
Conditions at the farm were described by rescuers as grim, with dogs 'being kept in filthy and deprived conditions, spending their whole lives in rows of barren wire cages, exposed to the elements and with no veterinary care whatsoever'.
The spokesperson added: "HSI found many of the dogs suffering from eye infections, skin disease, as well as painful leg and paw sores from endless days of standing and sitting on thin wire mesh.
"The HSI team provided the dogs with straw and tarpaline to protect them from the freezing temperatures as they began the task of closing the farm.
"The dogs' fate would have been to be killed by electrocution at the local market or slaughterhouse and made into a spicy soup called bosintang, but instead they've been saved by HSI as part of the charity's campaign to see an end to the brutal dog meat trade."
A mixture of breeds were being bred for eating including greyhounds, spaniels and mastiffs, and among the 13 headed to the UK are a golden retriever, beagle, and Korean jindo.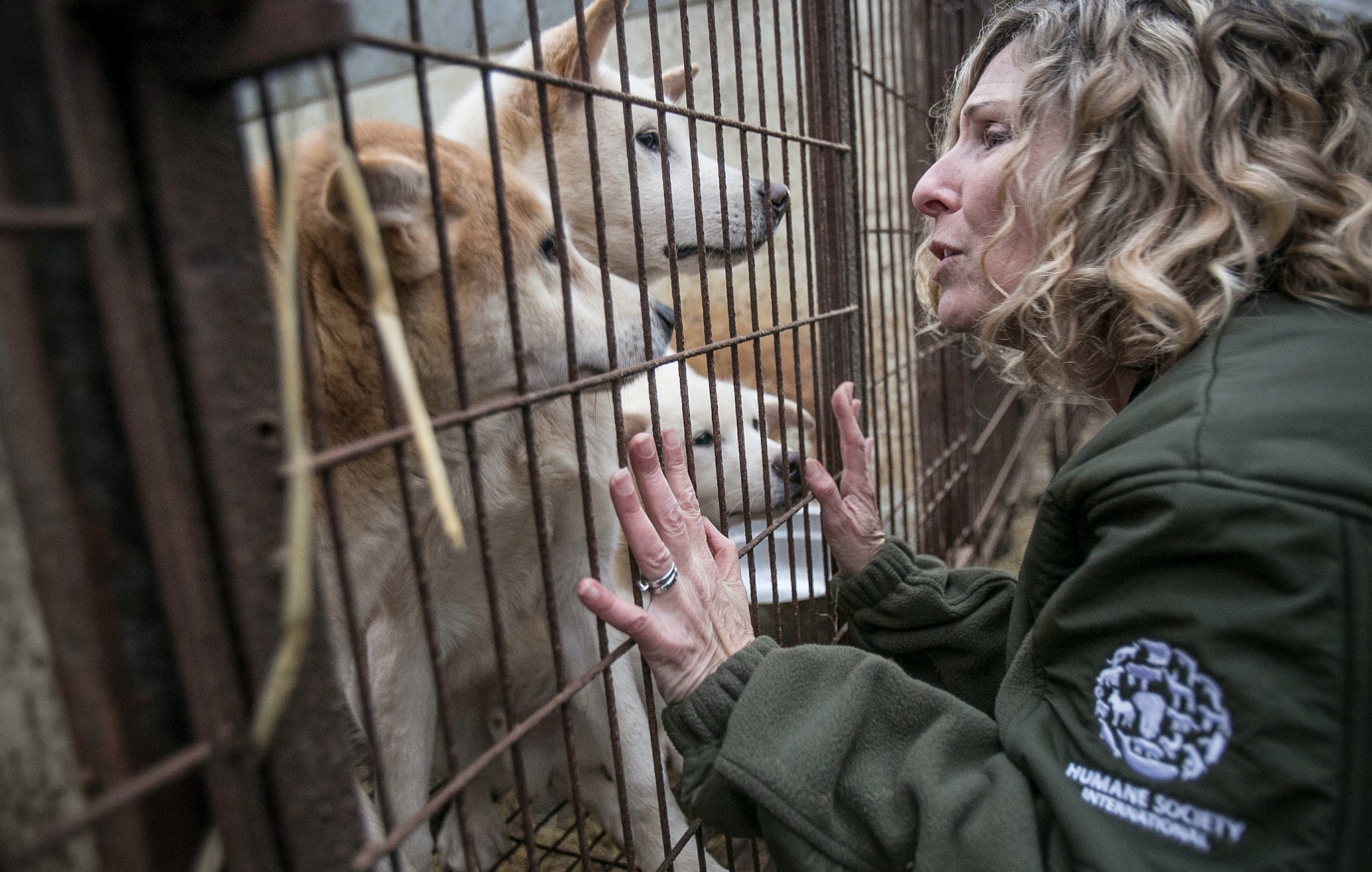 'Horror'
Pete Wicks said: "Seeing for myself the horror of a dog meat farm has been one of the most emotional experiences of my life.
"I love my dog Eric with all my heart, and I kept thinking how dreadful it would be for him to spend even one day in a place like that.
"Some of the dogs I met were terrified, and you can't blame them because they've seen the cruel side of humanity, but I couldn't believe how friendly most of them were despite everything they've been through.
"The way they wagged their tails just broke my heart. Despite going through hell, they still wanted to be our friends. That was so humbling.
"I'm proud to support HSI's campaign to end the dog meat trade in South Korea because it's a really tough job their rescue team does, and it's not just about saving the dogs, they're offering practical solutions to help dog farmers get out of this horrendous business, and also urging politicians to change the law, so it's the whole package."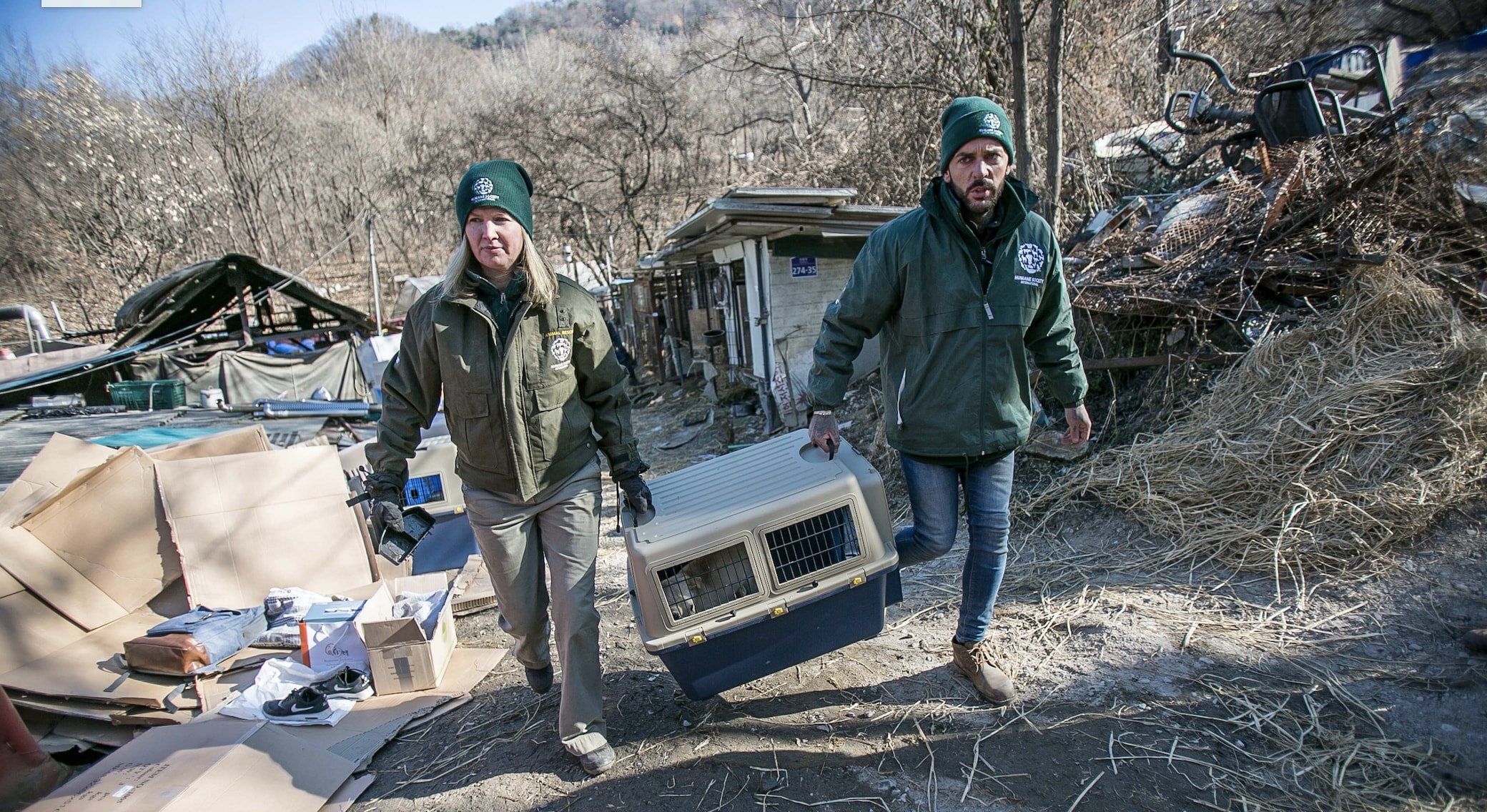 Love
HSI's UK Director Claire Bass joined Pete on the dog farm, and met for the first time a dog she and her family will be adopting.
Golden retriever Henry will be coming to live with Claire in Brighton and she can't wait to get him home.
Bass said: "The second I saw Henry, I fell in love with him and I knew he was our dog. It was very upsetting seeing him and the others in their filthy wire cages, and it's freezing in South Korea right now so conditions are truly harsh.
"Despite all that, when I crawled into his cage and sat beside him, he pressed his head against mine and we just connected. I can't wait for him to arrive in the UK, so we can help him put his ordeal behind him.
"But Henry is just one life saved amongst the 2.5 million lives lost each year.
"The Winter Olympics is now fast approaching, and the image of dogs languishing on farms or being butchered in markets even in the same region as the Games, is a very jarring reality. As a global media spotlight falls on South Korea, now is the time for the government to commit to phase out this awful trade."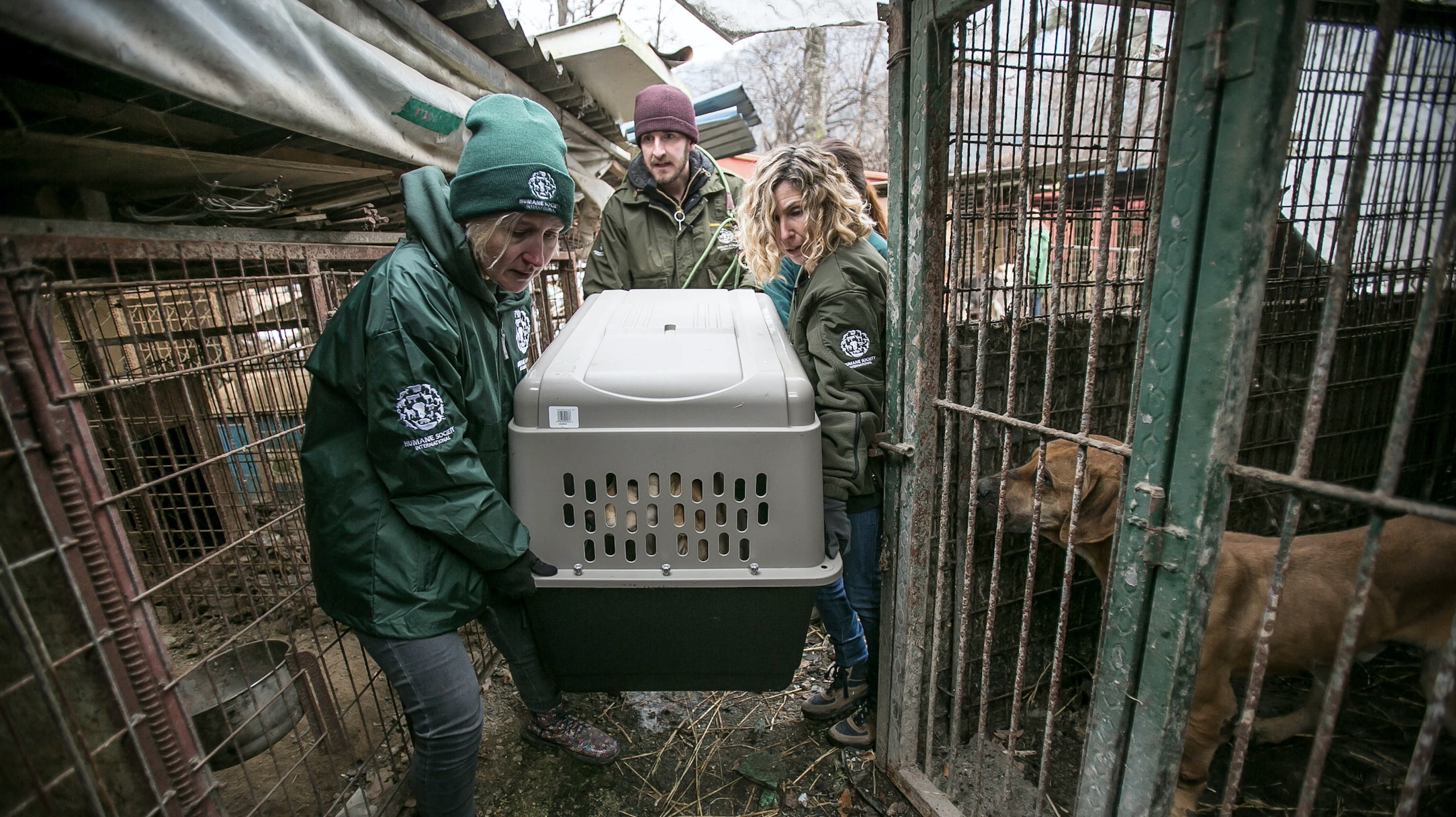 On the ground
According to HSI, it has been working 'on the ground' in South Korea for the past three years, working with dog meat farmers keen to leave the trade.
The charity has closed 10 farms in this time.
The spokesperson said: "A combination of growing societal shame, increased difficulty in selling dogs as appetite for dog meat declines, and regret at the suffering of dogs, leads farmers to approach HSI for a practical 'way out'.
"While for some very elderly dog farmers, HSI intervention has meant they can finally retire without the hard physical labour of dog farming and without having to sell their dogs for slaughter, others work with HSI to devise a business plan to transition them into alternative, humane livelihoods such as water delivery or blueberry farming."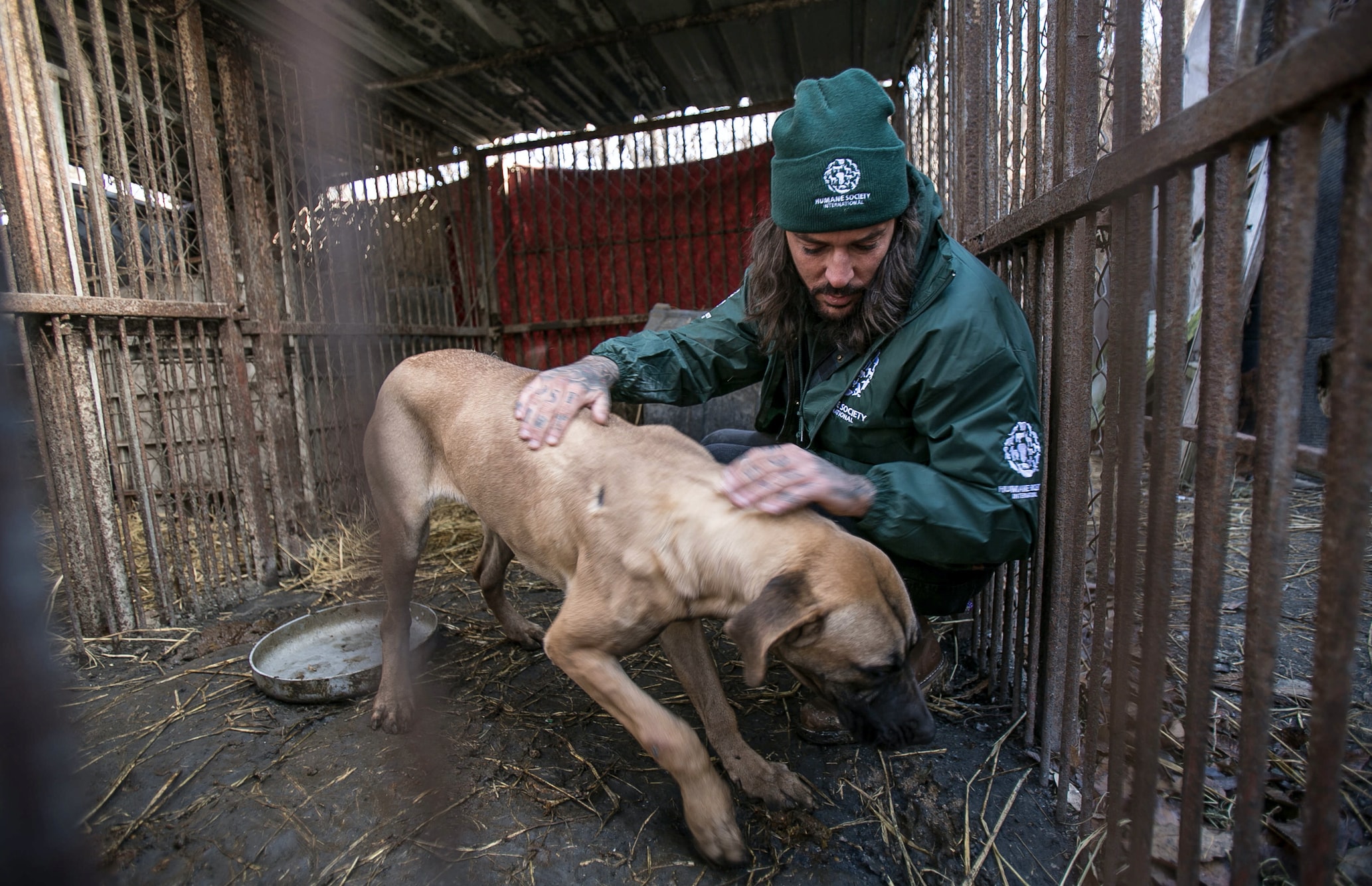 Change
Mr Kim, who has farmed dogs for 20 years, plans to enter the construction business and to grow vegetables on his land. It's a blueprint for change that HSI hopes the Korean government under President Moon Jae-In will adopt.
Farmer Kim said: "I originally started farming dogs because I heard it would make money, but now in South Korea even in the summer the trade has reduced by about one third. I also have a young child, and the dog farming business won't look good for her because she really likes dogs.
"Working with HSI makes me feel great for the dogs, but at the same time I'm nervous to step into a new business. Before HSI, I wouldn't talk to the dogs and I stopped myself from caring about them because it made it harder selling them to traders.
"But after I decided to work with HSI, I started to talk to these dog and told them to hang on in there. I told them they are going to have a much better life. And I mean it. I feel really great and happy for them."
The 13 dogs coming to the UK will arrive in early January 2018 and will stay at our partner shelter, All Dogs Matter.Enquiries about adoption can be made here
READ MORE:
Demand Leads Supermarket Tesco To Double Vegan And Veggie Christmas Food
Barcelona Bans 'Horror' Horse Drawn Carriage Rides
James Cameron: 'We Need Less Meat And Dairy – And More Plant Based Options'