Chinese animal activists have shut down an illegal dog slaughterhouse in the city of Dalian – rescuing nine dogs they found still alive.
Campaigners from VShine and Humane Society International – who entered the property with Dalian police – believe the dogs were stolen companion animals, as they were so friendly despite their ordeal.
Disturbing photos from the raid provide a chilling insight into the grim and illegal world of dog meat.
Trade
Dog meat consumption in Dalian is reportedly low – despite China's dog meat trade seeing more than 10 million dogs (and four million cats) killed each year.
According to Humane Society International: "Dalian has one of the highest rates of pet dog registrations in the country.
"When the suspected slaughterhouse was reported to Vshine and HSI, they quickly notified local law enforcement so that together they could enter the property and confront the owner who was unable to produce documentation to show he'd legally purchased the dogs, and as such they were illegal.
"The filthy facility was failed to comply with public health standards and the practice of public slaughter also violated relevant provincial regulations."
'Dreadful sight'
Peter Li for Humane Society International, said: "When our team entered the property, they were faced with the dreadful sight of nine trembling dogs huddled together on the blood-stained floor of the slaughter room.
"The slaughterhouse itself was a disgusting, filthy sight and it was clear that if the activists and police hadn't received a tip-off, these dogs would have been bludgeoned to death like so many poor animals before them.
"Virtually all dog slaughterhouses across China are illegal just like this one, and if the police in other regions of China were to take animal cruelty as seriously as the police in Dalian, the dog meat trade would be dealt a powerful blow with many more of these appalling slaughterhouses closed down."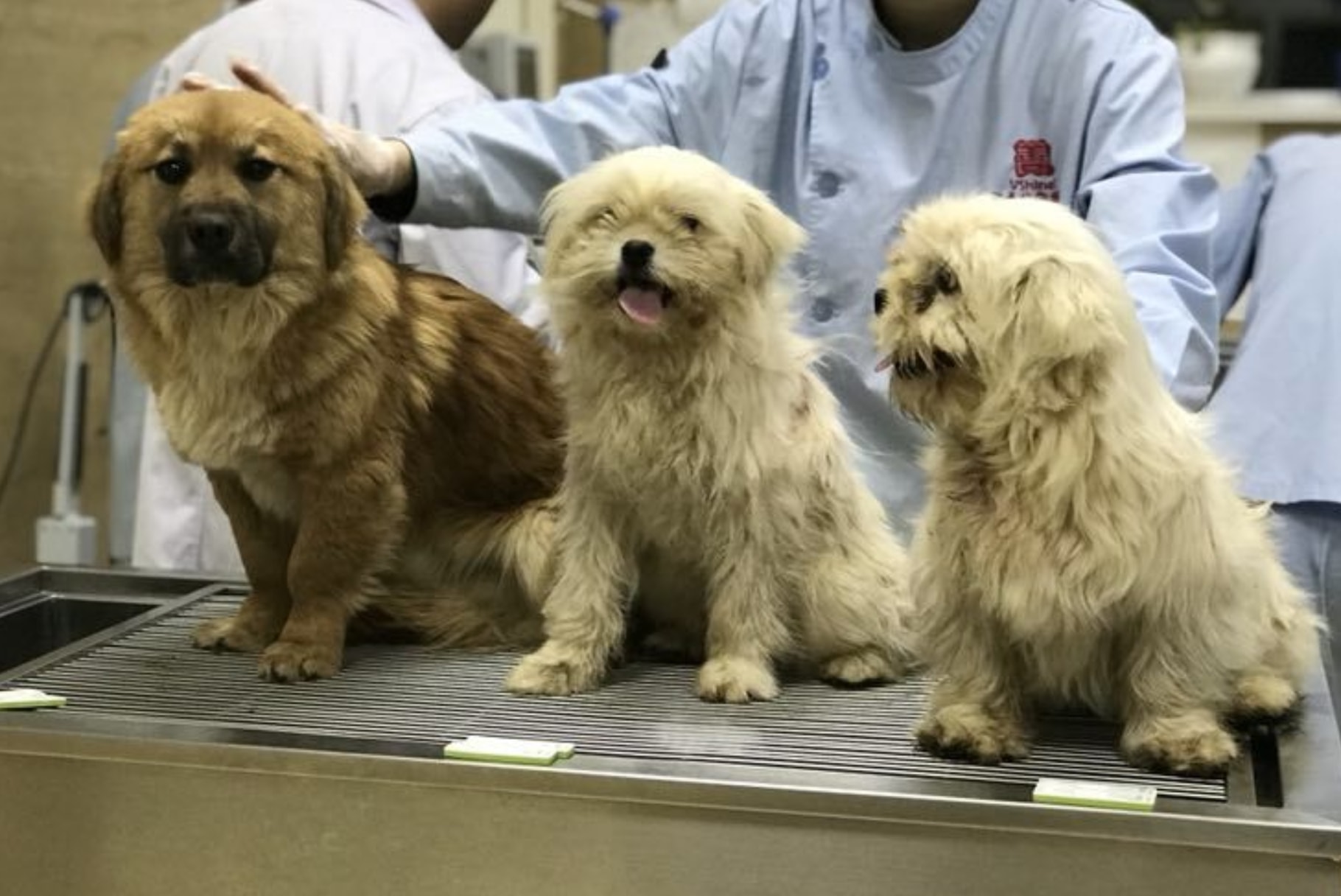 Laws needed
Li added: "Like many of the big cities in China, Dalian has a huge pet-owning population and I have no doubt that these dogs will quickly find families forever.
"It is so sad to think what torment they have been through to get here, probably stolen from many miles away before ending up in that terrible slaughterhouse.
"Most people in China don't eat dogs and would dearly love to see China's police forces nationwide act as swiftly to tackle the illegal dog meat trade as the Dalian law enforcement. But sadly until China creates an animal protection law, we are unlikely to see the change in attitude and actions needed."
The dogs are now recovering at two pet hospitals where they will receive veterinary treatment before moving to a facility built and funded by HSI in northeast China, where they will be available for adoption.