Understanding 'the unimaginable pain animals go through daily' inspired one activist's intensive 24-hour tattoo session.
Vegan Dimitrios Kailaris took on the challenge in order to bring awareness to the vegan cause, as well as raise funds for an upcoming animal rights project he will be spearheading.
Talking about the tattoo challenge, he told PBN: "On June 26, I was tattooed simultaneously by three vegan tattoo artists, Joe, John and Jack.
"Gino, another vegan tattoo artist couldn't make it on the day, so he tattooed his part of the fundraiser the day before."
Kailaris was influenced by fellow animal activist James Aspey, who did a similar fundraiser last year, but while a single tattoo artist inked Aspey, four worked on Kailaris.
Challenge
So how tough was it?
"This experience was the toughest thing I have gone through, both physically and mentally," Kailaris tells PBN.
"The hardest moment during the tattoo fundraiser, was when Joe and Jack were tattooing my nipples, and John was tattooing the inside of my belly button simultaneously.
"Words cannot describe the amount of pain I went through during this whole ordeal. I dealt with the mental toll by meditating during the tattoo, as best as I could, with three tattoo machines on me and loud music playing in the background."
Despite the pain, he claims quitting was 'never an option'.
He adds: "There were times where my mind would play tricks on me telling myself that it can't be done, that I've bitten off more than I can chew but then I would think about what the animals have to go through and I told myself 'they can't just walk away from the pain they endure, so neither can you'."
Passion
According to the activist, after undertaking the challenge, he feels an internal change.
"I feel even more than ever that I can achieve anything that I put my mind to. I knew animal activism was my passion in life but now with 'VEGAN' tattooed across my stomach, I live and breathe the vegan message," Kailaris says.
And he is already back to his activism work.
He says: "My immune system had taken a beating from the tattoo challenge. The next day resulted in me lying on my back in bed with a runny nose, with pain and swelling all over my chest and stomach area.
"Having such a large area tattooed became problematic when having to apply after care cream and being forced to sleep on my back. But a couple of days later and I was back to doing street activism with Earthlings Experience."
Of course the stunt has met with a range of responses.
According to the activist: "The response has been overwhelming. Everything from 'you're f*%king crazy man!', to sparking conversations with so many people about the vegan lifestyle. I even scored myself a free vegan meal!
"The response from my mother? Well lets just say she will need a little bit of time to adjust to my new vegan level."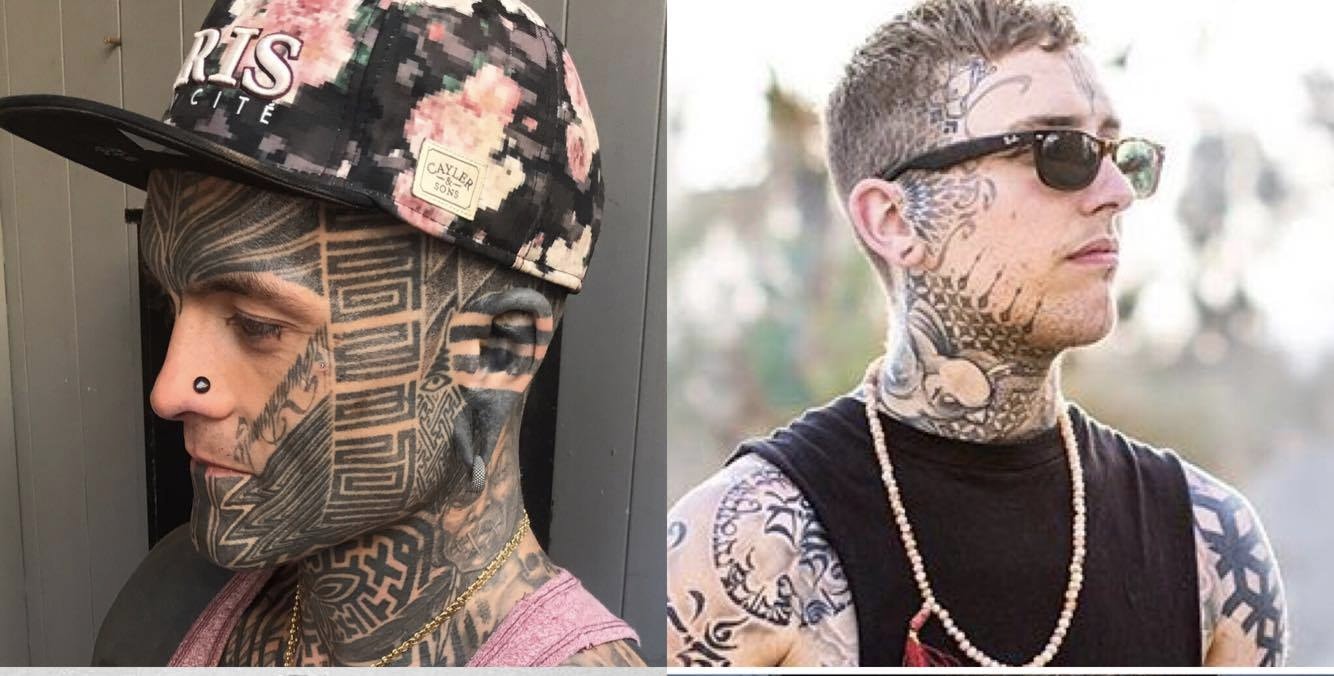 Moving on
Kailaris already has his next project lined up.
"In short, the project will involve spray paint 'chalking' vegan messages on the foot paths surrounding schools," he says.
"I have been teaching primary school children for two years now and I have witnessed just how corrupt the system is in regards to the influence animal agriculture has on the children's education, specifically in regards to health, animal rights and the environment.
"I decided that if they weren't going to teach children the truth, I will."
You can find out more about the project here. If you would like to get involved, email your name and location to [email protected].
READ MORE:
"The System Is The Enemy" : James Aspey 2017 Interview
WATCH: Vegan Star Evanna Lynch Narrates Groundbreaking VR Film About Cruel Dairy Industry
GRAPHIC: Disturbing Pig Farm Investigation Exposes Piles Of Rotting Piglets