Pret A Manger and Le Pain Quotidien have been described as 'climate conscious' after ditching their surcharges for vegan milk.
Veganuary, a charity which encourages people to try a plant-based diet in January and beyond, praised the companies for offering soy, oat, coconut, and almond milks to their customers at no extra cost.
Plant-friendly
Now the charity is calling on all other brands to do the same, citing a 2018 study by researchers from Oxford University which showed that producing a glass of cow's milk results in almost three times more greenhouse gas emissions than any plant milk.
In addition, cow's milk production consumes nine times more land than any of the plant-based alternatives.
The environmental benefits of plant milks
In a statement sent to Plant Based News, Toni Vernelli, head of communications at Veganuary, said the organization is 'thrilled' that Pret and Le Pain Quotidien have become more 'climate-conscious' by 'recognizing the environmental benefits of plant milks'.
She added that we are facing a 'climate emergency' and so Veganuary reiterates its call – urging all outlets to drop plant-milk surcharges which effectively 'penalize' the planet-friendly options.
A spokesperson for Pret A Manger added that it has 'worked hard' to expand its vegan and veggie offerings in recent times, and as more people are switching to plant-based products, it does not believe they should pay a premium for them. "This is why in January we dropped our charge for milk alternatives," they said.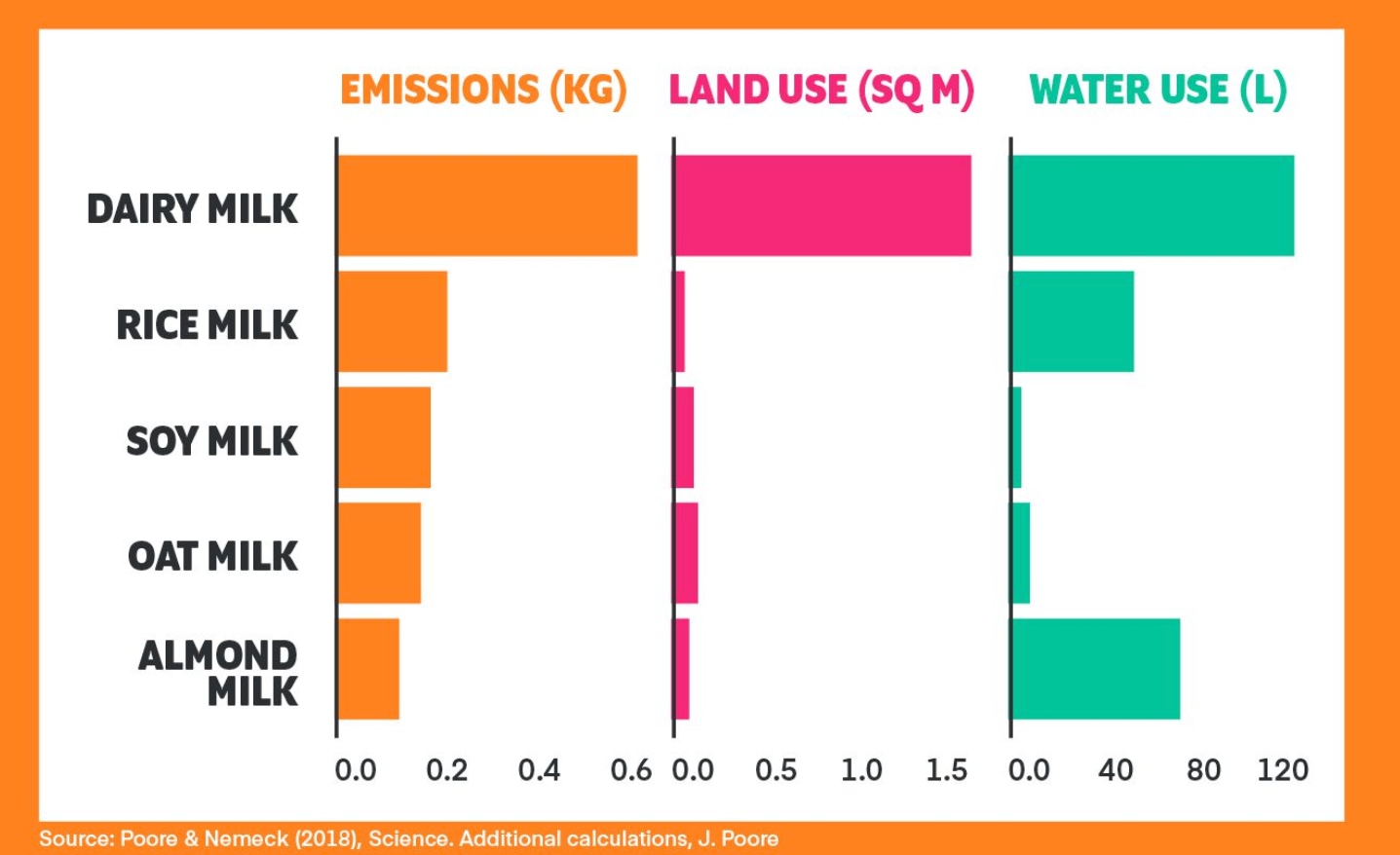 World Plant Milk Day
The call comes just ahead of World Plant Milk Day (WPMD) on August 22. Robbie Lockie, co-founder of Plant Based News, is the founder of WPMD. He said: "In recent years millions of people around the world have become more aware of how dairy production is harmful to animals, the environment, and human health. The current pandemic has shed a further spotlight on the role of animal agriculture in the genesis of new diseases.
"For these reasons and more, we call on everyone to try switching to delicious dairy-free alternatives for seven days. If you sign up for our challenge, we will send you a daily newsletter with recipes, tips, and hacks to make the switch.
"It's never been easier, tastier, or more important to start moving away from animal products towards the abundance of plant foods. So why not join us and give it a go – the future is dairy-free."
World Plant Milk Day is calling on people to sign its 7-day dairy-free challenge. Already ditched dairy? Nominate your friends and family to take part. Find out more here