Actor Evanna Lynch is backing a new nationwide campaign which sees major cities hosting pro-vegan digital adverts on and around university campuses.
Animal rights organization Animal Justice Project created the initiative called Lifeline, which is also supported by actor Peter Egan, as well as MP Kerry McCarthy.
Kicking off at the start of the university academic year, cities including Cambridge, Manchester, Liverpool, Glasgow and Oxford will feature the adverts, which are up to five meters tall. There will also be 'table wraps' in student union cafes asking students to be a lifeline for animals by choosing veganism.
Providing a lifeline
Animal Justice Project – an international organization which promotes veganism and campaigns against animal experimentation – says Lifeline is 'the first campaign to simultaneously focus exclusively on the two ways we use animals the most – 'food' production and animal experimentation'.
In reaching out to university students, the campaign is primarily reaching the people most receptive to change. According to a spokesperson: "42 percent of vegans are between 15 and 34 years old, indicating that young people are concerned the most about animal welfare, for example.
"Yet young people are turning towards veganism due to concerns not just about the intensive farming of animals, particularly on the back of powerful undercover investigation findings, but also the plundering of the environment for the meat industry – which can lead to deforestation, species extinction and habitat loss, and their health."
Resources
As part of the campaign, Animal Justice Project will be urging animal rights groups across Britain to carry out their own 'Lifelines' on university campuses and high streets.
Lifelines have already been set up in the cities of London, Manchester, Bath and Oxford. "As the campaign rolls out across the country, Animal Justice Project will provide resources for campaigners to educate students and the public on veganism – so that they can distribute leaflets and resource cards, as well as show footage of British farms, slaughterhouses and inside laboratories," said the spokesperson.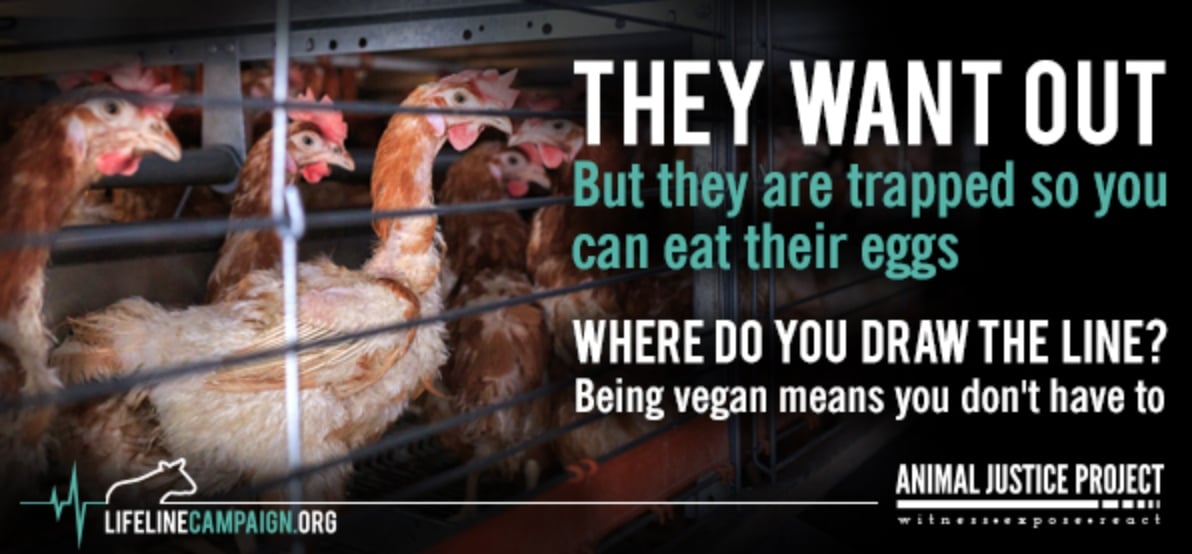 Vegan is compassionate
In a statement sent to Plant Based News, Evanna Lynch said: "Undercover investigations on factory farms and campaigns such as Lifeline are succeeding in opening people's eyes about what we do to animals. The proof is already there with the number of vegans in Britain quadrupling in the past four years and, thankfully, veganism looks set to stay.
"We should seek every opportunity to help people make the connection, minimise suffering, and create positive changes for animals who are subjected to violence and exploitation each and every day.
"This means encouraging people to lead a vegan lifestyle – with compassion towards others, regardless of species. Because if we can, why wouldn't we?"
Injustices
Peter Egan added: "I'm supporting this campaign to raise awareness on the injustices taking place each day to animals used for 'food' and in experiments.
"Each of us, as individuals, has the power to stop animal cruelty simply by making choices – whether that be what we buy in the supermarket, or whether we opt into studies that harm animals. Let's encourage and push the shift in veganism – let's move towards a more compassionate society because the millions of animals hurt and killed each year by these two industries need us."
Ayrton Cooper, Animal Justice Project's Vegan Outreach Campaigner, said: "We are excited about this innovative campaign which simultaneously raises awareness on the two areas affecting so many animals. We urge local campaigners to get involved in Lifeline by ordering Lifeline sets so that they can use their voices to speak up for the animals in most need."