England's ban on supplying plastic straws and stirrers and plastic-stemmed cotton buds has come into force today (October 1).
According to the Department Environment, Food & Rural Affairs (Defra), around 4.7 billion plastic straws, 316 million plastic stirrers, and 1.8 billion plastic-stemmed cotton buds are used in England every year.
Many of these end up in the ocean, posing a major threat to marine life. Ministers hope that the new legislation will help to protect wildlife and bring the country 'one step closer to our ambition of eliminating all avoidable plastic waste'.
'Devastation'
In an official statement, Environment Secretary George Eustice said that single-use plastics 'cause real devastation to the environment and this government is firmly committed to tackling this issue head-on'.
Eustice described the U.K as a 'world leader in this global effort' citing the 5p charge on single-use plastic bags, which he said has 'successfully cut sales by 95 percent in the main supermarkets. In addition, he said, the government has banned microbeads, and is 'building plans for a deposit return scheme to drive up the recycling of single-use drinks containers'.
"The ban on straws, stirrers, and cotton buds is just the next step in our battle against plastic pollution and our pledge to protect our ocean and the environment for future generations," he said.
Ableism concerns
The legislation is not without its critics: many people with disabilities feel they have been overlooked, as they require the use of plastic straws Speaking last year when the ban was announced, Lauren West, of Muscular Dystrophy UK, said: "Plastic straws are sometimes the only type of straw that work for disabled people due to their flexibility and ability to be used in hot and cold drinks.
"While we appreciate the need to reduce the use of plastics, traditional single-use straws are essential for some disabled people.
"If disabled people cannot access plastic straws when out it could put their health at risk as they may not be able to drink and could become dehydrated."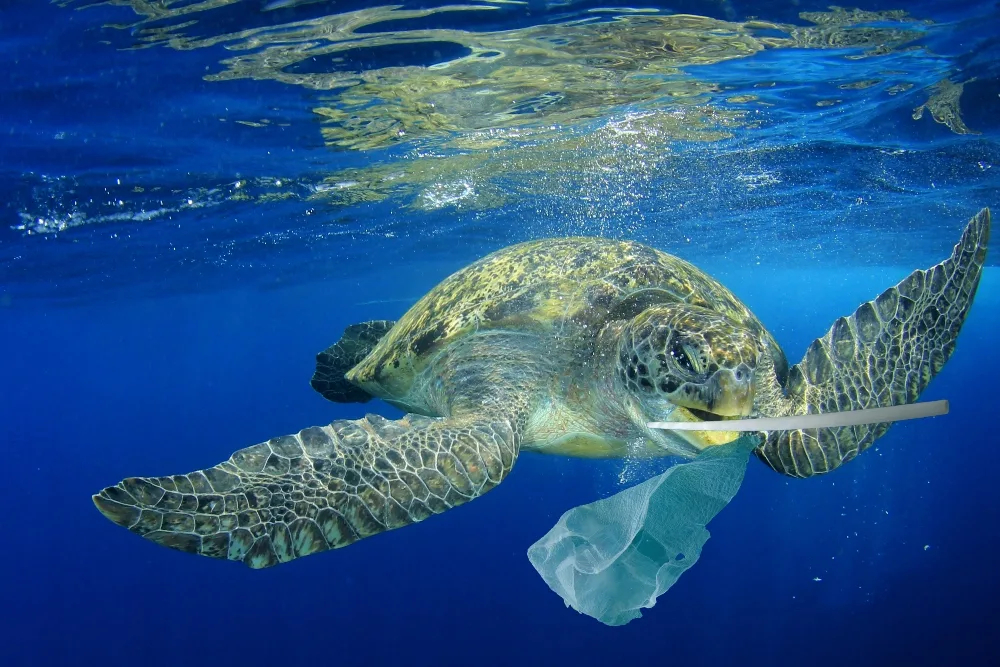 'They will be protected'
According to George Eustice: "While making this important step to help the environment, disabled people and those with medical conditions will also be protected, and will be able to request a plastic straw when visiting a pub or restaurant and purchase them from pharmacies."
Discussing the legislation last year, Lauren West said: "We're pleased the Government has recognized this in its proposals…We would encourage Defra to continue consulting disabled people and groups like Trailblazers to ensure we are not disadvantaged or targeted and stigmatized for using single-use plastics."
For others, the measures do not go far enough. East London filmmaker Isaac Harvey has limb/pelvic hypoplasia syndrome – he has no arms, a weak pelvis, and does most things with his feet.
Harvey – who is eco-conscious – spoke to RightsInfo in 2019 when the law was announced. His concern was that the ban may make life more difficult for those with disabilites.
As reported by Each Other, he said: "I think it is awful really that it has come to this. It is very restricting. I think it is going to be a huge inconvenience. Not everyone is able to go to the pharmacy."
He added that while 'he does not mind approaching restaurant staff to ask them for straws but added that it might cause problems for others he knows depending on the individual'.
'Tip of the iceberg'
Further criticism has come from some environmental campaigners, including Clean Up Britain founder John Read who called the new rules 'the tip of the iceberg'.
"I think the government does deserve some credit for nudging people's behavior in the right direction but actually when you look at it, it's really more piecemeal and symbolic than anything else," he said.
"We need to change people's behavior in a sustainable and permanent way, we need to see a national behavioral change campaign and that's what we haven't got in this country at the moment.
"People have got to understand that when they throw away plastic straws, hamburger packets, crisp packets, it's all their own personal pollution… so people understand that they're doing the damage to the environment."