A major exposé by leading animal protection charity Viva! has revealed 'horrific' conditions on six separate UK dairy farms supplying Tesco, Cadburys and Arla.
According to Viva!, the team led by Founder and Director Juliet Gellatley discovered cows forced to carry up to 14 litres of milk, distressed emaciated animals, sick cow left to die, and overgrown calves 'placed allegedly illegally in solitary cages' during the month-long investigation.
In addition, at one facility a vet performed emergency euthanasia on one particularly ill animal, after being called out by the concerned Viva! team.
'Downer' cows
The cow was discovered at Fairfield Farm in South Devon, which makes Aunty Moo's Ice-Cream. According to Viva!: "This footage documents a depressing example of how exhausted and overworked cows are.
"Whilst at Fairfield Farm investigators discovered what the industry calls a 'downer' cow – a cow may 'go down' because of temporary nerve paralysis caused by calving difficulties or simply fatigue from her gruelling workload.
"The team came across a 'downer' cow who had been left to die on a cold concrete floor, her condition was so severe that a local vet, Howard Liebermann, was called immediately to the scene to perform emergency euthanasia."
'Out of suffering now'
Liebermann said: "You could see there were some abrasions from trying to get up, I would suggest she was recombinant for a period of time.
"She was really dull and unable to rise and certainly she wasn't on great bedding. There was quite a lot of bruising around and suffering.
After he had euthanized the animal, he said: "My job is to alleviate suffering, regardless of who owns the animal. I think she's out of suffering now."
'Deeply distressing'
Juliet Gellatley adds: "On a wet, filthy concrete floor we came across a cow who was so ill she couldn't move, not even lift her head. Her body was wasting away and revealed large sores, both old and new. The pain and suffering was heartbreaking.
"We called the RSPCA and a local vet who, to his credit, turned out even though it was about 3am.
"He agreed with us that this poor creature was suffering and used his authority to put her out of her misery. It was deeply distressing for all of us."
Calves
In addition to the downer cow, Viva! reports documenting what it describes as 'allegedly illegal hutch use' at Fairfield Farm.
According to the group: "Calves can be kept in cruel solitary hutches for the first eight weeks of their lives, but registered ear tags proved the calves were four months old.
"The Welfare of Farmed Animals (England) Regulations states that 'no calf shall be confined in an individual stall or pen after the age of eight weeks' unless they have permission from a vet.
"Viva! Campaigns witnessed large calves desperately trying to reach each other through the wire, hungry for contact and affection. These babies were left alone in these desolate hutches with barely any room to even turn around."
Viva! shared footage from its major investigation
Solitary confinement
Juliet Gellatley adds: "This far had calves isolated in hutches. That is not unusual but at four months old, these little girls had been there twice as long as the law recommends.
"They should have been group housed with other calves at two months old unless a vet had endorsed this protracted solitary confinement.
"Four calves stood in their tiny, fenced-off area outside their hutches, thick with mud and excreta. None had water and they could only just turn around so small was the space. I knelt by one and she desperately sucked my fingers."
Hutches
Viva! describes isolating calves in tiny hutches almost immediately after birth as 'common practice' – investigators filmed them in use at farms supplying Arla (Cravendale and Anchor brands), M&S and Cadbury.
"These glorified cages are used to house young calves shortly after they have been torn from their mothers so that the maximum amount of milk can be collected for human consumption," says the group.
"Separation of mother and calf is highly stressful for both – the calf needs to suckle, protection and physical contact and the cow's strong maternal behaviour is denied."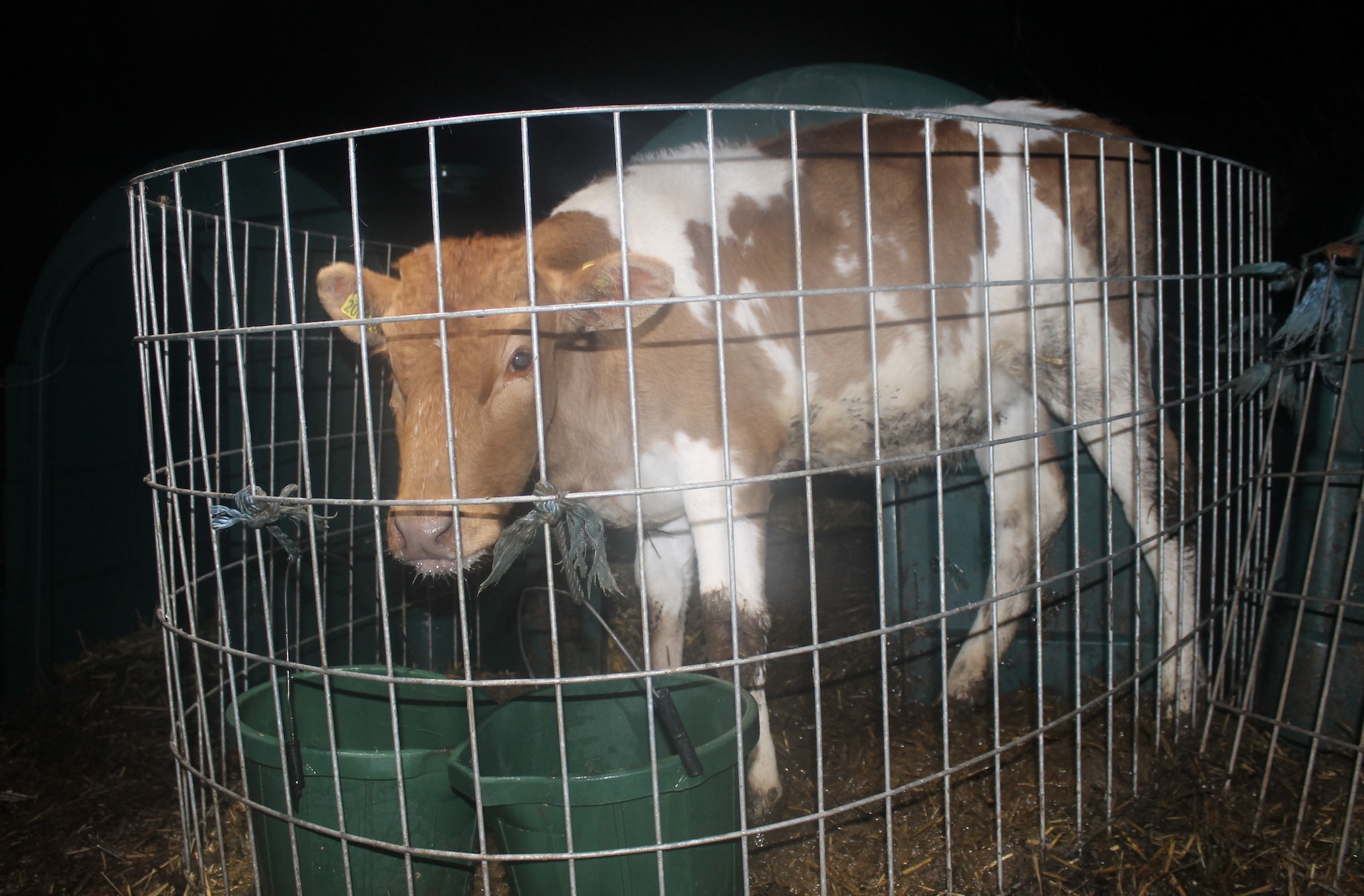 'Idyllic' image of dairy farming
According to Viva! Founder and Director Juliet Gellatley, the investigation 'shatters the idyllic image of dairy farming', by documenting 'countless examples of emaciated, injured and dying animals'.
She added: "The dairy industry is predicated on stealing babies from their mothers. We have no right to do this; it is abhorrent, shameful, disgusting and I will do all I can to expose it. All farms do it – extensive 'free range', zero grazing or organic – it is their modus operandi."
Michael Oakes, Chair of the National Farmers Union Dairy Board, told The Mail Online: "The reality is animals, just like humans, can occasionally receive injuries or be treated for different conditions. British dairy farmers operate to some of the highest standards in the world…"
Plant Based News has contacted Fairfield Farm for comment.