Dairy and meat giants are destroying the planet, according to extensive new research.
A report, compiled by non-profit organization Grain, says three major meat companies emitted more greenhouse gases last year than all of France.
It also found these emissions by JBS, Cargill, and Tyson were almost 'as high as some of the biggest oil companies like Exxon, BP, and Shell'.
The organization seeks to support small scale farming, and as such, focused its research on the damage wreaked by the larger animal ag companies.
The point of no return
According to Grain: "Few meat and dairy companies calculate or publish their climate emissions.
"So for the first time ever, we have estimated corporate emissions from livestock, using the most comprehensive methodology created to date by the UN's Food and Agriculture Organization (FAO).
"And before the meat and dairy industries descend upon COP23 to broadcast their 'feed the world' narrative, let's set the story straight: their emissions could lead us to a point of no return."
The pollution crisis
Grain says that if we don't address staggering emissions from the 'largest meat and dairy' conglomerates, the world 'cannot avoid climate catastrophe'.
According to the report: "We've found that the top 20 meat and dairy companies emitted more greenhouse gases in 2016 than all of Germany, Europe's biggest climate polluter by far.
"If these companies were a country, they would be the world's 7th largest greenhouse gas emitter."
Powerful
The report's authors claim that one of the reasons livestock emissions are so high is because of the influence wielded by major meat and dairy companies.
They write that the 'majors' have 'successfully pushed policies to support rapid growth of industrial meat and dairy production and consumption around the world, at all costs'.
They add: "If production continues to grow as projected by the FAO, emissions will escalate to the point where industrial meat and dairy production alone will undercut our ability to keep temperatures from rising to an apocalyptic scenario."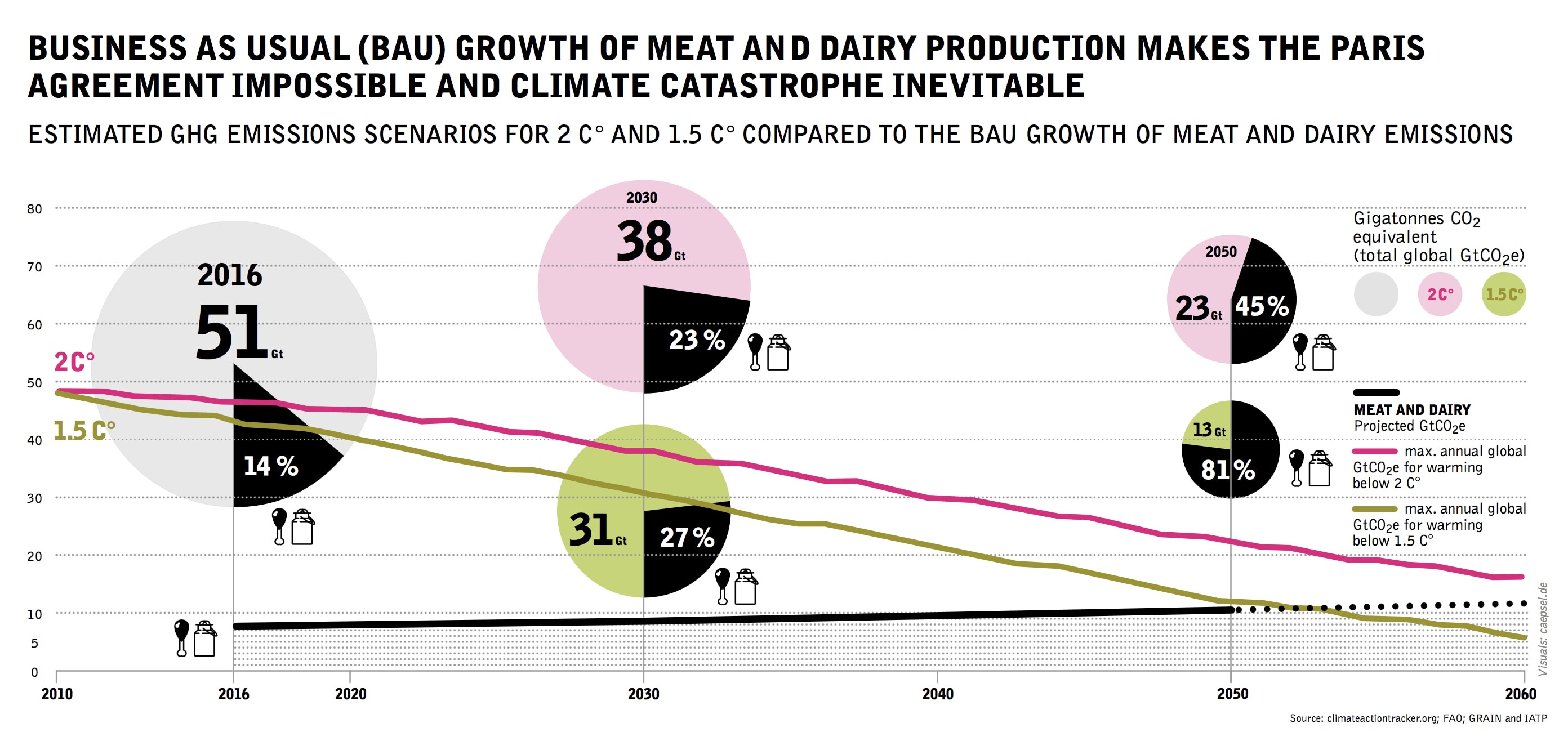 A neccessary evil?
This month, environment leaders will come together in Bonn, Germany at the COP23 climate meeting.
Grain is concerned that during this conference, the powerful animal ag lobby will try to be 'let off the hook' when it comes to emissions by claiming that its production is essential to resolve world food security issues.
According to Grain's report: "This is not true.
"These companies produce a vast amount of highly subsidized meat and dairy in a handful of countries where these products are already over-consumed.
"They then export their surpluses to the rest of the world, undercutting the millions of small farmers who actually do ensure food security and bombarding consumers with unhealthy processed foods."
Horrific treatment of people and animals
There is clearly an ethical crisis here too.
"In Bonn, the big meat and dairy companies are also likely to spend much time and money talking about efficiency, while expanding production," says Grain.
"They will say that the only way to effectively reduce emissions is by squeezing out ever more milk from each dairy cow or by bringing beef cattle to slaughter ever more quickly.
"Such "solutions" would only compound the industry's horrific treatment of workers and animals and exacerbate the environmental and health crises caused by the industry."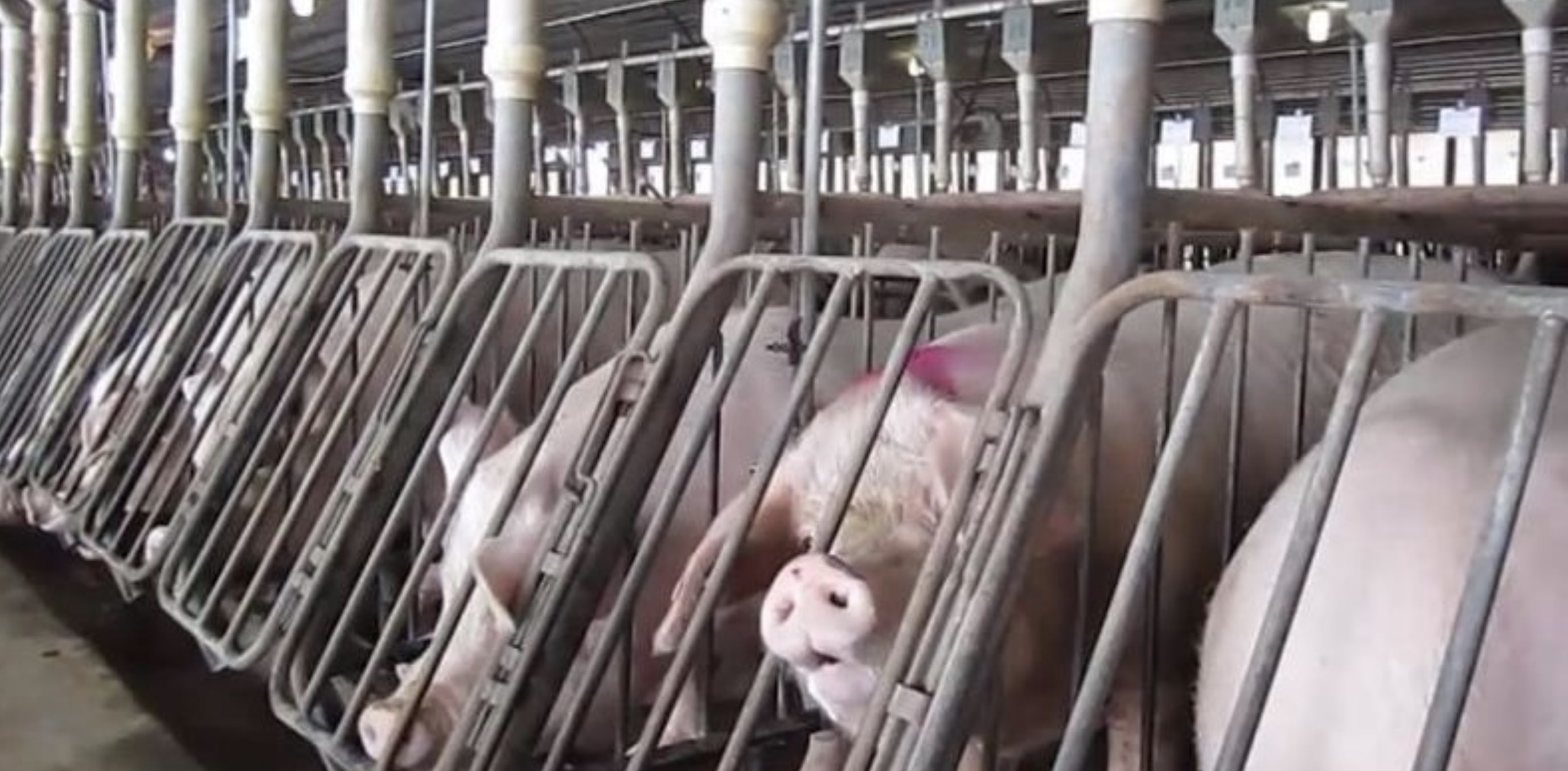 Solutions exist
Grain believes there are solutions to these issues, but they need to be implemented.
It says: "If we are serious about feeding the planet while fighting climate change, the world needs to urgently invest in a transition to food systems that hinge on small-scale producers, agroecology, and local markets.
"The first step is to redirect public money from factory farming and agribusiness towards small-scale agroecological family farms.
"Governments should also use their buying power to support small producers, helping them to build jobs and markets for local products.
"As numerous cities make energy choices to tackle climate change, so too should municipalities invest in farm-to-hospital and farm-to-school programs that deliver healthier food and strengthen rural communities while emitting fewer greenhouse gases.
"It is time to stop the dairy and meat giants from destroying the climate."
READ MORE:
VIDEO: Vegan Activist James Aspey Opens Up About Bulimia Struggle
This Movie Dubbed The 'New Earthlings' Is Set To Make Millions Of Vegans
Generation Z Leading Plant Based Movement, Building $5 Billion Vegan Meat And Seafood Market