A number of animal protection groups have joined forces to put pressure on fast food giant McDonald's to raise animal welfare standards.
Groups including Animal Equality, Compassion in World Farming, and Mercy For Animals published an open letter to the burger chain in a recent issue of the New York Times.
The letter – which was also signed by World Animal Protection, Compassion Over Killing, and The Humane League – told McDonald's: "You have tremendous power over the lives of animals – especially chickens."
The Humane Society of the United States and the American Society for the Prevention of Cruelty to Animals are also putting pressure on the chain.
Letter
According to the open letter: "Nearly 90 other food companies, including Burger King, Subway, Jack in the Box Inc., Dunkin' Donuts, and SONIC have established specific and meaningful reforms for their suppliers – reforms that address these concerns."
The groups are also sharing a petition created by ShaRhonda Dawson, mother of two McDonald's-loving children.
She used to take her children to the chain, but has stopped all visits after learning more about welfare issues. She says: "I care about basic dignity for these animals. It's just not right."
The petition calls for McDonald's to commit to using different breeds of chickens, that don't grow as quickly, to give the chickens more space, better housing conditions, and more opportunity for natural behavior.
'No place in society'
According to Matt Rice, President of Mercy for Animals: "As long as McDonald's allows its suppliers to breed birds to grow so large and fast they can't even walk without pain and overcrowd them inside dark warehouses, the company will lag behind its competitors on animal welfare.
"McDonald's must acknowledge that extreme animal cruelty has no place in a civilized society.
"By failing to adopt a meaningful chicken welfare policy, McDonald's is out of step with consumer expectations and business trends."
US chicken market
According to data from pro-industry lobby group the National Chicken Council, Americans ate an average of 92lb of chicken each in 2017 – more than any other country in the world.
The average broiler chicken in the US is reared and slaughtered in fewer than 23 days.
Miserable lives
Animal Equality says: "The chickens raised and killed for McDonald's live miserable lives. They grow so large so fast that their legs can't support their own bodies.
"Neither can their organs – the birds often suffer heart attacks as a result of their unnatural rapid growth. These birds, bred for their parts such as 'breasts' and 'wings', suffer leg deformities and constant pain so severe they can barely walk.
"Tens of thousands of oversized chickens are crammed together inside dark sheds without much room to move. Rarely able to engage in most natural behaviors such as perching, pecking or dust-bathing, these normally-curious baby birds rot in boredom."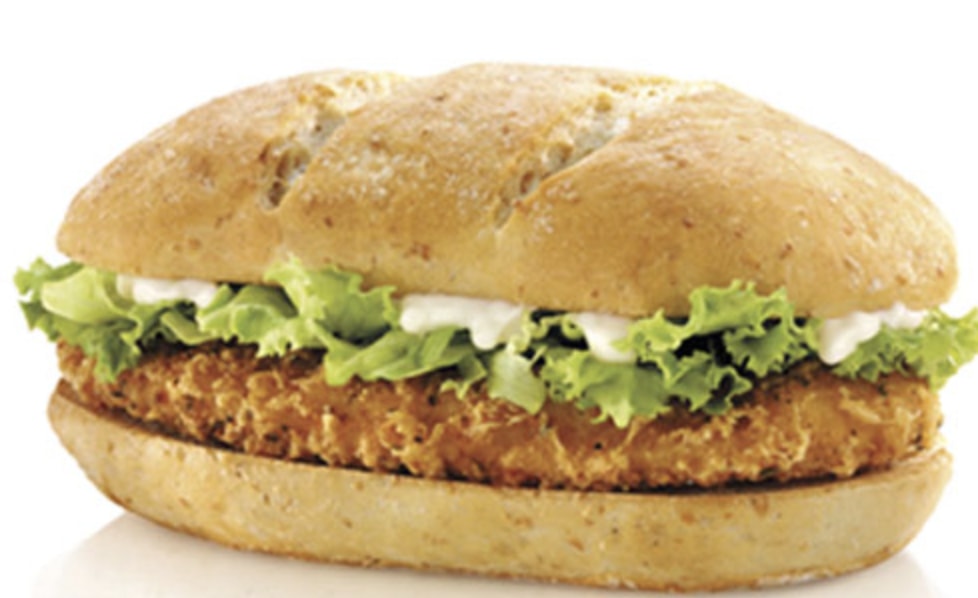 'Not ready'
So far campaigners have been disappointed by the response from McDonald's – which says it 'isn't ready' to change the breeds of chicken it uses without further study.
Marion Gross, McDonald's Senior Vice President of Supply Chain Management for North America, said: "We're not going to do that haphazardly or because someone's knocking on our door asking us to do that. These are industry-changing decisions and we don't take them lightly."
Leah Garces, U.S. Executive Director for Compassion in World Farming, responded: "I recognize that it's going to be a challenge.
"But it's not acceptable to say that it's too hard, so we're going to keep treating animals cruelly."
Chicken Sustainability Advisory Council
While it refuses to commit to using different breeds, McDonald's has announced the launch of its 'Chicken Sustainability Advisory Council'.
The council includes academics, researchers, and conservation organization World Wildlife Fund. It will advise McDonald's on evolving and implementing welfare strategy.
Nicola Robinson, Veterinary Surgeon and senior manager for Global Sustainability, McDonald's Corp, said: "Launching the Chicken Sustainability Advisory Council to engage with a diverse community of experts in partnership with our trusted suppliers is a significant milestone in McDonald's journey.
"As the world seeks to reconcile food production with the environmental limits of a finite planet, it is incumbent on all of us to ensure that production systems meet the welfare needs of food animal species, whilst protecting the ecological systems that sustain us all.
"I'm very proud of our work and am grateful for the opportunity to continue to advance the issues that I, my colleagues and our supplier partners, care so deeply about. It's all part of building a better McDonald's."
Nothing
But campaigners say the move means nothing so far.
David Coman-Hidy, Executive Director of The Humane League, said: "Agreeing to study something is the hallmark of doing nothing.
"Study needs to be paired with a meaningful commitment."