?
Bank holiday Monday saw the biggest public protest of this
general election campaign as activists took to London's streets in droves to
protest against fox hunting.
The Make Hunting History March was organised by a coalition
of animal campaign groups. A number of well-known faces including wildlife
campaigners Dominic Dyer and Bill Oddie spearheaded the march, with Downton
Abbey actor Peter Egan and TV presenter Anneka Svenska also taking to the
microphone to address the crowd.
Different reports say up to 5,000 people joined the call to Prime
Minister Theresa May – demanding she keeps the hunting of foxes, stags and
hares illegal.
The demonstration follows May's announcement that she
intends to offer a free vote on repealing the 2004 Hunting Act if the
Conservative Party wins the general election on June 8.
If May secures the election with a big enough majority, winning
a free vote means the 2004 legislation could be overturned – meaning a return to
hunting wild animals with hounds.
The move would be deeply unpopular with voters, as polling
shows 84 per cent of the British public is in favour of the Hunting Act.
Campaigners claim support from controversial pro-blood sport organisation Vote OK has May in
an 'arm lock' with the group offering support to Conservation prospective
parliamentary candidates in marginal seats.
The event began with a minute's silence for victims of
Manchester's recent terror attack. Dyer said: "Terrorists can never be allowed
to stop us from exercising our right to freedom of speech and peaceful protest,
which is even more important during a general election campaign."
Addressing the large crowd he then spoke about hunting, saying: "This is the fight
back. We are showing the government that whatever they do we will make our
voices heard.
"The way we treat animals has a huge impact on the way we
treat people. When cruelty to animals is unchecked it can impact on humans.
This movement for animals is the one that will bring a change in the world for
animals in the 21st century."
"The most powerful person in the country [Theresa May] has
tried to make hunting a political issue in this campaign."
TV star Bill Oddie added: "This is a day I thought would
never come following an amazing achievement in 2004 – the Hunting Act. A lot of
us thought 'let's move onto another issue'. The fact we are having to argue
about this again is sick."
He thanked the crowd for coming and added: "Be gentle, be
distinguished, make your point."
Also speaking before the march took off was vet and animal welfare Professor Andrew Knight, a prospective parliamentary candidate for the Animal Welfare
Party. He will be standing against Theresa May in the Maidenhead constituency.
Talking about hunting, he said: "Foxes have never evolved to
handle this kind of stress. It is of course completely terrifying, they have
probably never experienced anything like this in their lives. So what they
attempt to do of course is to bolt into their dens. They often find these
shelters have been blocked up by terriermen.
"This results in these prolonged extremely stressful chases
across the countryside, these terrified animals are pursued sometimes for
miles…until they are eventually exhausted and caught by the hounds.
"Sometimes they can be literally torn apart. Theresa May
thinks fox hunting causes 'quick clean deaths'. These misleading claims have
been coming up ever since people have been trying to stave off anti-hunting
legislation in the first place.
"They resulted in a Home Office inquiry into hunting which
was carried out by Bristol and Cambridge University veterinary pathologists and
stating, as far back as 2000 that post-mortem examinations of foxes established
that it is extremely rare for these animals to be killed instantly. What's far more common is that they get multiple bite words
to the face, the head, the throat, the chest and the abdomen. In many cases
these animals are disembowelled prior to death."
After the speeches, the march started at Cavendish Square in
central London, moving down Regents Street from around half past one, down
Haymarket and around Trafalgar Square, to Whitehall, ending up on Richmond
Terrace (opposite Downing Street) some 30 minutes later.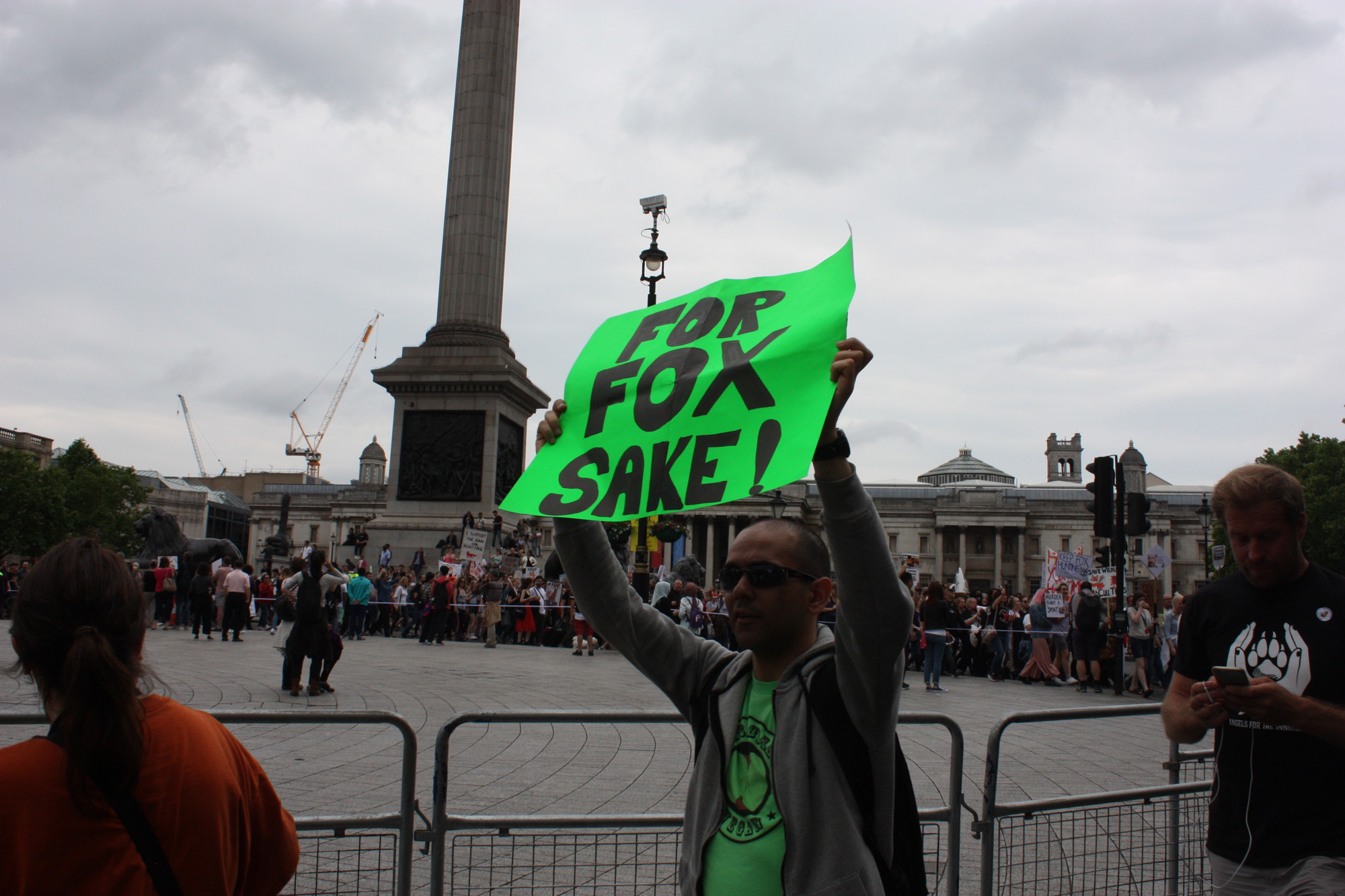 The campaigners' chants rang out, including: "There's no
excuse for animal abuse," and: "Hunting isn't sport, it's violence."
Upon arrival in Whitehall, the crowd was addressed by
actor Peter Egan, who said: "I've
been voting for 51 years, and I've been voting for various
governments.
"None of them have ever got everything right, in fact some
of them have got nothing right, most of them get perhaps one thing right.
"In 2004, Tony Blair's government
got it right when he brought in the hunting ban
"In 2002, Theresa May in opposition
got it right when she described her party as the nasty party. In 2017 she's about to get it right
because they are becoming the nasty party if they vote to repeal the hunting
ban."
Conservationist Chris Packham was unable to attend the event,
but sent a statement that was read out by organiser Dominic Dyer. It said: "More
than eight out of 10 UK residents don't want to see foxes torn to pieces, by
dogs, for fun.
"Let's value their beauty. Let's create and not kill.
"I am not an animal rights extremist or a tree hugger. I am
a conservationist and like over 80 per cent of the people in this country I
support the ban."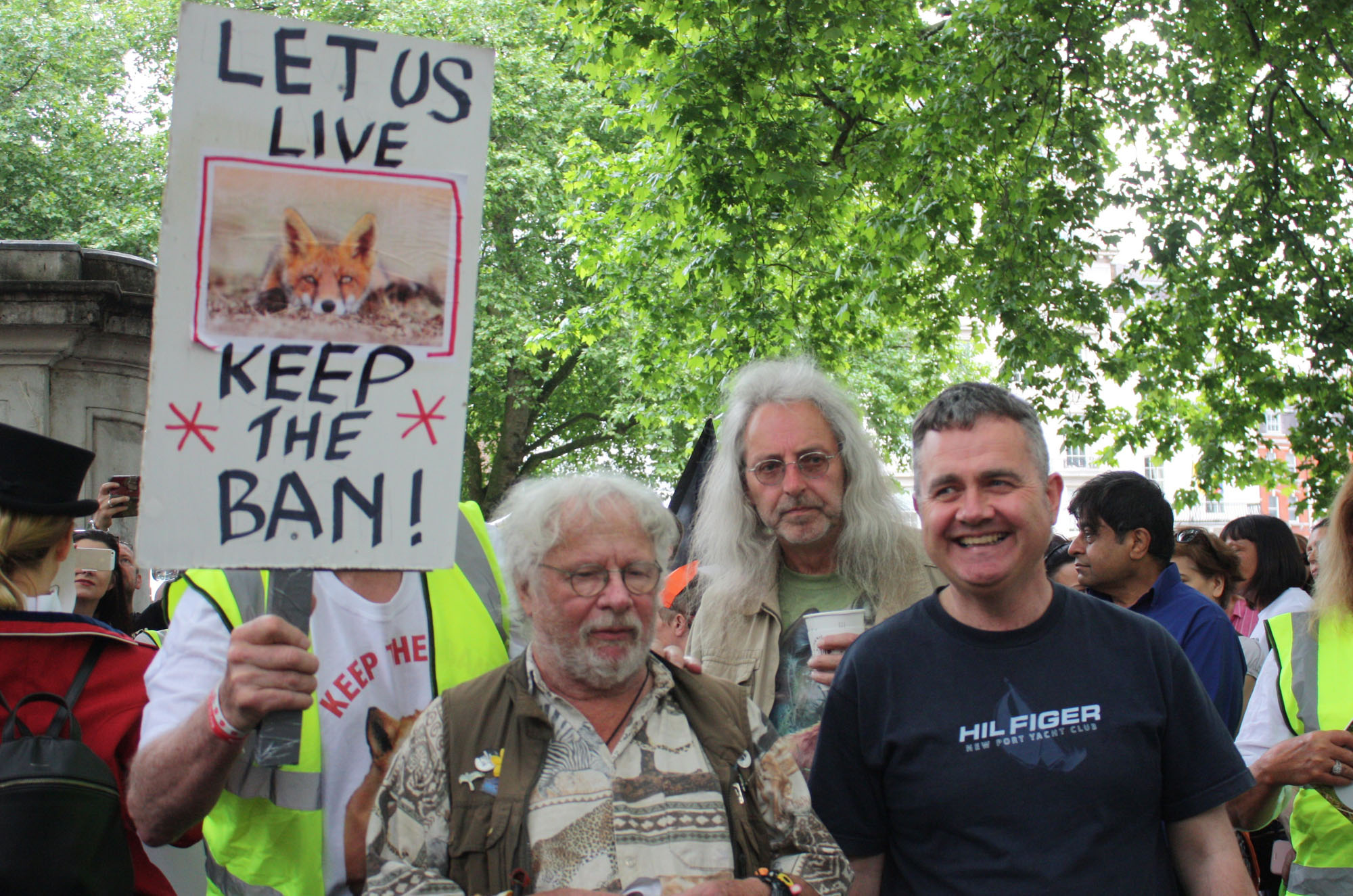 The rally follows a
hustings on Saturday in May's Maidenhead constituency, during which the PM was
reportedly heckled about fox hunting. Professor Knight says he was not invited
to take part in the hustings, despite being a paid-up prospective parliamentary
candidate.
May said: "I was brought up in the countryside and yes, I
do support fox hunting. And in the Conservative party
manifesto there would be a free vote of members of parliament. It would not be
whipped by party."