Kim Kardashian says she has 'officially converted' three family members to a plant-based diet.
The reality TV star turned entrepreneur has frequently used her platform to praise her plant-heavy diet.
Last year – during a Q&A on Twitter – the celeb revealed she revealed that she is 'mostly plant-based' and doesn't eat meat 'anymore'.
More recently, Kim reposted a picture from her sister Kourtney Kardashian showing off her vegan lunch – which appeared to feature mock meat, pasta, broccoli, and pesto.
'Plant-based life'
"I've officially converted three family members! Plant-Based Life," Kim told her 200 million Instagram followers.
She then added: "My brother just sent me this pizza cos it is vegan, mixed with this hot sauce that you put on top and vegan ice cream. How cute is my brother?"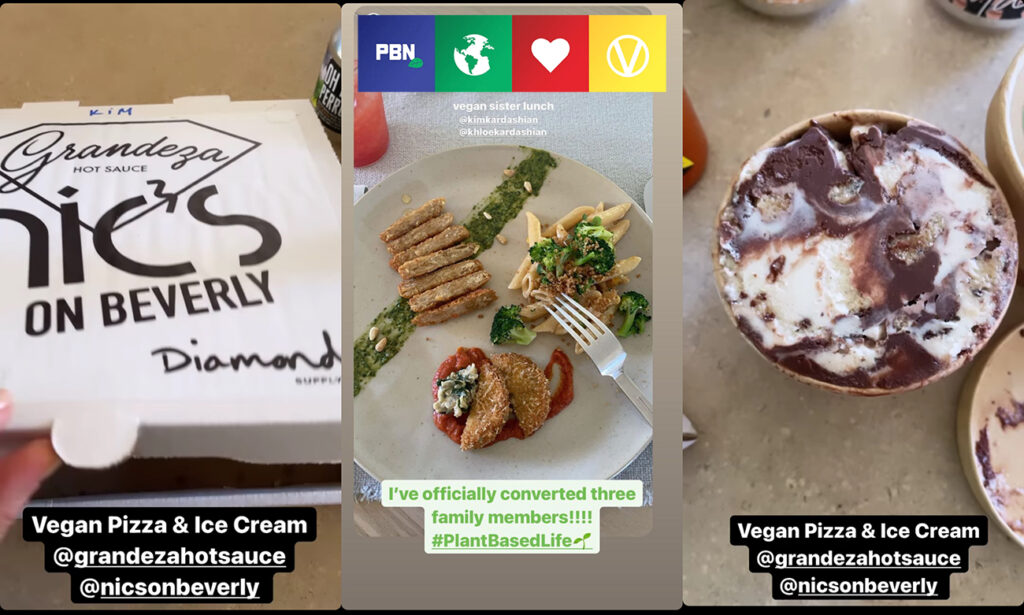 Does Kim Kardashian still wear fur?
Despite heavy criticism in the past for her family's use of real animal fur, Kim has recreated faux-fur versions of her favorite coats.
The star revealed the move after uploading a picture of her five-year-old daughter North donned in a white fur coat.
"Remember when I wore this!" Kim captioned the post. "She picked out the same look lol but fun fact- I took all of my fave furs and remade them in faux fur."
Vegan charity PETA applauded the move, commenting: "LOVE it. Thank you for making compassionate changes that save animals and showing the world that #FurFree styles are the future!"
You can follow Kim on Instagram here