Former footballer David Beckham has taken to Instagram to show off his vegan cooking skills.
Beckham's foray into plant-based cuisine comes in light of his recent revelation that he had ditched meat and enjoyed a vegetarian (but not vegan) diet for three weeks.
'Enjoyable'
The star – the current president and co-owner of Inter Miami CF – shared his thoughts on meat-free cuisine last month after trying the veggie diet.
He revealed he had 'never' changed his diet like this before. He added the experience 'hadn't been easy, but actually enjoyable'.
Vegetarian dishes
Beckham showed off some of the vegetarian dishes he had eaten to his 64.4 million Instagram fans following the diet swap.
They included courgetti with mushrooms and aubergine with dairy blue cheese, as well as a mango and avocado entree among others.
He also shared a picture of chilled pea soup and described it as 'amazing'.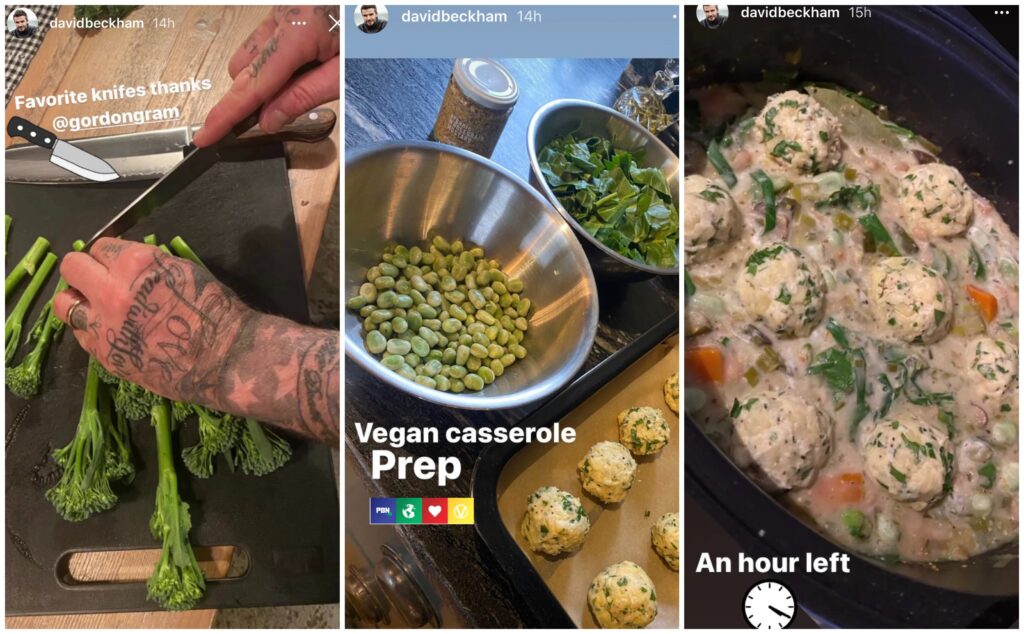 David Beckham vegan cooking
This time, he ditched the dairy too. He not only showed off the prep for a vegan casserole but also the dish bubbling on the stove.
Beckham's vegan casserole ingredients included greens, wholegrain mustard, beans that appeared to be broad beans, and homemade dumplings.
Victoria Beckham's plant-based diet
The Beckham household may eat a significant number of meat-free dishes. David's wife Victoria Beckham recently revealed that she follows a plant-based diet – with the exception of a supplement she takes.
She shared the (non-vegan) collagen supplement with her fans. She said the brand is 'targeting people' that follow a plant-based diet, adding 'which I actually do have'.
David Beckham vegan criticism
Despite David Beckham's vegan cooking, his ethics when it comes to animal exploitation came under fire earlier this year. He was photographed wearing a controversial coyote fur-trimmed Canada Goose coat.
Vegan charity PETA called on the athlete to 'open his eyes to victimization and needless cruelty'. It added it had shared videos of the brutal fur industry with him.
In a statement sent to Plant Based News, PETA Director Elisa Allen said: "We'll defend David's right to wear his own hair as he pleases, but wearing the fur from a wild animal who suffered mightily in a barbaric steel trap – which is what happens to coyotes killed for Canada Goose – is utterly indefensible."
*This article was updated on October 30 to clarify when David Beckham was eating vegan food and when he was eating vegetarian food.