Leading international group Animal Equality has taken its groundbreaking virtual reality work to the EU Parliament in Brussels in the form of an exhibition called Factory Farming: Greatest crime of our time?
The exhibition is part of the group's mission to end factory farming.
It opened on the evening of September 5, with speeches by several MEPs and NGO representatives.
Unique
Factory Farming: Greatest crime of our time? documents legal animal abuse in factory farms and slaughterhouses across the European Union.
The exhibition, the first of its kind installed at the European Parliament, highlights images from numerous investigations inside farms in Spain, the UK, and Germany.
It also offers viewers the possibility of experiencing life as a factory farmed animal with iAnimal – Animal Equality's virtual reality project.
Several Members of the European Parliament (MEPs) visited the exhibition and watched iAnimal for themselves, including Dimitrios Papadimoulis, Vice President of the EU Parliament.
Extraordinary
MEP Stefan Eck of Germany, who last year lobbied parliament to introduce regulations for rabbit farming in the EU, including banning cages, said this of iAnimal: "Animal Equality's virtual reality experience gives an extraordinary look into the lives of so-called farmed animals.
"It shows that the European animal welfare laws aren't worth the paper they're written on.
"iAnimal awakens and shocks… all you can feel is a deep shame about what we are doing to animals in our society."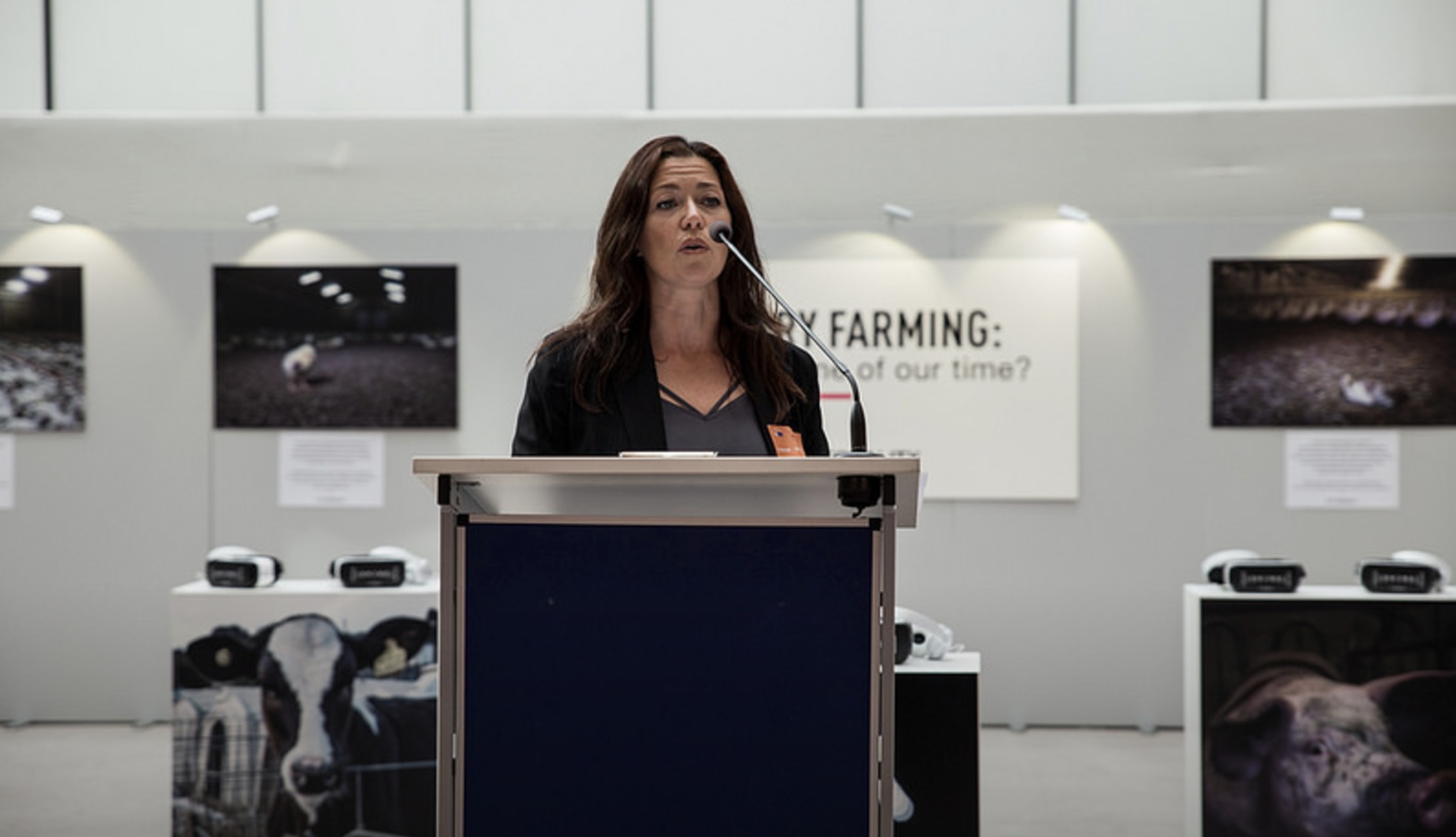 'Bravery'
Dr. Toni Shephard, Executive Director of Animal Equality UK, gave a speech to attending politicians and other important dignitaries.
She said: "If we dare to act with bravery and urgency, I know that we will live to see the end of factory farming.
"And we will be able to look our grandchildren in the eye and say, 'yes, we did wrong, but we were unwavering in our efforts to put it right."
Other MEPs who leant their support at the launch included: Maria Noichl (Germany); Fabio Massimo Castaldo (Italy); Florent Marcellesi (Spain); Indrek Tarand (Estonia); Klaus Buchner (Germany); Karin Kadenbach (Austria); Petras Austrevicius (Lithuania); Neoklis Sylikiotis (Cyprus); Isabella de Monte (Italy); Eleonora Evi (Italy); Angela Vallina (Spain).
READ MORE:
Animal Equality Virtual Reality Film Shortlisted For Award
More Than 440,000 Sign Petition After 20,000 Pigs Killed In Dutch Factory Farm Blaze
GROUNDBREAKING: Animal Equality Releases First Investigation Inside Brazil's Egg Factory Farms