Animal rights activists have pledged to continue their protest outside the Canada Goose store in London's Regent Street until the outlet has closed.
The brand – which is controversial because of how it kills coyote and geese and then uses their skin and feathers in its coats – opened its London branch 10 days ago.
Since then protestors has staged ongoing protests.
Vegan activist Carl Eastman, who was at the event last Saturday, told PBN: "There's no place for [the cruel store] in this generation, and this century.
"We're going to be here until this place is no more."
Protest
Holding a placard reading 'Canada Goose is a hate symbol for people who proudly support wearing dog fur', Eastman explained the aim of the demonstration.
"This is the second of what is going to be a weekly protest – there will be more during the week – against Canada Goose.
"We've gathered here, dozens – if not hundreds of us – who feel very strongly about what's being done to innocent animals at the behest of capricious, very selfish individuals willing to pay money for geese to have their plumage ripped from them, and coyotes to be trapped, tortured, and murdered."
He also addressed the people who, in spite of the activists' outcry, would still enter the store: "Some people have so much nerve. Perhaps they feel like they enjoy the attention, perhaps that's all it is to them – a game."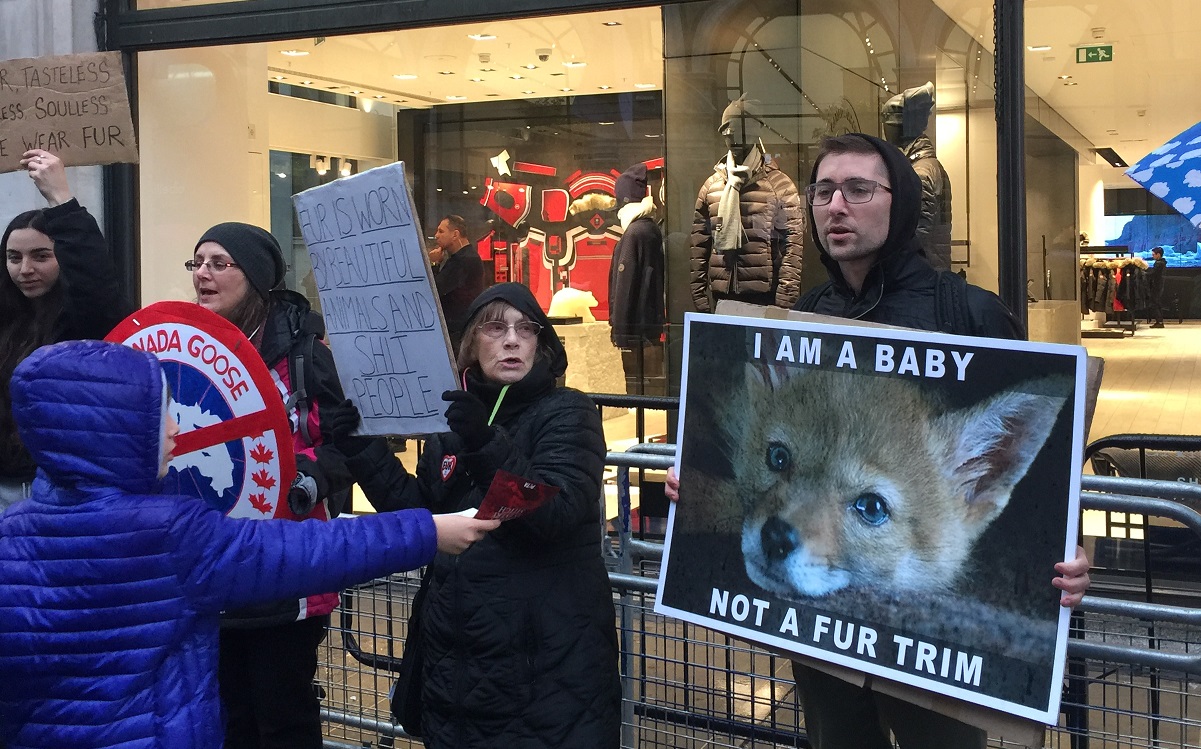 Cruelty
Animal rights organization PETA Director Elisa Allen has also urged shoppers to boycott Canada Goose.
"PETA encourages compassionate consumers to stay away from this store – which stocks its shelves with items made with the fur and feathers of animals who endured violent deaths," she says.
"With so many stylish and warm materials available that aren't derived from animals, there's no excuse to choose cruelty."
'Misrepresent'
Canada Goose hasn't responded to PBN's request for comment, however, it put out a public statement earlier: "Surge, PETA, and other activist groups misrepresent the facts and use sensational tactics to try to illicit a reaction and mislead consumers.
"They ignore the strict government regulation and standards that are in place, as well as our commitment to ethical sourcing practices and responsible use of fur and down."
READ MORE:
Lush Launches Limited Edition Vegan 'Black Friday' Soap To Save Orangutans
Violife Launches Vegan Christmas Cheese Platter
Planet Organic Ditches 'Inhumane' Mice Glue Traps Following Petition