Three weeks have passed since the conclusion of the highly anticipated 'Toronto Pig Save' court case, in which Anita Krajnc, an activist with Toronto Pig Save, was charged with 'mischief'. The final verdict ruled that she did not interfere 'with the lawful use' of property. Anita Krajnc is the co-founder of Toronto Pig Save, which was started in 2010 and she also holds a PhD in Political Science from the University of Toronto.
The Save Movement is a worldwide network of groups holding regular vigils outside slaughterhouses to bear witness to animal suffering. The movement started in late 2010 with the inception of Toronto Pig Save and has grown to about 150 groups in North and South America, Europe, Oceania and Asia. The main strategy is bearing witness using a love-based community organizing approach inspired by Tolstoy, Gandhi, Cesar Chavez, and Lois Gibbs, among other community organizers.
Here at Plant Based News we had the pleasure of catching up with Anita and ask her a few questions regarding The Save Movement, the talking points of the trial and what we can expect in the future!
How are you feeling since the outcome of the trial?
I feel grateful for all the support and the solidarity vigils. I am relieved compassion is not a crime in Canada! The Save Movement has gained momentum as a result of the #PigTrial. The idea that the Golden Rule applies to all animals, including thirsty, panting pigs on their way to slaughter, was widely appreciated. Images of suffering pigs panting in the trucks appeared in mainstream media in many countries. The mass media covered vegan issues and the importance of bearing witness, as a powerful form of activism. I'm disappointed, however, at the judge's statement that pigs are property, and his dismissal of the public interest defense set forth by my lawyers. I feel he missed an opportunity to move the law forward on the inevitable recognition of the rights of animals as sentient beings and persons.
What have you been doing since the trial ended?
Since the trial, we held our first Women's March to Fearmans, an eight-kilometer march from downtown Burlington to Ontario's largest pig slaughterhouse. We are completing 'The Save Movement Handbook,' an effort designed to assist activists with tips on starting new groups, love-based community organizing, holding regular and all day vigils, vegan outreach, social media, photography, fundraising, and self-care and healing. We're developing plans to table at VegFests and music festivals across the North America and Europe, and to organize vigils and groups in new locations.
What do you believe to be the most effective way of challenging animals' 'property' status?
I think concerted and sustained direct action, public education, boycott and political lobbying campaigns are necessary to win in the courts and to pass sentience laws in Parliament recognizing the personhood of animals. Outside the courtroom, we need to make great strides in society's recognition of animals as beings in their own right in order to end the property status of animals in the law. Bearing witness to animals going to slaughter can play a role as well as visits to animal sanctuaries.
When people look into the eyes of a pig, cow, chicken, lamb, turkey or fish, it is self-evident that they are social and autonomous individuals who have interests and want to live, just like us.
Stephen Wise, at the Nonhuman Rights Project, has led the charge supporting legal sentience and personhood initiatives in jurisdictions around the world. The judge in our case said that pigs are property (and so are dogs and cats) in Canadian law. We need further legal challenges attempting to establish personhood and standing for animals in the courts.
How would you respond to the statement by the Christian Farmers Federation of Ontario? – "This puts a big jeopardy on our livelihood now."
We don't have anything against farmers, rather we aim to abolish the animal exploitation system, which is so incredibly harmful to animals, the environment, and people's' health. Everyone would benefit from a move to a nonviolent, compassionate, sustainable model of plant-based agriculture. The shift to veganism is imperative. Dr. Lori Marino testified at the trial that pigs are persons because they are autonomous, highly self-aware, and sentient beings who possess complex emotions. Professor Tony Weis testified that animal agriculture was a leading cause of global warming, water pollution, deforestation and ocean dead zones, and that we need to address diet change worldwide in order to avoid catastrophic climate change. Professor David Jenkins stated, in his written submission: "The scientific data point to pig meat (red meat in general) and processed meat (ham, bacon and sausage) as being associated with adverse outcomes, including increased heart disease, diabetes and cancer…"
Who are your inspirations?
Leo Tolstoy's works are incredibly grounding and uplifting, including his nonfiction works (The First Step, A Calendar of Wisdom, My Religion, On Life, A Confession, and What is Art?) and moral tales and novels (Walk in The Light & 23 Tales and Resurrection). His ideas on nonviolent anarchism and love-based community organizing promote political and economic democracy. The Save Movement is structured in this way with a loose network of groups each with local leadership and economic autonomy at the grassroots level. This facilitates the spread of the movement and encourages creative initiatives and dedicated and expanding activism and leadership worldwide.
Gandhi, Cesar Chavez, Martin Luther King, Lois Gibbs, Kate Bronfenbrenner and other community and labour organizers are also great inspirations. I also find great hope in the wide range of animal rights groups and strategies from PETA to DxE, the brave direct actions and open rescues of Animal Liberation Victoria to the undercover investigations, reporting and social media of a growing number of groups.
What keeps you going?
Animals always give me a reason to keep going! What makes me happiest is when the animals have new allies coming to the vigils. Gandhi wrote: "Social change will occur not in some dim and distant future but within a measurable time, the measure being the measure of the effort we put forth." People tend to become better activists after attending a vigil.
How can people get involved?
Vigils are a simple form of activism that anyone can participate in. You can find the nearest Save group by visitingwww.TheSaveMovement.org or Facebook pages such as "Save Movement UK and Europe," which have maps and event pages pinned to the top. There are about 40 groups in the UK holding regular vigils. The Save Movement in the UK has grown immensely in the past year and continues to grow. The aim is to have vigils at each of the almost 300 slaughterhouses in the UK. If anyone would be interested in starting vigils, or know someone who might, please contact us. It is very easy to start a Save group. We will help you each step of the way.
What is the idea behind 'bearing witness'?
Bearing witness means going to a site of the great injustice, being present and intervening to stop the injustice. The idea behind applying the strategy of bearing witness to the animal rights movement is that by being constantly compelled to witness the horrible suffering inflicted on animals at ground zero—the slaughterhouse is a war-zone for animals—people will make it an absolute priority to do all they can to stop the heart wrenching and gross injustice. It's a powerful form of activism.
Bearing witness is both an ethical precept and method. The ethics of bearing witness entail not looking away from suffering creatures, but coming closer and helping animals in need. It's a duty related to the Golden Rule (treating others as you'd like to be treated) and love.
Animal lovers and people who are aware of the horrors happening in slaughterhouses have a special duty to get active and to invite others to join the animal rights movement.
There's a method to bearing witness at Save Movement vigils:
(1) The power of observation. Being present and observing is a partial form of bearing witness; only rarely do we successfully intervene and save a precious few animals. Mostly we just stand there at the vigil, holding placards, look inside the trucks and interact the best we can, then watch as the truck pulls away. By bearing witness, you develop a deep empathy with a creature. By observing and experiencing animal suffering and pain, you will think of them deeply and often; the connection becomes so strong, they become you and you them. The first-hand experience helps people come away from vigils as more vocal advocates and better activists.
(2) It's a form of activism that puts animals front and center and gives people an animal standpoint. Each are autonomous individuals, pleading for help. Your personal contact puts a face on the nameless numbers. West Midlands Animal Save held a vigil at Janan Meat slaughter plant, in Kingswinford, on March 22, 2017. Maria, one of the group's organizers, wrote: "I was able to stroke this innocent sweetheart for a minute or so. It broke my heart when I accidentally brushed the tag in their ear. That did not belong there. She was not a product who required a tag. I'd never seen such defeat in a being before."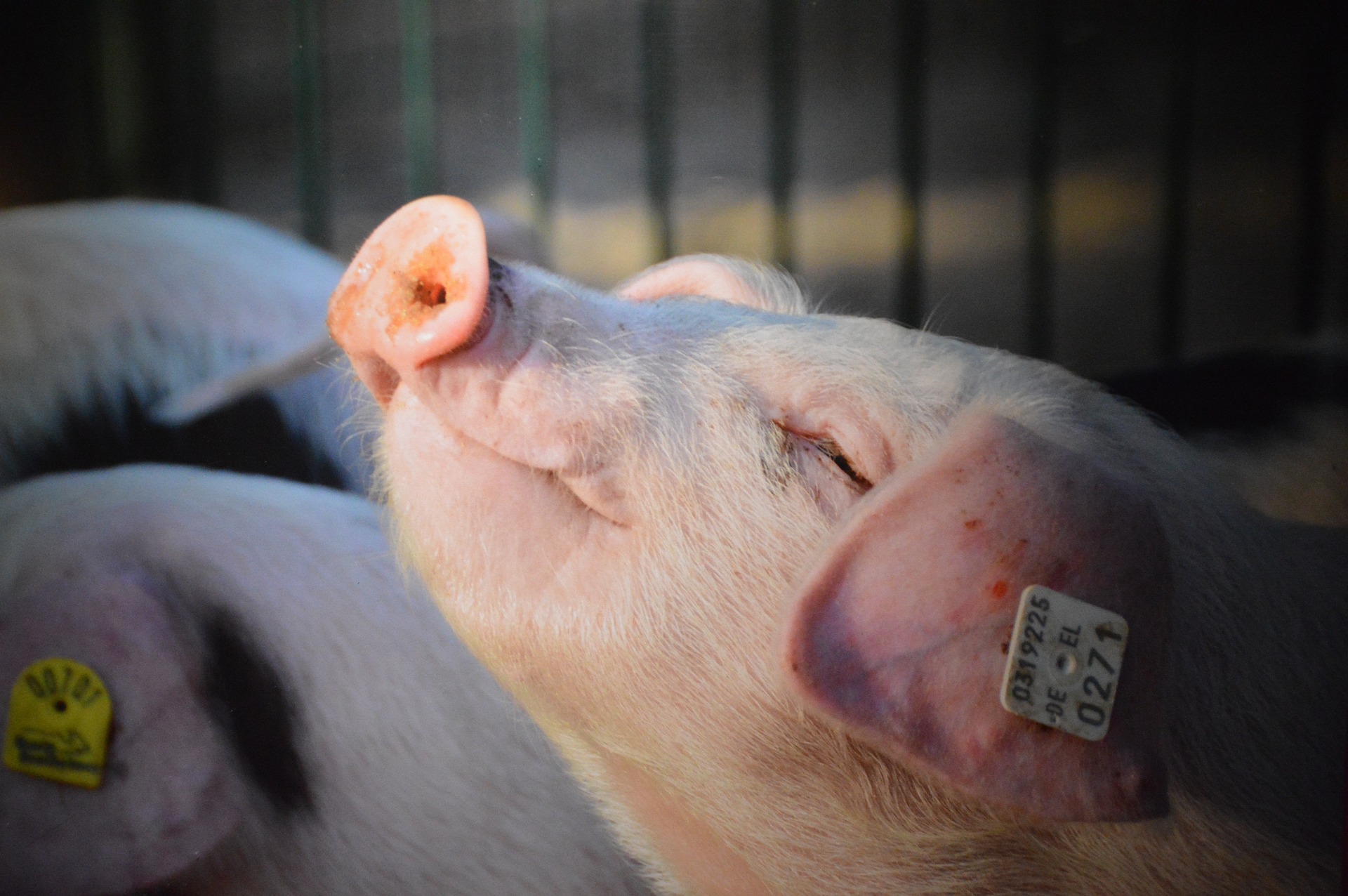 (3) It's a simple, accessible idea whose time has come. Animal victims may be hidden in dark factory farms and slaughterhouses, but they can be observed in transport trucks on public roadways and in front of slaughterhouses. Anyone can understand the concept. It's a type of activity everyone can do.
(4) It's a community action: The Save Movement combines the idea of bearing witness with community organizing to magnify the impact manifold. When people see the innocent and gentle creatures in the slaughterhouse trucks, they see living beings with feelings who don't want to die, about to be electrically prodded to their death. It is so outrageously wrong. One can't help but think, "How can anyone think this is ok?" You want everyone to bear witness because—you know if they did—the world would change faster.
(5) It is important to hold regular vigils and bear witness repeatedly: In community organizing literature, it is well recognized that one needs to be on the ground regularly to build a movement. More than a hundred years ago, vegetarian Vladimir Chertkov wrote (One Life): "Don't look away … 'face' it… by visiting a slaughterhouse or a kitchen yard and first-hand witnessing the killing of pigs, cows and chickens for our table. …If you do it several times… you'd recognize the unlawfulness of what is happening before your eyes."
(6) It's a worldwide social movement strategy to build a mass-based, grassroots movement: the aims are to have vigils at every slaughterhouse and to bear witness to every animal. With Save groups, DxE, and other groups emerging around the world, we can break the distancing effect of neo-liberal globalization which disconnects people from the harmful consequences of their actions.
What events should we look out for in the future?
We hope to continue to increase attendance at vigils by organizing more all-day vigils with special guests, and getting the word out through flyers. Mathew Karlson is planning a series of five-day vigils this June. We are also focusing on expanding the Save worldwide network through a program of kick-starting new Save groups by attending VegFests and other fests in North America and Europe, including the Warped Tour music festival in the United States, Vegan Mania at the Beach in Vienna, Vegan Summer Fest, Berlin, and organizing vigils right after the event the following day. We are aiming to devise global initiatives: new Fish Saves and also #LiveWitness (where you stand outside a supermarket and livestream on a television slaughterhouse vigils showing live, terrified animals headed to a nearby slaughterhouse). New public transit ad and billboard campaigns are in the works, and more direct actions, such as banner drops and marches, for our www.ClimateVegan.org campaign. We hope to partner more with other groups with bearing witness and strategic corporate campaigns.
It's been 7 years since you first started the Toronto Pig Save, if you could give a piece of advice to yourself then, what would it be?
Don't be afraid. Follow your conscience. Step outside your comfort zone. Think big. Our repertoire expanded in time but it took years before we started giving water to thirsty animals (being too afraid at first), stopping trucks, and holding all-day vigils. We can create a world of animal equality. Each of us has so much power if we only choose to exercise it.