A seven-hour
activist piggery sit-in and peaceful protest resulted in
trespassing charges for dozens of activists in Australia this week.
Advocacy
More than
60 activists entered the Beerburrum establishment under the cover of night,
while others – including renowned animal advocate James Aspey – held a
nonviolent protest outside.
Stakes were
high for campaigners, with Aspey telling reporters that 'desperate times call
for desperate action'.
A large sign
held up by protesters read: "Their fate is on your plate."
Video by Plant Based Soul
youtube.com/plantbasedsoul
Negotiation
When police
arrived to the premises, several hours of negotiation with activists inside the
building ensued.
34 of them were
charged with trespassing, eventually emerging visibly shaken by what they'd seen
inside.
'Unjust'
Aspey told
PBN the protesters had acted from a 'moral obligation to disobey unjust laws'.
He added: "The
activists are trying to rescue innocent prisoners who will soon become murder
victims. The farmers doing the torturing and killing are the ones who should be
arrested."
Awareness
The event,
which occurred on Thursday, was covered by Eye Witness News, 7 News Sunshine
Coast, and a number of other mainstream media outlets.
On the
scene, Aspey told reporters: "We need to do things that get media attention so
that this issue can be brought onto the table because this is the darkest thing
happening in humanity right now."
'Boycott'
Activists
are hopeful about the outcomes of the coverage.
After the
event, Aspey told PBN: "Hundreds of thousands of people learned through the
news interviews that free range, grass fed and humanely slaughtering animals is
not even close to good enough and the least we should do is boycott the
industries exploiting animals by living vegan."
'Animals at
risk'
Despite the
mistreatment of animals at the facility photographed and described by
activists, Australian Pork Limited made a statement on the piggery's behalf
claiming concern for animal welfare.
The
statement said: "Anyone entering a pig farm without completing the relevant
biosecurity protocols puts the health of the animals at risk."
Activists
maintain that they took the appropriate precautions, and dressed to protect the
pigs' health, when they entered the facility.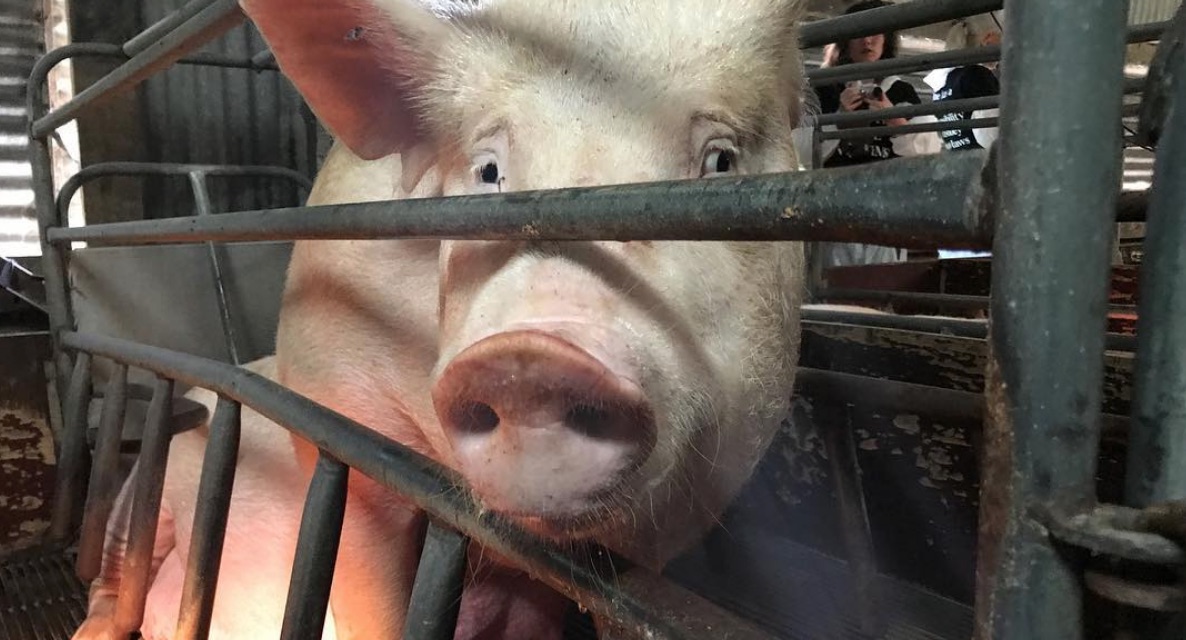 'Fighting
every day'
Despite the
charges, activists have not lost sight of their goal, maintaining their resolve
to stop the mistreatment of animals.
Aspey told
PBN: "Unfortunately, we live in a deeply speciesist world where violence
against certain individuals is deemed acceptable by society, but this is wrong
and this is what we are fighting every day to change."