The latest episode of The Plant Based News Podcast features vegan agricultural economist Rashmit Arora, who is part of the vital TransFARMation project.
The project is run by the animal protection charity Mercy For Animals and helps farmers transition to growing plant-based crops. Thus, revolutionizing the current system which, he says 'exploits anything in its path'.
Rashmit discusses growing up in India, where the dairy industry is still dominated by small farmers. Attitudes towards farmers need to change – and it's all tied up in privilege, he explains.
What is TransFARMation?
TransFARMation is a project which aids farmers and helps switch the supply chain: 'Supply follows demand', says Rashmit.
On the podcast, he explained how three farmers were in the process of switching to farming hemp and mushrooms. This can be achieved over time. One farmer has converted one of his multiple barns previously used to house chickens, into a mushroom farm whilst he learns the basics.
TransFARMation aspires to 'create a ripple effect and pull all these other farmers to go out and transition for themselves'. The company helps with grant applications and sets farmers up with buyers.
Rashmit explains: "The sentiment of wanting to get out of animal farming is prevalent beyond what you would think. A lot of farmers have realised the hole they have dug themselves into, unfortunately – and want to get out but don't really know how."
Since the podcast was released, two more farmers have signed up.
In a statement sent to Plant Based News, Rashmit said: "The transitions are going well, but it's important to keep in mind that transFARMing is a time-consuming process that is affected by a lot of different variables.
"It's also impacted by our capacity and bandwidth, which is limited right now."
'The controllers of the system will do anything to satisfy their bottom line'
Rashmit is angry at the food system which he says abuses farmers as well as the environment. He said: "It basically exploits everything in its path in order to achieve that triple bottom line."
It's a system that traps farmers into contracts. In the US, a 'tournament system' is used which is used to 'pit farmers against each other'. This leads to vast wage disparities, and it functions on maximizing the ratio between the weight of a chicken and how much feed was used.
"The top four percent of US farms, they account for about 74 percent of US farm sales – whilst the bottom 76 percent of farms make a mere three percent of sales, something like that. So, there's a huge disparity between what the larger operators control compared to what the smaller contract farms are doing."
Rashmit highlighted the 'extremely shocking' conditions meatpacker workers across the US have faced since the outbreak of COVID-19.
"The controllers of the system will do anything to satisfy their bottom line, which is essentially just profits", he said.
For Rashmit, privilege is a key part of the conversation: "Being ethical is about being conscientious towards other human beings."
What does it cost farmers to switch?
So how do farmers escape the system?
The going price for CBD and hemp products is fairly high, says Rashmit. But the profitability depends on their scale of production. TransFARMation's research with hemp and mushroom industry 'veterans' indicates that farmers who switch to growing these plant-based crops will 'significantly increase' their previous income.
Rashmit explained that if a chicken farmer were to convert one barn into a Shittake mushroom house, profit predictions stretch to $80,000. It would also require less growing space.
Rashmit's vegan journey
Growing up between Mumbai and the Middle East, Rashmit's journey to veganism came after a childhood consuming food 'lathered' in butter and ghee.
His grandmother went vegetarian after visiting a wet market and watching a chicken be slaughtered. 'I always knew this story', he said.
"In the back of any meat eater's head there's this awareness that if you do see it, you know that it's ugly and it's not something you would do yourself.
"We just detach ourselves from the reality of how the food we consume comes to our plate."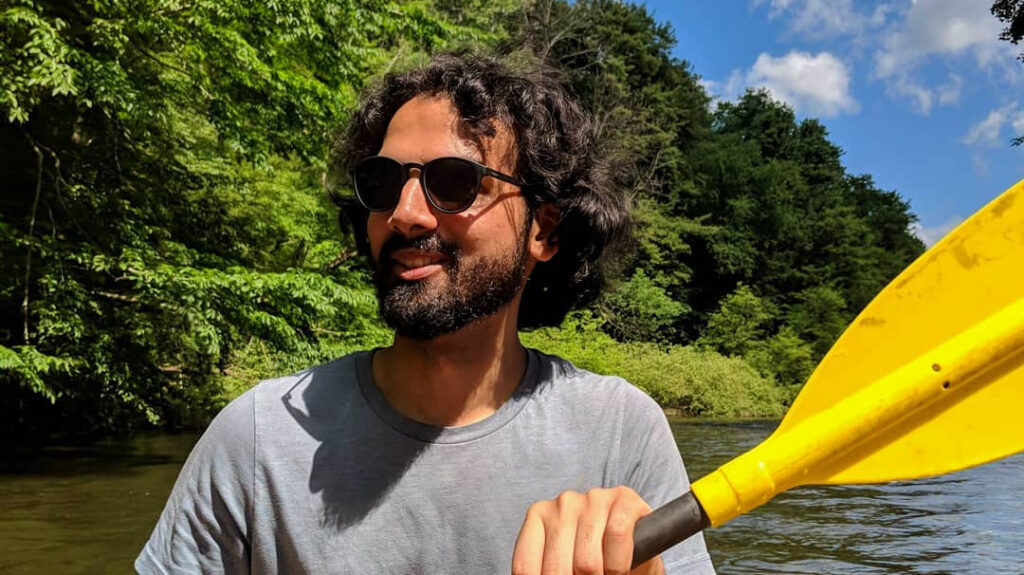 India's surprising farming system
Ditching meat isn't as popular in India as some people think it is, says Rashmit – with 'around 70 percent' of the population still eating meat. Despite that, attitudes are changing – with The Times of India heralding the benefits of a plant-based diet.
However, it is still the largest producer of cow's milk in the world. Despite this, the factory farming model hasn't taken off, Rashmit explains. 'Small dairy farming is still prevalent in India' – with '70 million' small dairy farmers across the country.
"About a decade ago, [dairy giant] Danon tried to enter the Indian market and establish a factory farming model but failed because it wasn't able to compete with a small farmer who was producing milk and delivering it to a neighbor.
"I think that's fascinating because they've tried for several years and they actually ended up exiting the market – it wasn't profitable for them to stay in the country.
Whilst Rashmit believes no one should drink cow's milk unless they 'need' to, he stresses that in order to change the animal agriculture system, those small farmers need to be supported.
What can consumers do to help?
With Rashmit and his transFARMing farmers leading the way, consumers can help by buying more plant-based products.
Speaking since recording the podcast, he said: "If you demand it, producers will have to figure out a way to produce it. If you demand more plant-based foods and household products – that implies an increase in the demand for plant-based ingredients. This, in turn, implies an increase in the need to increase to re for projects such as TransFARMation."
The company has since established the TransFARMation certification program.
Similar to the Vegan Trademark, it directs consumers towards certified produce. This allows consumers to inform supermarkets they support the concept of farms transitioning from raising animals to growing plants.
Rashmit explains: "If consumers want it, supermarkets will stock it, which means they will buy from transitioning farmers, thereby ensuring that the farmers run a successful business."
Listen to the podcast episode on Apple Podcasts or via Spotify.
Learn more about Transfarmation via the website.