"Here's my top life hack for you: stop trying to hack your
life.
"Life is not about hacking. Life is not about removing the
obstacles to create a super highway towards your goal. You have to embrace the
journey.
"When you face those obstacles, you're forced to confront
yourself, and that reveals character. It's how you develop as a human being.
"So rather than trying to avoid them, embrace them."
Alcoholics and drug addicts often refer to hitting rock
bottom. Ultra endurance athlete and vegan influencer Rich Roll says he has hit
it twice.
After entering rehab in his early 30s for drink and abuse,
he got clean. Almost 10 years later he found himself facing breaking point once
more: overweight with workaholic tendencies, he was in the grip of an
existential crisis.
It was asking himself what he really wanted that led him to
his current path.
The 51 year old author, athlete and podcaster has inspired
thousands worldwide with his incredible sporting accomplishments as well as his
positive style of vegan advocacy.
Within a few years, he transformed himself from a self-confessed 'couch potato' to an elite athlete, performing at the highest level, and described as Men's Fitness magazine as one of the 25 fittest men in the world in 2009.
The Rich
Roll Podcast is a constant in iTune's Top 10 chart and he also spreads the
word through his blog, social media, YouTube and books.
Sport first brought him to the public's attention. The
former entertainment lawyer tells Plant Based News: "I've done some crazy stuff
in the ultra endurance world, competed in the Ultra Man World Championships in
2008 and 2009. That was a double Ironman distance, three-day triathlon – a 320
mile circumnavigation of the Isle of Wye.
"Over the course of the three days, you swim 6.2 miles and
then you ride 90 miles on your bike. The second day you ride 171 miles and the
third day you run a double marathon (52 miles).
"I did fairly well in that race, particularly in 2009. Then
in 2010 I did five Ironmans in under a week and that put me on the map in terms
of my endurance credentials.
"There was a lot of interest because I did it all
plant-based and people were like 'how do you perform as an athlete vegan', and
that gave me a podium to start to talk about these issues."
And Roll fully embraces the potential of new media to talk
about these issues.
"All of these channels are just different distribution
platforms for me to put out one version or another of a positive message," he
tells Plant Based News.
"That could be an interview with a positive, inspiring
person on my podcast or an article that's going to educate you and give you a
broader perspective on a global issue, or whether it's just an Instagram post
to inspire you to get out of bed and look after yourself physically.
"They are all variations on a theme, which is that I'm
trying to incite positive behavioural change in people."
This positivity doesn't stop the star from reflecting on the
difficulties facing the global vegan movement. He admits that the vegan
community can 'get in its own way and shoot itself in the foot' adding that it is
composed of myriad voices that run a whole spectrum when it comes to advocacy
styles.
"But I also would say that we need all voices, we need the
really hard-core person who really toes the line and doesn't give an inch," he
says. "Because without that person, the person on the other end of the scale,
the one who placates and negotiates, doesn't have a boundary to push up
against.
"You can't have one without the other so I celebrate the
different voices. Everyone has their role to play. I have my role to play.
"It's not for me to say someone else should advocate like me
or unlike me. I think you should have your own personal voice and speak in a
way that is authentic to who you are."
There are many external pressures too, so what does he sees
as the biggest blind spot? As vegan advocates, what could we be doing better?
"That's a good question," he says. "If you can answer that
question, you really open up a world of opportunity. I think that most people
are inherently compassionate and they want to align their actions with their
values.
"People don't like to have to harm animals in order to
survive. They don't like the idea that animals are suffering. In many cases, animals
are being tortured in order to create our food, but we turn a blind eye to it
because it's uncomfortable. I think people rationalise it by saying 'I don't
like that exists but that's just the way it has to be for me to live, and I
have to make peace with it'.
"But if you can show that not only can you live, but you can
thrive and you can actualise your higher self without all these foods you've
been told you need your entire life to be healthy, you can be a positive
example of that lifestyle.
"People will come up to you – how did you do that? You look
great, how do I do what you're doing? That's the kind of vibration I choose to
carry, it's about education and inspiring your fellow man."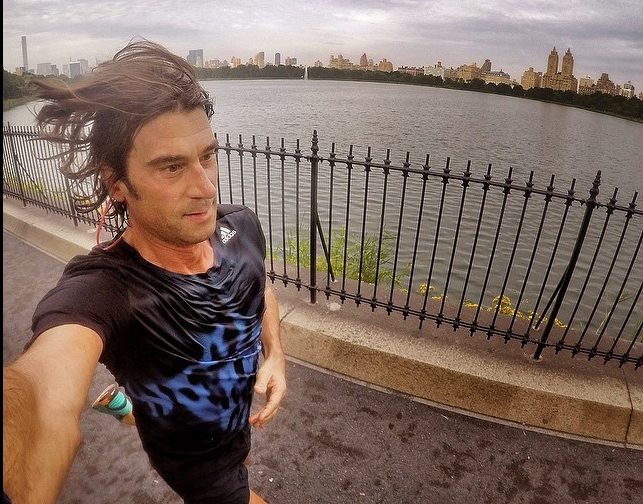 This ethos is inspiring the book he is currently writing.
"I'm in the really early stages of it, so I can't say too much at this point
but I want to create a mind-body-spirit wellness approach to unlocking your
best self," he says.
He plans to leverage his own experience, as well as that of
his podcast guests, in order to create a 'template for people to follow in my
footsteps and inhabit their version' of his journey.
In the meantime, he is positive about the changes we've seen
recently, and what they mean for the growth of veganism.
"There's been a confluence of things all happening in a
compressed amount of time," Roll says.
"When Cowspiracycame out it tapped into the environmentally conscious
collective consciousness around how to save the planet, and the idea that
animal agriculture is this culprit we hadn't been talking about.
"Now [health documentary] What the Health is out, soon James Cameron's film The Game Changers that focuses on
plant-based athletes will be available."
This proliferation of content celebrating the lifestyle is a
key driver of change. But he feels market forces also have a roll to play.
"We live in a capitalist society, so the way we're going to
win is by creating plant-based foods that are delicious, that are affordable
and that are convenient. So when you see foods like the Beyond Burger and the
Impossible Burger become more popular, this is just the very beginning of what
the world is going to look like in 10 years.
"That's an incredibly exciting trend to watch."