A vegan has described a meal served in a German restaurant as 'so gross' – taking to social media to share images of the dish.
Taylor Mooney was dining at Kathrin's Biergarten in California with her family to celebrate Father's Day. She says the eatery advertises itself as vegetarian and vegan-friendly.
According to Mooney she ordered the only vegan option on the menu, a pretzel bun with vegetables, which took two hours to arrive.
'So gross'
Speaking to media outlet UNILAD about the meal, Mooney said: "This new German restaurant opened and its really rare so we were all super excited to go, especially me because they advertised themselves as being vegan and vegetarian-friendly.
"I was with my whole extended family and had a private room. Someone's food came out after a little over an hour and no one else's came out for at least another half hour so by that time he was already done eating so it was really bad customer service anyways.
"Our server was wearing grey sweatpants and a messy bun and it was really weird."
The food
When Taylor Mooney finally received her $7 veggie pretzel bun, she said everyone's 'jaws dropped'. "I ordered the only vegan option and had very high expectations but it took two hours to come out and it was honestly insulting!
"My meal was so dry I had to drown it in mustard and sauerkraut. When I actually started eating it was so gross. Crunchy vegetables on dry bread does not go at all – it's such a weird texture!
"Everyone else had massive plates with tons of food on it and mine came out with just this and it was the saddest looking thing and all our jaws dropped and then we started laughing at it because we were expecting so much more."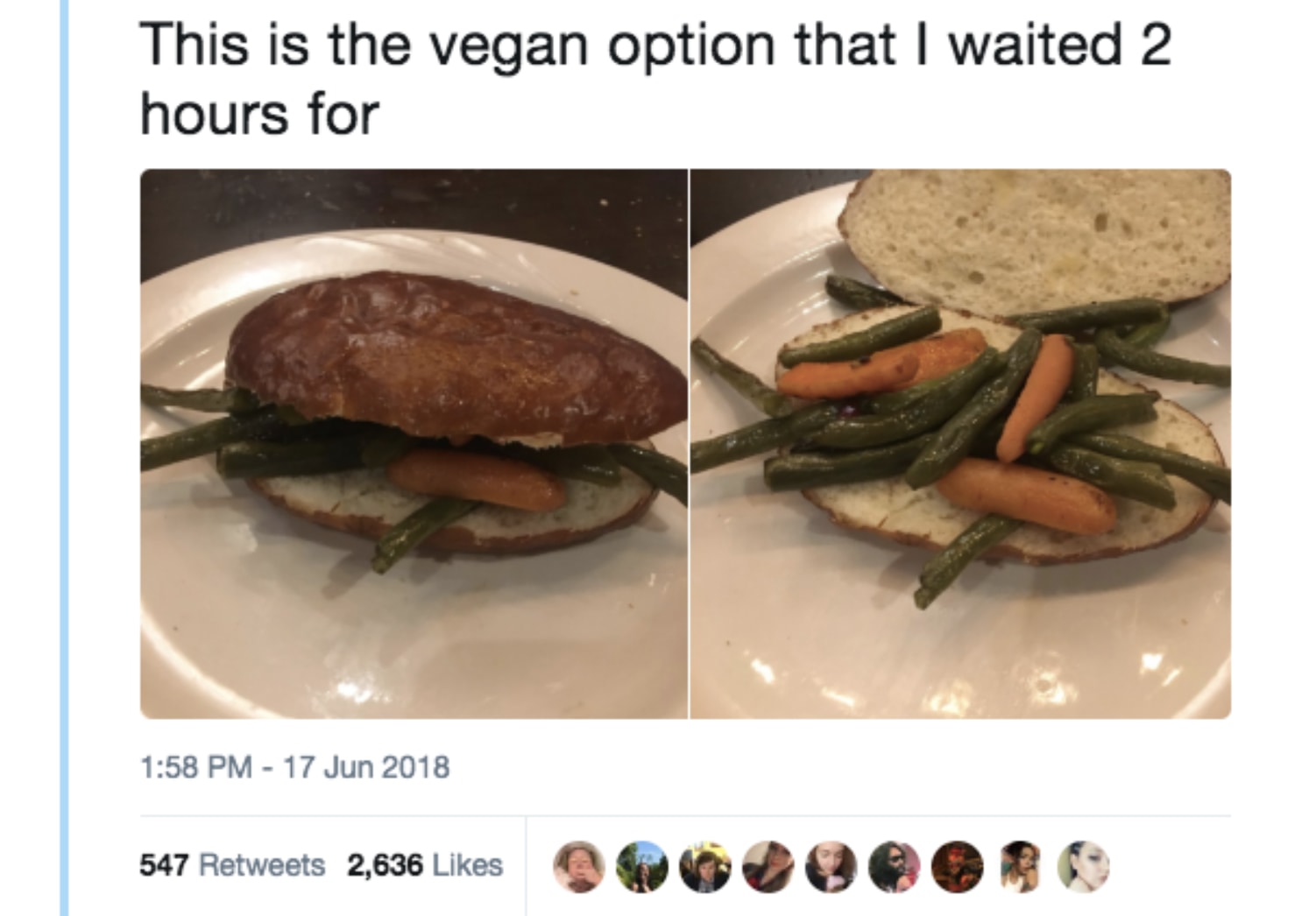 Social media
Mooney then took to her Twitter account to share her experience. Posting a photo of the meal, she wrote: "This is the vegan option that I waited two hours for."
Her tweet received more than 2,500 'likes' and more than 500 retweets – though feedback was mixed, with some being supportive, and some telling her to only eat at vegan restaurants.
She told Unilad: "I did get a lot of people telling me to not eat at non-vegan restaurants if I actually want something and there were a lot of non-vegans telling me that I was just causing the cook trouble or whatever.
"But they don't realise this is an ACTUAL menu item, that they advertise to their vegans."