Coming up in two days is long-awaited World Vegan Day (WVD), an annual event celebrating the vegan movement at global level.
Taking place on November 1, the event will see vegans coming together for a shared cause: animal rights.
WVD will especially be taking London by storm, which will see eateries and various businesses promoting the plant-based lifestyle through a host of deals.
Veganism in London
Camilla Fayed, founder of Farmacy, a meat-free restaurant celebrating whole foods, has shared her view on the vegan movement in the city.
"Plant-based restaurants in London have been steadily increasing in popularity for a long time now. Londoners are becoming more environmentally conscious and recognizing the vast health benefits of a plant-based diet," she told PBN.
"The wellness trend in general is booming in the UK and across the globe.
"It has become increasingly popular to look after your body by keeping fit and eating healthily, whilst also being mindful of the world we live in, and looking after the planet at the same time," Fayed added.
1. Farmacy
Known for its decadent plant-based fare, Farmacy offers foods free from refined sugars, additives, and chemicals.
Based in Notting Hill, the renowned eatery features healthy choice comfort dishes such as its flagship 'Farmacy Burger', and vegan ice cream sundaes.
On WVD, Farmacy will be launching a new Peanut Butter & Jelly Sundae, made from layers of homemade peanut butter nice cream and jam sauce, topped with chunks of gluten-free banana bread, caramelized bananas, peanut 'cream', and fresh blueberries.
Discussing her restaurant, Farmacy founder Fayed told PBN: "At Farmacy we work for a cause and not for applause! I was inspired to create Farmacy, a place where I could share my philosophy on nutrition and help bring the conscious eating revolution to London.
"A lot of people expect plant-based food to be boring, but Farmacy shows people that plant-based food can be delicious and exciting."
2. Flavour B*stard
A new addition to Soho's food scene, mainstream eatery Flavour B*stard is launching an exclusive vegan menu in celebration of WVD.
Executive Chef Pratap Chahal has created a 'cuisine-agnostic' menu, taking vibrant ingredients from around the world, removing rules and traditions, and combining creative flavors and techniques.
The menu is split into tiny and small plates designed to be shared, or can be doubled up as large plates for big appetites.
Small plates on the vegan menu include Miso & mango glazed aubergine with peanut crumble, Chickpea salad with rose harissa, parsley & date syrup, and Roast sweet potato, soy yoghurt, pomegranate & chilli popcorn.
3. Deliciously Ella
Deliciously Ella delis across London will also be offering an array of plant-based dishes for this coming WVD.
The delis, Ella Mills's business ventures – the blogger behind the Deliciously Ella website are located on Weighhouse Street, Seymour Place, and Herne Hill.
Dishes available on the rotating seasonal menu will include: Chilli & Rustic Cornbread– Five bean chilli drizzled in garlic cashew cream, rustic cornbread and crunchy slaw will be ready to devour; Roasted Onion & Lentil Balls; Seasonal Falafel & Creamy Hummus; Fudge Brownie.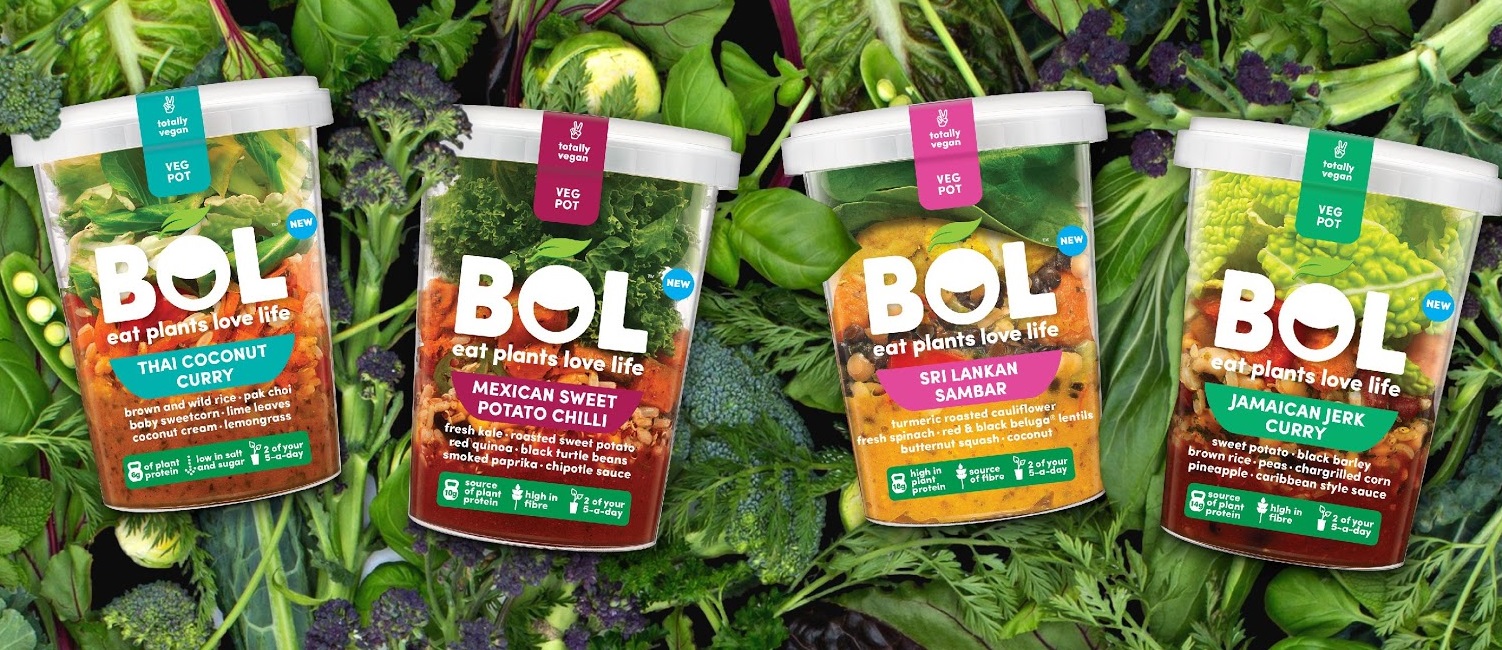 4. BOL Foods
BOL Foods, a globally-inspired food brand which aims to inspire people to eat more plants, having re-launched this summer as a plant-based company.
Vegans can tuck into the brand's Veg Pot range this WVD, which features four plant-based protein-packed pots, including: Mexican Sweet Potato Chilli,Thai Coconut Curry, Sri Lankan Sambar, and Jamaican Jerk Curry.
They retail for £3, and are available at Tesco, Waitrose, Ocado, and Amazon Fresh.
READ MORE:
Vegan Celebrity Chef Opens Plant Based Restaurant In London
London 'Meaty' Restaurant To Launch Vegan Menu