Controversial wet markets have re-opened in China, after shutting as a result of the coronavirus pandemic, according to multiple press reports.
It is understood that the virus originated in a wet market in Wuhan – where live animals are sold and slaughtered alongside dead ones – in December 2019. Since then it has spread globally, with the death toll hitting more than 43,000 at the time of writing.
That particular market was shut down by authorities, who said they would strictly supervise wet markets after the pandemic ended and normal life resumed, reports say. But some outlets say a number of these markets are still selling live animals.
'An animal welfare nightmare'
The Humane Society's president – Kitty Block – wrote about a wet market earlier this year, saying vendors were selling 'live cats and dogs, turtles, snakes, rats, hedgehogs and marmots', and 'menus and signboards posted online also listed foxes, wolf cubs, monkeys and masked palm civets, among other animals'.
She added: "These wildlife markets are filthy, crowded places where animals are displayed alive in small cages. Once purchased, they are often slaughtered on site, creating not just a human health hazard but also an animal welfare nightmare."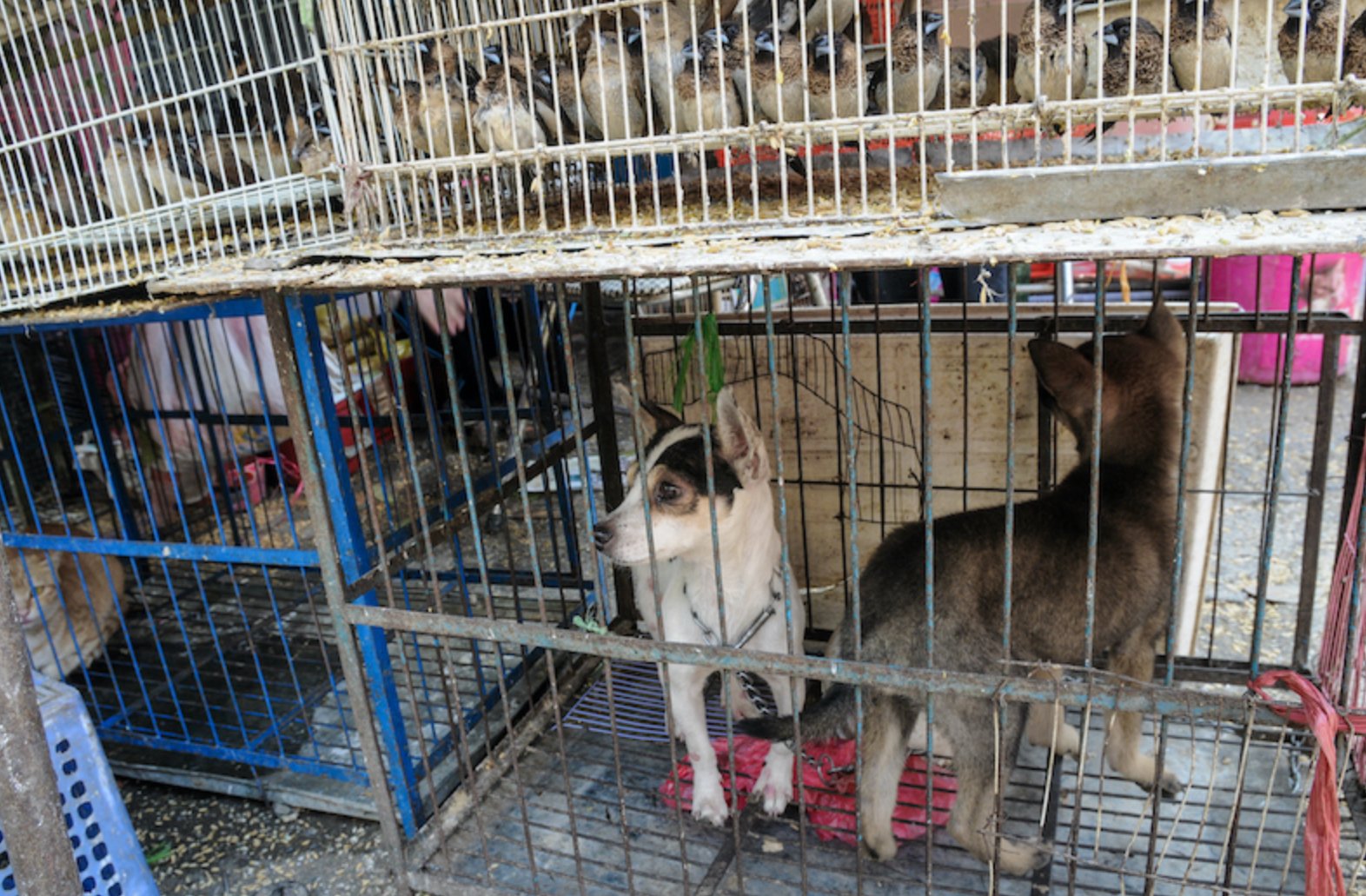 Global ban
In light of the coronavirus pandemic, the World Health Organisation (WHO) is being urged to ban live animal markets – not just in China, but around the world.
Animal rights charity PETA wants to see these markets shut – both in a bid to protect human health and prevent animal suffering, and has launched a petition urging the WHO to close them down.
The charity describes wet markets as 'a market that sells live and dead animals – often of a variety of species – for human consumption, like those that exist in New York'.
It adds: "Such markets, where stressed, injured, and sick animals are commonly caged in public areas, are perfect breeding grounds for diseases.
Wet markets around the world
PETA says that while the Wuhan market where the coronavirus is thought to have first infected humans has closed, and the country has banned the consumption and farming of 'wild' animals, this does not go far enough, as 'diseases don't just affect animals humans have labeled as wild'.
It adds: "Many wet markets continue to operate throughout Asia, Africa, Europe, and the U.S. There are more than 80 live-animal markets and slaughterhouses in New York City alone.
"Just as we don't want to be infected with or die from COVID-19, other animals don't want to suffer or be killed for food…No matter what species they are peddling, live-animal meat markets will continue to put the human population at risk as well as sentencing countless animals to a miserable death."