Subway has increased its vegan offering following the sell-out success of its meatless marinara sub.
The sandwich giant has launched a new 'Make Any 6″ Sub a Wrap or Salad' menu.
Subway says the menu is aimed at 'vegans, vegetarians, flexitarians and those looking to reduce their meat-consumption' who now have 'more choices at mealtimes'.
Vegan Subway
A spokesperson said: "With all 6-inch subs, including two delicious plant-based options, now available to order as a wrap or salad, fans of the hugely popular Meatless Meatball Mariana or the newly named Plant Patty now have more choice than ever before.
"So you can now get your Meatless Meatball Marinara on a bed of salad greens, or Subway's delicious Plant Patty in a wrap loaded with veggies.
"Subway's sell-out Meatless Merecognizerinara sub recently won Best Vegan Sandwich at PETA's 2020 Vegan Food Awards. Hosted for 8th consecutive year, PETA's Vegan Food Awards recognise best in category meat-free food launches."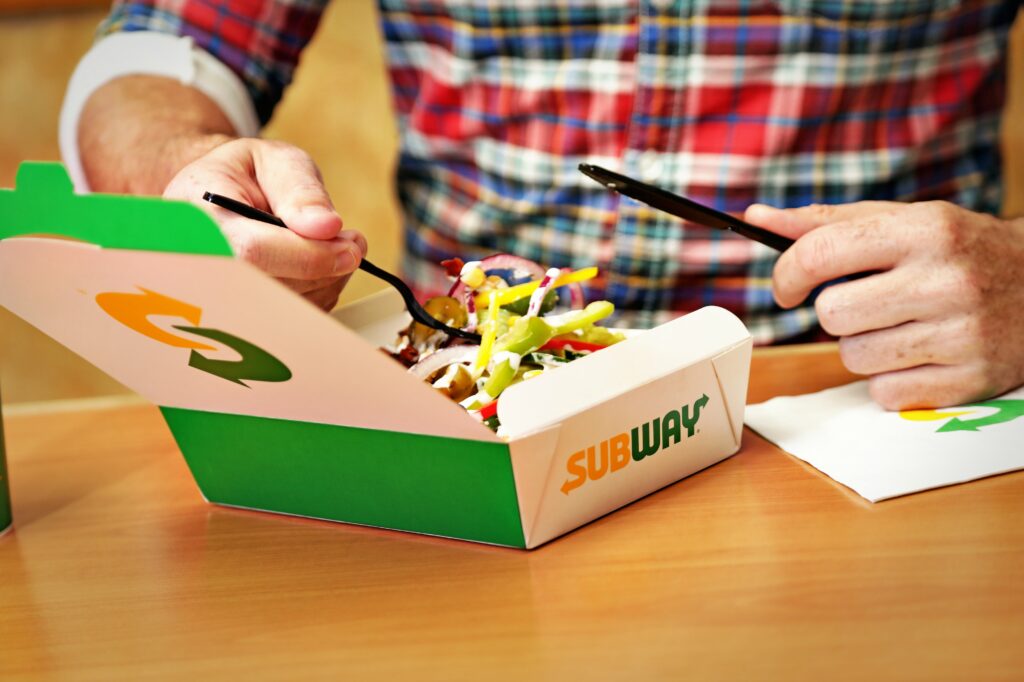 Sustainable
The chain added that it is swapping its salad packaging in a bid to become more sustainable, replacing its plastic salad bowls and lids with a new sustainable cardboard salad box.
It says this will remove 461 tonnes of single-use plastic from its supply chain across the UK and Ireland.
Subway full vegan menu
The chain is also launching a new plant-based menu icon so customers can easily identify Subway vegan options.
The full plant-based menu includes:
Meatless Meatball Marinara Sub, Wrap or Salad
NEWLY NAMED Plant Patty Sub, Wrap or Salad (previously known as the Vegan Patty Sub)
Hash Browns
Plain Wrap
Ciabatta Bread
Italian (White) Bread
9-Grain Wheat Bread
9-Grain Multi seed Bread
Hearty Italian Bread
Mozzarella-Style Plant-Based Cheese
Salad items include; Lettuce, Cucumber, Tri-Colour Peppers, Tomato, Onion, Carrot, Spinach, Olives, Pickles, Jalapeños, Sweetcorn, Guacamole, Mixed Seeds, Chopped SunBlush Tomatoes, Crispy Onions
Sauces include; Plant-Based Garlic Aioli, Sticky Sweet Chilli Sauce, Sweet Onion Sauce, Tomato Ketchup, Sriracha Hot Chili Sauce, Salsa, Marinara Sauce, HP Brown Sauce, Vinaigrette Dressing
Seasonings include: Sea Salt, Mixed Peppercorns, Chilli Flakes