A vegan pizzeria scooped top honors at this year's World Pizza Championships held in Parma, Italy.
Purezza, which has branches in Brighton and Camden, entered the Pizza Classica category, which gives competitors up to 12 minutes to prepare and cook their traditional Italian style pizzas using pre-selected ingredients, before presenting it to the judges.
Purezza is the first vegan pizzeria to compete in The Campionato Mondiale Della Pizza – which has been running since 1991 – and the first vegan pizzeria to win an award.
Vegan Promised Land
Purezza's entry was titled The Promised Land. It uses an IPA-infused whole grain pizza dough, topped with stir-fried cavolo nero, Italian-style marinated tempeh, pioppini mushrooms, and a borlotti bean sauce. It uses two different cheeses–Purezza's own signature vegan cheese, dubbed Mozzarella 2.0, and a fermented cashew cheese with sun-dried cruschi peppers. The pizza was finished with a garnish of ginger puree, agave syrup, and vegan caviar.
"The Campionato Mondiale Della Pizza is the gold standard of awards for pizzerias and pizza chefs around the world," Purezza's Head Chef, Filippo Rosato, who cooked for the judges said in a statement sent to Plant Based News.
"It's the competition that every pizzaiolo aspires to compete in. To even be there as the first vegan pizzeria was an incredible experience, but to have come away with one of the awards for the Pizza Classica category is more than I could ever have hoped for, and shows that vegan pizza isn't just possible – it's the future."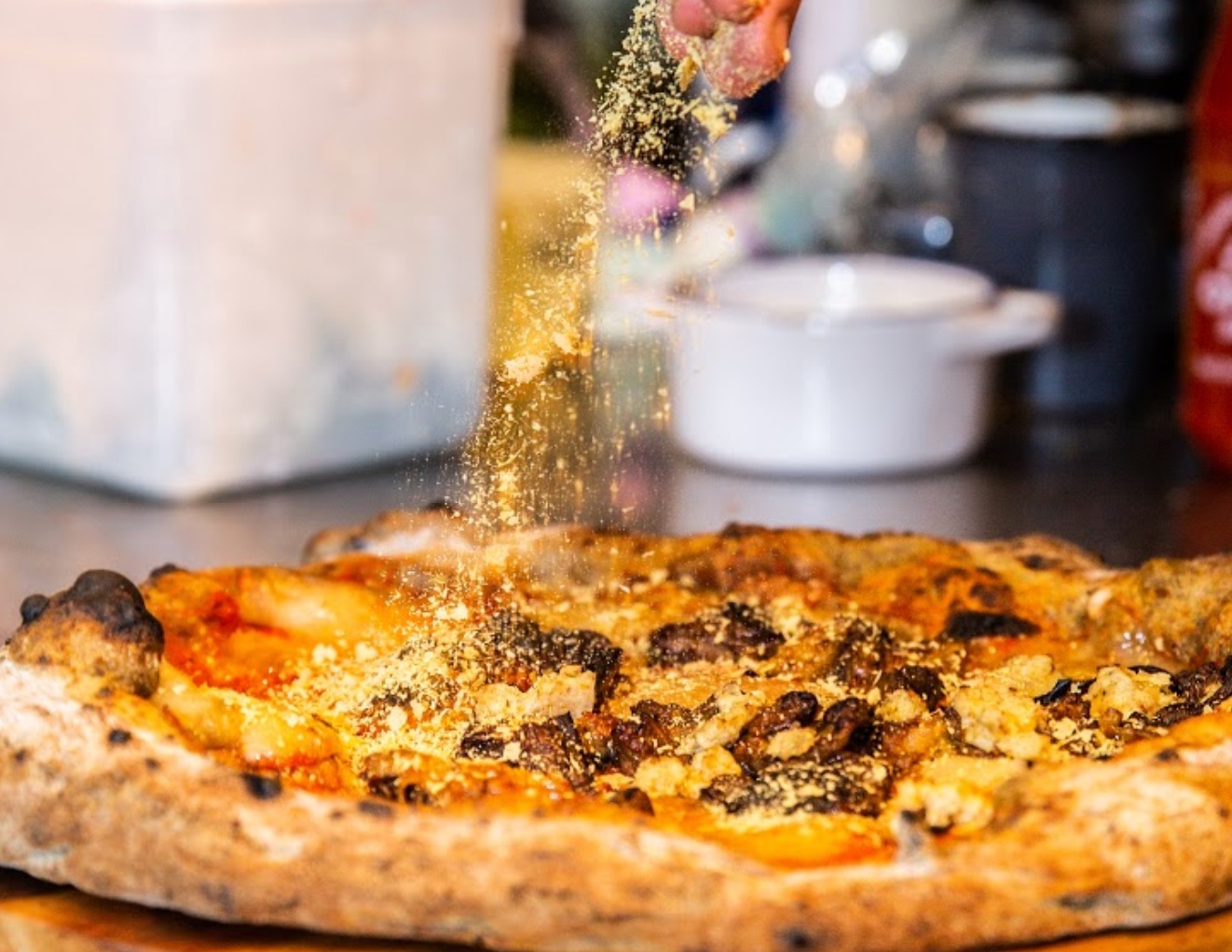 Vegan pizza prizes
The new accolade will join Purezza's trophy cabinet, which features the PizzAward 2018 picked up in Naples for the Best International Pizza, and the 2018 National Pizza of the Year in the UK, where Purezza beat 15 of the UK's best pizzerias with its Parmigiana Party.
Created by Filippo Rosato, the Parmigiana Party pizza features smoked vegan mozzarella, fried aubergine, crumbled soy sausage, basil, and nutritional yeast.
"It's unbelievable, to get this sort of recognition for something that I love is the best feeling I've ever had," Rosato said in a statement sent to Plant Based News. "To spend time with Tim and Stefania [Purezza founders] and join them on this trip, and now to win this award, is something that I'm really proud of."