The White Rabbit Pizza Co made headlines this week when it was revealed that the company's cheesy vegan pizza will be hitting shelves in Sainsbury's supermarkets.
The pizza, which is also gluten-free, will be available in 150 of the retailer's superstores from August 27.
Stock
For the first six-eight weeks, the products will mainly be available in the south of England, with the potential to spread to more outlets after that period.
There are currently two vegan options in the range – the 'Smokin' Vegan', with peppers, olive and smoked cheese toppings, and 'Viva La Vegan', which features cheese, pesto and sun-dried tomato.
Sainsbury's will be stocking 'Smokin' Vegan', and it will retail for £4.99.
Surprise
PBN spoke to Nick Croft-Simon – one of the company's founders – to find out more about the highly anticipated launch.
"It's funny, we planned to do a countdown and surprise everyone at the end of the week," he said, "but the press release went out, and now the cat is out of the bag."
He says the team were surprised by the huge reaction to the news.
"The story has been shared across social media, and we've been quickly gaining followers on Instagram!"
Trend
According to Croft-Simon, the pizza came about when he and old school friend Josh were working at The White Rabbit Pub in Oxford in 2013. They met Matteo, who inspired them to add pizza to the pub's menu.
It was a huge success with patrons – who started to request gluten and dairy-free options too.
"Our philosophy is that we want to create amazing pizza for everyone," Croft-Simon tells PBN. "Because of this, the vegan options took a year to develop – we didn't want to offer a compromised product.
"Taste and quality were key."
All about the cheese
"Finding vegan cheese was difficult – very difficult. It didn't just have to be tasty – it had to be organic and usable on a wide scale.
"Like many of our ingredients, we ended up sourcing it from Europe. That took the best part of six-12 months.
"But it was worth it, because we wanted to go that step further when it came to quality – we believe that 'organic' is a good hallmark of intent."
Quality
Croft-Simon adds: "Our supplier was also fairly new when we started out (I think they launched a year before us). They are Italian, and we built up a great relationship with them from day one.
"They are based in Venice, which is near Matteo's home town of Bergamo.
"Impending Brexit means the costs of importing such authentic, unique, and high-quality ingredients have increased dramatically – which has really stretched us.
"Despite this, we have never wavered from our goal of trying to give people the best tasting free-from pizza on the planet, and we have continued to build on these relationships with our European suppliers.
"As with all our ingredients, this vegan cheese passed the White Rabbit test of being the best-tasting and highest quality one we've tried, so we are going to continue to use it – no matter what!"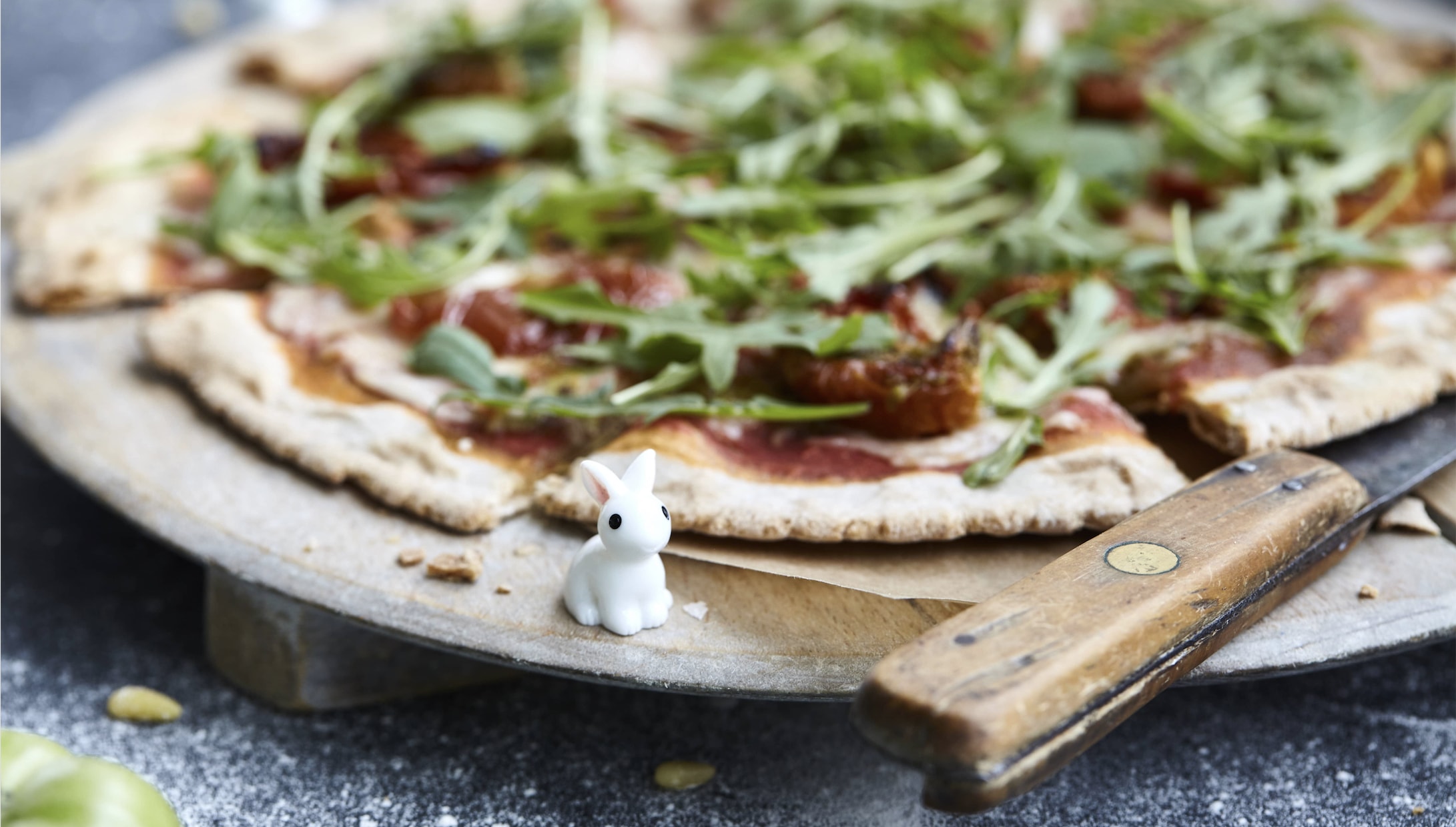 Sainsbury's
Getting their products in front of the relevant Sainsbury's buyer was easier than anticipated.
"We started in Planet Organic, then went into Abel & Cole, Wholefoods and Daylesford Organic," Nick explains.
"Usually, the next step for a business our size would be someone like Ocado or Waitrose, but the FreeFrom buyer at Sainsbury's reached out to us, and we grabbed the opportunity with both hands.
"She and her colleague had visited the pub in Oxford by chance, and knew about the company through that. They then picked up a pizza from Wholefoods to try, and got in touch with us shortly after.
'It's all happened at the right moment: the vegan market is fast-moving and here to stay, so we're super excited about the product becoming more widely available.
"We've already been inundated with messages from excited vegans and free-fromers, and it's incredibly flattering; now we just can't wait for people to try them!"
READ MORE:
Metro Reveals Best Vegan Mac And Cheese Ever – And How To Make It
BOYCOTT: Retailers Quietly Drop Daiya Vegan Cheese After It's Bought By Animal Testing Firm
FOX NEWS: Plant-Based Advocate Dr. Neal Barnard talks Diabetes, Cheese And 'What The Health'