Yet more revolutionary dairy-alternative products are set to hit the market.
Silicon Valley start-up Ripple – the company behind pea milk – is working on creating a dairy-free Greek-style yoghurt and half and half.
The half and half (descibed by the company as 'like the real thing without the calories') will launch in July, and the company aims to make the Greek yoghurt ready by the end of this year.
Ripple was founded in 2014. Its mission statement? "We envision a world where innovation and technology, responsibly applied, unleashes a wave of healthy eaters who choose plant-based foods because they are delicious above all else."
This feeds into their products. After all, it must be difficult is it to create milk from peas?
Neil Renninger, Ripple Co-founder and Co-CEO, said: "From a biochemical standpoint, milk is protein, and fat, and sugar. There are plenty of plant sugars you can use, and plenty of plant fats.
"There are also plenty of plant proteins you can use, but the problem is that they all taste like the plant they derive from. We had to figure out how to make a plant protein that didn't taste like a plant protein."
The products work well in various recipes (Photo: Ripple)
Confident
Ripple launched its pea milk at Whole Foods in 2015, and saw dramatic demand for the product, with growth hitting 300 per cent in a year. This success means the company is confident in expanding its range.
Co-founder and Co-CEO Adam Lowry says: "We're going big with Ripple Foods, and that means building process and innovation at big scale.
"That is a multiyear focus for our business. We've got a clear path to get there, but we haven't done it yet. If, in two years, we are at scale with the types of innovations we've already brought to market, we're going to have done something profound in the market, which is change the whole economics of providing high-quality, delicious plant-based foods.
"That will allow us to create a much, much larger audience for nutritious, healthy plant-based foods than there even is today, which is pretty big. That's a long-arc challenge inherent in the business we've created, but there are a lot of steps to it. That's the biggest thing I wake up every day thinking about."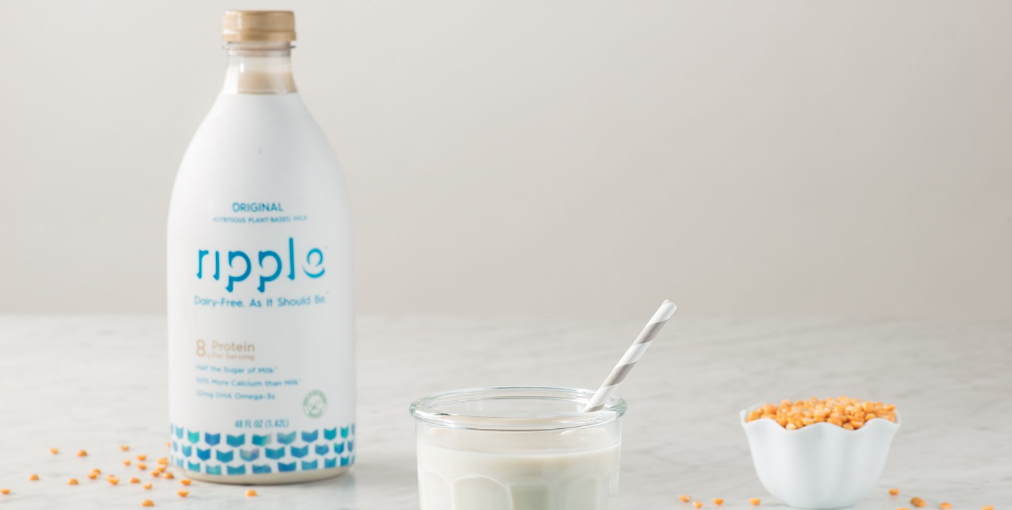 'Not easy'
Creating these revolutionary products comes with its own difficulties. Renninger says: "With half-and-half, the challenge was getting something that worked well in coffee, but also would work well in a culinary situation.
"It's a bit of a balance providing that creaminess and a clean taste. Protein is an important part of the creaminess in half-and-half, but if you don't have clean protein, you can't get that creaminess without adding off flavors."
Despite this, the co-founders are looking to the future in terms of what products they can launch.
Adam Lowry. says: "Anywhere you have a plant-based protein is a space we could potentially play."
READ MORE:
Global Plant Milk Market Set To Top A Staggering $16 Billion in 2018
Global Plant Protein Market Set To Explode by 2021
EU Court Says Plant-Based Products Can't Have 'Dairy-Style' Names