A design duo has created a new collection of bags made from an innovative exotic vegan leather – made from cork.
The collection from Arsayo – founded by brothers Ary and Jonathan Ohayon – features two bags in the brand's award-winning city backpack design in two different materials: 'Cork-odile' and 'Snake Skin Cork'.
Demand for animal-free leather
According to Ary and Jonathan Ohayon, they created the Exotic Cork Skin bags to 'address the increased demand for sustainable, animal-free exotic leather alternatives'.
They say consumers are 'becoming more aware of the provenance of animal-derived fabrics, and their impact on animal welfare as well as on the planet'.
Their bags are completely gender-neutral, with a GOTS certified organic cotton interior, and are light, tear-proof, and water-resistant.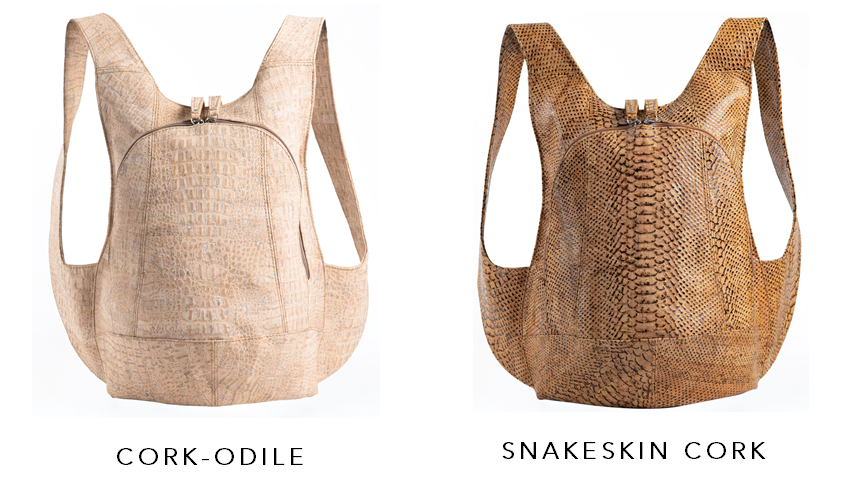 'Setting an example'
In a statement sent to Plant Based News, Jonathan Ohayon, Co-Founder of Arsayo, said: "This new exclusive alternative is a tribute to the beauty of amazing exotic animals with the respect of their life and our environment.
"We want to set an example for the fashion industry, and show that animals shouldn't be harmed for fashion."
He added that cork harvesting does not harm trees, and in fact harvesting the material means trees can absorb more CO2 to aid in the bark regeneration process, and therefore store three to five times more CO2 than those left unharvested.
'Ethics drive us'
Ary Ohayon – Jonathan's brother and Arsayo's co-founder – added: "Ethics drives us. We chose cork for ethical reasons, as we wanted to create a bag which does not harm animals or the planet, and decided to start our new collection with a pre-order system for the same reasons.
"In the conventional fashion industry, designers start by producing their creations and sell them to retailers who mark them up significantly.
"In the end, you will pay the strong final price. With the pre-order system, we will only produce according to the demand, and since we cut out the middlemen, you will pay less."