An all-vegan butcher is set to open in London, as data suggests that millions of Brits are cutting down on their meat intake.
Rudy's Vegan Butchers, which will be based on the corner of Islington Park Street and Upper Street in North London, will open on November 1.
Rudy's, which is best-known for its all-vegan diner in Camden called Rudy's Vegan Diner, will give away 100lb of its vegan bacon on opening day.
Vegan butcher
The butcher will stock a range of vegan meat products, for instance charcuterie options. These will include plant-based smoked ham, salami de Provence, pepperoni, and pastrami.
Other options include animal-free alternatives to ribs, lobster salad, bacon, burgers, chicken liver pate, and Christmas turkey among others.
Delivery
Rudy's offers a delivery service for customers living outside London, via its website.
The brand said: "If you can't make it to London, don't worry! You can order Rudy's Vegan Butcher goodies ONLINE & we deliver nationwide.
"All online orders made on World Vegan Day include a FREE pack of baycon.
"Remember to pile your online basket high with homemade scramble v-egg, soysage patties & bloody delicious black puddin' to go with that free baycon."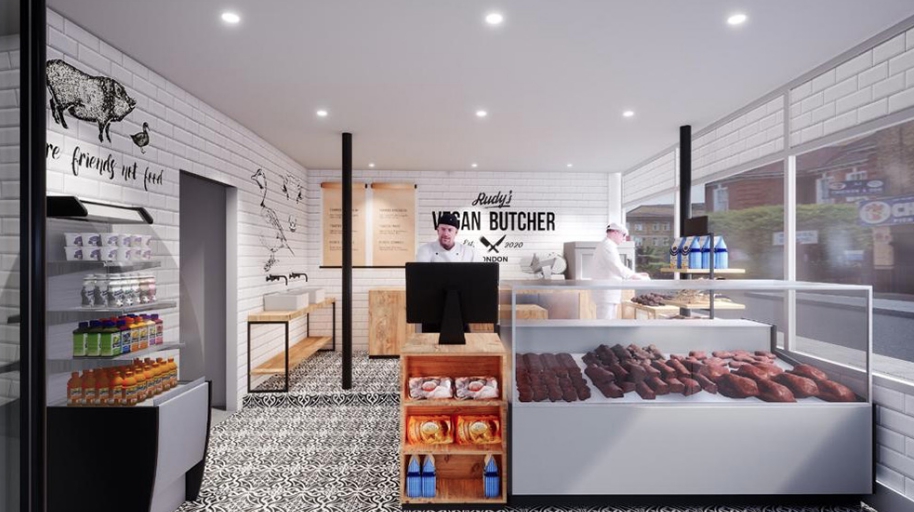 Cutting down on meat
The butchers opens as polling suggests that Brits are changing their diets as a result of the coronavirus pandemic.
Research released by The Vegan Society in April this year showed that more than 13 million Brits had cut down on meat consumption during lockdown.
The Society said the data shows 'pressures on supermarkets and consumers alike are changing buying behavior towards more ethical alternatives'.
'Trying alternatives'
Matt Turner is spokesperson for The Vegan Society. He said 'after the unprecedented success of Veganuary' and the swathes of new vegan products hitting the shelves in recent months, it's no surprise that many consumers have made the switch to plant-based alternatives during the COVID-19 pandemic.
He cited reasons including convenience, cost, or health concerns, the environment, animal rights for the changes.
"Many Brits are trying these alternatives for the first time. And they are enjoying them so much they intend on keeping them in their shopping basket when we return to normal times.
"They are purchasing items that they wouldn't have given a second look a few months ago. But are now seeing these brilliant vegan alternatives as the new normal."