A U.S.-based company has launched its first consumer product – a high-protein, animal-free dog treat bar.
Bond Pet Foods, Inc., worked with biotechnology to create the portable Protein-Packed Dog Treat Bar, which has been approved by veterinary nutritionists for high digestibility and palatability.
A novel dried yeast protein is the foundation of the snack's recipe, which, according to Bond, is a more sustainable alternative to other conventional animal and plant-based proteins, requiring less land, water and energy to produce. The bar is also peanut-free.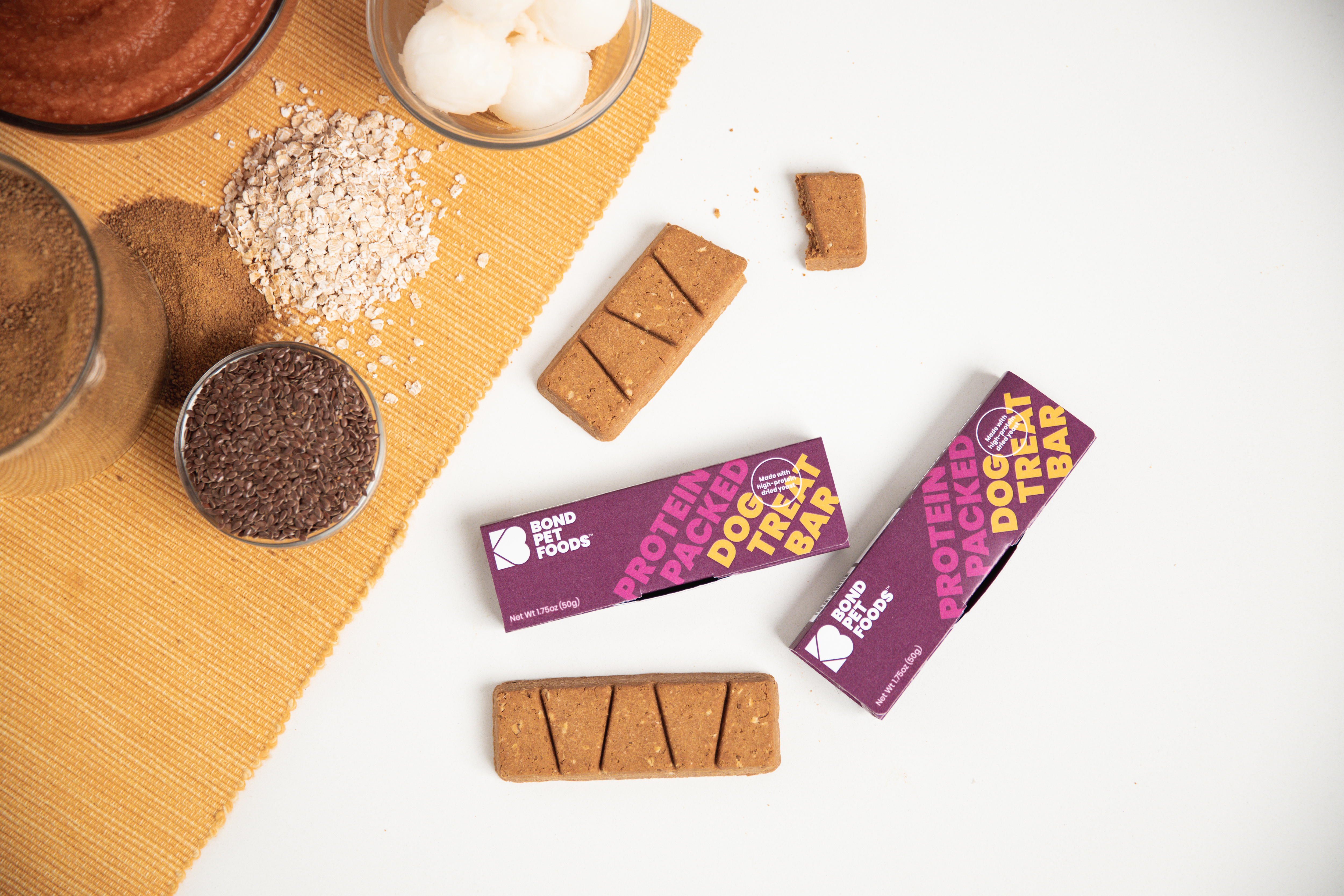 'Responsibility and sustainability'
Bond says 'responsibility and sustainability are central to its work', and cites data which estimates that if America's dogs and cats were their own country, their meat protein consumption would rank fifth in the world.
It adds that by 'reassessing how pet food is sourced and made, manufacturers could be saving the slaughter of up to 18 billion animals per year, and mitigate the negative impacts of conventional farming'.
'Progressive movement'
"Bond is part of a progressive movement aimed at reducing the social and environmental impacts of what our pets eat through new protein and ingredient solutions," Rich Kelleman, co-founder and CEO of Bond Pet Foods, said in a statement sent to Plant Based News.
"With so much of our time currently spent at home with our four-legged friends due to social distancing, and this reality likely being a part of our lives for the foreseeable future, we're excited to be able to ship our products directly to the public so they can continue to prioritize balanced, healthy and sustainable nutrition for their pets."
Protein….without the downsides
Pernilla Audibert, co-founder and CTO of Bond Pet Foods, added: "With our proprietary approach, we're producing proteins that are nutritionally identical to their meat counterparts without the environmental, animal welfare and safety downsides.
"Utilizing microbial fermentation and the biochemistry of yeast, we're harvesting cultured animal proteins like chicken, turkey and fish, without the animal, and then using the ingredients as the foundation of our complete recipes. Products made with these meat proteins will be commercially available within the next three years."
The company, which boasts a raft of high profile investors including Prince Khaled bin Alwaleed bin Talal Al Saud's KBW Ventures, is working on production of chicken and other conventional meat proteins made through a similar fermentation process used to make dried yeast.
The Protein-Packed Dog Treat Bar is available for pre-order now from www.bondpets.com for an MSRP of $20 for (4) 1.75-ounce bars, with free shipping for a limited time.