'It's time for people to think of meat as something other than food," says a leading plant-based doctor.
Dr. Neal Barnard, MD, FACC, president and co-founder of the Physicians Committee for Responsible Medicine (PCRM), made the comments while speaking on the Physicians Committee's podcast called The Exam Room, which is hosted by Chuck Carroll.
The pair were discussing recent protests Dr. Barnard had been involved in, calling for the closure of slaughterhouses to protect public health and workers' health.
COVID-19 hotspots
The health risks of slaughterhouses have been making headlines recently, as the facilities have been described as COVID-19 hotspots. Ian Shepherdson, the chief economist at the Pantheon Macroeconomics in the U.K., noted data showing that infection rates in slaughterhouses in the U.S. are outpacing the rest of the country.
According to the Midwest Center for Investigative Reporting, which has been compiling data of the positive cases and deaths, as of May 18, there have been at least 14,900 reported positive cases tied to meatpacking facilities in at least 191 plants in 32 states, and at least 62 reported worker deaths at 30 plants in 18 states.
Protest
Dr. Barnard was one of a group of medics with PCRM who took part in a demonstration outside the head office of Smithfield – a global pork giant – in Virginia.
Throughout the protest – during which the doctors maintained social distancing protocol – they held signs saying 'Support Workers, Close Meat Plants', 'Meat Worsens Diabetes & Blood Pressure', and 'Cholesterol Is Not Essential'.
According to PCRM: "With workers lined up in close proximity, viruses are easily spread within the slaughterhouse environment. Although studies show that infectious viruses easily survive during refrigeration and freezing, meat companies do not routinely test the extent to which meat products are contaminated with the virus."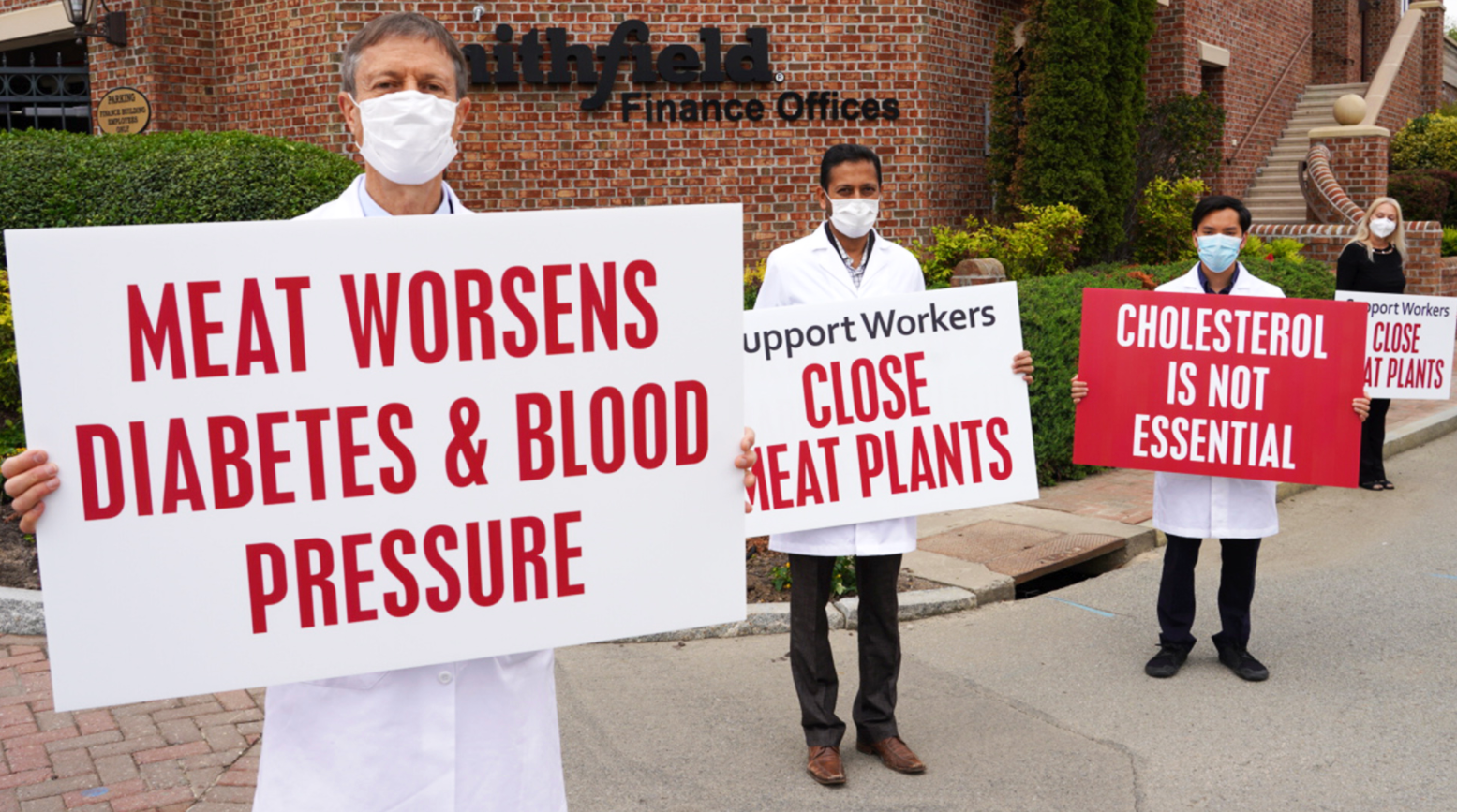 'Something other than food'
Talking about the media coverage of the protest during the podcast, Dr. Barnard said 'there is still a long way to go'.
"This has been portrayed as a meat shortage – 'what are we going to do if we don't have meat on the table?'," said he explained.
"I think it's time for people to think of meat as something other than food. If you can't get cocaine or heroine you don't talk about it being a terrible shortage, you realize that people are going to be healthier.
"If you don't eat meat, you're going to be healthier. These products – bacon and sausage – have long been associated with colorectal cancer, with diabetes, with other health issues. Now they are associated with COVID-19. Enough is clearly enough."