Plant milks have served as dietary staples for cultures from around the world for thousands of years, and of late, the range of dairy alternatives at the supermarket has exploded to include a dazzling variety of choices.
You can find them made out of nuts, grains, seeds, beans, and in flavored to totally unadulterated varieties. If you're having trouble navigating the plant milk aisle, we've put together this guide to help you understand: which plant milk is right for me?
With more than 60 percent of the world's population having some form of lactose intolerance, alternatives to dairy are more prevalent than ever. One huge benefit to plant milk is its huge adaptability, with brands and individuals able to vary their recipes to allow the non-dairy products to mimic all the different culinary uses of cow's milk.
Many brands fortify their milk with calcium and other vitamins so that plant milk often matches or exceeds the nutritional qualities of dairy. Plant milk blends are yet another choice given to consumers, but let's start with the basics:
Soy Milk
The original alternative, soy milk has been a key ingredient in many Asian cuisines for thousands of years and has been gaining popularity in Western cultures for the past century.
Despite the myths regarding phytoestrogen, studies continue to show that consuming soy has neutral, if not beneficial effects on a population. Soy milk has a similar protein content to traditional dairy, so it makes for a no-fuss substitution in most recipes. It has half the fat of dairy, which is why some brands add oil to the ingredients to help it perform as dairy does.
Soy milk is super creamy and the high protein content makes for a wonderful companion to espresso-based drinks. Soy can have a distinct bean-flavor that many people enjoy but isn't usually noticeable when used as an ingredient in baking and cooking.
Who should choose soy milk? Anyone looking for a foolproof plant milk and those wanting a source of low-fat dairy-free protein that's easy to use in almost any recipe that calls for milk.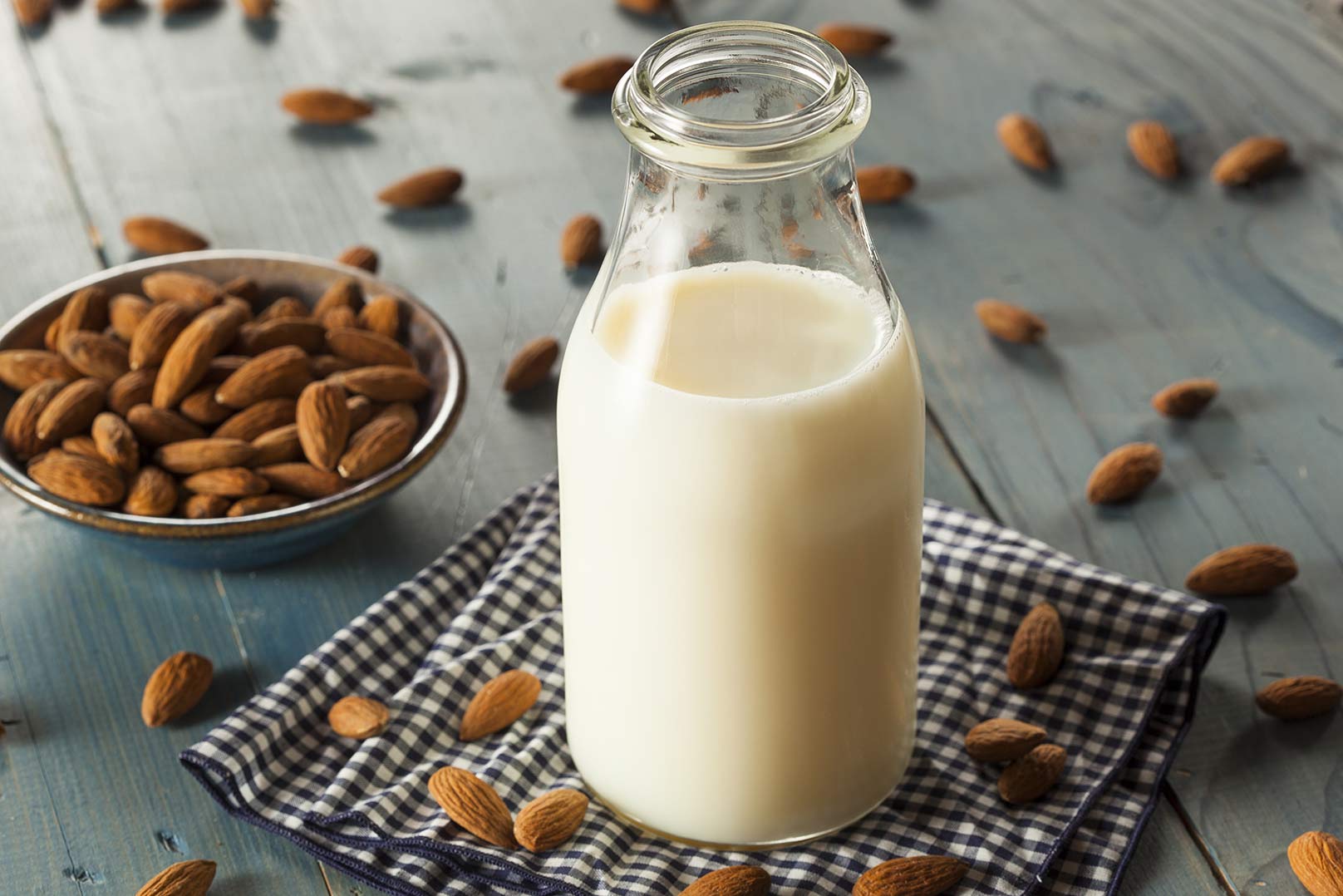 Almond Milk
Almond milk is no new fad – recipes calling for almond milk have been around since medieval times. One of the least calorie-dense milks, almond milk is a great choice for those wanting a healthier substitute to dairy. Despite the low nutritional value, many brands fortify the milk with extra calcium so that it has a comparable amount to cow's milk. While almond milk uses more water to produce than other plant-based milks, it is still dramatically more environmentally-friendly than regular dairy.
Almond milk is slightly sweet with a distinct nutty taste. It can substitute some uses of dairy, but does not have the versatility of other plant-based milk. For example, it makes for a poor ice cream base or frothy coffee but works wonderfully in smoothies or on cereal. For the budget-conscious, almond milk is usually one of the cheapest dairy alternatives on shelves and has widespread availability.
Who should choose almond milk? For when you need a classic glass of milk. It's great on cereal or in smoothies.
Recipe: Spiced Almond Milk Porridge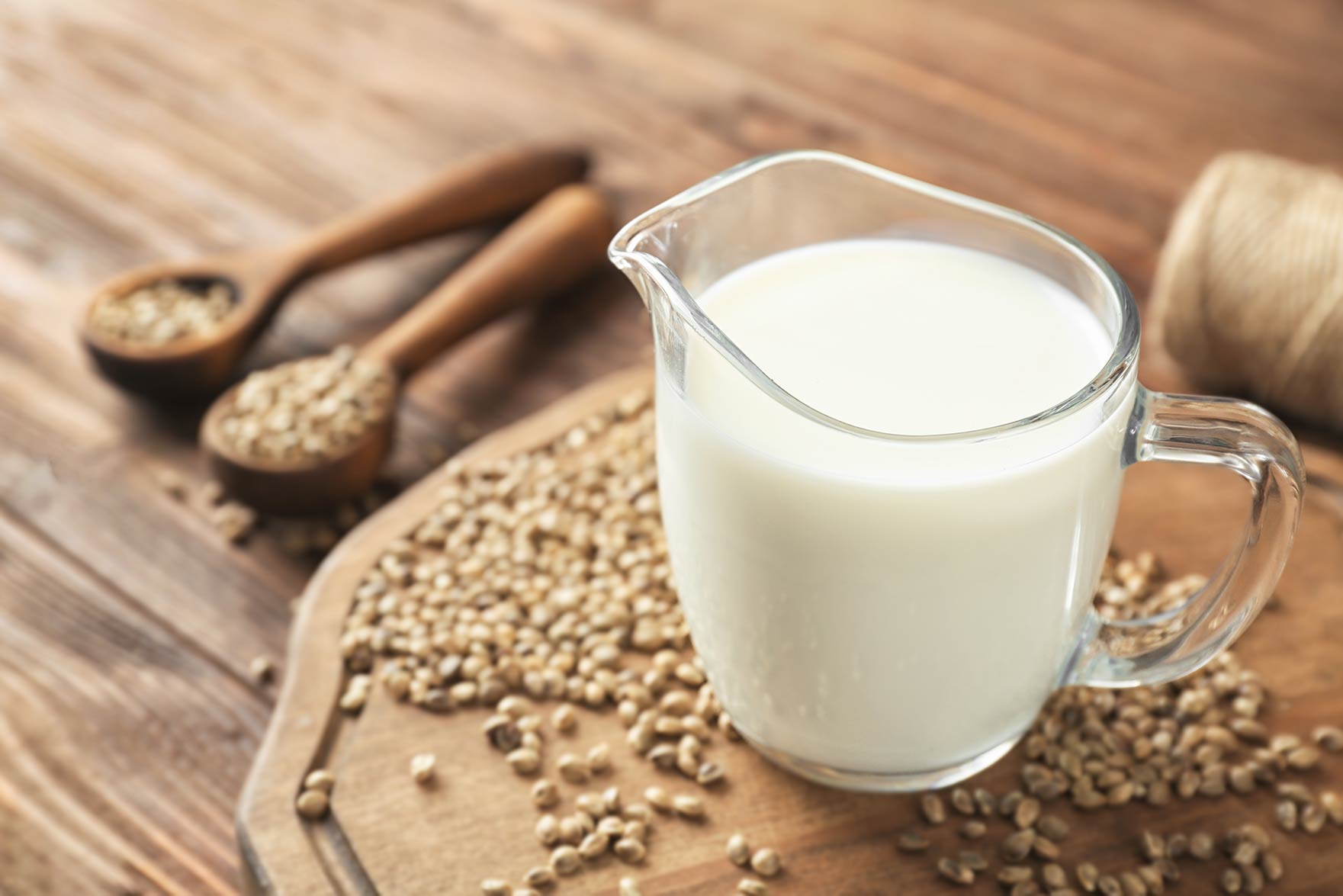 Hemp Milk
Hemp milk is a relative newcomer that naturally contains more calcium than dairy and is nut and grain-free! Made from the seeds of the hemp plant, this milk contains no THC/CBD, but it does come loaded with nutrition. Hemp seeds are a great way to supplement your diet with a complete plant based protein that contains both omega-3 and omega-6 fatty acids. Flavor wise, hemp milk tends to be neutral, if not slightly nutty. Not a fan of the flavor of soy? Hemp milk is your mellow alternative.
Try hemp milk with iced coffee or with cold drip for delicious results. While it doesn't have the same thickness as other dairy alternatives, it can be steamed for coffee, too. Like soy milk, hemp can be used fairly reliably in place of whole milk in recipes.
Who should choose hemp milk? Those looking for additional plant-based sources of Omega-3 and 6 or those looking for a milk similar to soy without the bean flavor.
Recipe: Vegan Caramelised Onion Tart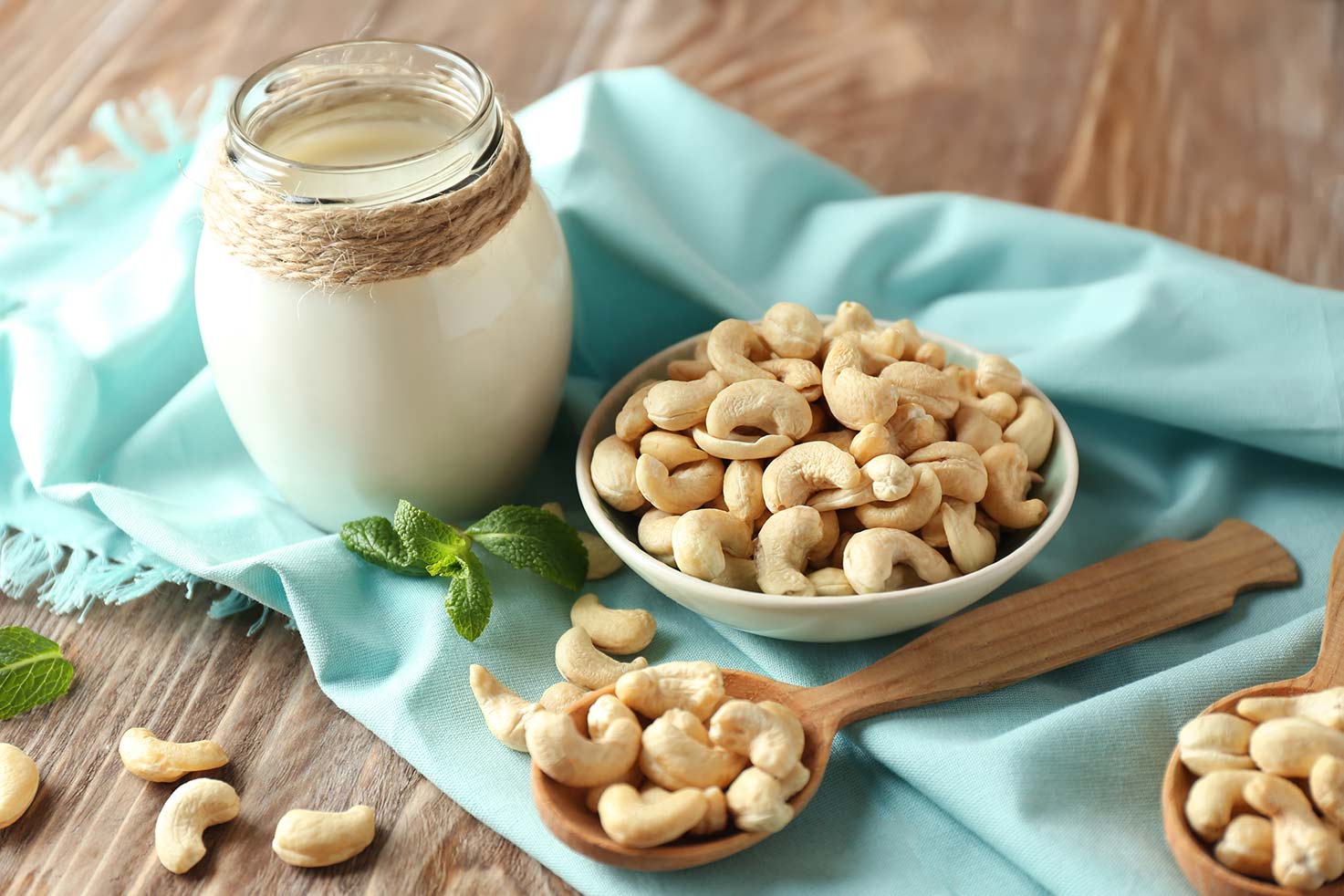 Cashew Milk
Cashew milk is the queen of creaminess, and cashews in recent years have become the sweetheart of vegan creams and dairy alternatives. Taking advantage of cashew's natural lack of overpowering flavor and slight sweetness, plant-based recipes often call for soaked cashews blended with liquid in varying ratios to create dairy-free milk, creams, custards and cheeses. It is often combined with invert sugar and additional fats to create American-style ice cream without dairy.
Cashew milk contains little protein. However, as most plant based diets require no protein supplementation, you shouldn't let this fact deter you from drinking cashew milk should you enjoy it. If cashews aren't accessible to you, you may like to try substituting sunflower seeds in cashew milk recipes as another (and cheaper!) alternative.
Who should choose cashew milk? For those with enough foresight to properly soak and blend cashews, choose homemade cashew milk for one of the creamiest homemade milks possible.
Recipe: Cheesy Eggplant Parmigiana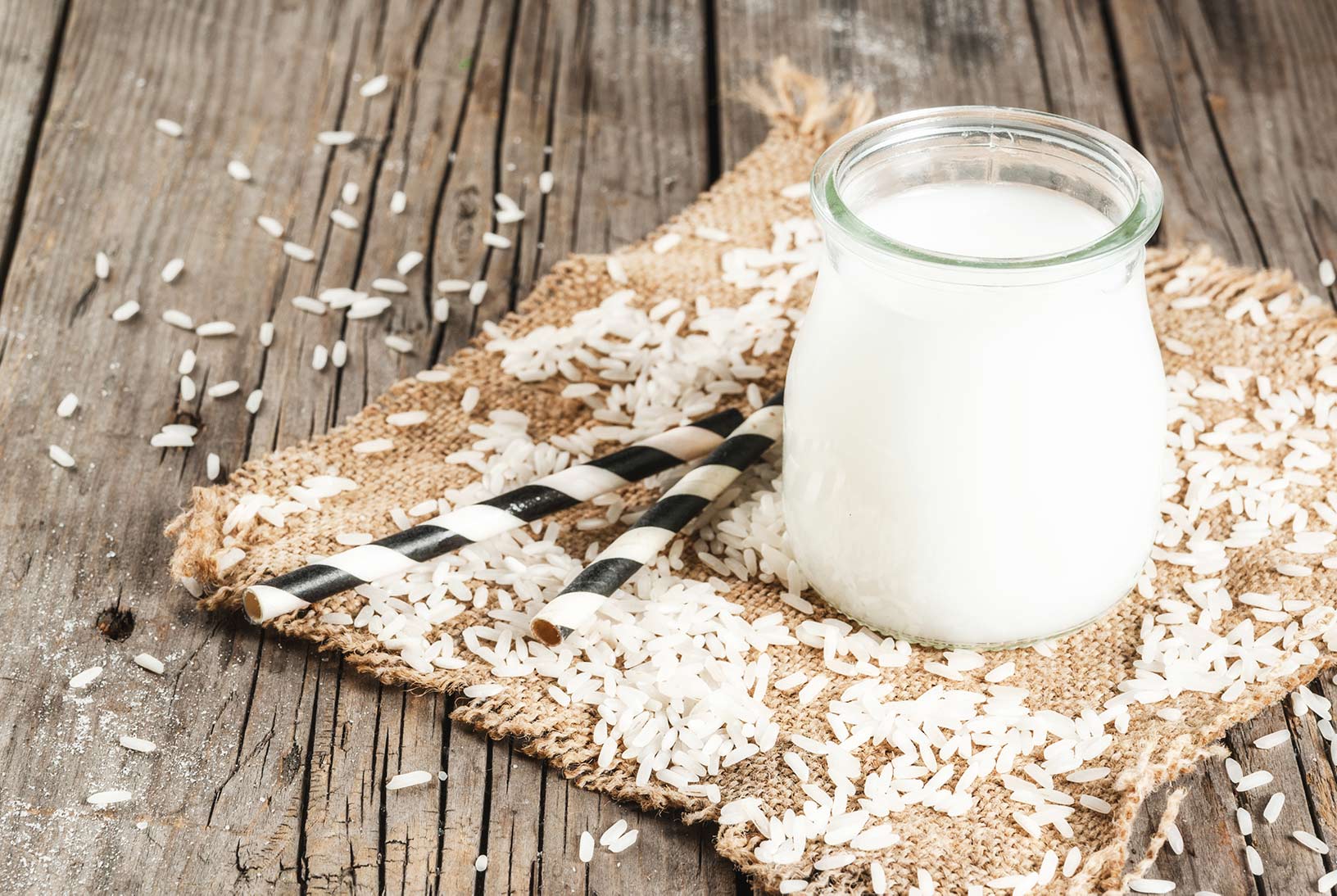 Rice Milk
Rice milk has existed in various forms, such as horchata (as has tigernut milk, another dairy alternative), for hundreds of years. It can be made with either white or brown rice and is one of the least calorie-dense milks available, making it an ideal option for those trying to reduce their caloric intake. As the texture of plant-based milk relies on protein and fat, rice milk has thinnest viscosity – meaning that it's great in smoothies and on cereal, but won't do a thing if you try to foam it for coffee.
Rice milk has little nutritional value, however readily-available brands usually fortify the milk with B12 and a similar amount of calcium to cow's milk, making it an additional source of the essential supplements required on a plant based diet. It is naturally sweet and the least allergenic of all milks, making it a safe bet when catering to a variety of dietary requirements.
Who should choose rice milk? Anyone with allergies or intolerances to dairy or other dairy alternatives, or those looking to reduce their caloric intake.
Recipe: Gluten Free Bread Rolls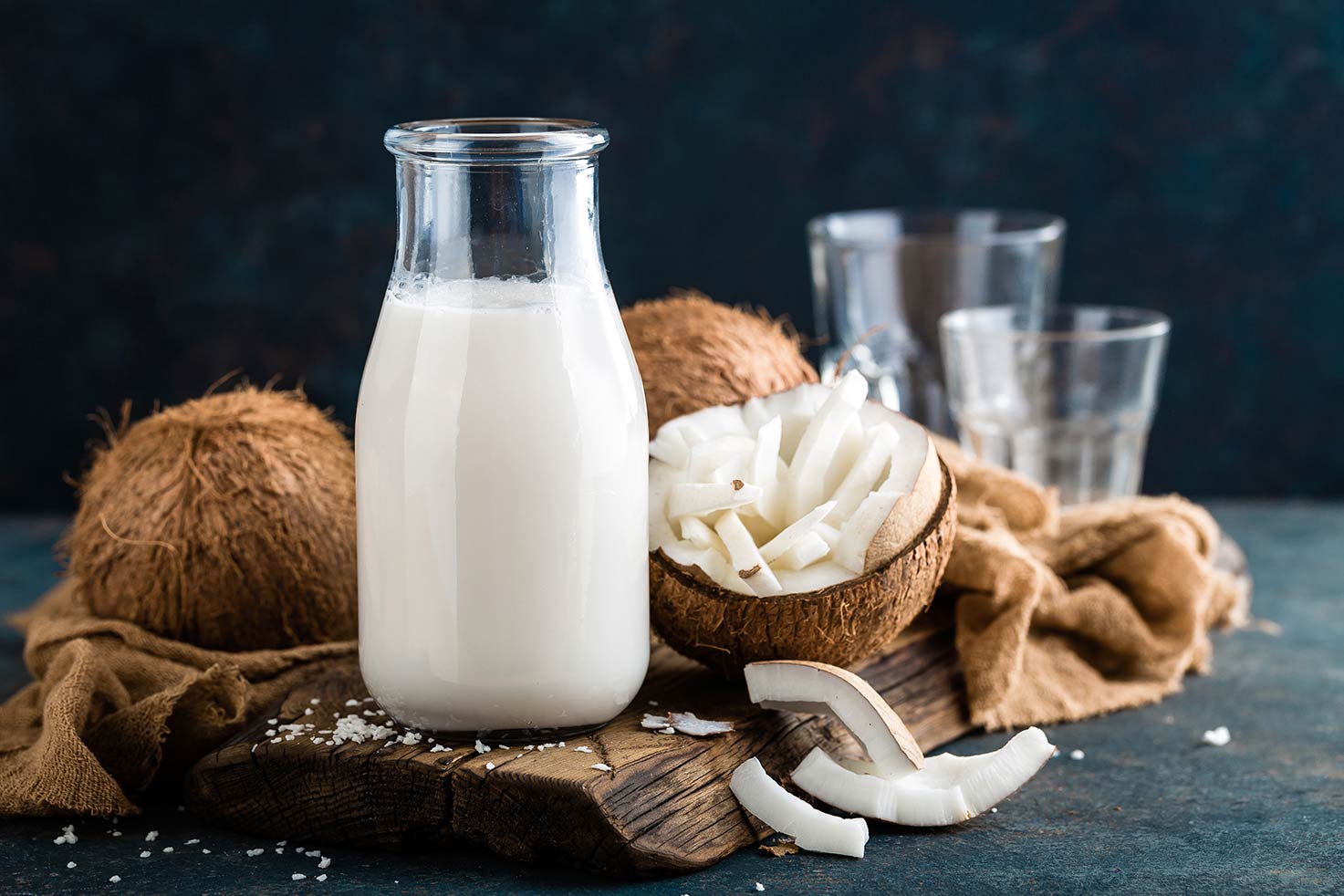 Coconut Milk
Coconut milk comes loaded with natural fats, making it a great choice in recipes that rely on cream and high-fat dairy products such as yogurt and ice-cream. This milk has a distinct flavor which can be used to your advantage by pairing it with complementary flavors such as banana, pineapple, mango, caramel, chocolate, and more. Coconut milk is generally available in two forms: canned and undiluted, which is suitable for curries, soups and stews, or in blends with other plant-based milks for more general use.
Canned coconut milk has too high of a fat content to make a truly successful coffee. While high fat in milk makes for a great mouthfeel, it sabotages a good foam. The blends dilute this fat percentage so they can fare better when steamed depending on which blend. Coconut cream is prepared in a similar way to milk, but with a higher concentration of coconut meat. This thicker cream is a popular dairy-free whipped cream substitute as it only needs to be chilled in the fridge before it can imitate whipping cream.
Who should choose coconut milk? Those looking to replicate cream or heavier dairy-based dishes that pair well with the flavor of coconut.
Recipe: Thai Pumpkin Soup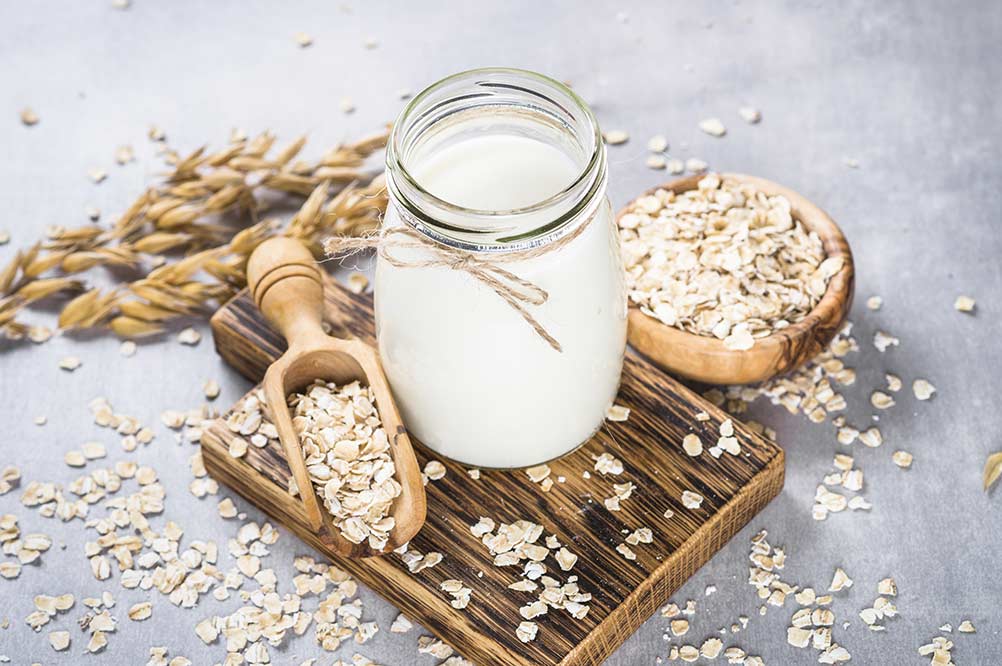 Oat Milk
Oat milk has surged recently to become one of the most popular dairy alternatives, and oat can gloat that it is one of the best choices for espresso drinks, thanks to the creamy, thick body the oats provide to the liquid. Oat milk can contain higher levels of sugar than many other milks. When frothing, oat milk performs well and creates a foam similar to dairy milk, albeit with larger bubbles. Due to the neutral flavor, oat milk is a popular option to pair with delicate flavors that other plant based milks would be too strong for. This mildness has seen people in recent years innovate oat milk into delicious cheeses, creams, ice cream and other plant-based dairy products.
Who should choose oat milk? Those looking for easy, frothy milk for coffee or a neutral dairy substitute for baking, smoothies or more complicated dairy-style products without adding an unwanted flavor.
Recipe: Gluten Free Vegan Waffles
Pea Milk
As one of the newest additions to the dairy alternative family, pea milk benefits from being designed with modern science. Pea protein isolate is combined with various ingredients and water to create a product that is nutritionally very similar to dairy milk. With high calcium and protein content, this milk froths up effectively but as the formula varies brand to brand, some pea milks don't include the additives required to retain this foam.
Pea milk generally contains ingredients such gellan gum, guar gum and/or sunflower lecithin (as do many varieties of plant milk) to help it mirror the viscosity and mouthfeel of dairy milk and assist it to perform in recipes similarly. Pea milk has a very distinct taste that can be off-putting to some, or become an acquired taste for others.
Who should choose pea milk? Those who enjoy the nutritional content of dairy and would like a version without the environmental and ethical issues within the dairy industry.
Recipe: Homemade pea milk
Macadamia Milk
Despite macadamia's high fat content, commercial macadamia milk tends to be one of the thinner plant milks. The taste is generally quite mild which makes it a good option for espresso, but due to the low protein, only if you purchase a brand with a barista-style version or that adds gellan gum or other additives to help with foaming. Like rice milk, macadamia milk tends to be lower in calories. Macadamia based cheese products can have an impossibly soft and creamy texture, but are harder to find.
Who should use macadamia milk? Anyone who enjoys almond or rice milk and would like to try a new nut-based milk flavor. Tastes great on its own in a glass.
Recipe: Grilled Banana Macadamia nut icecream
Spelt Milk
Perhaps the most under-appreciated grain-based milk, spelt milk goes great cold in coffee and delivers a natural sweetness that means you might not need to add sugar. This also means it tends to work best in sweet recipes. This ancient grain creates milk that is roughly the same amount of calories as cow's milk and is not suitable for those avoiding gluten.
Who should use spelt milk? Anyone without a gluten intolerance who has a bit of a sweet tooth.
Recipe: Gluten-Free Mini Oat Pancakes
Hazelnut Milk
Hazelnut milk has a distinct nutty flavor and works as a liquid similarly to other nut-milks such as almond or cashew. Try it in baked goods as you would other plant milks.
Who should use hazelnut milk? Those who don't mind nut-milks that taste distinctly nutty and who would like to use that flavor in baking and for preparing drinks.
Recipe: Vegan Tiramisu
Walnut Milk
Like hemp seeds, walnuts are a plant-based source of omega-3 fatty acids, and their milk serves as yet another dietary source for vegans. Walnut milk tends to be higher in fat and contains a reasonable amount of protein.
Who should use walnut milk? Anyone wanting to supplement their diet with additional sources of plant-based omega-3 and 6.
Recipe: Toffee Apple Brownie and Caramel Sauce
A note on coffee: When using plant milk for espresso drinks, higher protein is important for making better foam, and in general milks with less fat and protein give less body. However, brands often use ingredients such as gellan gum (E-418), xanthan gum (E-415) or soy lecithin (E-322) which can turn traditionally low foaming milks such as almond or macadamia into brilliant coffee companions. Look for those numbers in the ingredients list, or purchase the barista-specific style plant milk to ensure glossy steamed milk. If your cold plant milk tends to curdle/separate when added to coffee, give it a good shake and warm it before adding to coffee.
Plant milks are a human invention, so each variety can vary between brands or depending on if you're making the milk yourself. This article is to serve as a guide to assist you in narrowing down the huge array of choices – there are far more than listed here!
The only real way to find out what you think of each plant milk is to try each of them, and what better time than World Plant Milk Day? Sign up to take the 7-Day Dairy-Free Challenge today.