Tesco has revealed it is releasing a 'first of its kind' whole vegan turkey crown as part of its Christmas offering this year.
The supermarket giant will be offering a massive range of plant-based canapes and nibbles, as well as sides, mains, and desserts as part of its Wicked Kitchen and Plant Chef ranges.
Starters and sides
Tesco is bringing back one of its 2019 Christmas favorites this year: the Plant Chef Pigless Blankets for a starter or side. They will also offer Plant Chef Sage & Onion Stuffing Balls to be served alongside your centerpiece.
Other nibbles – or trimmings – will include Plant Chef No Mozzarella Sticks, Wicked Kitchen No-Chicken Drumettes, and Wicked Kitchen No-Prawn Firecracker Dippers.
Vegan turkey crown and other mains
Mains include the Wicked Kitchen Wellington and the Tesco Plant Chef Meat-Free Festive Vegan Roast, as well as the Wicked Kitchen No-Turkey Roast Crown.
The vegan turkey is made from savory soy and wheat protein topped with vegan coconut melt and a sage and onion stuffing crumb. It has the same texture as traditional turkey, Tesco says.
"It all comes down to texture and using a combination of soy and wheat proteins, kind of like seitan," Derek Sarno, Tesco's executive chef and director of plant-based innovation, said in a statement.
"It's the first one of its kind and we're really excited to be able to launch that this year. The flavorings are just amazing. It's a great centerpiece."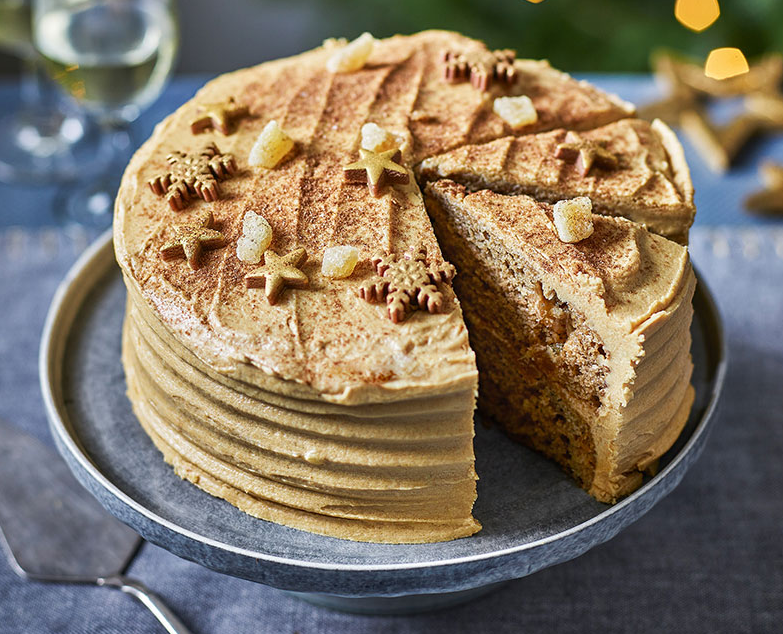 Desserts
The desserts on offer include the Wicked Kitchen Ginger Chai Cake, a ginger-spiced chai tea-soaked cake dusted with cinnamon-sugar with caramelized ginger pieces as toppings.
The supermarket is also launching mince pies under its Plant Chef range, costing just £1.25 for six.
'No one has to miss out this Christmas'
"For all you rock stars who are eating less meat or are full-on vegan, we are offering a complete plant-based holiday experience at Tesco this Christmas," Sarno said.
"We've got everything from amazing new centerpieces that will totally wow the family, through to plant-based versions of favorite trimmings including pigless blankets.
"And don't forget the beautiful selection of desserts and sweet treats – no one has to miss out this Christmas."