Supermarket giant Tesco is today unveiling its new range of plant-based food – created by pioneering plant-based chef Derek Sarno.
Sarno joined Tesco as its Head of Plant Based Innovation in 2017.
Since then he has been developing a line of around 20 vegan meals which will launch in 600 stores nationwide today.
Wicked Kitchen
The new brand – called Wicked Kitchen – comprises ready meals and food 'to-go' options including sandwiches and wraps.
Sarno told Plant Based News that strong and vibrant flavor is the cornerstone of the brand.
He added: "Plant-based options on the shelf should not only pack punchy, bold, flavors but be visually beautiful and celebrate what real food should taste like.
"We use whole humble ingredients, ninja skills and techniques, and attention to detail to bring something that appeals to all diets.
"Our line just happens to be fully plant-based. Win/Win/Win!"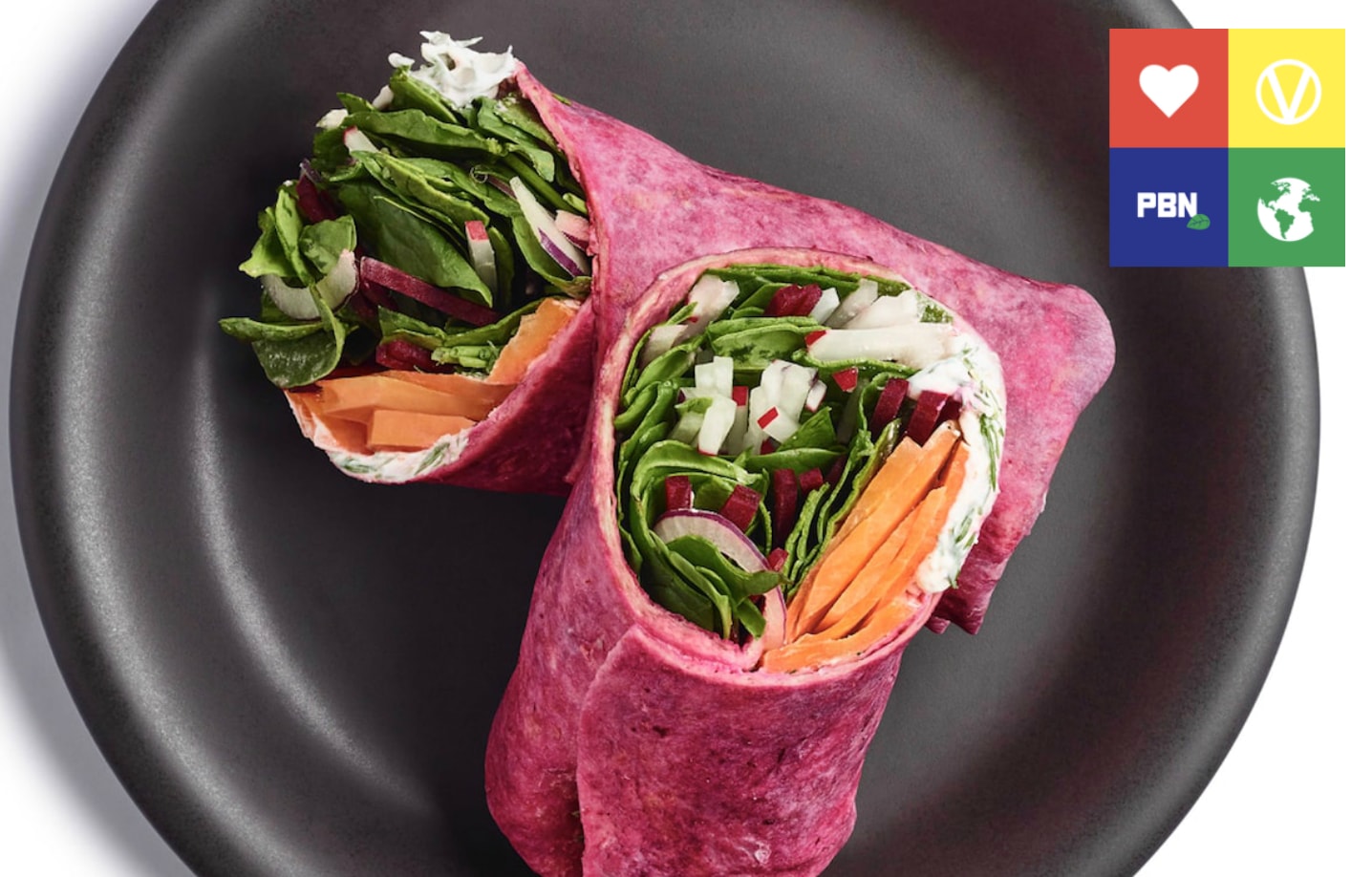 Veg
According to Sarno, he and his brother have more than 50 years combined experience in the kitchen. He says this experience has been partnered with passion as well as a 'mission as plant-pushers' in creating the range.
He added: "The reasons around why we are launching this line with Tesco and the impact it will have on the eating habits of the UK has been well worth the wait.
"Plant-based awareness has grown exponentially over the past 10 years and we are on the crest of this wave of compassion that is not slowing down.
"By partnering with Tesco we are opening up the market of plant-based offerings to a wide and diverse audience that would normally not have many options.
"We could not be more thrilled for this to be released. Finally, it's an option for the masses and it's friggin' amaze-balls – and we give the animals a voice through the food we offer.
"The more people eat plants – the more compassion we can spread."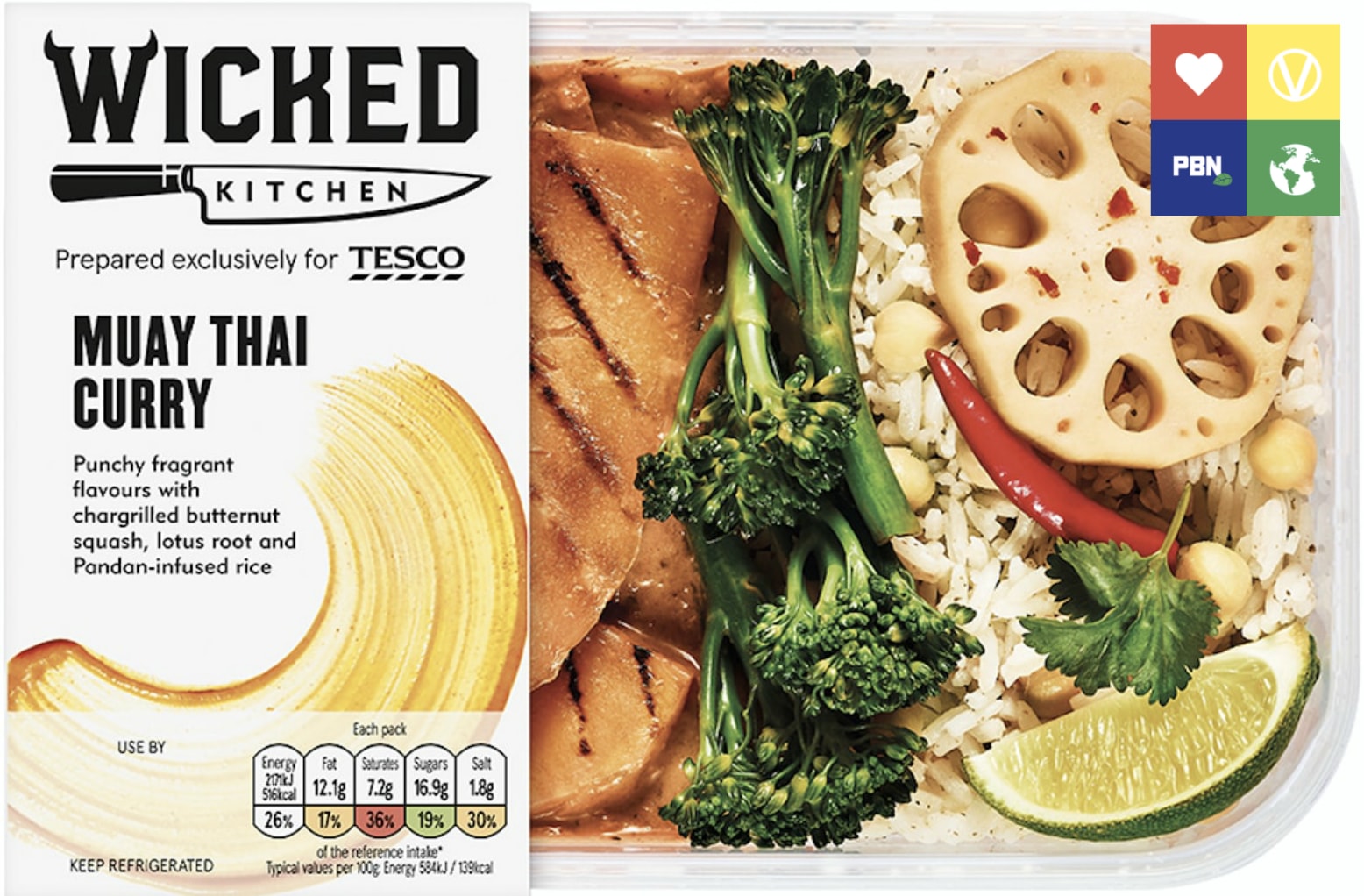 Range
Among the dishes are Nana's Mushroom Bolognese, which features 'slow-braised meaty eryngii mushrooms and vegetable linguine in
a legendary secret sauce from Derek's grandmother's recipe'.
Another option is the Wicked Teriyaki Noodles, described as: "Teriyaki-style noodles with press-roasted cluster mushrooms, sweet 'n' savoury glaze, Asian-style vegetables and tangy lime to finish."
The range also includes a Naked Burrito, Muay Thai Curry, and BBQ Beans and Mash.
On top of that, there are two pizzas – the Caponata Sourdough Pizza and the BBQ Mushroom Sourdough.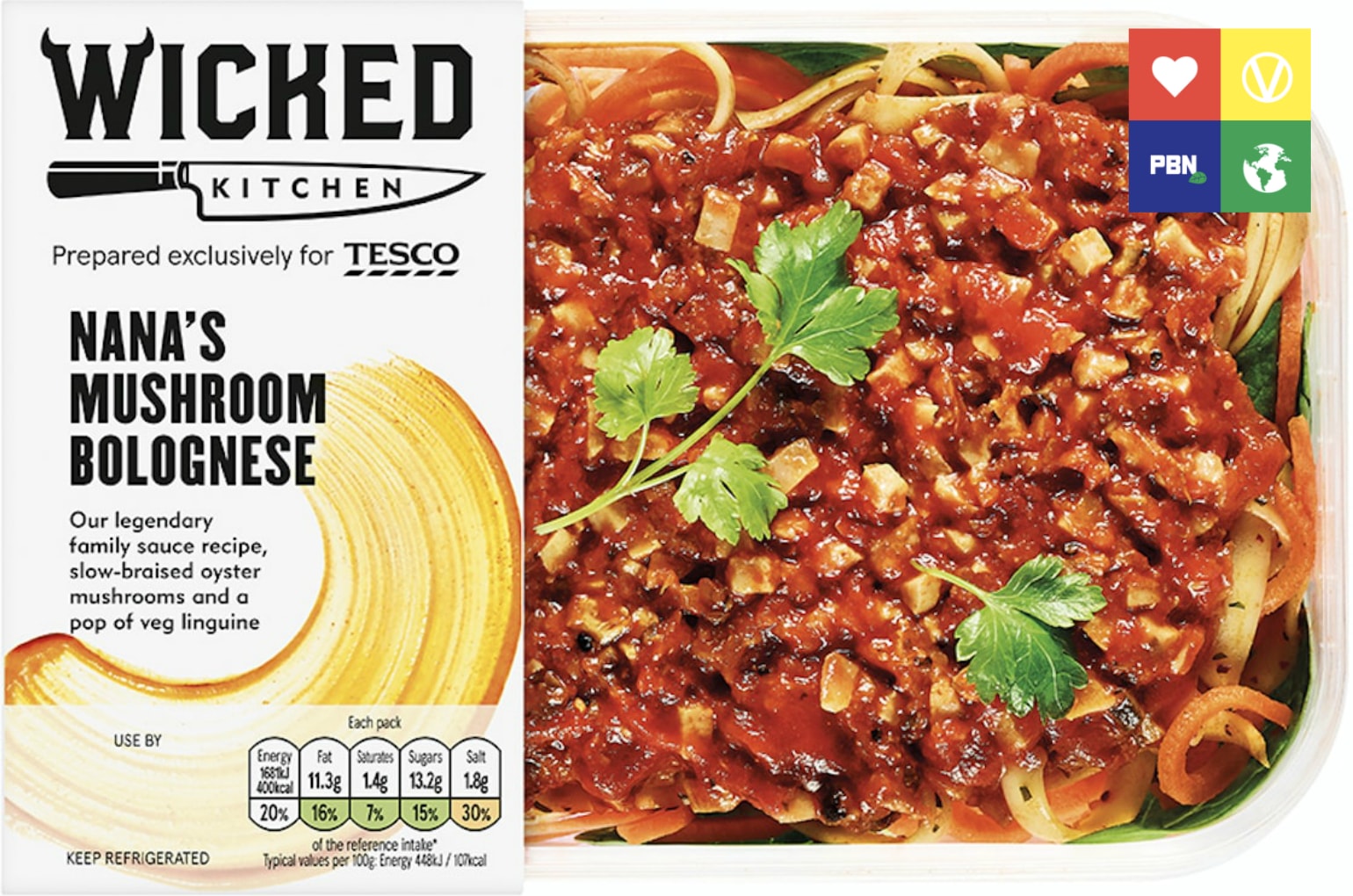 To-go
The to-go options include wraps, a sandwich, and salads.
The Carrot Pastrami-Spiced Wrap features a beetroot tortilla wrap packed with carrot and a vegetable mix.
The Sweet Potato Pakora Wrap, has sweet potato pakora, fire-roasted red pepper, carrot and Sriracha vegan mayonnaise in a tortilla wrap, and the Smashin' Pumpkin Falafel Sandwich combines vegan harissa mayonnaise, vegetables, and roasted red pepper hummus on tomato bread.
The salads include the Rainbow Curry Bowl (gluten-free) – curried pulses with sweet potato, onion bhajis, mango and a minty dressing, as well as the Moroccan-Inspired Bowl, described by Tesco as: "Turmeric bulgur wheat salad, spiced beetroot, tangy pickled red cabbage and roasted red pepper hummus."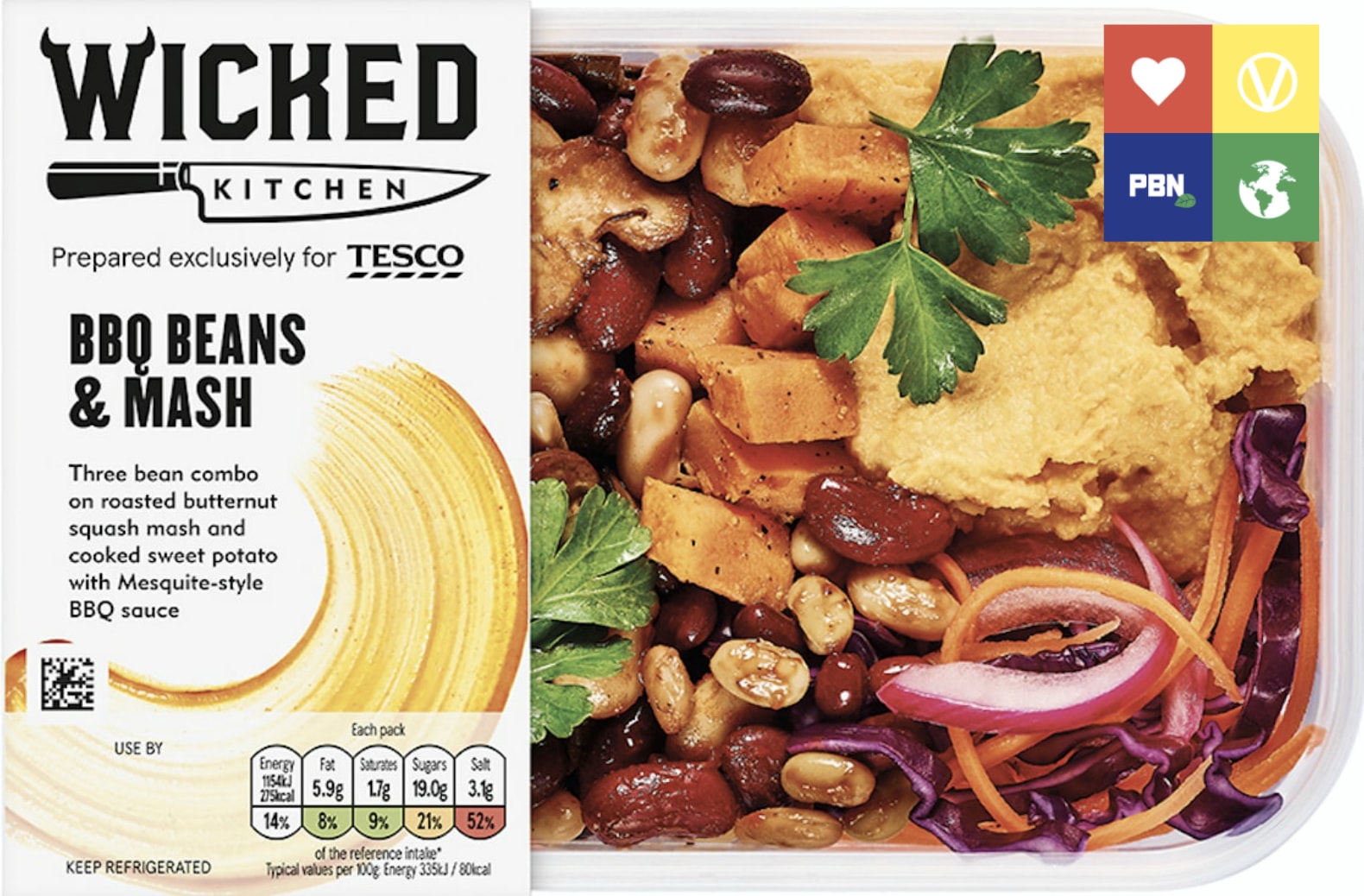 'Leading the wave'
The range heralds the start of what Sarno says will be a big year for veganism.
He added: "This is the year that we will see a major shift in food service offerings – and we're leading the wave.
"The commitment and stance Tesco has taken by supporting the exciting launch of Wicked Kitchen is just amazing!
"The demand for more options throughout the retail 'grab and go' market is there.
"We are already seeing chains such as Starbucks, Pret A Manger, and smaller retailers embrace growing demand.
"Accessibility will no longer be a barrier for anyone wanting to embrace a healthier and more compassionate way of eating that actually tastes amazing and isn't just boring and bland.
"This is here to stay and, and it's far beyond a trend. This is a very exciting year ahead and there's lots more to follow.
"This is just the beginning."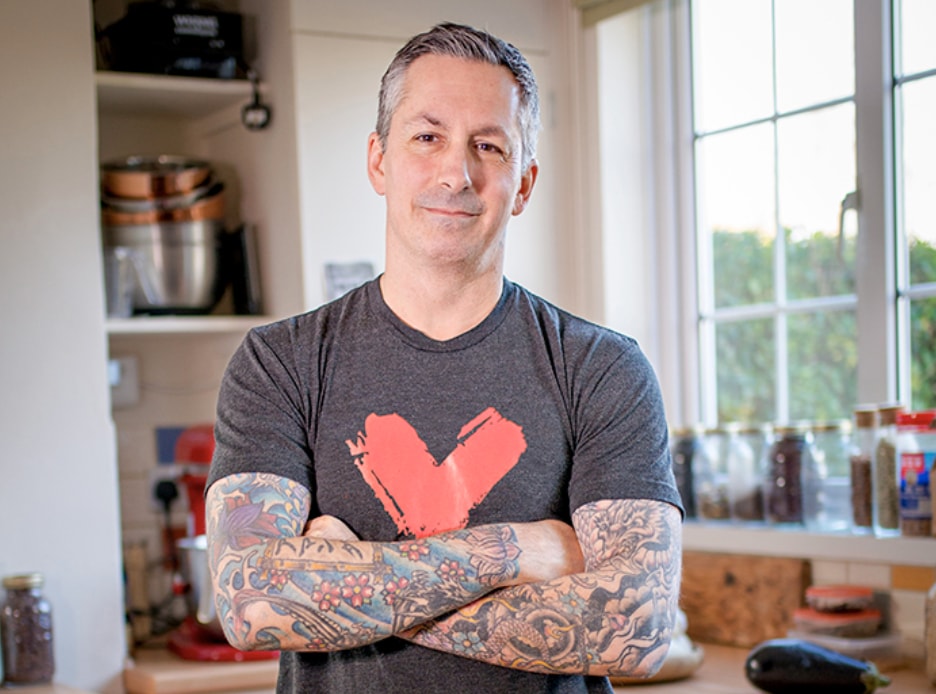 Mainstream
A spokesperson for Tesco said: "As a third of the UK population now identifies themselves as 'flexitarian', the number of those cutting back on animal products and following a plant-based diet is set to increase by 10 percent this year.
"Recognizing this growing trend, Tesco and Derek want to bring the plant-based market from niche to mainstream with delicious ready meals, salads, and sandwiches that lead with flavor, crush hunger and tantalize the taste buds."